Back to School Activities Guide for Teachers
Back to School Activities Using Arts Integration
This is a pep talk for the teachers out there who are revving up for yet another school year after taking a much-needed and well-deserved break. 
You may be filled with dread when the "Back-to-School" commercials seem to be the only things on television. Perhaps you're trying to prepare for your own kids to go back to school – as well as yourself. You've probably had a range of emotions wash over you every time you think of the upcoming year filled with new (and old) faces.
What will your students be like? What will they think of you? Are you prepared? What kind of teacher are you going to be? Are you ready to wake up early again and stay up late grading papers and projects? What new strategies, approaches, or methods are you going to implement? 
These are all questions that wander through our minds as we suit up for that first day back. The back to school activities and strategies in this post will help you prepare for the upcoming school year with tips and tricks to not only get your classroom and lesson plans ready, but you as a teacher as well!
Get in the Mindset for Back to School Season
The start of a new school year is an exciting time, but can also be overwhelming. With all that needs to be done, it can be tough to know where to start. Our main advice? Start small. It's important to limit all that rushes through our brains to filter through what really matters and what can be addressed later. This can happen to new teachers especially.
Remember that your students will be in a new situation as well and they may need you to be extra kind, nurturing or show structure. Either way, you are a professional and an expert in reading what each student requires from you to be the best they can be. Below are some tips and tricks to help you get started and put you at ease. 
Make a Small List, and Keep it Handy 
Remind yourself of why you are there, and what you're excited about accomplishing this school year. If you ever get overwhelmed or need a reminder on what to work on, you can pull this list out! Here are some questions you can include:
What makes you a good teacher?

What do you want to improve?

One idea for a new lesson you want to try

One new method/technique you want to use

One big idea you'd like to get to
Because this list is small, you know you'll be able to achieve it. With the right mindset, you'll be able to tackle each day with the problem-solving skills that you have built throughout the years.
Make Contact with Parents Early
If you have never met your students, one of your back to school activities should be to start reaching out to parents as soon as you get your class rolls. A quick email, text, or phone call just to introduce yourself will help you build a positive relationship.
If you happen to know your students already, you could start reaching out to the parents of students that you know will need that extra support. Reach out early with something positive about the student. This is always a good idea if you teach a lot of students and can't make contact with every parent. It helps build a positive relationship early so if you ever need the support of that parent for something not-so-positive, you'll have it.
Once you've begun to build connections with your incoming students and their parents or guardians, the next step is to begin thinking about how to set up your classroom.
Start Up by Setting Up Your Classroom for Success
One of the back to school activities many teachers enjoy is designing their classroom space. Setting your classroom up can be one of the most exciting things about starting the new school year, but it can also be the most stressful. When setting up a creation-friendly classroom, the main thing to consider is space. You'll want open floor space for movement, or theater, or visual art making. You'll most likely want to consider wall space as well, to accommodate the work that your students will create, as well as extra word wall space to include all content area subjects including the arts. The language with which you surround the students influences how they will think, speak and learn.
Trying to set up a space conducive to your goals can be challenging, but we have a few ideas to help you get started!
Start Thinking of the Little Things
If you've included specific things in your lesson plans for the year, make sure you know how those will get incorporated into your classroom the first day of school. If you teach elementary and your students have take-home folders that they return each day, have a specific place where they put those. If you expect your students to walk into the room in a certain way, make sure the furniture is placed so that traffic can flow easily. You want you, and your students, to know exactly where everything will always be in the classroom. 
Working with Limited Space
Sometimes teachers don't get as much space in their classrooms as they'd like, especially classrooms that house older students with bigger bodies and generally higher numbers of students than lower elementary schools. That means you may not always be able to have as much open space as you would like to accommodate free and safe movement. Here are a few tips:
Have a plan for moving furniture

–

No matter how many different classroom layouts you try to maximize your space, the best bet may be to be flexible, and plan on moving furniture around throughout the day. Create a plan for when and how furniture will need to be moved to create that necessary extra floor space. In the first few weeks, train your students to move that furniture safely and efficiently so you can maximize learning time and all the benefits that kinesthetic learning has to offer.

Create separate areas

–

Whether you plan to be making visual art, to house a makerspace, to have a classroom library, etc., you will need to store materials that are organized and accessible. You may want to create areas ideal for certain group activities or a few nooks and crannies for reading or solo activities. A technique encouraged by

The Responsive Classroom

is that you keep such areas under curtain and off-limits at the start of the year. This can accomplish a few things. It can create a sense of excitement and anticipation in your students. ("What's behind that curtain?!")  It can also be more comfortable for students who are easily overwhelmed or overstimulated by allowing them to gradually become acquainted with the different resources and areas of the classroom. Additionally, it tells the students that care for materials and for the space is paramount to you.
Practice Makes Perfect 
Once the students arrive, you'll want to teach them exactly what you want them to do with your shared space for the next year! This means teaching them:
how to enter the room,

where to put their things and in what order,

how to make sure they have the materials they need,

how to get to their seats, and

what to do once they get there.
It may seem like you're taking time away from other important things, but by breaking this down into easy steps and modeling it for them, your students will be able to understand quickly and efficiently how the classroom works. Speaking of the arrival of students…
Creative Activities to Welcome Your Students Back to School
The first day of school should be focused on building relationships with your new students, and setting classroom expectations. 
Using Flipgrid
You can choose how you want to get to know your students, but we've found that Flipgrid, a simple, web-based tool that allows students and teachers to use video for teaching and learning, is a great resource to have in the classroom.
Flipgrid has a few perks, mainly with the fact that you can create a video lesson on almost anything. Want to show students classroom expectations and behaviors, or the steps to a complex project? You can put together a quick video to show that off. They also have a student response tool, which allows students to respond to any resource/topic through video. They can quickly record their response on any device and securely share it with either you the teacher, or with the class.
One back to school activity to employ here is creating a class welcome message on FlipGrid. Just create a class account and record a short introduction.  Share something about yourself as their teacher, what you hope to work on this year with them and that you're looking forward to getting to know them throughout the year. End your Flip with a question.  Something like "what is something you want us to know?" is great because it immediately builds trust and rapport. 
Then, students can respond to your welcome message with their own introduction. This helps them feel connected and helps you to get to know them right from the beginning of the year. 
Building a warm, welcoming environment is important.  Especially since we want all students to feel safe, secure and that they matter.  Developing that relationship right at the start is key for social-emotional learning.
Get to Know Your Students
A great method to start learning about students is the Take What You Need strategy. Many teachers have used a generic version of this with any age level, but it's even better with an artistic spin.

Here's how it works:
Gather students in a circle.  Pass around a container of an artistic supply of your choice.  Make sure there are more than enough for everyone!

Tell students that they can take as many of the items as they think they need.  Just be sure that you leave enough for everyone else.

However many of the items each student chose, they must then share a detail about themselves.  For example, if a student took 3 brushes, they can share their name, a hobby they enjoy, and a favorite vacation spot.  What they choose to share is up to them!

Once everyone has had a turn, students then use their chosen objects to create a composition.  For example, the student who took 3 brushes must create a piece of artwork using each of those brushes in a different way.  If they chose 4 mallets, they need to play 4 different rhythms on a xylophone.
The creative opportunities with this strategy are endless. You'll be amazed at what students share and at what they create. Additionally, you'll learn so much about them that this could almost serve as a diagnostic assessment of what they know or don't know about the arts area or their background knowledge in a topic. And if you're looking for even more strategies like this, try our Creative Mindset Blueprint online class.  It's filled to the brim with arts-based strategies you can use right away.

Set Classroom Rules and Expectations Using Dot Day
Speaking of creative strategies, a great way to review classroom rules and expectations is to introduce The Dot, a book by Peter Reynolds. This is the story of a young student who is not confident in her ability to draw. The teacher capitalizes on the strong emotion of the student. She provides just the right amount of firm encouragement for her to "make her mark, and see where it takes her". This pay-it-forward message not only helped the student work past frustration but her teacher's unwavering belief in her ability to succeed helped her to explode with creativity. It empowered her to do more than what was expected. It changed her attitude, confidence level, and moreover, changed her life course.
What a message to share with a new group of students; to let them know from the beginning that our expectations are high. To let them know that we have an unlimited amount of confidence that each of them will reach their potential. That we will be right there with them along the way. After reading the story to your students, you can discuss the theme and character traits. 
You can later reinforce these thoughts by celebrating International Dot Day, celebrated annually on September 15th and inspired by the story of The Dot. You could even host your own school-wide event! 
Whether you choose to review your classroom rules and expectations during the school day, or give it to your students as a homework assignment and ask them to bring in a clarifying question the next day, make sure you go over it with them and give them time to clarify!
Start Simple with Learning Center Activities
Learning centers are a great way to get your students used to the classroom and start creating on the first day. Set up various stations throughout your space, and have different groups rotate throughout. You can have students working on a simple experiment, trying out a variety of arts materials, or viewing a quick introductory STEAM lesson on FlipGrid.
This is a great time to introduce Teaching for Artistic Behavior as well. You can set up different centers for students, such as drawing, painting, collage and clay. When students open a center, they're set with basic instruction of what's there, how to use it, and how to put it away. You provide the students with materials and basic instructions, but you give them the choice of what they want to create. These are a great opportunity for students to learn about themselves as an artist, figure out a new way to use materials, supplies or tools, and just create. 
Using the First 5 Days Framework
The First 5 Days Framework is a Behavior Management plan that is disguised as several back to school activities. This guide can be used to help you plan your lessons for that first week, or it can be condensed and used within one class period (though in a much more limited fashion). Take a look:

If you're a classroom teacher, you can use this guide for one content area that you plan to connect with Arts Integration or STEAM throughout the year.  Or, you can use it for your first unit of the year that combines multiple subject areas.
If you're an arts educator, you might teach the same lesson 35-40 times that first week with students in all grades. This framework allows you to switch up the medium or focus while going through all stages in a single class.
Project-based learning is also a great way to incorporate this kind of framework.  If you're looking for specific strategies for using PBL and the arts, definitely check out our PBL in the Arts Spotlight Session. You'll find even more helpful tools like this.
5 First Day Lessons for K-12
If you're looking for specific back to school lesson activities that can help students spark their imagination, we also have some quick ideas that may help. These lesson ideas can be used as ways to introduce arts integration into your classroom from the very start.  There are examples here for grade K-12 that incorporate visual art and music.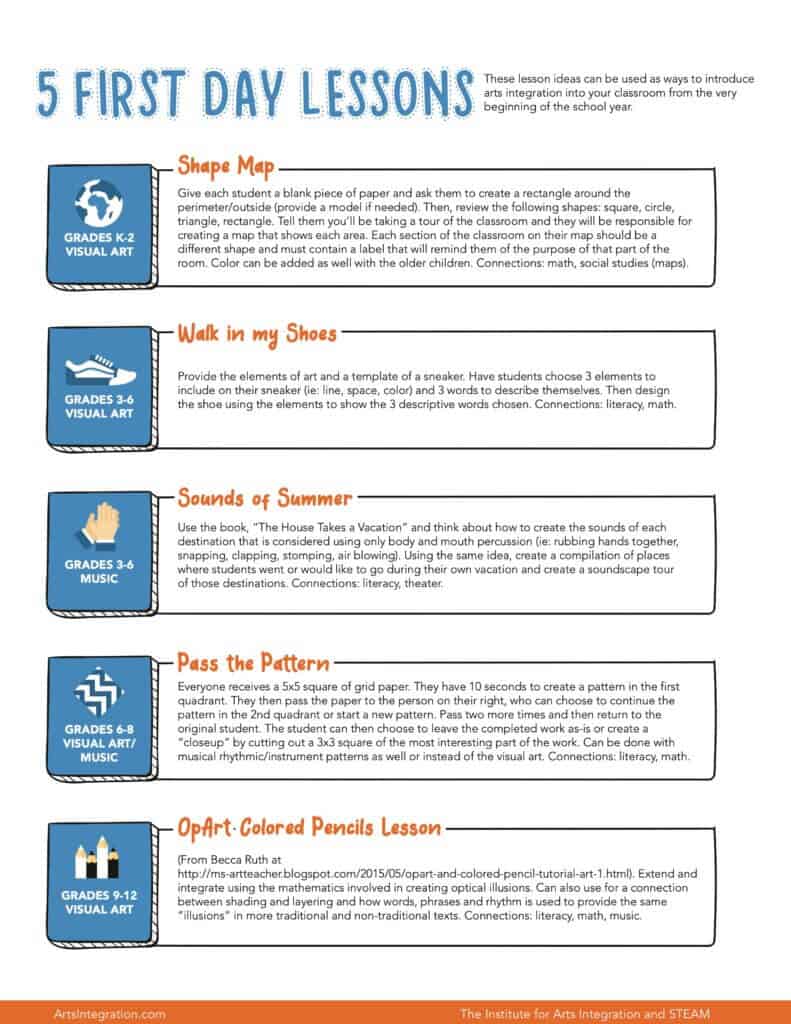 Don't Forget About the Parents
As we mentioned earlier, the start of the school year isn't just about prepping for new students, but also for new parents too! Most schools have a Back to School Night for parents and teachers to get to know each other. It's also a great time to facilitate further connections between parents and their children's lesson plans. During the first day or the first week of school, you can have students create a short writing or video sharing what they are most excited to learn this year or something they are already working on. Showcasing your students' excitement for the school year is a great way to connect with parents. 
Get Excited for Back to School!
The start of the new school year means finally being able to put all your hard work and planning into action, and meeting your new students! The students will be just as excited as you are, so get in the mindset and get ready for a great year.