Collaborative Planning Tools
Collaborative planning is essential to authentic arts integration and STEAM experiences. But how do you build that in with all the other curriculum requirements and a jam-packed day? In this workshop preview, educator Renee Schumacher shares her favorite collaborative planning tools for making the process simple and convenient.
This workshop is part of our Collaborative Planning Pack in the Accelerator Professional Membership.
Additional Details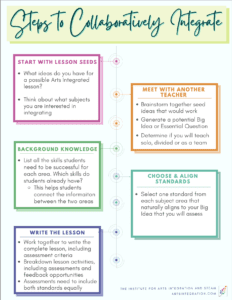 With limited time and resources, collaborative planning may seem impossible. But with the right tools, collaborative planning can be quick, effective, and support a robust arts integration or STEAM effort.
In this preview, Renee Schumacher shares the collaborative planning tools she uses with teachers in her district, and the process for building natural connections into lesson plans.
This workshop preview is part of our members-only Accelerator workshops. Each month, we release a stack of videos and worksheets to help educators bring inspiring new techniques into their classrooms. Each workshop also provides teachers with a certificate for 1 PD hour.
To download the choice board that accompanies this workshop and access all of the resources, become a member.