Each year, our team offers a summer reading list just for teachers. These are selections that our team has read, recommended, and enjoyed throughout the previous school year. For 2023, we've curated our top 20 books for teachers that fall into 3 categories: fiction, non-fiction, and teacher-centered titles.
Like last year, we provide a space for you to rate the books as you go through them. For something new, we also provided our "team picks" which are books that we particularly enjoyed in each category. No matter if you're looking for your next summer beach read, an inspirational true story, or a book that can help your teaching practice, we've got you covered with this list.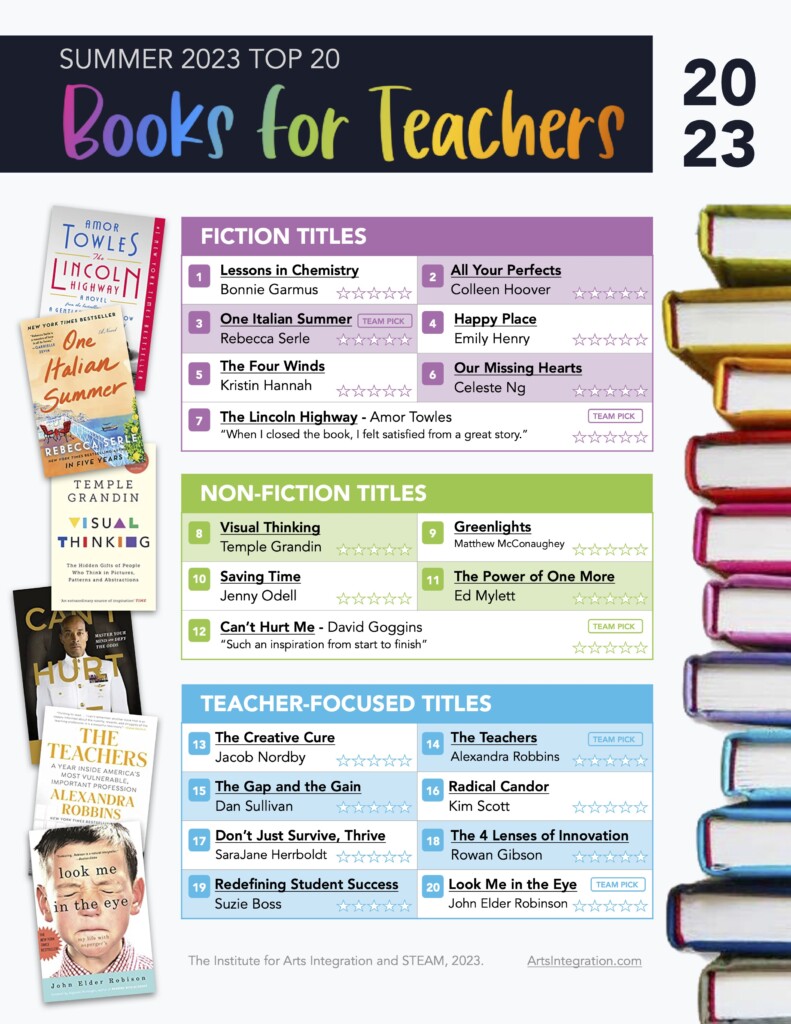 DOWNLOAD THE PDF VERSION WITH CLICKABLE LINKS
Fiction Titles
This year, the fiction titles on the list were stories that captured our hearts and imaginations. These novels were ones that kept us captivated all the way until the end. Here's the list, along with overviews for each title:
Lessons in Chemistry by Bonnie Garmus. Set in the 1950's, this novel explores the themes of equality, uniqueness, and what happens when life doesn't go the way you planned.
All Your Perfects by Colleen Hoover. Team member Jaime Patterson describes the book this way: "This is a story about a broken couple trying to figure out what's next for them. It was written in such a way that the characters were instantly relatable and real to me."
One Italian Summer by Rebecca Serle. This is a team pick! The visual descriptions of the Amalfi Coast will make you feel like you're there – the imagery the author uses will make you want to plan a trip to Italy instantly.
Happy Place by Emily Henry. The quintessential summer beach read, this novel feels familiar to Emily Henry's other works like Book Lovers. You'll find yourself rooting for the book's two main characters to try and find a way through an impossible situation.
The Four Winds by Kristin Hannah. Set during the Great Depression, Hannah's depiction of life in the Great Plains during the dust bowl is stunningly moving. This book will remind you of the Grapes of Wrath with a modern twist.
Our Missing Hearts by Celeste Ng. This story is set in a futuristic society, though the themes may feel hauntingly familiar. Books bans, anti-Asian sentiments, and child separations are woven into this self-exploration tale.
The Lincoln Highway by Amor Towles. Another team pick! Founder Susan Riley shared, "This was just a really great story. Twists and turns on a journey across the country are intermixed with characters who both disappoint you with their humanness and inspire you with their bravery."


Non-Fiction Titles

Looking for something more like a documentary in written form? These non-fiction titles made our team laugh, cry, and inspired us to keep going during a tough year.

Visual Thinking by Temple Grandin. This new memoir by Temple Grandin explores how autism manifests for her as thinking through shapes, pictures, and patterns. It's a fascinating look inside another woman's genius.

Greenlights by Matthew McConaughey. Wild, unexpected, moving, bizarre, and poignant. All of these words describe Matthew McConaughey's memoir based on his life over the last 50 years. You'll read this and receive gifts of understanding on one page and on the next be shaking your head in disbelief. Never boring, this is a book you can't put down until the last "bumpersticker mantra" is shared.

Saving Time by Jenny Odell. If there's one thing we all struggle with, it's time. There's either not enough, it moves too slowly, or we've fighting against it. In this book, Jenny Odell challenges us to move away from thinking about time in a linear way that gives favor to the "attention economy", and offers a hopeful alternative that's more humane and meaningful.

The Power of One More by Ed Mylett. In this book, entrepreneur Ed Mylett offers a set of lessons he's learned over the course of his career. From nearly losing everything, to supporting his father through addiction recovery, to creating a spectacular life he now loves, these lessons are ones that anyone can deploy to experience a more peaceful, productive, and happy life. Learn more in this Art Works podcast episode based on the book.

Can't Hurt Me: Master Your Mind and Defy the Odds by David Goggins. This is our team pick in this category. This is the self-published story of former Navy SEAL David Goggins. He shares what it was like as a young black man to go from poverty and poor health to working in one of the most elite segments of the United States military. His story is inspirational, yet heartbreakingly real.

Teacher-Centered Titles

These books provide practical strategies, advice, and support for teachers in all grades and areas. Most of these have also been featured on our Art Works for Teachers podcast. If so, you'll also find a link to the accompanying episode to listen to the author share more details.

The Creative Cure by Jacob Nordby.  In this book, Jacob shares how to tap into your own creative well and begin the process of re-discovering yourself. Listen to episode 32 for more.

The Teachers by Alexandra Robbins.  This is one of our team picks in this category. Alexandra Robbins spent a year inside teachers' classrooms in America to document what it's really like. What she discovered will both resonate and feel frustrating at best. We'd recommend this for a school book study with administrators to start important conversations surrounding school culture, policies, and what really needs to change.

The Gap and the Gain by Dan Sullivan.  In this hands-on, practical book, you'll learn a simple shift in how you think about progress which has the potential to change almost everything in your classroom. Are you measuring the gap or the gain? Listen to episode 11 for a download of this prompt.

Radical Candor by Kim Scott. In the bestselling book, Radical Candor, we find a set of strategies for providing honest, direct feedback while embracing each other's humanness. Listen to episode 20 as we talk about key ideas from the book that can be used to facilitate tough conversations at school.

Don't Just Survive, Thrive by SaraJane Herrboldt. What does it REALLY mean to be an effective teacher? Author and former educator SaraJane Herrboldt challenges us to get curious about this question and consider that effective teaching isn't about staying late and working more. Instead, being effective might look like leaving work at work and setting some new boundaries for ourselves. Listen to our discussion with SaraJane on episode 12 here.

The 4 Lenses of Innovation by Rowan Gibson. This was by far one of our most popular episodes on the podcast (listen to episode 9). In this book, Rowan Gibson shares how schools can use the same 4 lenses that businesses use to innovate in a way that's sustainable and embodies educators' voices.

Redefining Student Success by Suzie Boss.  Known for her work in PBL, Suzie Boss has been exploring what we mean when we say "student success" for decades. In this book, she outlines the process of finding what student success looks like in your community, and then communicating that effectively with parents and others. Listen to the full conversation here on episode 10.

Look Me in the Eye – My Life with Asperger's by John Elder Robinson. Our final team pick! As registrar Stacey Quillen shares, "this is a book that sticks with you. I read it over a year ago and I still can't get it out of my mind". This is the true story of John Elder Robinson's journey of growing up with Asperger's at a time when the diagnosis didn't exist.
Additional Summer Books for Teachers
Hopefully, at least one of these books caught your eye. But if you need a few more ideas, check our recommendation lists from 2022, 2021, 2020, 2019, and 2018.
And if you're looking for a great opportunity to read books over the summer and get PD hours for it – check out our Children's Literature Book Club for Teachers: BookmarkED. This low-key event is happening in July and you can register now for early bird pricing (through May 31).