2020 Summer Teaching Reading List
5 Min Read  •  Online Resources
Teachers are readers. And especially now – during quarantine in 2020 – a good book is one of life's little blessings. So for our annual summer teacher reading list, we compiled the 20 best books we've read all year.  We wanted to make sure that every book on here was something that you could find inspiration, conversation, or at least a few helpful new ideas inside.
How we Broke it Down
This year, our list has been separated into the following categories:
Novels/Essays – for when you want to get lost in a good story
Thought-Provoking Non-Fiction – for when you want to think about things in a different way
Motivational – for when you need a kickstart for action
Teaching – for when you're looking for new teaching strategies or techniques

The 2020 List
Let's hop into this year's list. You can download your copy below as a handy PDF. Each title is conveniently linked so you can just add it right to your book wishlist. We'll also break it down below so you can explore just the titles you're interested in.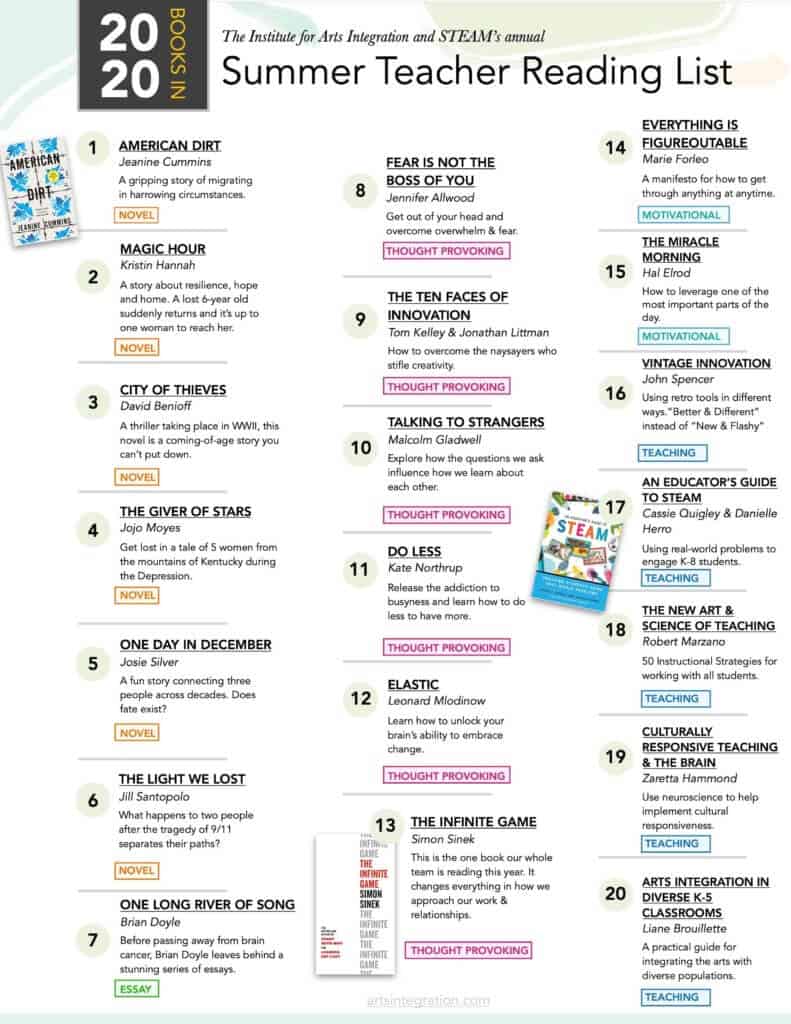 Novels/Essays
This is our largest category and this year, that seemed appropriate. We're all a little overwhelmed with reality right now, so some good fiction felt like it was needed. Here's what our team loved for 2020:
AMERICAN DIRT by Jeanine Cummins
A gripping story of migrating from Mexico to America in harrowing circumstances.
MAGIC HOUR by Kristin Hannah
A story about resilience, hope, and home. A lost 6-year old suddenly returns and it's up to one woman to reach her.
CITY OF THIEVES by David Benioff
A thriller taking place in WWII, this novel is a coming-of-age story you can't put down.
THE GIVER OF STARS by Jojo Moyes
Get lost in a tale of 5 women from the mountains of Kentucky during the Depression.
ONE DAY IN DECEMBER by Josie Silver
A fun story connecting three people across decades. Does fate exist? 
THE LIGHT WE LOST by Jill Santopolo
What happens to two people after the tragedy of 9/11 separates their paths? Honestly, this book is very similar to One Day in December, so if you liked one, you'll like the other.
ONE LONG RIVER OF SONG by Brian Doyle
Before passing away from brain cancer, Brian Doyle leaves behind a stunning series of essays. Each of these short essays becomes something to savor. From the word choice to the topics, you'll be left in awe.
Thought-Provoking
It was hard to come up with a category title that accurately captured the variety of books selected. Some are self-help, others are more psychologically based, and others are more tactical in nature. But all of them caused us to have more meaningful conversations and thoughts to consider.
FEAR IS NOT THE BOSS OF YOU by Jennifer Allwood
This book will teach you how to get out of your head and overcome overwhelm & fear.
THE TEN FACES OF INNOVATION by Tom Kelley & Jonathan Littman
Learn how to overcome the naysayers who stifle creativity in this practical guide from the leaders at IDEO.
TALKING TO STRANGERS by Malcolm Gladwell
Explore how the questions we ask influence how we learn about each other.
DO LESS by Kate Northrup
Release the addiction to busyness and learn how to do less to have more.
ELASTIC by Leonard Mlodinow
Learn how to unlock your brain's ability to embrace change. Perfect for when we're all facing enormous amounts of change at once!
THE INFINITE GAME by Simon Sinek
This is the one book our whole team is reading this year. It changes everything in how we approach our work & relationships.
Motivational
This is our shortest category with just two books. And while we all appreciate a good kickstart and cheerleading session, sometimes it can feel hollow.  So the books we chose for this section are ones that move beyond a pep talk and actually spur you to take action.
EVERYTHING IS FIGUREOUTABLE by Marie Forleo
This book is from one of my favorite online teachers. I have followed her for the past decade and find her to be both inspirational and practical all at the same time. This book is a manifesto for how to get through anything at anytime.
THE MIRACLE MORNING by Hal Elrod
Yes – this book has been around for a long time.  And yes, there's now an edition that's just for teachers. But honestly, this original work is the best. It will teach you how to leverage one of the most important parts of the day – even if you're not a morning person.
Teaching
Our final category is for those of us who are always looking to upgrade our teaching craft. No matter how long you've been teaching, chances are you're still on the lookout for ways to get better. Which is what makes this field so different from others. Teachers are always learning.  Here are some of our selections based on topics and ideas we think will make a big impact in 2020 (and beyond).
VINTAGE INNOVATION by John Spencer
John Spencer is one of our favorite authors and teachers out there right now. In his new book, he shares how innovation can happen anywhere. Learn  how to use retro tools in different ways." We love the idea of Better & Different" instead of "New & Flashy".
AN EDUCATOR'S GUIDE TO STEAM by Cassie Quigley & Danielle Herro
STEAM education is constantly evolving. This book shares practical examples of how STEAM is being used in schools right now. Quigley and Herro do a great job of showcasing how to use real-world problems to engage K-8 students in the STEAM approach.
THE NEW ART & SCIENCE OF TEACHING by Robert Marzano
In this updated edition of the book, Marzano shares 50 new instructional strategies for working with all students.
CULTURALLY RESPONSIVE TEACHING & THE BRAIN by Zaretta Hammond
We referenced this book a lot in our new Cultural Responsiveness and the Arts online course.  And for good reason. Hammond shares how we can use neuroscience to help implement cultural responsiveness, but does so through stories and examples so it's enjoyable (and not dry) to read.
ARTS INTEGRATION IN DIVERSE K-5 CLASSROOMS by Liane Brouillette
A practical guide for integrating the arts with diverse populations, this book made an impact on how we approach arts integration to be inclusive of all students. 
Whatever your plans for this summer, I hope they include some sort of reading adventure. Whether it's through the escape of novel or enriching your own teaching practice, nothing beats a good book.
If you're looking for more great reads over the summer, you can check out our previous lists for 2019, 2018, 2016, 2015 and 2014.  And if you like this list or want to start your own book club, please share this list with your friends.  Happy summer!