Susan Riley | May 2019
2019 Summer Teacher Reading List
It's that time of year again. We're getting ready to close down our classrooms and head out for summer break.  For many teachers, the best part about summer is the ability to have time flexibility.  A chance to sleep in, create and read a few good books.
2019 Categories
As always, we have a few suggestions for your 2019 teacher reading list.  In fact – we have 20 selections that we think will inspire, challenge and excite you this summer. This year, we've split the books into the following categories: Teaching and School, Productivity, Memoirs, Self-Care and Just for Fun.
Of course, we always have books on our shelves for new teaching ideas and fun beach reads.  But this year, we thought it was equally important to include some books that provide insights into how we can do fewer things better and taking care of ourselves.  More and more these topics are becoming critical to keeping teachers in the profession.  So we've highlighted a few reads that we have found to be especially helpful in these areas.

Up for a Reading Challenge?
Each year, students receive a summer reading list to encourage reading habits over the 3 months they're away.  Why not do the same as teachers?  This year, we've compiled the 2019 Teacher Reading List into a PDF download you can use to keep track of the books you've read over the summer.  You can note when you start and finish a selection, as well as rate it so you know which ones to recommend to your friends.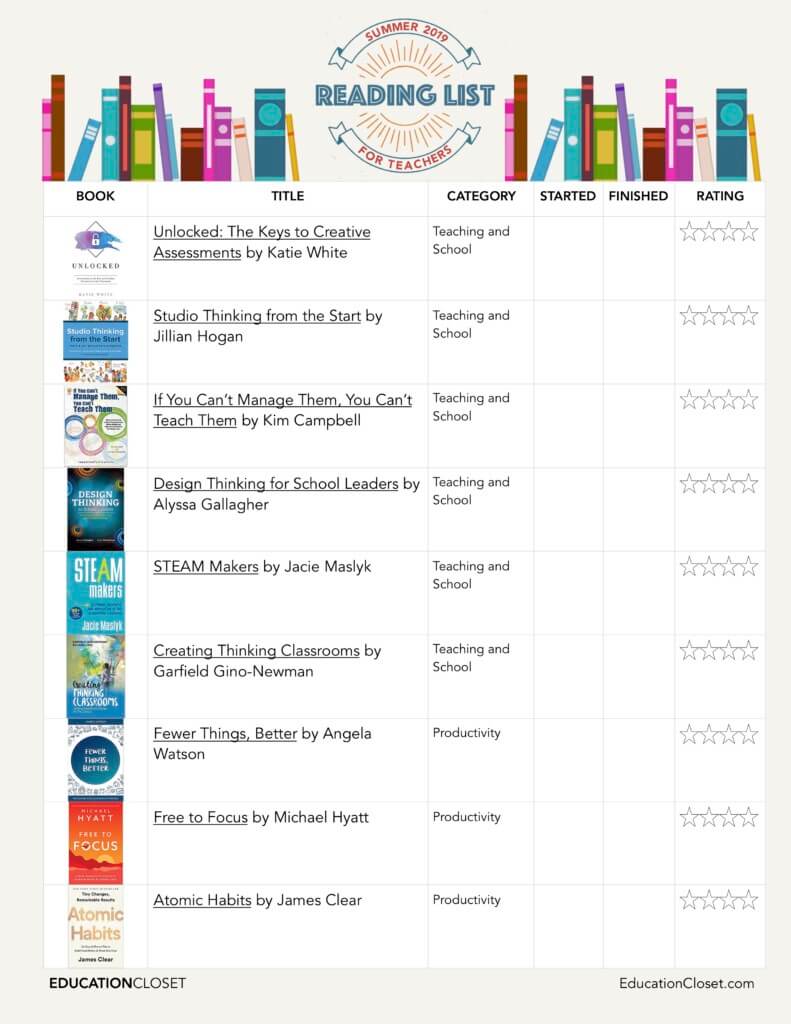 Let's take a look at each category and the books that made it onto this year's list.
Teaching and School
There are so many incredible books out there about teaching and how to refine our craft. It was so hard to narrow this section down!  These are the books that rose to the top for us this year.
The Keys to Creative Assessments by Katie White. This one's a game-changer for anyone who has to assess creativity in any capacity.  If you're implementing arts integration, STEAM, PBL or a maker center, this book is a must-have to assess with integrity to the creative process.
Studio Thinking from the Start by Jillian Hogan. While the cover says it's for K-8 art teachers, we found so many practical ways the ideas in this book can be applied beyond the art room.  This is a great resource for anyone who wants to encourage process over product.
If You Can't Manage Them, You Can't Teach Them by Kim Campbell. Classroom management continues to be one of the most requested areas for professional development.  This book is geared towards middle school, but honestly – the strategies can be used in all grade levels.
Creating Thinking Classrooms by Garfield Gino-Newman.  If you're looking for ways to engage your students and encourage more risk-taking and student ownership, this book is for you.  While the idea of providing more freedom and choice is great, the implementation can be tricky. This resource provides useful ideas that have worked for us in encouraging more thoughtful classrooms.
STEAM Makers by Jacie Maslyk.  We've had Jacie present the ideas from this book at our summer online arts integration and STEAM conference. They are practical and easily manageable for even the most packed schedules.
Design Thinking for School Leaders by Alyssa Gallagher.  This one had us cheering for the leaders and administrators.  Finally – a book that school leaders can use to help create their PD days and work through their unique issues from a broader perspective.  This selection has so many valuable ways to use design thinking to transform how you present ideas and information to your staff.
Productivity
We are all being asked to do more in less time.  It feels pretty impossible because there are only so many minutes in every day. One of the ways to combat the stress of these requests is in getting ruthless about our own productivity.  That's where these books come in handy.
Free to Focus by Michael Hyatt. This book is designed for the business arena, but there are so many helpful charts, ideas and tools that we had to include it on this list. The tools for knowing what to drop and what to keep were an eye-opener for us.  And the scripts he shares for how to say "no" kindly are worth the price of the book.
Atomic Habits by James Clear. The idea of this book is that it's the little things that make or break our day.  In this book, author James Clear shares the little habits we can do every day to set ourselves up for success before ever walking out the door.
Fewer Things, Better by Angela Watson.  Angela has been tirelessly working for years to help teachers maximize their time and minimize their stress.  Her desire to keep great teachers in the profession has led her to create some outstanding tools and courses.  This new book is exactly what teachers need: a way to focus on the things that matter and let go of the stuff that doesn't.
Memoirs
Like a good documentary, these memoirs had us laughing, crying and in awe of how the story unfolds.
Becoming by Michelle Obama.  Yes, this was on everyone's book list when it came out last fall.  But it's truly worthy of that hype.  This book shares so many insights and context to a life that was both independent and interwoven before the public eye.
Educated: A Memoir by Tara Westover.  Talk about a powerful read. This book was unlike any other memoir we've read and the moving story will have you devouring the book as quickly as possible.
Born a Crime by Trevor Noah. If you need a laugh, this is the book to start reading.  Trevor Noah shares stories about growing up in South Africa that are both laugh-out-loud and poignant all at the same time.
Self-Care
More than ever, self-care for teachers is critical. We spend so many hours supporting others that our own needs often fall by the wayside. We know it's not healthy, but it doesn't seem to stop us from letting our own needs slide.  These selections will remind you why you're important too.
Rising Strong by Brene Brown.  Any book list we share is going to have a Brene Brown read on it.  Her style of both storytelling and data to back it up is just so relatable. In Rising Strong, Brene shares how to get back up after failure and to acknowledge that it's hard to do so.  Her description of the downside to "gold-plating grit" is particularly important in classrooms right now.
The Brain Power Classroom by Dave Beal. In this book, Dave Beal shares simple strategies to help focus ourselves and our students using the brain's natural neural systems.
Just for Fun
What's a book list without some fictional reads that you can throw in your beach bag?  Sometimes, we just want to zone out with a good story. Each of these will help do the trick.
Hello Sunshine by Laura Dave.  A compelling read of a woman whose entire life and career on social media is a sham. While it's a fun story that will suck you, it also prompts you to think about how we all use social media to curate our lives.
Crazy Rich Asians Trilogy by Kevin Kwan. Confession: I sat down to read the first novel so I could watch the movie and ended up reading the entire trilogy over winter break. These books take you inside a family dynasty spread over Singapore, Thailand, China and the United States with hilarious characters and attention to detail.
Where the Crawdads Sing by Delia Owens. What happens to the children who don't go to school? This story is set in the south between the 1950s and the 1990s and explores the life of a child that grows up alone where even the school system doesn't want her.
The Storyteller's Secret by Sejal Badani. This story weaves the present day with India under British Rule.  The story tells of a young woman from New York who flies to India to discover her family history after her mother refuses to explain why she left so many years earlier.
Little Fires Everywhere by Celeste Ng.  Considering who we are and where we come from are basics of how we identify as humans, this book challenges everything one child think she knows.
The Chemist by Stephanie Meyer.  Yes – this book is by the same author of that Twilight series that is so popular with adolescents.  But this book is all grown up and set as a conspiracy thriller.  A young woman who served as a chemist for the US government secret operations finds herself being tracked down by that same government agency.  This is a page-turner you won't want to put down.
If you're looking for more great reads over the summer, you can check out our previous lists for 2018, 2016, 2015 and 2014.  And if you like this list or want to start your own book club, please share this list with your friends.  Happy summer!