2021 Summer Reading List for Teachers
6 Min Read  •  Online Resources
It's that time of year again! Time for our staff picks for the 2021 Summer Reading List for Teachers. Each year, our team selects our favorite books and shares them with educators around the world. This year, we also solicited recommendations from our K-12 teacher audience – and we're so glad we did! These 20 books cover everything from fun beach reads, powerful social justice work, fascinating memoirs, and teacher-directed professional development. We've attempted to provide a little bit of everything so you can select based on your mood and goals.
How we Broke it Down
This year, our list has been separated into the following 3 categories:
Novels. Sometimes, we just want to wrap ourselves in a good story. And these picks won't leave you disappointed.
Thought-Provoking Non-Fiction.  These selections made us think, re-think, and even unlearn some previously held beliefs.
Teaching. If you're looking for some new strategies to try, or even new ways to grade, these will kickstart your work.

Jumping into 2021
Ready for this year's list? You can download a PDF copy of the 2021 Summer Reading List and check off the titles as you go – we challenge you to read all 20! If you download the list, each title is linked so you can read the reviews and order the version you enjoy best (digital, paperback, hardback, or audio). We've also included each title listed separately below in case you're just interested in one or two titles.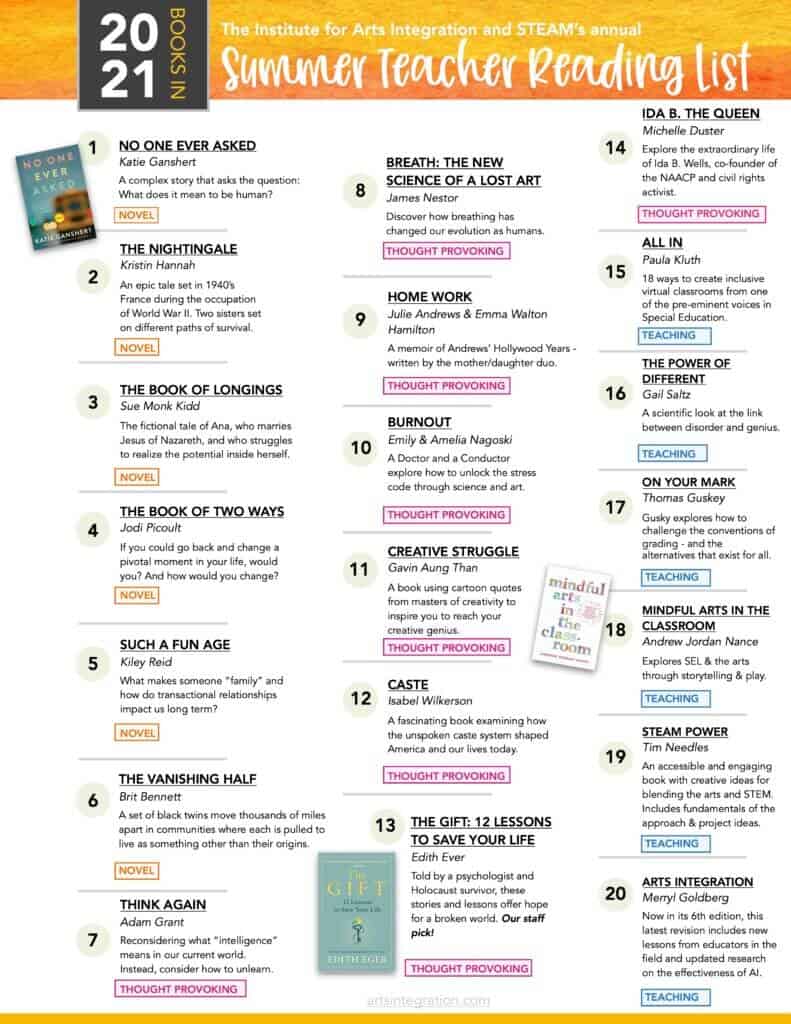 Novels
One of the best parts of summer is being able to sit down with a really great novel and just getting lost in the storyline. This year, we selected fiction that we just couldn't put down. These 6 books had us laughing, crying, and everything in between.
NO ONE EVER ASKED by Katie Ganshert
This book struck so close to home for us as teachers. Set in a community where an impoverished school is forced to close its doors and an affluent neighborhood nearby is required to welcome these new students, this book challenges us all to rethink our perceptions and consider what it means to be human.
THE NIGHTINGALE by Kristin Hannah
An epic tale set in 1940's France during the occupation of World War II. In this story, two sisters set out on very different paths of survival – and have to live with the consequences.
THE BOOK OF LONGINGS by Sue Monk Kidd
The fictional tale of Ana, who marries Jesus of Nazareth, and who struggles to realize the passion and potential inside herself.
THE BOOK OF TWO WAYS by Jodi Picoult
If you could go back and change a pivotal moment in your life, would you? And how would you change? This story takes you on a wild ride between Boston and Egypt, and you'll never want it to end.
SUCH A FUN AGE by Kiley Reid
A tale about race, privilege, and how the two are connected. What makes someone "family" and how do transactional relationships impact us long term?
THE VANISHING HALF by Brit Bennett
A set of black twins move thousands of miles apart in communities where each is pulled to live as something other than their origins. One sets out on a path of passing as white, and the other remains in their Deep South home. The story asks what makes up your personal identity: your past or your future?
Thought-Provoking
This is our largest category on the reading list this year. These non-fiction books cover a wide swath of topics. But each one gave our team great discussion points and forced us to consider our own beliefs, biases, and convictions.
THINK AGAIN by Adam Grant
This selection offers an opportunity to reconsider what "intelligence" means in our current world. And, invites us all to go through the process of unlearning in order to look at a different perspective.
BREATH: THE NEW SCIENCE OF A LOST ART by James Nestor
Discover how breathing has changed our evolution as humans – this is a fascinating read!
HOME WORK by Julie Andrews and Emma Walton Hamilton
We couldn't leave this off our list, since both of these ladies are keynoting our Summer Conference! This is a memoir of Andrews' Hollywood Years – written by the mother/daughter duo.
BURNOUT by Dr. Emily Nagoski and Dr. Amelia Nagoski
Two sisters: a Doctor and a Conductor explore how to unlock the stress code through science and art. This is a must-read for all educators this year.
CREATIVE STRUGGLE by Gavin Aung Than
A book using cartoon quotes from masters of creativity to inspire you to reach your creative genius.
CASTE: THE ORIGINS OF OUR DISCONTENT by Isabel Wilkerson
A fascinating book examining how the unspoken caste system shaped America and our lives today.
THE GIFT: 12 LESSONS TO SAVE YOUR LIFE by Dr. Edith Eger
Told by a psychologist and Holocaust survivor, these stories and lessons offer hope for a broken world. Our staff pick!
IDA B. THE QUEEN by Michelle Duster
Explore the extraordinary life of Ida B. Wells, co-founder of the NAACP and civil rights activist.
Teaching
The third and final category on this year's reading list are selections that help us all become better educators. Whether you're looking for a simple shift to make your classroom more inclusive or an all-out change in grading practices, these books will help transform your year.
ALL IN by Paula Kluth
If you've struggled with virtual learning this year – especially with differentiation and inclusion – you're not alone. This guide shares 18 ways to create inclusive virtual classrooms from one of the pre-eminent voices in Special Education.
THE POWER OF DIFFERENT by Gail Saltz
This book offers a scientific look at the link between disorder and genius.
ON YOUR MARK by Thomas Guskey
How do you use grading in your teaching? In this selection, Gusky explores how to challenge the conventions of grading – and the alternatives that exist for all.
MINDFUL ARTS IN THE CLASSROOM by Andrew Jordan Nance
We've heard a lot about social-emotional learning this year. If you're an educator who teaches young students (pre-school to grade 3), this book offers 21 lessons that connect SEL and the arts through theatre.
STEAM POWER by Tim Needles
An accessible and engaging book with creative ideas for blending the arts and STEM. Includes fundamentals of the approach & project ideas.
ARTS INTEGRATION by Merryl Goldberg
Now in its 6th edition, this latest revision includes new lessons from educators in the field and updated research on the effectiveness of Arts Integration. If you're looking for a book on arts integration to guide your team, this is the one you want.
Our whole team hopes this reading list helps kick off your summer. If you're looking for even more books, dive into any of our lists from 2020, 2019, 2018, 2016, 2015, or 2014.  Like this reading list or want to start your own book club? Feel free to share this list with your friends.  Happy summer!