Susan Riley | May 2014
A Case Study in STEAM: TAPCo NYC
As we conclude "launch week" for my latest book, No Permission Required, I wanted to share one of my favorite parts of the whole book experience: the case studies.  I spoke with so many wonderful teachers, administrators and community organizations that are bringing STEAM to life in schools across this country and couldn't include them all.  So we'll be sharing their stories with you in our online magazine over the next few months.  These stories are meant to provide practical examples of ways that STEAM can happen in a variety of school environments, including their triumphs and their challenges.  This is what is so desperately missing from STEAM conversations right now: who is actually DOING this work and what are the results?  Today, we're sharing the story of TapCo NYC through the lens of principal Ron Link.
School Name: The Theater Arts Production Company School (TAP Co)
Location: Bronx, NY

Profile:
Approximately 520 students grades 6-12
77% of students qualify for Free and Reduced Meals
5% of students are Limited English Proficient
Student demographics include: 70% Hispanic, 27% Black, 1 % American Indian, 1% Asian and 1% White
STEAM Initiative Leader:  Ron Link (Principal)
Timeframe: STEAM has been implemented intentionally since the 2012-2013 school year.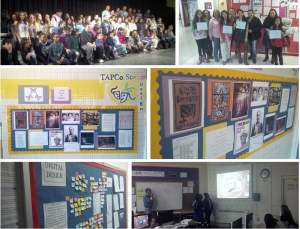 If you ever wanted to see what it would be like to implement the arts in all facets of study, TapCo is the place to visit.  And you don't even need to leave your chair to get a little slice of what it's like to be a part of this school community.  Just visit their website, Tapconyc.org and you'll be greeted with student videos, an online student-led radio show archive, a student-run online news blog, audition information, partnership highlights, and teacher events and PD logs.  Looking for transparency in education?  How about student-owned learning experiences? You'll find it right here.  I've never seen a more open communication and student spotlight from a school.  What is even more exciting is hearing about how they do all this from the people who are living it.
Ron Link, the principal of TapCo, is a passionate advocate for integrated learning, teaching, and yes – accountability.  He works tirelessly to ensure that all of his students and faculty are fully engaged in the teaching and learning experience.  When I was fortunate enough to be able to ask him some questions about how this incredible school is able to incorporate these artful learning opportunities while still meeting the demands of Common Core and Teacher Evaluation Systems.  What follows is his description of how all of these things coalesce into an immersive, relevant and exciting school experience that propels student success through an 11th grade book study of In the Time of the Butterflies by Julia Alvarez.
From Ron:
In our 11th grade English Language Arts classes, many of our students are reading In the Time of the Butterflies. We thought it would be a great idea if we could have our students use digital design software to solve stage challenges and to conceive a rooftop garden on top of our school should have a butterfly-friendly bed in honor of the Mirabal sisters who are central characters in the book. Because we are a 6 through 12 school, we are able to represent the Mirabal sisters at 3 different times in their lives. I am so proud of our students. Six of them came in to rehearse for two days over their Spring Break and are already off book!

We're bringing in Don Cerrone (a 25 year veteran of Hollywood who worked on Shawshank Redemption and Glory) now. Don will be documenting our students at work through photography and video. We'll be sending out photos in the books themselves, urls to short promo videos, and there will be a special seed planting installation in the lobby of the auditorium that is classroom-based to signify and drive home the connected nature of human activity and to create living symbols of the Mirabal sisters that sustain in more ways than one. Students are going home with video cameras to record the personal stories of family members who lived under Trujillo, which will play in kiosks also in the auditorium lobby.

Our theater teacher Bud Thorpe, who worked with Samuel Beckett in Europe for over a decade, has created a hybrid stage production of "Story Theater" with Dance, Music, and Drama. We're putting IN THE TIME OF THE BUTTERFLIES on stage on Sunday, June 1st. This gives a whole new meaning to "close reading of informational text" stressed in the Common Core. All text is informational, in my opinion.

We are coming out of the box with this as an example of our current version of a STEAM-centered project.  For example, I just went to a design class

[in our school] last week that is sponsored by the 92Y in our building. The level of discourse between our students and teachers was astounding. I think it's because the students had achieved a level of competence AND confidence using Sketchup (a design software) that they could critically and authentically interact with their teachers in ways not hereto possible without technology.

Additionally, our Living Environment, Earth Science, and Social Studies teachers have planned some of their curriculum with content and themes from Julia Alvarez's novel.  We are taking a group of students and teachers to choose native plants for our butterfly garden at a Native Plant Share where our teachers will get lots of info and free plants: http://butterflyprojectnyc.org/. There will also be a special seed planting installation in the lobby of the auditorium that is classroom-based to signify and drive home the connected nature of all human activity and the Mirabal sisters as living symbols of that which continues and sustains.

We've been able, in a relatively short amount of time, to pull other initiatives of our school around partnering with a neighborhood soup kitchen (POTS, which stands for Part of the Solution) to have an herb garden for them as part of our roof top to flavor the neighborhood in a whole new way! Last week, our Director of Development Leticia Domenech and I went to an Earth Day Dinner at the Garrison Institute where we met NY Times writer and Pace University Professor Andrew Rivkin. We talked about how real world solutions will not be achieved through "shame and blame" journalism or studies. It's really about "traits" that must be practiced, learned, even taught for global solutions to occur. And that conversation got me to thinking about traits that artists who succeed bring to bear in the pursuit of practice of their craft. Those same kinds of "traits" or real-time problem solving is what Andrew was doing with his graduate students, much the same way our Digital Design students were doing with their teachers Bud Thorpe and Jesse Perez in the classroom.

My aim is to shift our community into a more enlivened place of engagement and I know academic assessments will show deeper student learning than a close reading of informational text. All text is informational. We've taken IN THE TIME OF THE BUTTERFLIES and are bringing it life in a way that would not be possible without STEAM. I love Yo Yo Ma's quote, "Equilibrium occurs when the information from the edges is available at the core. Only when those meridians or pathways that connect the edges to the middle are open will a life-form survive, and even prosper. Only when science and the arts, critical and empathetic reasoning, are linked to the mainstream will we find a sustainable balance in society. What is dangerous is when the center ignores the edges or the edges ignore the center — art for arts sake or science without a humanist and societal perspective. Then we are headed for doomsday without knowing it."
Creating Buy-In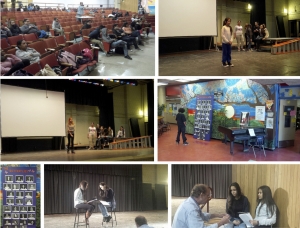 To achieve this massive effort, Ron has implemented some key features that helped to ensure school community support and sustainability.  Because of the transparency, teachers are provided with a platform for showcasing their work and their students.  Additionally, everything is located centrally so that it is a collaborative effort towards success.  For instance, teacher professional development activities and previous years' PD logs are available for everyone to view.
This allows partners, parents and staff to all support the collective work being done to move STEAM forward.  Additionally, teachers have a private area to share lesson plans, current PD reflections and departmental meetings so that they can have a balance between a reflective journey and a presentation of learning.  This builds a culture where continual learning and growth is valued and modeled, which can then be translated with students.  After all, if we're going to talk the talk, we need to walk the walk.
Additionally, partnerships with the community are a huge area of pride and constant nurturing at TapCo.  Their list of partnerships is impressive, and includes organizations such as 92nd Street Y, Lincoln Center, The Broadway League, Scholastic Arts, and NYU.  These and other partnerships are proudly displayed on their homepage and are cultivated to ensure that students have a variety of opportunities to extend and integrate their knowledge with hands-on practical experiences.
Not only does TapCo value organizational partnerships, but also works hard to build lasting relationships with the parent community as well.  This school knows that what happens during the school day cannot be confined to a building, but must also be continued at home and beyond.  Through constant parent updates leveraging technology tools like Pupil Path, as well as sharing videos, photos, and important letters and information on their website, TapCo reaches out in order that the parents and community can reach back in.
Challenges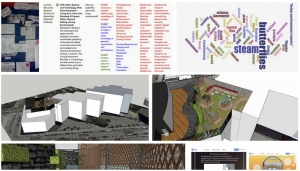 As with all change and new initiatives, there are challenges along the way.  Trying to move the needle of student achievement through STEAM while simultaneously implementing new Common Core Standards and Teacher Evaluations can sometimes be exhausting and overwhelming for the entire school community.  The key for this school was to find the natural ways that areas could join together so that everyone could share the load, rather than carrying all of the individual standards on their backs.  Bringing in curriculum mapping systems like Atlas Rubicon has helped to align the curriculum and have a more directed focus.
Additionally, rapid changes like these can be difficult for non-educators to understand – including parents.  To help provide parents with as many tools as possible and to build an understanding of what, why and how their children are learning through STEAM, TapCo has been dedicated to a proactive approach of transparency and flexibility.  Fear is often times an outgrowth of being "in the dark", so by providing the information up front and in multiple ways, parents can feel empowered to help their children, rather than as an outsider looking in.
Conclusion
Take a look at some of this incredible video that show students working and engaging in their learning.  It is truly inspirational to see the power of the arts brought to life!
I want to personally thank Mr. Ron Link and the whole TapCo community for sharing their story and being one of the first schools in NYC that were ambassadors to the STEAM approach.  Schools like yours highlight what can happen when we fully embrace creativity in the learning experience.  If you enjoyed this case study, you'll find others similar to this in my latest book, No Permission Required, released on April 27th via all major booksellers.