Script Writing Literacy Strategy Example
Literacy is a part of all content areas. In this workshop preview, Dr. Jamie Hipp shares how to use the theater skills of scriptwriting to deepen reading and writing processes in your classroom.
This workshop is part of our Artistic Literacy Strategies Pack in the Accelerator Professional Membership.
Literacy Strategy Connecting the Arts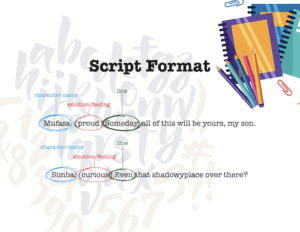 We all know what 21st Century Skills are and how they will benefit our students in the Information Age, but what about an Every Century Skill like literacy? Like the arts, literacy is broad and therefore, it's easy to connect with any subject matter.
In the arts, we can read a piece of art, write a new music composition, and use our speaking and listening skills to perform a monologue. And just like traditional literacy, there are language conventions for each art form that artists follow (and break).
Interweaving these artistic strategies into traditional literacy teaching methods gives students an engaging opportunity to connect their creativity with their skill-based knowledge. This deepens their learning and offers a more hands-on process for learning, practicing and mastering their literacy schema.
This workshop preview is part of our members-only Accelerator workshops. Each month, we release a stack of videos and worksheets to help educators bring inspiring new techniques into their classrooms. Each workshop also provides teachers with a certificate for 1 PD hour.
To download the step-by-step literacy packet and access all of the resources, become a member.