Susan Riley | April 2014
Last Day to SAVE on Summer STEAM Conference!
Have you registered yet for the online arts education conference of the year?  If not, today is your LAST day to SAVE with the Early Bird registration pricing!  This is one event you are not going to want to miss – we have over 20 conference presentations, another 10 pre-conference sessions, incredible exhibitors and sponsors, and a FREE STEAMpack will be mailed to the first 500 registrants that is valued at over $500.  Plus, if you register today, you'll save an additional $14 off the regular ticket price of $99.  We want for you to enjoy this incredible value at a price that is easy on your wallet.  But you can't delay – we have already had a wonderful response with educators from around the globe who have already signed up.

If you're on the fence about this opportunity, I completely understand.  There's a lot of initiatives being thrown at all of us these days: Common Core, SLO/SGO with Teacher Evaluations, and shifting standards in the Arts. It feels really overwhelming, which is why this summer STEAM conference is so important.  This summer STEAM conference aims to help you make the connections between all of these initiatives so that it's not just "one more thing", but instead leaves you feeling refreshed and empowered to walk into your building truly ready to teach.  These summer STEAM conference sessions have been selected out of hundreds of applications to provide you with practical ideas and information that you can apply immediately in your classroom which aligns with the critical initiatives going on right now in schools.  You CAN do this!

Plus, since it's a virtual conference, you can access all of this incredible information, exhibits, and resources from the comfort of wherever you are located.  If you have access to the internet, you can participate in this summer STEAM conference.  Join us via a phone on the beach, a computer at school, a tablet at home, or anywhere in between.  I know, I know…you may be weary of an "online" conference.  Perhaps you had a bad technical experience at another online conference, or maybe you are just unsure of how all this works.  Well, rest easy!  We have been doing this for 3 years now and understand what needs to happen for this kind of event to be successful.  And just to be sure, we've partnered with global leader WebEx Events to ensure a smooth user experience.  They take care of all the technical details so you can focus completely on the content.  Want a sneak peek at what a virtual conference looks like?  Check out our summer STEAM conference webpage.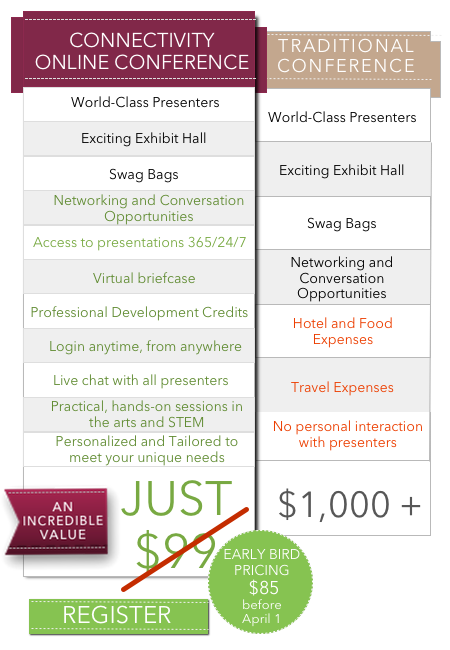 Still a little unsure?  Take a look at this quick message directly from me to you as a way to help you decide if this is right for you.  And, if you still have questions, please feel free to contact me directly at [email protected] or via phone/text at 240.216.1005.  I don't want you to miss out on something that could be such a valuable experience to network, grow, and thrive in YOUR classroom.  Join us!