Amy Traggianese | March 2019
Essential Tips for Visual Journaling
What is up with all the hype about visual journals? Can't we just take regular old notes the way that we have always done it?
Actually, no.
As educators, we know that it is easier for students to remember information when it has been presented in many different ways. Looking at visuals and creating visuals can help all learners organize and retain information.

Memory Cement
Simply seeing a different type of visual can be quite powerful. I have a vivid memory of how excited and engaged I was as a sixth-grade student when my teacher used colored chalk on the chalkboard. I was SO excited! Sounds pretty silly now, but to a kid in the 1970's, man, that was totally out of the box!
We ALL want those vivid, exciting learning moments for our students.
Writing also helps increase student learning and ease retention of that information. Dr. Judy Willis, a neurologist and teacher, is an authority on brain research regarding learning. She describes writing as "memory cement." Sounds good, right? Cement that learning!
How can you start to use visual journaling?
First, reflect on how you take notes. Do you jot things down randomly on a piece of paper? Perhaps you have a specific notebook for all of your notes at school. Or maybe you're into technology and you use an app so all your notes are in digital format. Or maybe you don't take notes at all.
But let's say you do. Do you write words or draw images — or both? Do you know where your notes are when you need them? Or do you have a photographic memory and once your notes are written, you don't need them anymore?
If you lose, or, *ahem* misplace your notes on a regular basis (like I used to) I understand your frustration! I realized that I really needed to get my act together in this department, so I started to get serious about taking notes.
Throughout my learning, I have discovered that I need to write and repeat information in order to retain it. I remember writing and rewriting facts and content over and over so I could remember it. In this way, I created my own connections to the material. Photos and illustrations in my textbooks and notes were my friends: I could close my eyes and "see" the bones of that page, and then recall the material that was needed.
Not that I really have a photographic memory or anything.
Taking the leap
With the way that I learn in mind, I began my leap into visual journaling. I decided to use black thin and thick permanent markers plus just one colored marker. As I listened and participated in a lecture or conversation, I wrote down keywords and phrases and added lines and shapes wherever there was space. I really had to consciously loosen up because what if I made a mistake? My goodness, I was writing in permanent marker! I decided that if I made a mistake, oh well, I would just have to deal with it. Or change it into something else. Or, cover it! (I have learned that stickers are great for this purpose.)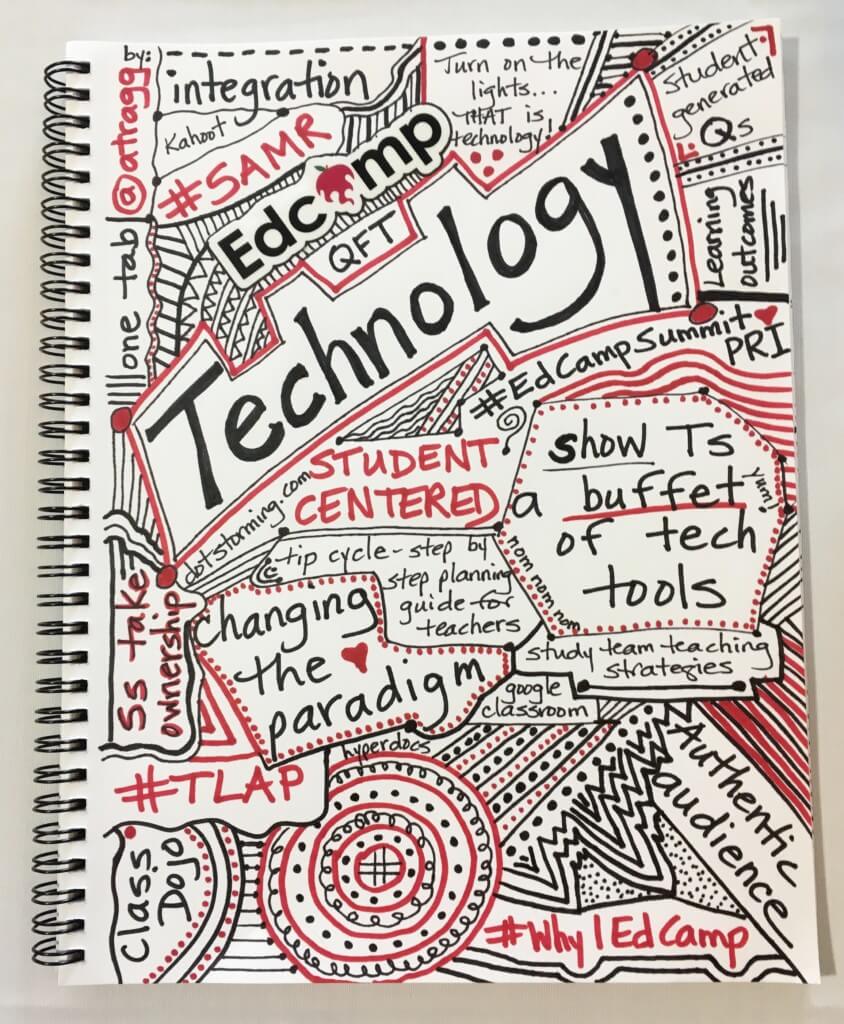 Try it yourself!
Would you like to visual journal for:
Self-reflection

Improve memory

Creativity, expression, reflective practice

Note-taking
A visual journal can be your place for unstructured structure. Write your ideas down, and then play with words, shapes, and figures. If you're one of those people who think you can't draw, I call shenanigans! You just haven't practiced enough! Or, you just need a good, simple visual reference. Look at free icon sites for inspiration.
Start your own Visual Journal!
Now that you're ready to get started, here are my four essential visual journaling tips:
Use a blank, unlined notebook, or create your own with some drawing paper in a manila folder.

Simplify your notes with color, line, and shape! You can really jazz things up with colored markers, repetition, use of space and balance.

Add your own graphics! Look at these free icon sites for inspiration:

The Noun Project

,

FlatIcon

or

Open Clip Art

. It's much easier to start drawing when you can look at a simplified drawing of an object.

You're not into writing on actual paper? Try out a digital app! I have dabbled with

Paper

,

Notability

, and

Inkflow Visual Notebook

. Find one that suits your needs!
Once you've tried it out, plan how visual journaling will work best in your classroom with your students. "Cement" that learning with visual journaling!
RESOURCES:
Why Students Forget and What You Can Do About It – Edutopia
Visual Journaling as a Reflective Practice – Psychology Today
Tips for Keeping a Sketchbook – ThoughtCo
The Brain-Based Benefits of Writing for Math and Science Learning – Edutopia
How the Memory Works in Learning – TeachThought