Amy Traggianese | January 2019
The Secret of Teacher Longevity
Who was your favorite teacher?
C'mon, I know you have one!  Every person who has ever attended school remembers their favorite teacher(s).   Do you remember how you felt when you were a student in their classroom?  Excited.  Smart.  Heard.  Right?
A small world
I had a terrific art teacher in elementary school.  She inspired not just me, but all of her students.  I can remember many good times creating works of art in her classroom.

So fast forward about 12 years and I'm an elementary classroom teacher myself!  I was even hired in the same public school district that I attended as a child (an awesome stroke of luck!).  I soon discovered that at my new school, the principal, physical education teacher and the art teacher there were my teachers years ago.
The principal was excited to hire me.  The physical education teacher almost passed out when I introduced myself to him.  I'll never forget that moment.  He was totally shocked that I was now teaching with him!  Now I'm the older teacher greeting former students as colleagues and I totally understand how he felt!
What happened?
Reconnecting with my former art teacher was great!  I was so delighted and eager to be able to teach alongside her.  Unfortunately, that initial excitement withered away once I watched her work with my little 1st graders.  It was truly sad and disheartening.
All I could think was, "Oh. My. Goodness. What happened to her?!"
That exciting, busy and creative art classroom in my memories was non-existent.  My 1st graders did not experience the same creative environment that I had experienced as a young student.  It truly hurt me to see this every week.
I learned a lot about teaching that year.  As you travel through life and your career, things happen.  Life happens.  It can be difficult – sometimes impossible – for some teachers to keep that excitement and passion.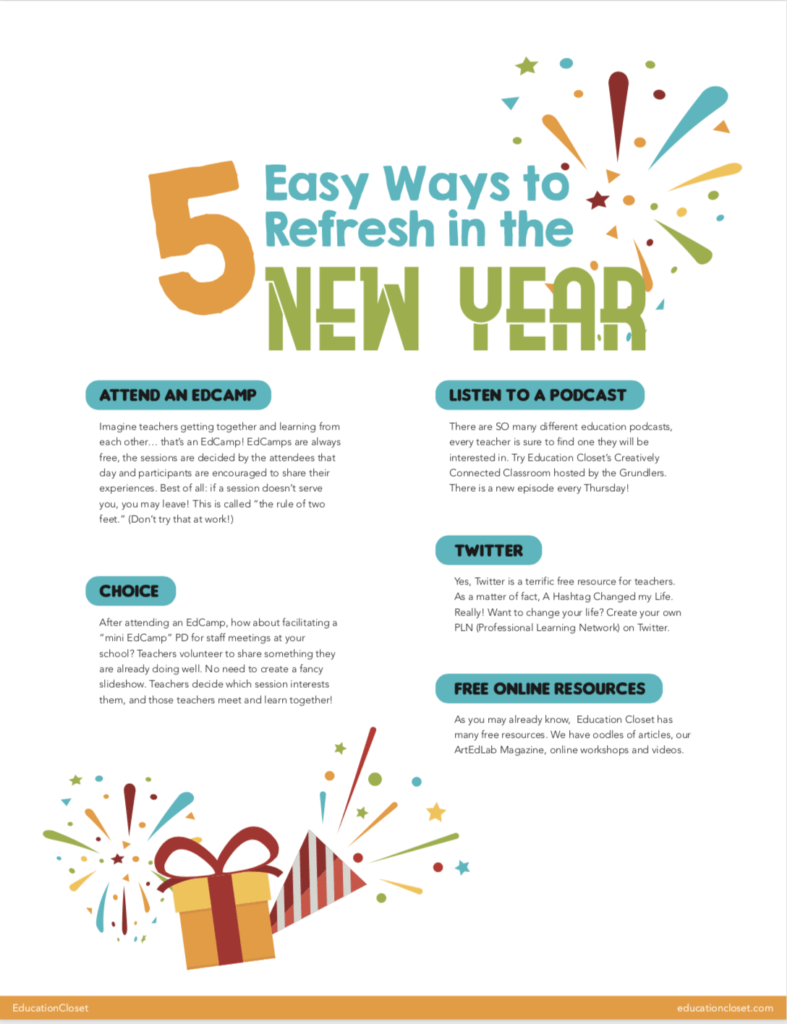 Beginnings and ends
I was able to witness the glorious beginning of my favorite art teacher's career and the sad fizzle near the end.  I truly wonder what happened during those years in the middle.  It broke my heart to see the empty shell of that enthusiastic and inspiring teacher who I had so loved and admired.
Unfortunately, we hear about these sad stories about teachers all too often.  Recently, a friend of mine told me about a teacher who showed a video about bullying to her daughter's 5th grade class.  The end of the video strongly implied that the student shown with a gun had taken his own life. When my friend expressed concern about the appropriateness of the video's message for such young students, she was told, "I know it seems disturbing to you, but I showed this to them because that's how it is today and I need to stay relevant."  
Showing a shocking video that will upset students and deliver the wrong message is staying relevant? Why hasn't this educator learned different, more appropriate ways to teach her students the required content?
The answer is professional development.
Professional development matters
We have all heard it before: teachers need professional development. However, teachers should not be viewed only as workers who need to be professionally developed. There are so many PD opportunities that are imposed upon us by the state and the district. Most of these learning opportunities may be necessary… but teachers need to have a say in their growth and learning too!
Attend an EdCamp – Take back your PD! Imagine teachers getting together and learning from each other… that's

an EdCamp!

EdCamps are always free, the sessions are decided by the attendees that day and participants are encouraged to share their experiences. Best of all: if a session doesn't serve you, you may leave! This is called "the rule of two feet." (Don't try that at work!)

Choice

– After attending an EdCamp, how about facilitating a "mini EdCamp" PD for staff meetings at your school? Teachers volunteer to share something they are already doing well. No need to create a fancy slideshow. Teachers decide which session interests them, and those teachers meet and learn together!

Listen to a Podcast

– There are SO many different education podcasts, every teacher is sure to find one they will be interested in. Try EducationCloset's

Creatively Connected Classroom

hosted by the

Grundlers.

There is a new episode every Thursday!

Free online resources

– As you may already know,  

Education Closet has many free resources

. We have oodles of articles, our ArtEdLab Magazine, online workshops and videos.

Twitter – Yes, Twitter is a terrific free resource for teachers. As a matter of fact,

A Hashtag Changed my Life.

 Really! 

Want to change your life? Create your own PLN (Professional Learning Network) on Twitter.
Don't fizzle out. Find your passion! That's the key to teacher longevity.