Amy Traggianese | June 2017
A Hashtag Changed My Life
Four years ago, I participated, nervously, in my first #EdTechChat on Twitter. Good gracious… should I answer any questions? Other people might answer me! What should I do then?!?
Like many newbies on Twitter, I did not understand what a hashtag was and how to use it. I kept Tweeting, nobody saw my tweets, so no one communicated with me. I thought that Twitter was not for me. It turns out that I needed to use a hashtag to understand the power of Twitter.
Then I discovered the #EdTechChat hashtag in an education magazine. It said that educators communicated online on Twitter on Monday nights at 8:00pm. You could follow along if you searched their hashtag, #EdTechChat. What? Really?

Just in case you need a definition of "hashtag," here's a link to it on Urban Dictionary.
So I followed the directions given in the paper publication. And I discovered that I could actually communicate with other people online! Mind blown, for sure.
My First Twitter Chat (but not my last!)
Fortunately, I was greeted warmly during my first #edtechchat by Scott McLeod (@mcleod), the guest moderator. Encouragement and advice from Alex Podchaski (@ajpodchaski) and Susan Bearden (@s_bearden) helped me feel welcomed and all the awkwardness melted away. During that hour I finally understood the power of the hashtag by actually using one.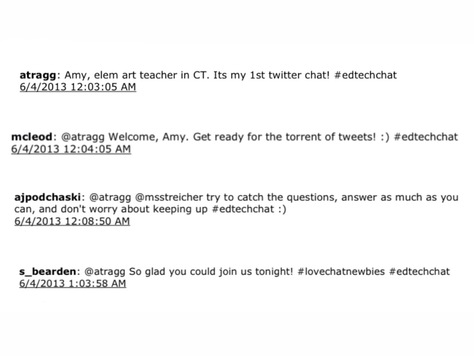 The warm welcome coupled with my desire to learn more about educational technology drove me to participate in almost every weekly #edtechchat during that year. I learned so many things! Sometimes I lurked (watched the chat, didn't interact) or only asked questions because I had no idea what they were talking about. I clicked on links and had zillions of tabs open by the end of the hour. I'd spend the next hour reading through all those resources, filing some away for future reference.
New Opportunities
Without even realizing it, what I learned led to me to make changes at my school. (My assistant principal said there was no stopping me!) It was impossible for my elementary students to create and get their work off of our shared iPads. Apps that were supposed to be easy to use were not. As their art teacher, this drove me absolutely crazy! Student iPad use was SO limited, apps were so hard to add and update. I had learned through my connections on Twitter that students needed to create with technology, not just fill in blanks. I decided I had to push things in the right direction. Today, our school has many chromebooks, all staff and students in my district have their own Google Drive accounts. I'm proud to say that I really was able to help with some decisions that helped students and staff with technology.
#Edtechchat led to discovering EdCamps, (unconferences for educators) which led to meeting co-founders of the chat. Sharon Plante (@iplante) and I met at #edcampNYC. I discovered she grew up around the corner from where I live and she attended the elementary school where I work. Small world! I have also met many other educators from around the world face-to-face at conferences and EdCamps after conversing online.
Eventually, I realized there must be art teachers on Twitter too! So I discovered #artsedchat, helped to facilitate that for a while, and then found #pisdartchat– which quickly turned into the now famous #k12artchat! I am lucky to be able to call Laura and Matt Grundler friends and colleagues, here on EducationCloset and on social media.
The Next Evolution
What came next? I helped start, plan and run EdCampSWCT. Planning the event with other educators in the area with Voxer helped over 100 attendees over three years learn from each other to advance student learning over a widespread area in our state.
And the last, really crazy thing that happened is… I decided to get my administrator certification at a local university. So I took 30 graduate credits, two state tests and an internship in 10 short months, while I worked full time.
Crazy? Yes. It was crazy. But I did it!
I have connected with and learned from so many different educators on Twitter in the last few years. Writing for my own blog and here, for EducationCloset, also happened because of that hashtag.
That first night on #Edtechchat propelled me into the Twitter-verse and helped me to help my students and teachers at my school. Little did I know that I could help other educators help their students through sharing information online.
Yeah. A hashtag really did change my life.