Susan Riley | May 2016
Make the Most of Your Planning with this Tool
This is the time of year when most of us begin thinking about curriculum changes we'd like to make, revamping our lesson plans, and tweaking our teaching practice so that our classrooms remain fresh, vibrant and excited hubs for learning.  As a resource for teachers, we're so grateful that you use our website to help you in this process.
But, we also know just how BIG this site is – it can be totally overwhelming!  There are so many tools, resources, ideas, lessons and media that sometimes, it's hard to know where to start. When it comes to planning, wasted time isn't something we can afford.
To maximize your time and focus your planning efforts when using our site, we've created a helpful download that you can reference this summer and beyond.  We've broken down each area of the site based upon the four cornerstones of integrating the arts.  This way, you can easily find what you should dive into based upon your own needs in arts integration and STEAM.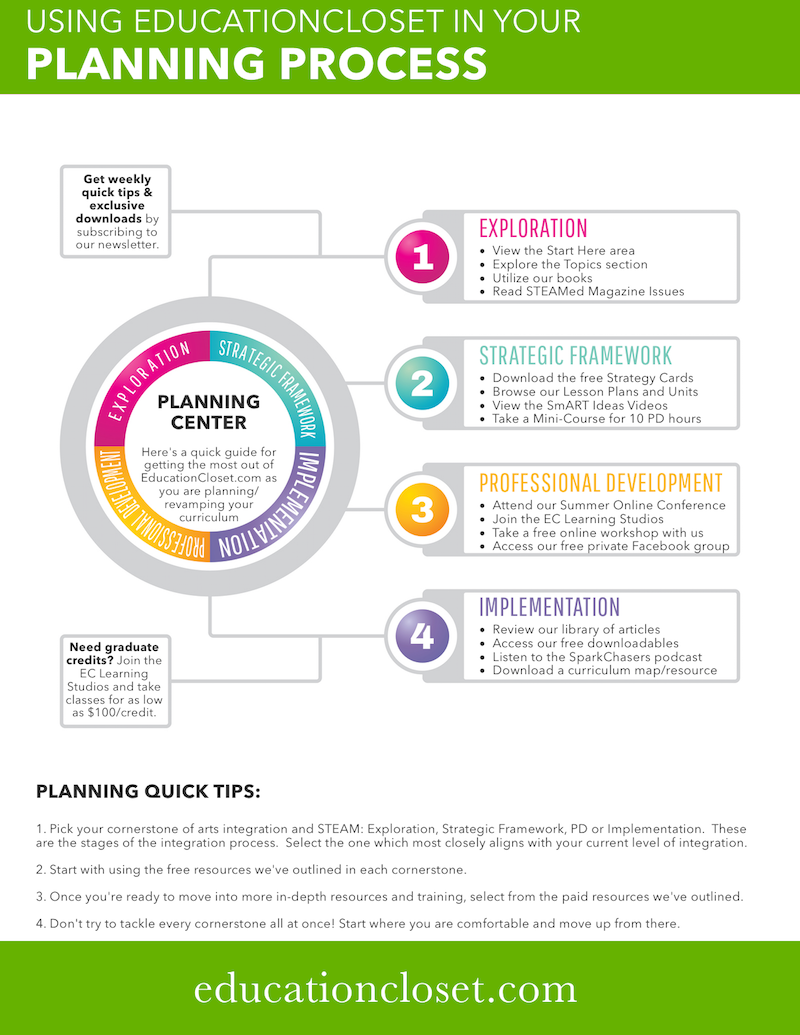 EXPLORATION LINKS
1. Start Here area – If you need an overview of the integration process, as well as a basic understanding of the 4 Cornerstones, this is the place to go.
2. Topics Sections – Dive deeply into the variety of ways you can integrate (from STEAM to PBL and more) inside our topics area.
3. Books and Publications – These books offer rich, research-based processes, templates and lessons for you to use in your classroom.
4. STEAMed Magazine – With 6 issues and more to come, these 40-50 page quarterly digital issues featuring educators around the world using STEAM will inspire and delight you.
STRATEGIC FRAMEWORK LINKS
1. Strategy Cards – These are free, downloadable one-page cards in each of the arts areas to get you using the arts right away.
2. Lesson Plans and Units – Whether you need a quick lesson or a 3-4 day unit, these free resources are available for grades K-12.
3. SmART Ideas Videos – This free video series features 2-3 minute ideas that you can use to tweak your teaching or pick up a new tip or two.
4. Mini-Courses – Our popular online mini-courses are a quick, easy way to get in-depth tools for integrating the arts, while also logging 10 PD hours.  Self-paced and lifetime access.
PROFESSIONAL DEVELOPMENT LINKS
1. Arts Integration and STEAM Online Conference – Held each July and February, this is our flagship event. Provided live, and includes on-demand access for a full year. So you can flexibly log PD hours while learning from other educators about the latest classroom-tested ideas for Arts Integration and STEAM.
2. EC Learning Studios – This is our membership platform that provides you with access to all of our online, accredited graduate-level course, resources, conferences, and community.
3. Online Workshops – We offer these free online workshops throughout the year to provide timely ideas, resources and tips.  Current workshops provide a PD certificate for 1.5 hours, and there is a large archive library of previous workshops available for viewing.
4. Private Facebook Group – There's nothing more uplifting that a great community, which is what our private Facebook group provides. Thousands of other educators share ideas and resources daily.  Request access and you'll be able to jump in within 24 hours.
IMPLEMENTATION LINKS
1. Article Library – Access our full library of over 2,000 articles to help you take your teaching to the next level.
2. Downloadables Area – Why reinvent the wheel?  This area offers you downloadable posters, infographics and guides for your classroom.
3. SparkChasers Podcast – Like to listen and learn?  With over 40 episodes, there's a lot of teaching tips to take in.
4. Curriculum Maps and Resource Guides – These done-for-you tools will save you infinite amounts of time during your planning process.