Barbara Sandstrom | November 2019
Reaching Your Leonardo
Have you ever heard or read the story Leonardo's Horse by Jean Fritz? It is a story of Leonardo da Vinci and a dream of creating a bronze horse for the Duke of Milan. In our 5th grade ELA curriculum, it was one of the stories from which we could choose. The story stood out to me for two reasons.
First, it embodies the lifelong skills of perseverance and collaboration. It also centers around the fact that even though DaVinci was unable to complete his work, it was later continued by Charles Dent and finally finished by friends and family of Charles before being given to the people of Milan in 1999. Second, the story was filled with Leonardo DaVinci's unique inventions and illustrations that illustrate the steps and processes he would follow in trying to create models of his inventions.
Leonardo's Horse became a favorite of my students because it provided a different perspective on this famed artist and they were able to connect with his interest in science, inventing, and drawing. Undoubtedly because it caught their imagination and provoked curiosity in what it takes to be an inventor.

A Matter of Chance
Fast forward six years to 2018 when Time produced a special edition called "The Science of Creativity". As I skimmed through the magazine, one of the articles, "Learning from Leonardo" (Isaacson, 2017) caught my attention because it took me back to 5th grade.
The article focused on the wealth of lessons we could learn from Leonardo and also how we could emulate his thinking and processing. Isaacson broke down these lessons into 20 bite-size nuggets that we could easily incorporate into our daily lives. Some of these include:
Being curious about everything around us
Retain a childlike sense of wonder by puzzling over everyday phenomena like "why the sky is blue?"
Observe the world around you by taking a closer not just at a body of water but each of the ripples found within
Let your reach exceed your grasp by imagining problems that appear impossible to solve by learning why that is
Indulge in fantasy for skill without imagination is empty. Think of combining observation and fantasy as tools for innovation
Create for yourself because it is something you want to do and not what somebody else wants you to do
Connecting with Leonardos
As I continued to dive into this article, I learned that what set Leonardo apart from others was his adeptness of employing imagination to intellect where he could find links between things seen and unseen. It was while discovering the additional 14 lessons of Leonardo, that I found myself wondering if the lessons I had created and taught "back in the day" truly connected with the Leonardos in my classroom and if not, what changes in my planning would it take to reach them.
With this question in mind, I explored different articles in EducationCloset around lesson planning. What resonated with me most were those on The Habits of Mind. So, with fresh eyes, I explored redesigning my lessons through the lens of the eight attributes found in the Artists Habits of Mind. This adaptive framework designed by Studio Thinking and Harvard's Project Zero would allow not only a way to reboot and renew my lesson plan concept but provide for consistent language that would easily flow from one subject to another.
Incorporating Artist's Habits of Mind
I looked at how the Artist's Habits of Mind could be used as an integrated instructional tool to address different learning styles, abilities, and interests while developing problem-solving skills, infusing higher-order thinking attributes, and promoting collaboration within the lesson plan format. Let's begin this lesson planning adventure with a look at each of the eight components and how teachers are able to utilize them in different subject areas:
Developing Craft: Learning to use tools, materials, vocabulary, and the practices of the subject concept.
Engage & Persist: Learning to find areas of interest and importance within a subject and developing focus and other ways of thinking that are helpful to working and persisting at the tasks involved.
Envision: Learn to picture mentally what cannot be directly observed, heard or written. Imagine possible next steps in working on a task or investigation.
Understanding the Art World: Learn about the history and practices of the concept being taught. Interact with other specialists and the specialists' community.
Stretch & Explore: Learn to reach beyond one's supposed limitations to explore playfully, without a preconceived plan and to embrace the opportunity to learn from mistakes and accidents
Express: Learn to convey an idea, feeling or meaning through the process of working on a task.
Observe: Learn to attend to visual, audible, and written content more closely than ordinary "looking" requires. Learn to notice things others might not notice.
Reflect: Learn to think and talk with others about one's work and the process of making it. Learn to judge one's work and others' work and processes concerning the standards of the field.
A New Look to Lesson Planning
Identify the topic of study
Clarify standards and objectives to be used
Brainstorm activity ideas for each Habit of Mind
Determine the assessment
Make clear the purpose of the lesson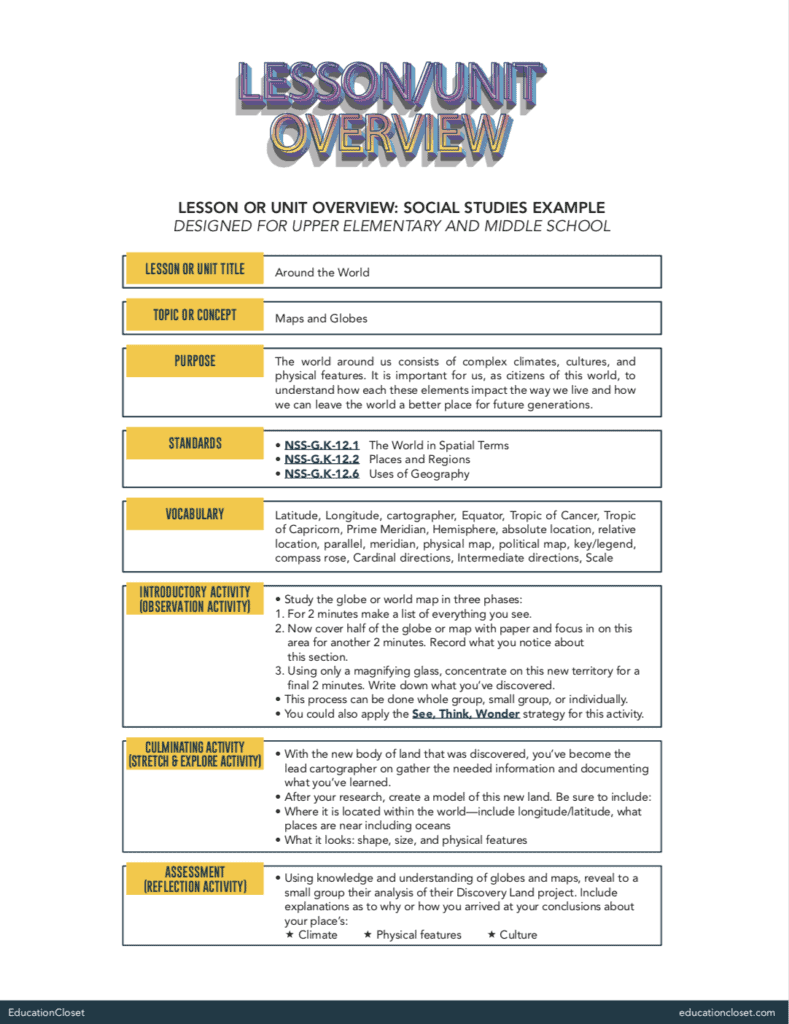 However you choose to incorporate the Artist's Habits of Mind in your lesson planning format whether it's adding one habit at a time or going all in, I am positive that it will spark your creativity and foster curiosity and experimentation with your Leonardos. Let us know how your lesson planning with habits of mind goes!
Bibliography
Isaacson, W. (2017). Learning From Leonardo. Time, 18-27.
Kennedy, K. a. (2018). Time: The Science of Creativity. New York City: Time, Inc. Books.
National Standards. (2919, October). Retrieved from Education World: https://www.educationworld.com/standards/national/toc/#soc.
Project Zero. (2004-2006). Thinking Palette. Retrieved from Artful Thinking: http://pzartfulthinking.org/?page_id=2