Jaime Patterson | August 2018
Arts Integration Lesson Organizer
Amidst the chaos and excitement that accompanies the start of every school year, organizational resources serve to keep a classroom calm and orderly for both students and teachers. One big lesson I've learned as an Arts Integration Specialist? The beginning of the school year is the best time to schedule AI and STEAM lessons and initiatives. To order the supplies that support those lessons. And furthermore, to book artists, guests, and museum trips that help bring those lessons to life.  
The 3 Cs
One way to bring order to your classroom is by concentrating on the three C's. In other words, Communication, Control, and Command. (1) Establish clear and easy avenues of communication with teachers on your grade level or content team. (2) Create control of classroom supply chaos by organizing existing supplies from last year and ordering new consumable supplies for upcoming first quarter lessons. (3) Take command of your lesson library.  Organize a physical binder. Or better yet, organize a digital resource for lesson plans to share and collaborate with peers. (Even when your planning periods don't align.)  If your school does not support an arts integration specialist position, or if you just want to expand your AI lesson library, check out IntegratED curriculum for unique, creative, standards-based lessons and professional development sessions dropped in your inbox on a quarterly basis.
LESSON ORGANIZER
To help organize your classroom, I have created an AI Lesson Organizer to help categorize lessons, resources, and guests related to arts integration and STEAM initiatives.  This is available exclusively for our Accelerator Members. 
Meet with your grade level or content team members and fill out this resource together, and then send a copy of your supply order list to the administrator in charge of helping you order supplies, to add structure to the start of the school year.  Ordering supplies specifically designated for arts integration lessons is very important. Why? It helps prevent siphoning supplies from the art or music programs. Program which often have very limited supplies and budgets themselves.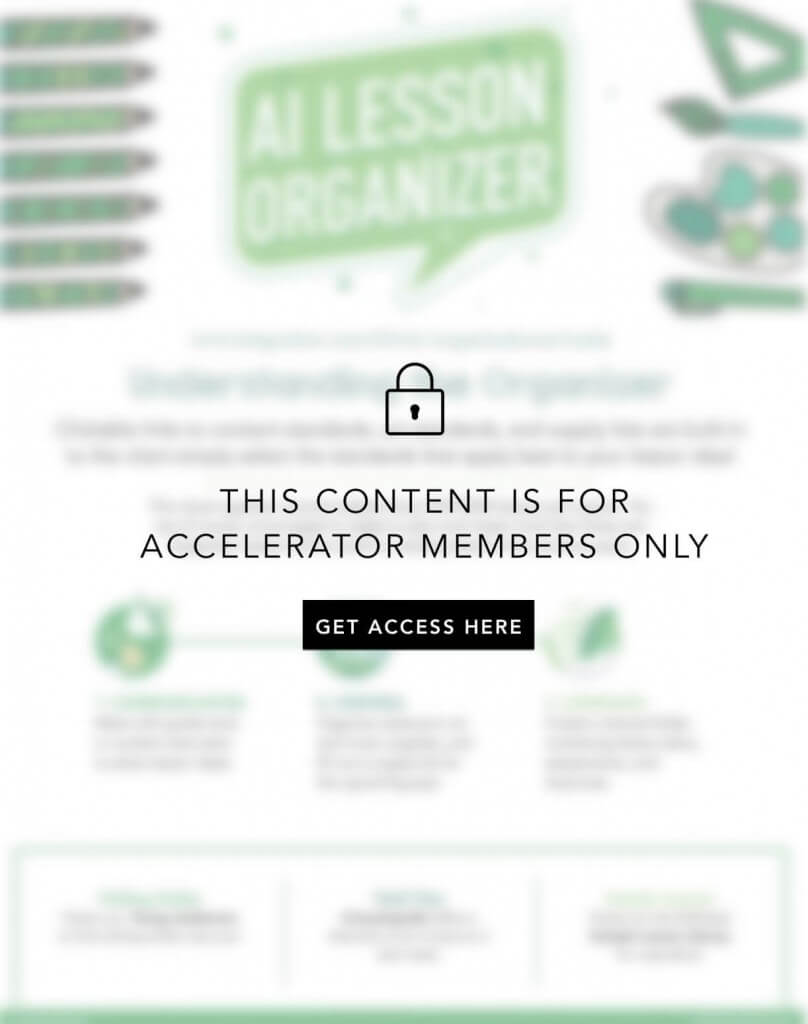 If your school does not provide a budget for arts integration, I encourage you to check out 'Funding Arts Integration,'  to learn how to apply for grants and acquire AI funding!  Note that most grant applications are due at the beginning of the school year, so although I don't delve into grant applications in this resource, remember that this is also the time of year to focus on completing and sending out funding requests to help support your AI and STEAM teaching.
Steps to Start of School Year Success
Meet with grade level or content team to discuss first quarter

STEAM and AI projects

.

Assess what consumable supplies need to be ordered to support those lessons.

Call local arts organizations to schedule museum visits or visiting artists to help empower teachers and bring in outside expertise to support lessons.

Organize digital lesson plans and share in a communal shared electronic folder.

Send your completed AI Supply List to an administrator or administrative assistant to help you place your order!