Susan Riley | August 2017
Basic Classroom Supply List for Arts Integration
As we head back to school, we teachers can be seen at various supply stores loading up on materials for our classrooms.  If you're planning to use arts integration or STEAM this year, you have some special considerations to think about when it comes to what items you'll need to be successful.
To help out, we've compiled a basic classroom supply list for each arts area that you can use to get started.  These are basic materials that are used within each art form so you can be prepared no matter what lesson you're planning.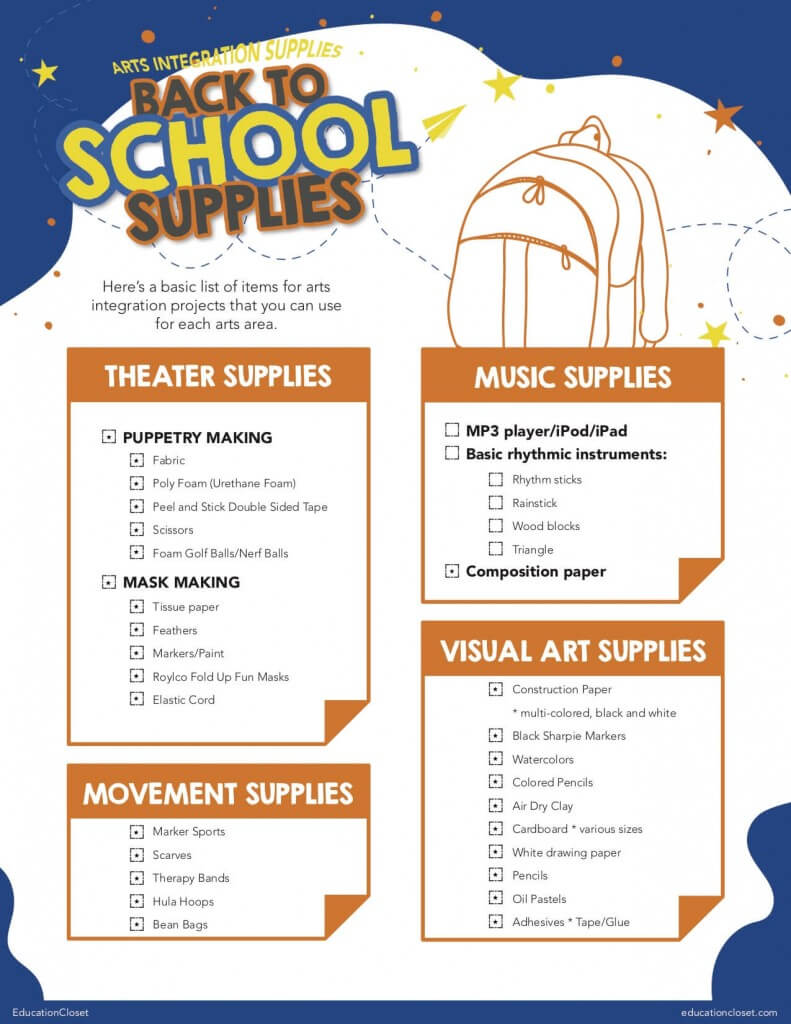 Breaking It Down
What's great about this supply list is that it breaks it down by arts category.  So whether you're a classroom teacher looking to integrate more of the arts, or an arts teacher who wants to integrate with another art form, you can use this list.
Keep in mind that the supplies listed here are the basics – there's nothing flashy here.  If you're looking for everything you might need, definitely check out our Arts Integration Cart Checklist.  That's much more comprehensive, but also a little overwhelming.  This list pars it down to the things you need to get started.  If you're looking for even more ideas like this, you'll want to check out this list of 5 essential consumable art supplies.
Considerations
You might be wondering how you can afford these items – especially if you're working with a lot of students.  One suggestion is to ask for donations from parents or event the PTA.  You'd be amazed at what folks will donate!  And if you provide them with this list, you'll ensure that you don't get materials you don't need (hundreds of egg cartons, anyone?).  Art with Jenny K also has this terrific Arts Integration on a Budget article with ideas for how to get the supplies you need.
If you're a little nervous about trying a different arts area, like mask-making or puppetry, don't be!  With a little extra support, you can definitely use these materials to enhance and deepen your curriculum.  Nick Barone Puppets has a great index of items you'll need and instructions for how to use them. And Blick Art has a wonderful list of Mask Making Supplies and Tutorials you'll want to explore.
As you plan for everything you'll need for your classroom, don't forget to gather items now for the innovative projects you'll be doing this year.  A little pre-planning will save you lots of time later!