Susan Riley | June 2016
Habits of Mind: Hype or Help?
There has been a lot of talk lately about the Habits of Mind and how to use them in the classroom.  It seems like everyone is jumping on the bandwagon!  There are Habits of Mind of Math, Science, Engineering and the Arts, and we could even make the case that the act of "literacy" has its own Habits of Mind as well.
Obviously, incorporating and teaching through a set of mindset principles is an important part of the education process.  But are the Habits of Mind hype or do they really help in and out of the classroom?
In today's video (from our Facebook Live Class on Tuesday June 22), I'm exploring each of these sets of Habits and breaking down why they have been outlined for each content area.  As you'll see throughout this Habits of Mind video, each content area is unique but all contain common intersections for mindsets.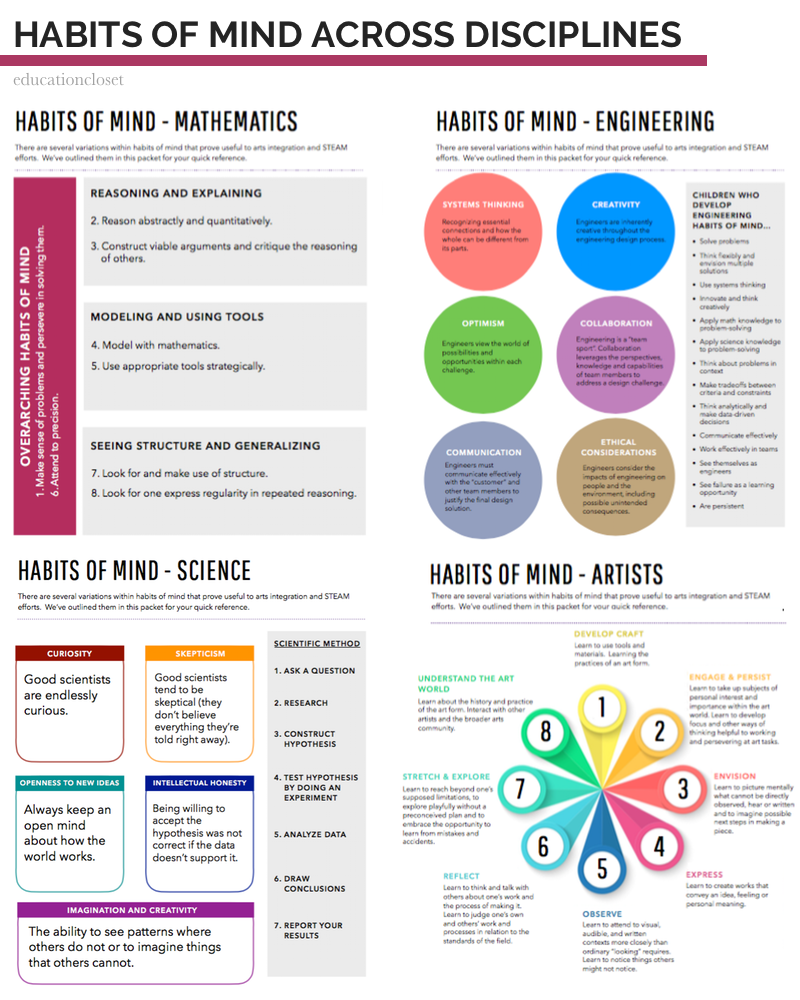 INTEGRATED HABITS OF MIND
The question naturally becomes: why don't we integrate across the Habits of Mind?  After all, we don't teach in isolation and if a Habit of Mind is good for one area, it stands to reason that it is probably useful in another.  Isn't that the point?
That's why it's important to look for the common threads in each of the content Habits of Mind and work towards weaving them together to create a cohesive set that works across all classrooms in your school.  In the Habits of Mind video, I share exactly how to do that and provide an example for you.  That worksheet, along with all of the Habits of Mind posters, are available in our EC Learning Studios.
HYPE OR HELP?
Mindsets in general are important to understand and cultivating habits within those mindset is extremely helpful.  It's still critical to remember, however, that just because you CAN create a set of mindset habits for a content area, doesn't mean you SHOULD.  If we advocate for our students receiving a well-rounded and robust learning experience, we can no longer teach in silos or as if our own content areas are the only lens through which our children see.  Let's work together to build a creative mindset in all classrooms with Habits of Mind lessons!