Typhani Harris | April 2015
Unpacking the National Standards: Anchor Standard 9
This month we will be exploring Standard_9:  Applying criteria to evaluate artistic work
Anchor standard  9 focuses on the artistic process of responding with the component of critique.  The enduring understanding is how to use criteria for evaluating dance, which may vary across genres, styles, and cultures.  Although the anchor standard does not change as the grade level progresses the expectation continues to advance.
In unpacking this standard we need to analyze what our students need to know, understand, and be able to do.  There are quite a few concepts presented in this standard, so let's begin with defining the language:*
Artistic Expression

:

The manifestations of artistic intent though dance, drama music, poetry, fiction, painting, sculpture or other artistic media. In dance, this involves the dance and the dancers within a context

Dance Terminology:

Vocabulary used to describe dance and dance experiences

Simple dance terminology (Tier 1/PreK-2):

Basic pedestrian language (for example, locomotor words walk, run, tip-toe, slither, roll, crawl, jump, march, and gallop; and non-locomotor words, bend, twist, turn, open and close)

Basic dance terminology (Tier 2/grades 3-5):

Vocabulary used to describe dance movement techniques, structures, works, and experiences that are widely shared in the field of dance (for example, stage terminology, compositional vocabulary, language defining dance structures and devices, anatomical references, dance techniques such as alignment or "line")

Genre-specific dance terminology (Tier 3/grades 6 up):

Words used to describe movement within specific dance forms ballet, contemporary, culturally-specific dance, funk, hip-hop, jazz, modern, tap, and others (for example, in Polynesian dance (Hula), auwana, kahiko, halau, kaholo, uwehe, ami); in ballet: glissade, pas de bouree, pas de chat, arabesque; in jazz: kick ball change, pencil turn, jazz walk, jazz run; in modern: contraction, triplets, spiral, pivot turn; and in tap: shuffle-step, cramp roll, riff, wing, time step.
Evaluative Criteria

:

The definition of values and characteristics with which dance can be assessed; factors to be considered to attain an aesthetically satisfying dance composition or performance
Genres:
A category of dance characterized by similarities in form, style, purpose, or subject matter (for example, ballet, hip hop, modern, ballroom, cultural practices)
Styles:
Dance that has specific movement characteristics, qualities, or principles that give it distinctive identity (for example, Graham technique is a style of Modern Dance; rhythm tap is a style of Percussive Dance; Macedonian folk dance is a style of International Folk dance; Congolese dance is a style of African Dance)
*For the full glossary of all terms used throughout the national standards go to: http://www.nationalartsstandards.org/
This week's lesson can be modified for all grades K-12 by changing the expectations of response.  It is also designed for personal reflection of a class/group performance, however the basic structure of the lesson can be used for evaluating any work, fellow students, professional, etc.
Lesson Plan
Grade: 9-12 (but can be simplified for younger students)
Title: How did I do?
Established Goals:
a. Analyze the artistic expression of a dance.  Discuss insights using evaluative criteria and dance terminology.
Enduring Understanding: Criteria for evaluating dance vary across genres, styles and cultures.
Essential Question: What criteria are used to evaluate dance?
Objectives: Students will
analyze specifics of dance based on genre/style
determine appropriate criteria for evaluating dance
demonstrate proficiency in dance terminology
utilize constructed criteria to evaluate personal performance
Learning Activities
Based on the performance choreography, begin a class discussion on the specifics of the piece including technical skills, artistic expression, artists' intent.  Highlight the specific skills that students should focus on based on the needs of the class.  (For example: if one of the technical elements you have been working on in class is the pirouettè, then there should be a specific area to evaluate that skill)
Once criteria is built, design a form to complete while viewing the piece.  Below is a template with sample criteria:  Performance Analysis
Have students complete the criteria based evaluation while viewing the performance.
a.  Place a star over areas that where performed well, and a circle around specific areas that can be improved:

b.  Based on the circles and stars, assign a letter grade to the component.
c.  Present a rationale for the letter grade of the component.
d.  Complete the evaluation with a list of goals to work toward for the next evaluation.
Assessment Rubric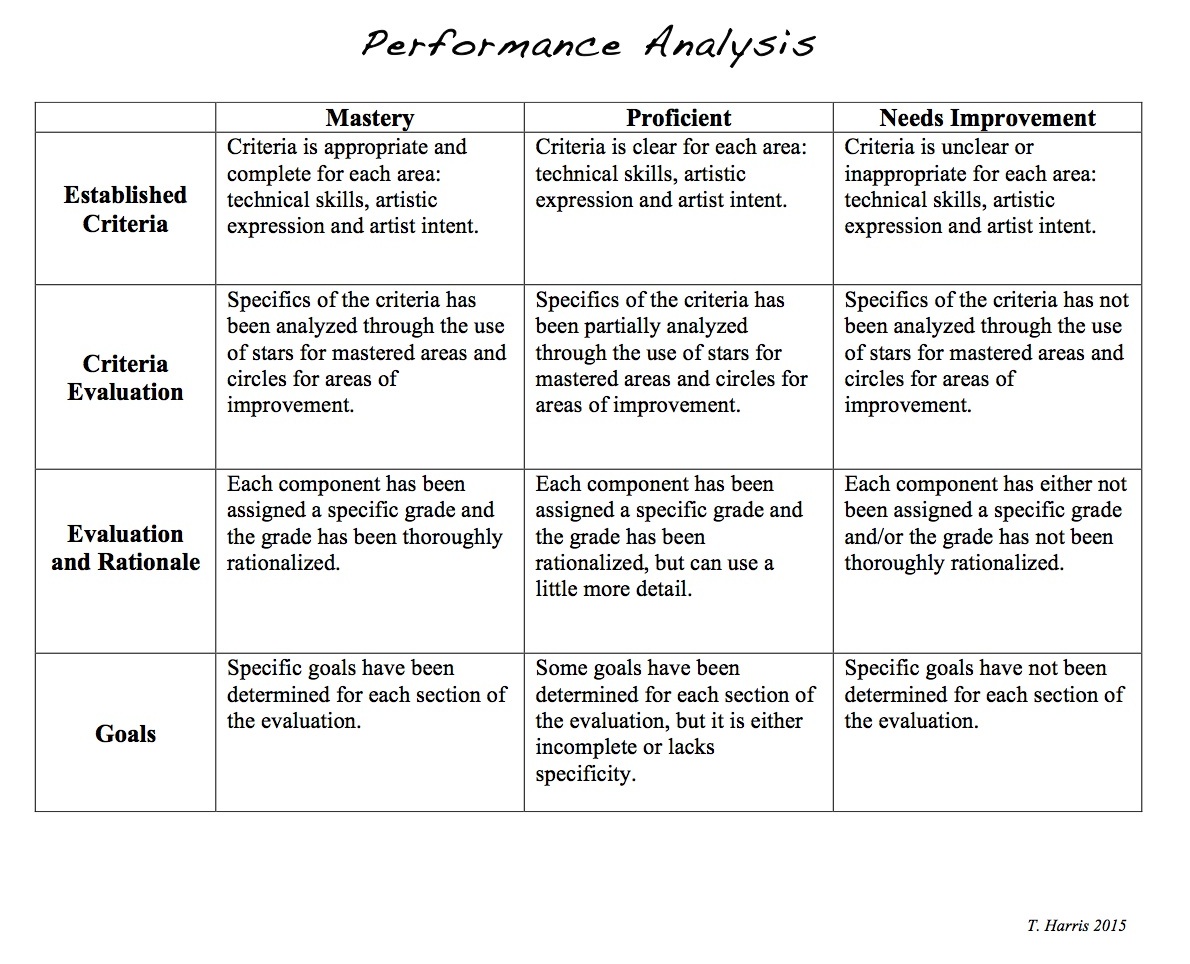 Resources
Performance Criteria Template Sample
Performance Criteria Template (editable)
Performance Analysis Assessment Rubric
Performance Analysis Assessment Rubric (editable)
This lesson can be altered in many ways.  It can be used for various performances, in class technical skills, and professional work.  By having students view their own personal movement , design criteria for the movement, and evaluate their progress, students are able to truly take ownership of their learning and their progress.
Next Week: Coach's Corner
Tips and Strategies for new teachers building 21st century classrooms.