Susan Riley | December 2014
Top 10 Holiday Gifts for Creative Children
As the parent of an elementary schooler, the holidays are filled with temptations.
Toys 'R Us commercials abound with the seasons "hottest" toys and various retailers are sending me their coupons for the "must-have" gifts for the children in my life. However, while this is definitely a magical season for all kids-at-heart that promises shiny new things to play with, I find myself yearning less and less to give my child one more "thing".
As an arts educator, I want her to have experiences and yes, toys, that spark her imagination and give her the opportunity to create something.  I don't want to see yet another plastic thingamajig tossed on the floor somewhere, forgotten in a pile with the others after a few days.  Instead, I want to encourage her to design and build her ideas into tangible works of art.  Additionally, I want to encourage her to not only tell me her dreams, but to show them to me in as many ways as possible.
Moreover, I think all arts educators would agree that having more arts opportunities at home would be what we would wish for your child this holiday season.  So before you hurry out to get that latest plastic plaything, take a look at these Top 10 Picks from EducationCloset.  They might just change your mind!

PS – If you're also looking for a gift for the creative educator in your life as a way to say "thanks", check out our list from last week here.
Top 10 Holiday Gifts for Creative Children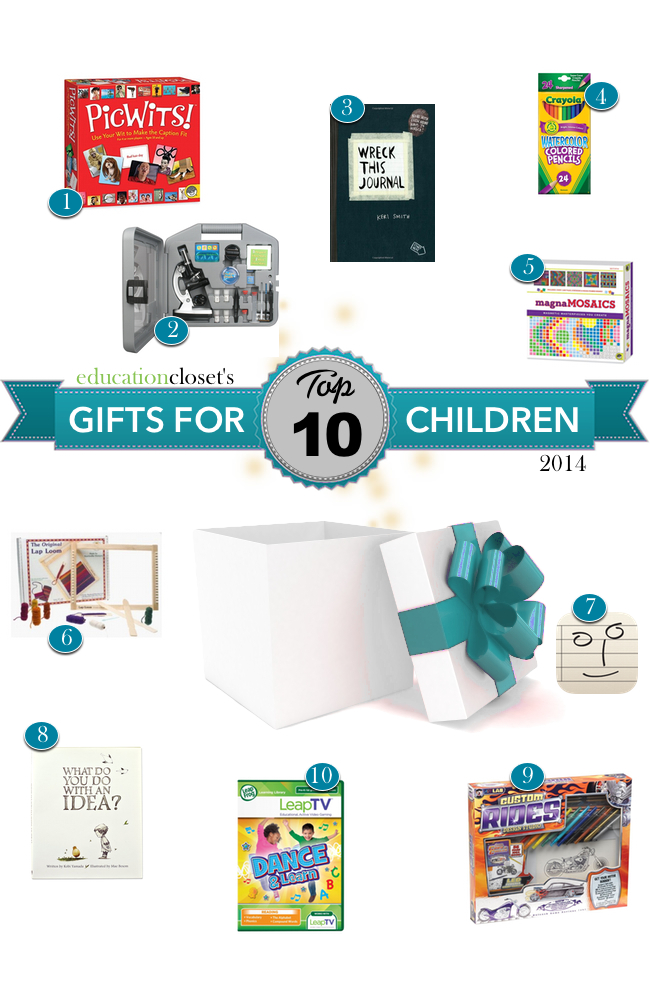 Gift Details:
1. PicWits ($22.95)
The PicWits game is a twist between Pictionary and Catchphrase.  You can pick one of the words and everyone else has to share a picture of what that word or phrase might "look like".  This is a great way to build vocabulary and personification skills while having some good old fashioned family time.
2. Microscope Set ($45)  
Any inquisitive child would love this Microscope set, complete with slides you can view and create.  Encourage your child to look at the world through a different viewpoint and to ask questions about the elements that surround them.
3. Wreck this Journal Book ($9)
This journal is a perfect pairing with the microscope set from above.  Your child can document their findings, draw images close-up and far away, build comparisons and begin to see old things in new ways.  Furthermore, this book has built in prompts, so even when your child doesn't know what to draw, this journal will provide some fantastic suggestions.
4. Watercolor Colored Pencils ($8)
These watercolor colored pencils from Crayola are the perfect stocking stuffer for any creative child.  These are two-in-one fun, with the ability to sketch and color with the pencils and the ability to transform their drawing by painting over their sketch with water.  Build your child's artistic techniques with these versatile tools.
5. MagnaMosaics ($23)
The first time I saw these MagnaMosaics, I was at a private arts integration school and the children were enthralled.  The idea of creating a bigger picture out of pieces so small was fascinating to them.  Additionally, it was an excellent way for the teacher to introduce and extend patterns, colors, and part-to-whole.  Don't worry – the kits comes with instructions and sample patterns to get your child started.
6. Weaving Loom Kit ($32)
This Loom Kit comes with jewel toned yarn, a loom, and all the tools you need to help your child create weaving projects all winter long.  They can create a purse, runner, or anything else that sparks their imagination.  Furthermore, this is great for building dexterity, discovering textures and patterns, this is a gift that will create lasting memories for any child.
7. Notate Me App ($0-40)
Have a budding musician in your house?  The Notate Me App is available for free (with one stave) or for $40 can include a whole suite of notation options.  Children can notate any piece of music through this app and have it translated into a printable score.  Additionally, they can even playback what they have written.  Definitely worth adding it to your child's tablet this holiday season.
8. Artful Books ($5-20)
If you have a reader in your household, any of these artful books would be a welcome addition to your library.  Each provides wonderful connections to a variety of arts areas and can help your child think more creatively about problems and solutions.
9. Custom Rides Design Studio ($39)
If you've got a designer on your list, this Custom Rides Design Studio is sure to be a big hit.  This kit allows your child to create custom car designs on a light tablet with markers, overlays and more.  Let imaginations run wild!
10. Dance and Learn Video Game ($23)
This movement video game from Leap Frog is meant for our younger children – grades Pre-K to 1.  What I love about this is the fact that children are encouraged to move their bodies as a way to build vocabulary and reading comprehension skills.  More movement is always a good thing!
Do you have any special creative gifts you're planning to give this year?