Susan Riley | December 2014
Top 10 Holiday Gifts for Creatives
As the holidays blanket us with family, friends and seasonal goodness, I typically get asked the same question over and over again: what do I get the arts teachers in my _______ (insert school, life, etc. here)??  As a music teacher, I was always so fortunate to receive special holiday gifts from my students in December and while I know this is not the case in every school, all arts teachers are gift recipients by someone in their lives.
The question above always makes me chuckle, because it's as if people look at creatives as a different species when gift-giving time rolls around.  What do you get an artist?  The same thing you would get anyone else – something that reflects care and thoughtfulness about their unique passions and interests.  Most teachers will tell you what they definitely don't need anymore of: coffee mugs, ornaments or candles (though I'm always a sucker for a great Yankee Candle).  Instead, try something a bit more personal.  If the creative educator in your life loves coffee, try getting them some individual brew packs in flavors you know they like.  Or, instead of just generic school supplies, try to include some notepads with their initial on them.  You don't have to break the bank to share a thoughtful gift with someone.  You just have to be thoughtful!
Each year, we compile a list of our favorite holiday gifts for creative educators.  You can find the items from previous years on our Holiday Gifts for Arts Educators Pinterest Page.  This year, we've created the one-page gift guide below to make it even easier to find a unique and useful gift for that special creative person in your life.  Just click on the image you're interested in and you'll be taken to a place to purchase it – easy peasy.  If you'd like a bit more information about each item, we've share a brief summary and cost below the interactive map as well.  Happy holidays, everyone!

Oooh… and PS:  If you're looking for some of our favorite creative holiday gifts for children, check back next Tuesday for my 2014 Top Picks!
Top 10 Holiday Gifts for Creatives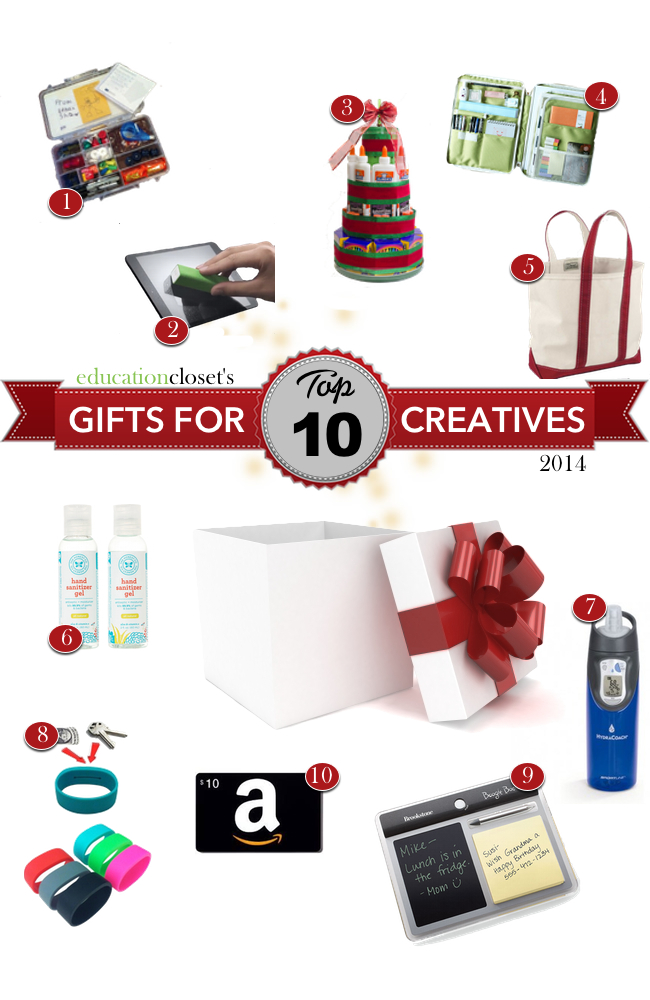 Gift Details:
1. Teacher Utility Kit ($14).
I LOVE this idea shared on Family Friendly Frugality.  Every teacher could use one of these for their desk drawer.  It's as easy as purchasing a plastic toolkit and filling it with everything from tape to white out to breath mints.  To get your entire educator shopping list out of the way, pick up a few of these containers, personalize them with things each teacher could really use for their classroom and have your kids fill them so they can take part in the process.
2. All-in-One Screen Cleaner ($12.99).
This handy little tool from The Grommet is a lifesaver for anyone who has devices in their rooms or lives.  This magical eraser contains a built-in cleaning solution designed specifically for screens, so you can quickly wipe down any electronic device.  Genius!
3. Supply Tree ($30-50).
This was another Pinterest find from My Little Me and it fits the bill of personalizing a gift.  All teachers would appreciate more supplies for their classroom and by pulling them together in this cute package, it truly is a meaningful way of spreading holiday cheer.
4. Better Together Note Pouch ($39.98).  
This gift from MochiThings is the most useful pouch I've seen for educators on the go.  You can put a tablet, pens, notecards, art supplies, and a phone into this pouch and head out the door.  Plus, it's on sale for the holiday season!
5. Boat and Tote Bag (starting at $24.95).
This bag from LL Bean was on my list last year, but it's so perfect I had to include it again.  This is a sturdy, open bag that will survive the day-to-day with any teacher.  This would be great for any traveling arts educators you might know.
6. Non-drying Hand Sanitizer ($5.95).  
With the germs that all educators encounter, hand sanitizers are a must-have item.  I love this non-drying version from the Honest Company.  It keeps your hands clean without chapping your skin.  And at only $5.95, it's a perfect little gift or stocking stuffer.
7. HydraCoach Water Bottle ($29.99).
Everyone I know needs to drink more water throughout the day, and this Smart Water Bottle from HydraCoach helps to ensure people get their daily intake.  Especially for music educators or anyone who speaks all day long, this water bottle will calculate your personal hydration needs, and helps to pace your consumption.
8. PocketBands ($9).
These PocketBands help anyone who is on the go to keep personal items on them at all times.  Each band allows you to store personal items like a key or even money in its special compartment.  Great little gift for people who don't want to leave these items in their desk or wallet all day.
9. BoogieBoard Memo ($19.99).
The BoogieBoard Memo has teamed up with Brookstone to offer a new way to jot ideas.  We're already huge fans of Boogie Boards for kids, but this version also includes a sticky note option.  A versatile option that any teacher would love to have at their disposal.
10. Amazon Gift Card ($5+).
When in doubt, an Amazon Gift Card is the perfect option for any creative on your list.  With the vast array of books, movies, clothes, and supplies, you'll make any teacher's day with this practical gift.  Just remember to make it personal for maximum effect!