Susan Riley | September 2014
"Special" Substitutes
I can't believe we're even talking about this, but yes, substitutes are already on call this school year!  Between the new back-to-school germs, early meetings, jury duty, maternity leaves, and various other reasons, substitutes are being called in to schools everywhere.  Especially for arts educators and those that use the arts on a daily basis in their classrooms, this can prove to be an especially tricky scenario.  After all, it takes a special substitute to feel confident is stepping into the role of a "Specials" teacher! Here's some ways to make sure that your classes don't just have video-time when you are out this year:
PREPARE NOW
One of my time-honored traditions at the start of the school year was to develop a list of substitutes that either had a background in my arts area or had a love of the arts themselves.  These qualities aren't listed in the general substitute list we often receive, so it's going to take some digging.  But it's so worth the time!  Try connecting with an arts supervisor, or your parent/teacher association.  Often, you'll find recommendations for individuals who prefer to substitute in an arts-focused classroom.  These wonderful individuals can make all the difference in keeping class time valuable for your students. While they won't necessarily work on the same projects as you would, they can still work through modified lessons and practice their techniques.
STAY ORGANIZED
Keep your substitute list handy.  Don't just put it in a drawer or your teacher book if you never take it home.  When you get sick at 3AM, that list in your classroom won't do you any good.  Make multiple copies and keep one with you in a place you know you'll have access to, like your phone, iPad, or email folder. Also, be sure to create a substitute folder at the beginning of the year with pre-made lessons that can be done at any time.  Always leave it on the corner of your desk, so if you do have any emergency, the lessons are already handy for anyone who walks into your room.

GET FEEDBACK
I always try to get a clear picture from my substitute of how the day went, so that I can immediately address any concerns as well as provide praise to classes that went well. Additionally, it helps the substitute to feel validated that their opinions matter.  This will create an environment that makes them want to come back and sub for you again, should the need arise.  Trust me – once you find a good substitute, you don't want to lose them!  One of the ways that I help to encourage this feedback is to provide a one-page feedback form, found in our organization toolkit, that walks them through their day and captures the most important information.  Feel free to download this form below as a helpful tool in your own substitute preparation!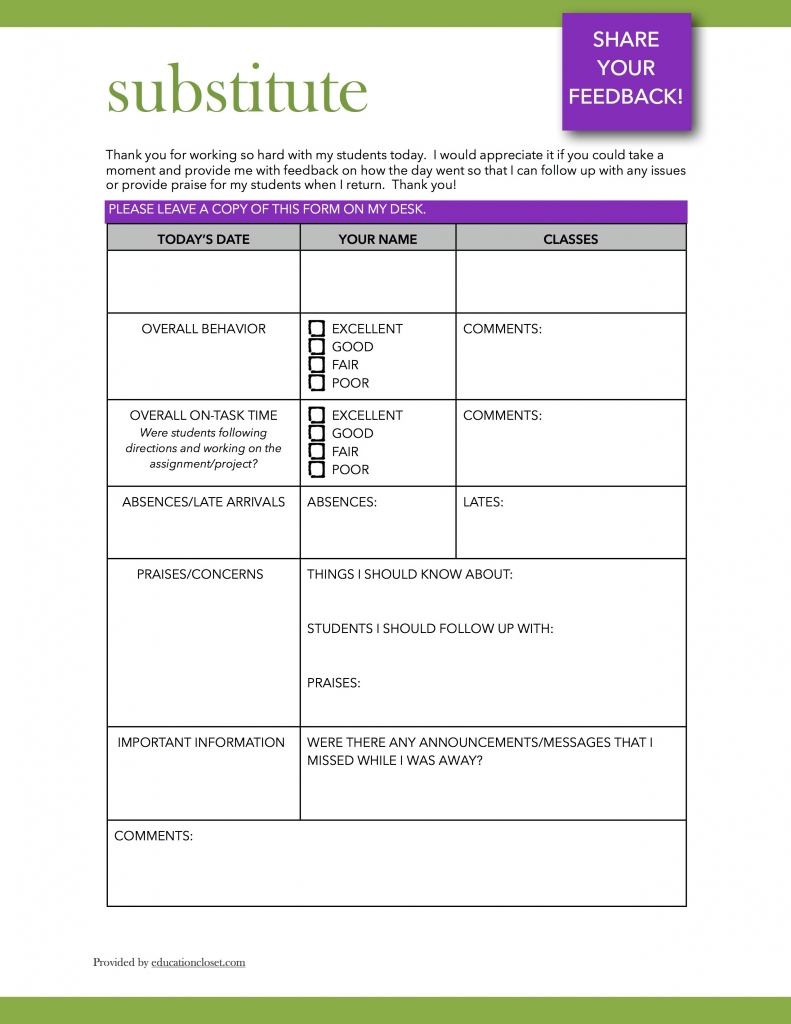 Let's face it: all of us will be out of the classroom at some point this year.  Let's prepare for it now so that it's one less thing to stress about when the inevitable happens.
How do you prepare for a substitute?  Do you have any tips for finding a great sub for the arts classroom?