Connecting with Community through Arts Integration
Finding ways to extend arts integration and STEAM learning outside the bounds of the classroom and into the broader community can be tremendously rewarding for students, educators and the community itself.
The sections in this resource explore the potential of efforts to bring learning out into such locations as local parks, museums and theaters, and form partnerships with universities, agencies, non-profit organizations and other local institutions.
They also address the benefits of bringing community into the classroom, whether through connecting with such youth organizations as 4-H or by building positive relationships with all parties connected to the classroom endeavor, including fellow teaching staff, students, parents and community members. 
Taking the Classroom to the Community
Field trips can be an incredible learning experience for students, but they can be a challenge to plan.  It is usually easiest to choose a trip that doesn't require any additional preparation!  By choosing a trip that doesn't require much additional preparation and doing a little legwork way in advance, you can reap the benefits when the brunt of the planning comes around. Here is a formula for the best field trip possible:
Plan the Experience
Make sure the trip ties in with your curriculum.

Sure, students enjoy a trip to a science museum or a visit to a zoo – they will certainly learn from almost any new experience. However if you are only going on the trip because it is a tradition for your grade level, you may be missing an opportunity for a better experience. It is easy to make a general connection to something that is taught during the year, but the more closely you can weave your instruction into the trip the more amazing the trip will be.
Make a wise choice of venue.

Think about your content: is there a topic that is difficult for students to grasp because they don't have enough background information? Or is there a unit that you teach that you could almost replace by actually being someplace else? Maybe it is just an extension, and seeing something in person would simply make it come alive for students. The right venue can be tricky to find depending on cost, travel time, and size, but it can make all the difference.
Don't rely on the venue to create the experience.

This is especially important when planning a trip to a city or a museum with self-guided exhibits. Visit ahead of time, and take note of what you want the students to notice and learn. Of course, the educational staff at your venue are experts, but they don't know your curriculum or your students. Use the venue's guide as a starting point, and make it your own.
Create the Experience
Students need a purpose for learning when they go on a field trip. Just changing your routine is enough to throw off some students, and the extra stimulation of new sights and sounds can throw off others. Setting a clear purpose and expectation helps students exponentially. It makes the experience more meaningful, helps students stay focused, and cuts down on problem behaviors. Here's how to do this:
Plan the pacing of your experience.

If your students aren't used to listening to lectures all day at school, make sure they aren't required to listen for an extended time on the trip. Plan a mix of active and quiet activities, and make sure to share that schedule with students just before the trip.
Work the trip into part of a PBL unit.

Plan a trip that includes information that students need to gather in order to use it for a project. For example, arrange a partnership with the venue and ask if it would be allowed to place QR codes at certain locations. On the trip, students could take photos and research assigned locations. Back at school, students could prepare educational videos or presentations to link to the QR codes.
Create a scavenger hunt for students.

 If a PBL experience is not an option, structure students' experience with a scavenger hunt. When visiting the venue and noting what you want students to notice and learn, use your notes to create a scavenger hunt that guides the students to find those answers. Creating a scavenger hunt holds students accountable for learning and sets the purpose for learning. It also helps chaperones, since many times they are responsible for guiding small groups. A curriculum based scavenger hunt ensures that each student group gets an equitable experience regardless of their chaperone's knowledge of the venue or topic.
Don't Wait Until the School Year to Plan Your Trip
Summer is the perfect time to plan a field trip for next year. Grab a teacher friend and visit local destinations to determine what fits best with your curriculum. Once you find a match, explore that venue and create your scavenger hunt. Many venues have educator passes or educator days that allow you to visit ahead of time for free or at a discounted rate. If not, sometimes smaller venues will waive the ticket price for you if you call ahead and explain why you'd like to visit. With some interesting legwork this summer, you can guarantee a wonderfully meaningful field trip during the school year. Don't forget to take your camera!
Extension Idea: Musical Theater and a Scavenger Hunt
In one great example of a field trip, a class attended a short musical production in a local historic theater that provided an artist in residence experience. Students also participated in a backstage tour to learn about how the productions are created as well as more about the history of the building.
Next up was a scavenger hunt throughout a small historic part of their city. Local history was their current social studies topic, and students were in the process of choosing their five most interesting people, places, or events from their city.  Students were also interacting with Charles Demuth's I Saw the Figure 5 in Gold during class. Since they were creating their own version of the masterpiece, Charles Demuth's house, now a museum, was part of the scavenger hunt.
While they were only 7 minutes away from their school, total immersion in a different location that was tightly connected to what they were learning in class was incomparable and you could tell from the students' faces and from their reflections after the trip.
Extension Idea: Costumes
Hats, masks and costumes can be used in conjunction with field trips to parks, museums and historical societies to sweep students away into different historical and cultural contexts and to help guide hands-on exploration of the past.  Hats can physically be put on to act as a concrete connection to the past.  One way to use hats is in a dress-up fashion.  When teaching about the War of 1812, students can dress up as a sailor and describe why we use each item as part of the "costume".  Depending on what role the children are discussing, different clothing would be accessible and common for those individuals.  Being able to compare hats can help illustrate social differences.
Differences between men and women's fashion can also be highlighted by including hats in dress-up activities.  As an example activity,, students can make their own paper versions of the style of "shako" hats for the U.S. Army for men. They can also make paper plate bonnets for the woman of the time, complete with ribbon and flower.  Creating these hats can allow for some creative differences, while still mimicking a traditional hat from a specific time period.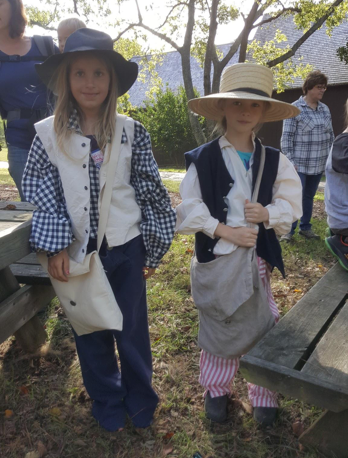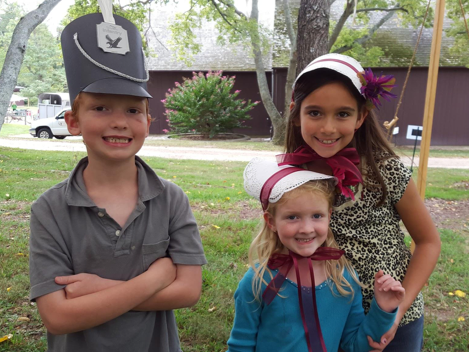 Allowing students to create different pieces of costumes can provide them with reminders of what they learned about the time period or subject.  During a day-camp program at Jefferson Patterson Park and Museum, campers became pirates and went on a search for treasure. Through the program, the campers became more and like pirates by adding accessories. They learned a little about life on the sea as pirates or privateers and then made their own hats. Following the hats were the eye patches, haversacks, and telescopes.  All of these pieces were practical in some way for pirates and that was explained through the program.  They also got to try their hands at crafting their own pirate costumes.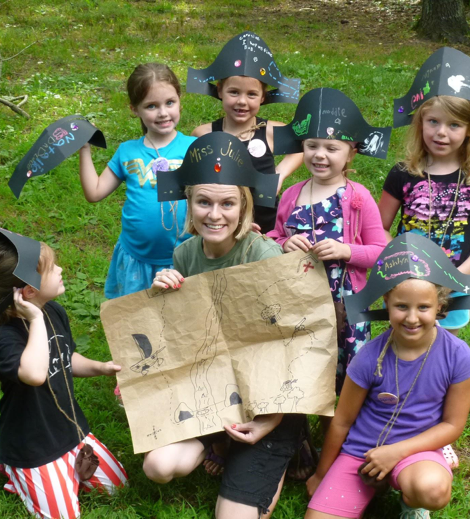 Extension Idea: Storytelling
Many other programs require role-playing to help the younger audience understand the historical context and to appreciate the characters in the stories we read.  One example of this is creating Uncle Sam hats or masks when celebrating the Fourth of July. This is the perfect time to learn about the origin of Uncle Sam.  The masks showed the children's faces so they were able to picture themselves as "Uncle Sam."  This was important because there are different stories of where this patriotic character came from! Each generation seeks to reinvent this character.  Having such young faces as Uncle Sam helps illustrate how the character is reinvented. It can be influential for future generations to evoke his mission of the patriotic call to serve.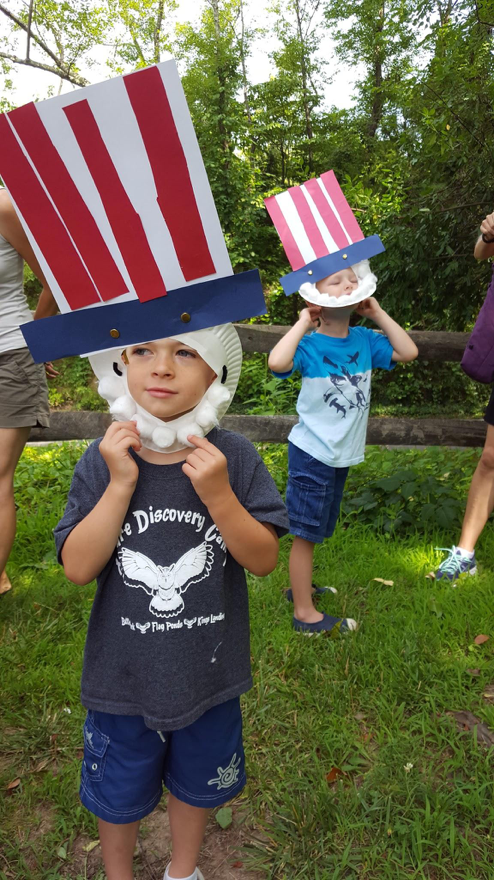 Another fun way to use hats that the students create is during a Tea Party. Have them make hats from "everyday items" like paper cups, doilies, headbands, and scraps of fabric. The main objective for the party is to teach proper etiquette for a fancy social gathering. Taking the time to create a fancy hat demonstrates the level of importance the party has as a social event.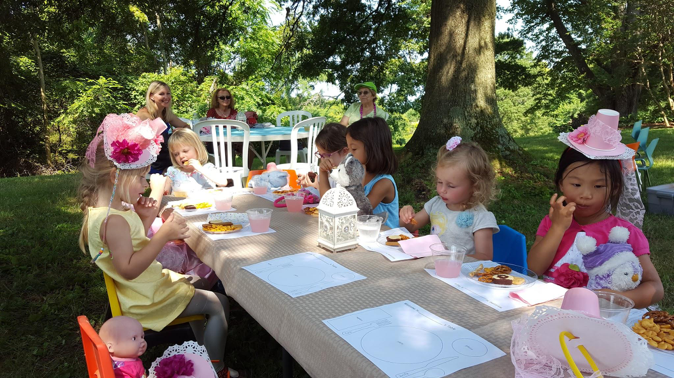 Finally, hats and masks can provide the props for storytelling and reenacting the literary stories from many different time periods and settings.  We use hats and masks to illustrate a different style of dress or to help us portray a different creature altogether.  Props can help transport the audience to the context of  the stories. Many times these stories include animals that we cannot bring inside. So that means we have to create these animals!  Whether it's a pig, sheep, or bear, with some imagination and some craft materials, any 4 year old can make themselves look like a different animal.
Allowing students to create their own disguise makes them really get into a different "character", whether it's as another person or an animal.  Hats can lead the way to historical and literary discoveries by simply involving creativity.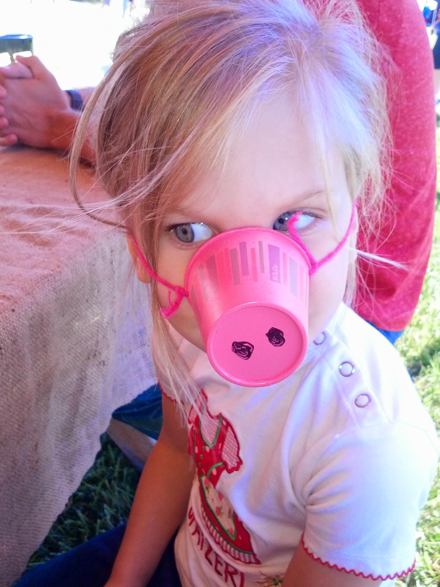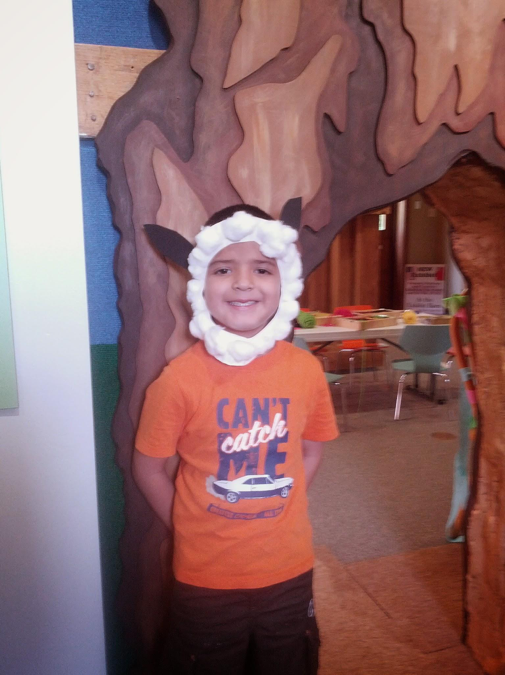 Forming Community Partnerships
To discuss school and community partnerships, we must first identify what community means in that context. A school's most immediate community includes the staff and students, as well as their families.
There is also the community surrounding the school. The families that live in the school's zone that do not have children attending that school are still members of that school's community. School communities can also extend beyond the borders of a school's zoning to include the entire town, county, region, and even state. Thus, within every school community, an expert on almost anything you can imagine probably resides. 
When a partnership works, it brings a sense of belonging and connection to everyone involved. This extends not only to a classroom or school and a community partner, but to teachers, parents, staff members, and even bystanders in the community. It enriches everyone's lives, often in unforeseen ways. Making it happen is the creative part, and forces you to think about community in different ways.
Here is a round-up of a few school-community partnership ideas from Rochester, NY  and Tupelo, MS to get us thinking of new ways to meet the needs of our learners:
Theater Leagues
Many students have never experienced professional theatre, or the power it has to connect people and to make an impact. However, financially it is not something many students or their families have access to.
One example of expanding that access is when an educator in Rochester, NY reached out to the Rochester Broadway Theatre League, which brings in the national tours of Broadway shows to the city. Their educational focus was on bringing the theatre to the classroom and the classroom to the theatre. By taking part in a curriculum that aligned with the themes of performances that would be traveling through Rochester, and approaching literary analysis through song lyrics, the capabilities of students soared.
The next step was to get the students to see an actual Broadway show. It seemed daunting and almost selfish to come out and ask for almost $1500 for tickets, but by asking friends and family to each consider sponsoring one student for $60, every student in a class of 24 had a sponsor within 2 days! People love kids, and people love the arts. When they can witness them working together, the possibilities are endless.
Monthly, leading up to the show, the kids would write letters to their sponsors, to let them know what was happening, what they were learning about, and how their excitement was building. What a heartwarming moment was the day a sponsor wrote back to their student, and one by one, other sponsors did the same thing. The classroom community circle had just expanded, and they all quickly became part of our classroom culture.
The class created a social media page where it would upload videos from the classroom, and not only would our sponsors comment and feel connected but so did their friends and family. The night of the performance, it wasn't just the teacher and students going to the show, the whole community was waiting to hear and experience the event through the eyes of the children. It was pure magic.
That magic didn't stop the night of the show. Those penpals? They continued even after the show, talking about school and life. No one wanted it to end. 
This partnership continued for many years. Each year the show was different, each set of students was different. Sponsors often returned for a new student the following year, or new sponsors came on board. It always created beautiful memories, and those powerful connections carried over into all academic areas. Students were motivated to share their experiences and to learn as much as they could in order to do so. The partnership and experience began to branch out beyond a single teacher's classroom to an entire school. The teacher who started the program then won approval to expand it to the whole district. The results have been astounding. In just three years, 60% of our entire student body in a high poverty district has attended at least one Broadway show after implementing its themes into curriculum, and the partnership has been recognized on a national level by the National School Board Association.
Read more about the impact of this program.  
University Programs
Universities are a wealth of resources. From museums to research to professional development programs, the support arts programs can access through universities is quite diverse. I've seen some universities get really creative in how they are able to support schools.
For example, the University of Mississippi Art Museum has a program called Traveling Trunks. Presenters from the museum will travel for free to schools within an hour-radius of Oxford, MS to present the trunks. However, educators can also check out the trunks for two weeks at a time and use them to teach their art classes.
The trunks cover topics from Chinese Art to Mississippi Artists. One favorite is the Walter Anderson trunk. Anderson lived and worked on the coast in Ocean Springs, MS. He painted murals and regularly took a tiny little boat out to Horn Island off the coast to have solitude and be one with nature. Inside the trunk, you can find prints of Anderson's works, a book about his trips to Horn Island, and a costume for students to use to dress up like the artist. There is also a lesson plan on using the elements of art and the four natural elements (water, earth, wind, fire) for students to create their own works.
Whole Schools Initiative
In 2011, the Mississippi Arts Commission commissioned Mississippi State University to conduct a research study on the impact of the Whole Schools Initiative. The study focused on the academic impact the arts had on over 5,000 students attending schools that partnered with the Whole Schools Initiative to ensure arts-integrated instruction. The study heavily utilized the impact on standardized testing data. The resulting report called Whole Schools Initiative: A Stennis Institute Study for Decision-Makers, is another example of the importance of partnerships with universities.
Technically, the partnership described above was between the university and the state arts agency. However, it is worth mentioning in relation to school-community partnerships. Why? Because it describes exactly the kinds of research universities can provide. Research that helps us ensure we have the data we need to garner legislative support for our arts programs.
Museum Programs
Museums also provide a diverse menu of supportive services to schools. One of the most prominent could possibly be in the form of field trips for students. Sadly, though, it has been noted that in the past decade, we are seeing a decline in museum field trips. A study from 2014 sought to determine if anything was being lost because of that decline while also establishing the benefits, if any, of museum visits on students.
At the time, the research was the first large-scale randomized control trial designed to measure the impact of school tours of an art museum. The study found that museum visits had numerous positive impacts on students, including impacts on critical thinking, display of historical empathy, tolerance for differences, and even interest in engaging with cultural institutions in the future! And guess where this research was conducted? That's right, at a university. The University of Arkansas partnered with Crystal Bridges Museum of Art for this valuable research.
The Gumtree Museum of Art in Tupelo, MS is small, but it is also a literal bank of resources that schools can tap. It is staffed by well-traveled, art-lovers. These people are a wealth of knowledge themselves for working with students on art history and art analysis. The museum frequently exhibits the work of local and regional artists. This then gives the schools access to these artists through gallery talks and interviews.
The museum is networked with the Tupelo Arts Council and is able to set up workshops for students through that network with local, professional artists. Finally, the museum also hosts several student art shows each year. The Shared Treasures Exhibit is one that elementary art students participated in. It garnered lots of positive press and saw tremendous parental involvement through that art show.
Schools have visited the museum to learn about everything! From art-specific content to science as integrated through art, they cover it all! A pre-k school has even visited to work on visual discrimination, speaking and listening, and social skills.
Beyond Art Museums
Museum resources are not limited to art. History, health and natural history museums are also committed to working with schools, and they are open to incorporating the arts in their programs as well.  
Visits to cultural institutions have tremendous worth. Their funding usually ties to some form of outreach to the schools and students in the community, which almost ensures if you reach out you'll find what you need. So, no matter how small, research proves to us that the partnerships between museums and schools is important.
Non-Profits
While museums and universities can hold non-profit status, there are other non-profit organizations that can create equally important partnerships for schools.
For example, the Link Centre in Tupelo is one such organization espousing a mission to identify and attract partners to offer transformative arts, education, and social service experiences that inspire and improve the health and well being of the community. The Link Centre is able to provide artist residencies for schools once a year with artists from out-of-state.
Additionally, the Link Centre has recently led an initiative to pilot an arts integration program for daycares. This committee is working to develop a Link Centre teaching artist roster of local artists that can work within daycares. The program will be piloted in the coming year to five daycares with the vision to expand to more in the future. The artist roster will also be a resource to local schools in the future.
Another example of a local non-profit organization is The Association for Excellence in Education (AEE). AEE's mission is to expand and enhance educational experiences for students in the local public school district. This organization provides grant funding to the tune of about $70,000 a year. This funding is distributed to teachers in the district for projects that foster creative learning experiences. AEE has funded projects from elementary students writing and illustrating their own children's books to a Taiko Drumming Program for elementary music classrooms.
Sharing School-Community Partnerships
Does your community have other unique organizations that partner with the local schools? What other ways have you seen universities and museums partner with local schools?
Once you start thinking outside the box for school-community partnerships, you will find your own examples of community museums, associations and other non-profit organizations interested in forming partnerships with local schools. 
Above all, by sharing what is working in our unique circumstances with other educators, we can bring innovative partnerships to our own communities. Something that is working in Rochester or Tupelo may spark an idea for you to start something similar in your own community. In turn, we hope you'll share with others what's working in your community! 
Further reading to create your own community partnerships and ideas for funding projects:
Resources for Building Community Partnerships
Youth Programs in your Local Community
One unique resource that you may not even know about is the Cooperative Extension Service. These offices are in every county in the United States (and territories). They are literally extensions of a land-grant university.  
The Extension agent's job is to relay the research from the university into the counties. Another job is to work with state and local governments to educate officials on issues in their respective communities.
So how does this relate to you as a teacher? We all know how important community and youth programs are to our students. These agents are committed to helping bring this information into their community. What better way than through the schools? (If you're struggling for a plan of action, we have you covered!)
Below are 4 ways your Extension Office can help your classroom (and even you!).
4-H
Whether you were involved or you know someone who was involved, you have probably heard of 4-H before. 4-H is the 6 million strong youth program associated with the Extension office. Their goal is to empower youth for a better tomorrow.
4H has so many benefits to a classroom. First, the 4H leaders are usually as passionate about children as teachers. They WANT children to succeed. 4-H programs range from STEM to public speaking. One favorite 4H program is "Pizza Farm." This program takes children on a journey through every part of a pizza. For example, where does the dough actually come from? What about the cheese? The pepperoni? 
Another program that is beneficial to any classroom is public speaking. To this end, 4-H holds the 4-H Tropicana Speech Contest every year. This contest requires students from 4th to 8th grade to write a 2-3 minute speech and perform it. 
Local 4H offices also hold mock job interviews for high school 4-H members. The students pick from a range of jobs and then go through a full interview to gain experience that will be beneficial later in life. The agents and panel provide the students constructive feedback to help them with future interviews. Many adults would benefit from this kind of exercise!
Check out 4-H.org to learn more about the programs and reach 4-H has, not only locally, but globally.
Nutrition
Healthy eating is at the forefront of the news. We see all the "eat this… not that…" articles, posts, and videos. The extension office has agents to tackle this! The Expanded Food and Nutrition Education Program (EFNEP) is a federally funded nutrition education youth program that is implemented through the local Extension office. Agents go into schools to teach healthy eating habits, food selection in the grocery store and promote living an active lifestyle.
For example, 5th graders can go through a 6-week program with the local EFNEP agent, who teaches them about healthy eating and cooking. The students are involved in every step of the cooking process from prep to clean-up. Nutrition day quickly becomes a student and teacher favorite because of the yummy and healthy treats the students create. 
Horticulture
Plants are a part of every science curriculum. A popular outreach/grant opportunity is a school garden. There is no better way of learning about plants than actually planting them. Extension horticulture agents know exactly what to do! They are an invaluable resource when deciding what to plant and what layout to use. They can also assist with any troubleshooting that you may encounter along the way.
One local Extension Office recently planted a sensory garden. This garden has all different plants that appeal to the senses. Rough textures, smooth textures, soft and vibrant smells… you can find it all in the sensory garden. This is a favorite for students to see what all variants of textures and smells there are in plants. This lends itself to discussing texture in art as well. Extension horticulture agents can teach a variety of science-based lessons and help students understand the plant life cycle, water usage and about plant cells.
Agriculture and Natural Resources
It is always shocking when a student tells us that their food comes from a grocery store. A major focus of agents is Agriculture awareness and educating youth about where their food comes from (pasture, field, etc.). They do this several ways. Some offer field trips to local farms while some agents bring items and products into the school to help educate students.
Both the Ag Agent and Natural Resource agent can be beneficial in a classroom. They can be used to help teach life cycles, food chains, and landforms. The agriculture agent can come to the classroom to talk to students about the effects of erosion in our community or about invasive species and the effect they have on local ecosystems.
Some communities will have a Sea Grant Agent who educates the community about all things that they may encounter in nature and on how we can be better stewards of our natural resources.
Don't hesitate to reach out to your local Extension office to assist with your classroom next year. They are an invaluable resource to our community and our schools. Once you make the connection, you will call on them for years to come.
School Improvement: Fundraising and Community
One often overlooked way to engage communities in schools is to enlist them in raising funds for school improvements. In the following example, a group of teachers wrote a grant to a local grant funding agency to improve their school courtyards. Then, once the grant funding was awarded, the team rallied the school community to completely renovate a dilapidated outdoor space into a thriving classroom.
The school had an outdoor space with a lot of potential, but it had become rundown over the years. In fact, it was truly an eyesore as many of the windows in the building were open to this space. Ultimately, the school partnered with the Association for Excellence in Education, which funds grants of innovation to schools.
Before: This is a before picture of the outdoor space. You can see that there once were raised beds here. In this photo, you can see some of the supplies for the renovation that have already been delivered.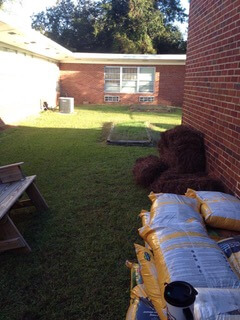 Here's how the school and community rallied to develop the grant submission:
Step 1: Looking at Research
A core group of teachers who'd been chatting about the need to fix up the courtyard for months made the decision to try to write a grant. They found a research report from the University of Tennessee that helped them nail down their main reasons for wanting to turn their rundown courtyard into an outdoor classroom. They were definitely thinking bigger than just making it nicer to view.
Their three main reasons for wanting to revitalize the outdoor space were:
Fulfill their mission of ensuring students had access to a joyful and artful learning environment

Integrate the arts with other subject areas through outdoor activities

Continue their mission of teaching the whole child
Step 2: Articulating the Need
Once they identified some core reasons for the project, they needed to write a statement showing that students had a genuine need for this outdoor learning space. Below, you will find their "Need" statement. Keep in mind that they were submitting this grant to non-educators for review and that this statement was specific to their local context at the time.
"Poverty plays a key role in the achievement gap that our school is currently trying to address. (Achievement gap refers to the differences in academic performance among groups of students.) Poverty also limits students from having outdoor experiences because of the crowded living conditions of apartments and government housing. 66% of our students live in poverty (receiving free or reduced lunches), and the truth is that many of these students simply do not have a yard at home in which to spend time. Although we cannot alleviate these impoverished living situations for our students, we can provide an outdoor learning space in which they can spend time working on academic and life skills while at school. An outdoor learning space is different from a playground. According to research, outdoor learning is powerful for students because they become connected to their environment and their learning. This connection empowers them through a sense of achievement and wonder. In turn, it motivates them to want to learn more, create more, and do more! This builds the foundation for respect and lifelong learning. It is our responsibility to instill this in our students and this outdoor learning space will help us to do that."
Step 3: Networking
They networked with community members about what types of resources they would need, pricing, donations, and volunteers. On their grant writing team, they had a liaison from every aspect of their school. Each grade level, the arts programs, administration, and special populations were each represented on this team.
This networking was a critical step to making the grant proposal strong. They were able to show that every student's interest would be served through this project. Additionally, they were able to show that they had massive school-wide support.
Through their networking with community members to determine what resources would be available to them, they were able to show the grant funders that the community was ready and willing to support them. This also helped show that they were serious about using whatever resources were funded through the grant wisely as they made it clear they had sought donations and discounts from the community.
Step 4: Generating Excitement and Submitting
To hook the attention of the people who would be reading the proposal, they decided to play upon the Extreme Makeover: Home Edition show that was so popular at the time.
Here's an excerpt from their grant opening overview:
"Imagine a group of students, teachers, and volunteers waiting anxiously in front of a bus. Imagine the looks on their faces as the bus moves for the big reveal. What do they see when the bus moves? With this project, they will see a transformation. A lifeless, uninviting courtyard will become a lively learning area. Where there was once a courtyard with empty flower beds and broken fences, there will now be a pergola, a walkway, lush landscaping, vibrant flower beds, seating areas, and student artwork! Extreme Makeover: Courtyard Edition will bring life to this empty outdoor area. This new and exciting place will be a location where students can gather to read, write, and explore. It will be the perfect spot for teachers to take their students for collaborative projects connecting the curriculum across disciplines. It will be a beautiful outdoor classroom."
Finally, after months building their team and determining exactly how to transform the outdoor space, they were able to submit the grant proposal. It took about two months to hear that it would be receiving funding. Since it was in the spring, they did not start implementing until the fall.
Here's how they rallied their community to implement the grant:
Step 1: Ordering Supplies and Following Up
Once the fall semester began, the grant team started meeting regularly to ensure proper implementation. One of the first things they did was to follow up on the community resources they had originally sought. They needed to make sure they would still have access to those resources before they began ordering materials with the grant funds.
Once that task was complete, they arranged for all the materials to be delivered and began the task of acquiring the items that would have to be purchased through the grant funds. Since this grant was awarded to the school, they had to write purchase orders to each business that would be supplying something. Knowing that would add some layers to the amount of time it would take to begin the actual work, they planned their fall schedule very carefully around this.
Perhaps the most significant thing about this step was the way each person on the committee took on a different role so that no one had the weight of this huge project solely on their shoulders. For example, the art teacher's role was to think about the painting projects, and so they acquired tin roof flashing and had it cut into the shape of large flowers. They also spent time working with students on designs to paint on the flowers and on the picnic tables, letting each be inspired by a work of art they had studied.
So, they had a Kandinsky-inspired concentric circles picnic table and a Mondrian-inspired flower, just to describe a couple. Another teacher took on the role of handling the flower beds, while another actually built the pergola.
Step 2: Volunteer Day
Next, they set a date for a volunteer day. They wanted to invite students, their families, and the greater community onto the campus to help do the work of actually building the courtyard.
They publicized this event as a fun way for everyone to engage with the school through both nature and the arts. School board members brought their grandchildren to help out. Scout troops attended. Staff and their families were there. Current students came to volunteer with their families. They even had former students who were already in high school drive themselves to volunteer. The turnout for this event was impressive!
They had everything prepped for this event. All of the artist-inspired painting that needed to be done had been outlined on each item. The flowers, pine straw, soil, bricks, etc. were on hand. They had a strong plan to get every task completed that was designated for Volunteer Day. Each task had a lead volunteer that could oversee implementation. They had a welcome table where volunteers could check-in and find their assignments if they'd signed up prior to the event. They also had tasks set aside for people who came to help but had not signed up.
A lot of effort was put into the organization of this event. One Sunday morning was about all it took!  They also received a lot of attention from local media, which was such a positive thing for the school.
Step 3: Final Touches and Sustaining
After Volunteer Day, the courtyard had already significantly changed for the better. However, there were still some finishing touches. Teachers had their classes paint fence posts that were used to create a mural-effect along the wall beside the pathway. Art students worked in small groups to paint the bricks in the pathway.
Once the courtyard was functional, classes were able to use that space for a range of lessons. You'd see grandparents eating lunch with their grandchildren. Sometimes you'd see small groups of students reading to each other. Other times you'd see the Challenge class shooting a video for a journalism lesson or students walking around measuring things as a center during math time. When they had their annual Arts Festival, there were even local musicians out there playing their instruments. But, you'd never see that courtyard empty (weather permitting).
Science teachers used the space to teach about plants, which is how they were able to make sure the flower beds were always planted. Interventionists would supervise students who needed to use the space for social/emotional purposes, and many of those students were able to calm themselves down, pulling weeds from the beds.
Goals Met
Grant writing is not easy and this was definitely a massive undertaking. No one person could have made this project happen by themselves. That's one reason the planning was so important. They carefully planned for getting buy-in, then used research and school-wide goals to plan the writing of the grant. They also diligently planned the implementation. The planning took the most time of all of the steps of the project, but it paid off tremendously to take that time upfront.
We hope this account has been inspiring to you in terms of seeing how a large-scale collaborative effort can work in a school and that by sharing some of the language from an actual grant submission you'll have some ideas to springboard you if you decide to take on something like this in your own school.
After: Here are a couple pictures taken after the work had been completed. You can see the artwork on the walls and the painted pathway. If you look closely, you can see the pergola and flower beds in progress as well.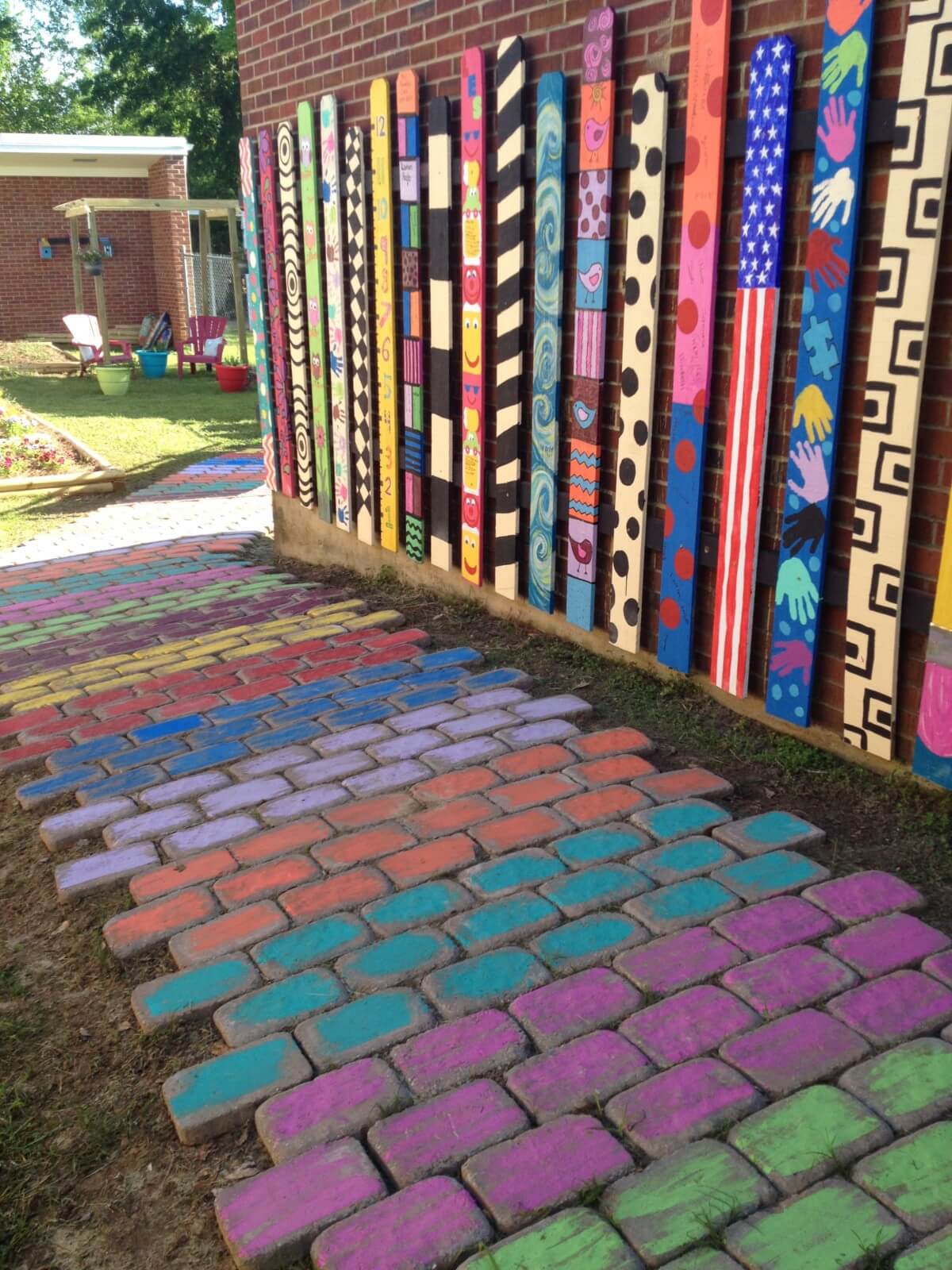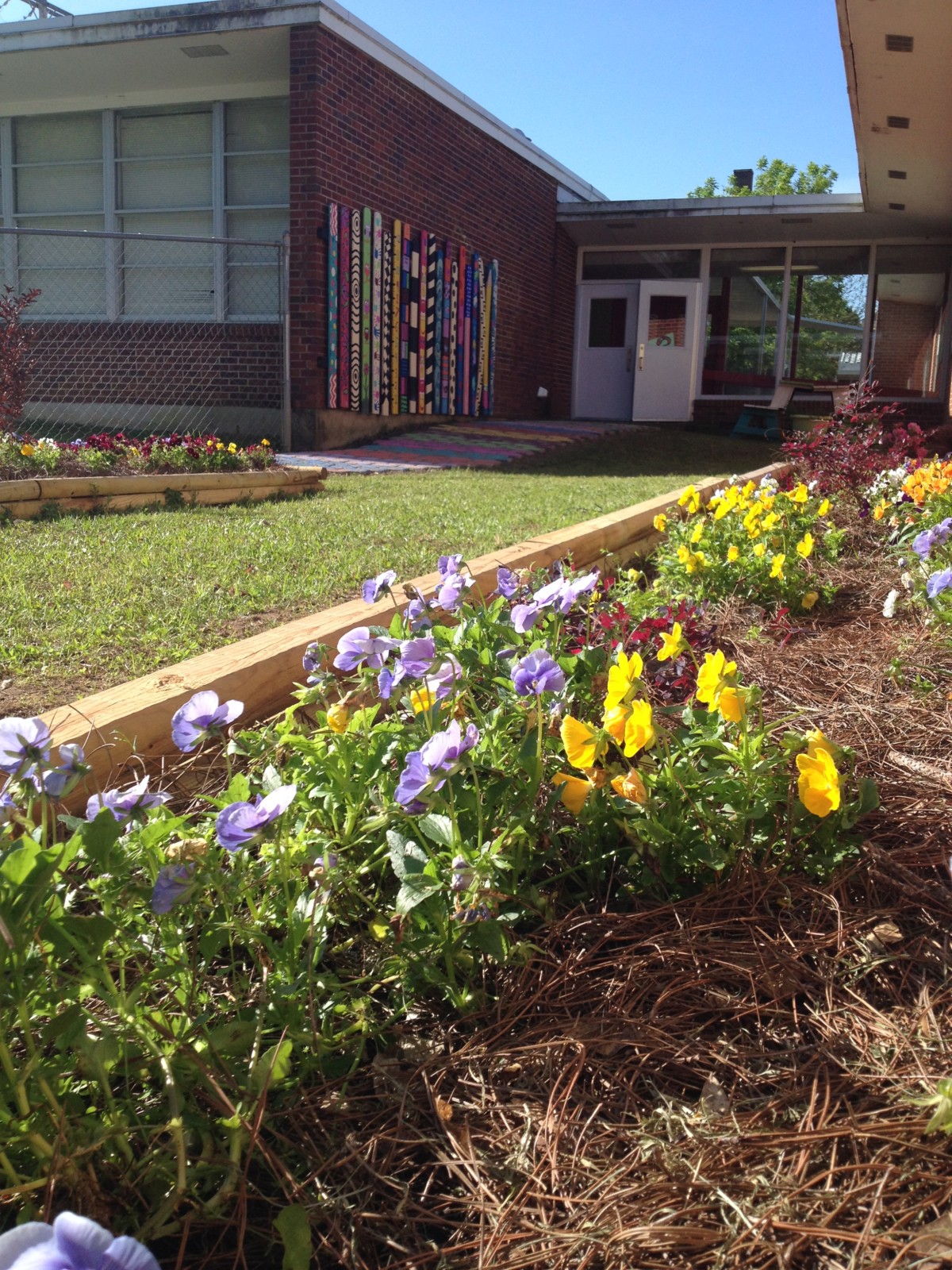 Learning Communities: It Takes a Village
There are moments during the school year, when educators can feel the isolation of the classroom, even though they are working in close proximity to each other and the larger community, separated only by thin concrete walls. At times like these, it is good to remind oneself of the ancient African saying: "it takes a village to raise a child". Children learn best when they are exposed to multiple role-models, diverse perspectives, and a network of committed educators.
The National Board of Professional Teaching Standards outlines five standards that effective teachers should follow. The fifth standard states that "Teachers are members of learning communities". Traditionally, this has meant being a collaborative co-worker within the confines of your school or engaging in professional development opportunities.
But this is also a narrow definition of what a "learning community" can be. Indeed, the village is much larger than the four walls of our classrooms. It should also include local organizations, professional groups, universities, museums, and neighborhood businesses. An "educator" can mean so much more than just a certified teacher! There is a plethora of members of the village willing and able to pass on their much-earned knowledge.
Incorporating the 4 Cs
In order for your learning community to fulfill its potential, strive to incorporate the 4 Cs of 21st Century Learning into your projects: Creativity, Critical Thinking, Communication, and Collaboration. These are the skills that students must have to succeed in a rapidly evolving modern workforce.
To support these four major skills, invite the outside community into your classroom whenever you can, especially professionals in industry. Why? Because that is who is able to offer students authentic mentorship and feedback. For example, in one case, a local filmmaker's organization worked with students three days a week over the course of two school years. In another, a local hip-hop movement called Krunk worked with students in the classroom to produce a music video about social justice and student voice.
How to Create Effective Community Partnerships
Connect with Local Organizations
No matter where you live, there are multiple community organizations interested in partnering with your school. Start with your content and curriculum and work from there. For example, are you teaching a science lesson about ecology? Contact local nonprofits dedicated to issues of environmental preservation and see if they have an educational program. Or maybe you're starting an elementary art lesson about collage. So call a local museum and see if they have teaching artists willing to work on a collaboration with your students. (Note: I have coordinated both examples in various schools.)
Connect Classroom Content to Real-World Professions
Inviting professionals into your classroom enhances student buy-in more than any single teacher can accomplish. For their entire school career, students have only had classroom teachers from which to gain their knowledge and build their skills. While teachers are obviously valuable, opening the classroom to other diverse perspectives, different connections and multiple role-models creates an atmosphere of rigor and authenticity. And this type of connection does not have to be in person! For example, teleconferencing and Facetime can be used in classrooms to put students into contact with professionals in the film industry, such as a screenwriter from Brooklyn or an animator from Los Angeles.
Here are some other examples of partnerships in action:
At the

Science and Math Institute

in Tacoma, WA, physics teacher Johnny Devine invites professional engineers into his classrooms in order to judge and evaluate his students' Mission to Mars Project, which challenges students to design a lander to put on the surface of Mars.

In Melbourne, Australia, university students concerned about the low rates of women entering STEM fields founded an organization called

Sisters in Science

. The organization pushes into local middle- and high-schools to educate teenage girls about careers in STEM fields.

The

Normal Park Museum Magnet School

in Chattanooga, TN has transformed the Non-Collaboration Collaboration of the field trip into an exciting new form. Students at the school engage in Learning Expeditions with local museums that are on-going and comprehensive. This Hand-in-Hand Collaboration also allows for more focused learning and rigorous curriculum connections, emphasizing the belief that learning happens everywhere.

At

Hood River Middle School

in Oregon, WA, teachers put an emphasis on Learning Partners in the classroom, which then increases teacher content knowledge and provides students with an authentic audience for their work.
The Power of Positive Relationships in Schools
Do you work at building positive relationships in your school? Do you have time?  
As a teacher, you have to consider the individual characteristics of your students, along with social/emotional skills.  There are seating arrangements to think about, since they are important to provide an optimum learning environment for all. There are also classroom dynamics, behavior issues, teach, re-teach, absences, assignments that need to be reviewed, assignments that need to be completed, and assignments that need to be started. Teacher obligations and duties are similar to the construction of a cable-knit sweater… it just goes on and on. Teaching is an emotionally and physically exhausting profession!
None of us can accomplish all of these important obligations alone. By cultivating positive relationships and working together with parents, students, other staff and community members, we can accomplish all of our assignments and projects. 
The Best Ways to Build Positive Relationships
While on campus, make a point of saying hello to everyone by simply engaging in conversation. Invite parent helpers into the classroom and accept additional help where needed, thereby freeing up more time for actual teaching. Tailor jobs for them that best fit their interests and abilities.  Students will be happy that their parents are helping out in the classroom, parents will be happy to experience part of their child's day, and you, the teacher, will be pleased with how much more you are able to accomplish through collective group effort. 
At the end of the day, teachers simply want to help their young, creative learners.  Perhaps something we do for them or something we say just might be the catalyst to who they become or what they do with their lives.  Building bonds with the parent community is something to be embraced. Even as our world of teaching and learning has morphed into what it is today and we wonder what it will become tomorrow, we need to remember:
We really are 'better together'. There is no fundamental rule that says teaching and learning must begin and end within the four walls of your classroom. If it takes a village to raise a child, then the village should be invited into schools to serve as true educational partners. Open your classroom doors to the community and invite the village in!