In today's episode, theatre educator and working actress Ayesis Clay shares how theatre can be used as a mechanism for teacher healing and professional development. We explore the continuum of burnout, compassion fatigue, and secondary trauma (they aren't all the same thing!) and specific ways you can address each of these in and through theatre practices. Ayesis also shares about her upcoming retreat in Puerto Rico for teachers and a behind the scenes look at her PD sessions.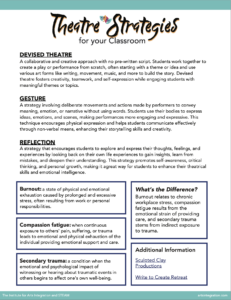 Resource Download
Enjoy this free download of Theatre Strategies to use in your classroom.
Susan 
All right, welcome Ayesis. I'm so glad you could join us today.
Ayesis 
Oh, I am happy to be here. I'm excited to be here, Susan.
Susan 
Oh, me too, me too, I'm thrilled. So for people who are not familiar with you or your work, I always like to start with just give us an understanding about yourself, your work, your background, I'd love to hear all about.
Ayesis 
Yeah, absolutely, absolutely. So I'm Ayesis Clay and I'm the CEO and founder of Sculpted Clay Productions, which is an educational consulting organization that uses art, specifically theater, as a means for healing emotional wellness or supporting emotional wellness in schools. I am a lifelong educator. I won't say lifelong because I wasn't a kid, you know, educator when I was in middle school or anything, but I taught in Prince George's County Public Schools for many, many years. And before that, I was at the Maryland Department of Juvenile Services where I was delivering arts and theater, mostly drama, classes for the students there. And I am alsoa professional actor and director. So my company kind of takes all of that education background and all of that professional artist background and smushes it all together to create a really foundational way to help educators, especially now.
Susan 
So here's what I love about you is that you have such a unique blend of background that you're working with teachers now, but you've had experience in the classroom. You are a working artist as a practicing actress and actor and producer and of all the things. You have all of this incredible background and knowledge that you can then bring to education in a really unique way.
Ayesis 
All the things.
Susan
I saw that in your in your undergraduate studies like your dream was just it was to be an actress, right? Yeah, so what's what to do over to education?
Ayesis
That's it. Yes. Ooh, Susan, love. No, no, I tell this story all the time, you know, I…
My plan after I left North Carolina Central University, I went to Howard University and North Carolina Central University, was to live the dream, to go to New York and be a working actress. But I fell in love and we got married and we had some babies and I realized very quickly that I did not want to raise my children in the city, or at least in that kind of city, the bustling of New York.
And so we landed in Washington, D.C. from North Carolina, and I realized I needed a job. That a novice, budding actress was not gonna cut it. And so my husband and I both went up for the same job. He was an educator at the time, but we both went up for the same job with the Maryland Department of Juvenile Services. And they hired him for the job that, you know, and they looked at me and like, you have no education experience.
But you have all of this theater experience. And they love the energy that I brought to the interview. And so they hired me as well to develop theater programming, drama programming for them, for their students. And that was, I loved it, Susan. I loved it. It has this kind of.
People kind of think when you're dealing with young people who are incarcerated or heading to incarceration that there's a certain amount of just like hardness that, you know, but what I found was this beautiful sense of humanity and this very challenging sense of humanity that I wasn't prepared for honestly. And I also wasn't prepared for the trauma, which…
is one of the seeds that began my work now. So I wasn't prepared for the trauma that I came across.
Susan 
You know, not to jump in for just a quick second, I wanna kind of get a little bit more understanding of this background in juvenile services and particularly from that theater lens because every once in a while, not often, but every once in a while, probably a couple times a year, we'll get a request at the Institute from someone who is working in that field, right? They're working with juveniles that are headed towards incarceration are already incarcerated and they are looking to find artistic resources in order to kind of open up those students, right? So you said that there was not the hardness that you felt like there could be, right? But that there was also a lot of trauma in that. How do you feel like that experience shaped you into who you became as a teacher and as an actress?
Ayesis 
Oh, Susan, it's so foundational, to be quite honest, in good ways and in bad. Oh, in challenging ways. I won't say bad, in challenging ways. So I'm going to approach your question in kind of two ways. So for the educators who are looking for ways to engage students in that kind of situation,honestly in all kinds of situations, but what I found particularly helpful was Devise Theater and giving them voice. A lot of times those students haven't been given an opportunity to tell their story, to explore a different outcome of their story.
And by using Devise Theater and using writing as a vehicle for that, we were very successful that way. Yeah, absolutely.
Susan 
So explain what device theater is just so that people who are not familiar may know.
Ayesis
Sure, devised theater is when you don't have a script, when you approach a project, you don't have a script, but you have an idea or a theme. And so as a company, there's not a traditional like director, actor type situation. As a company, we come together and we explore this theme through journal writing, through poetry, through music, through movement, and then after we get all of this information, then we whittle it down into a performance. And so that's what device theater in a nutshell is. Now to answer your second question on how foundational my experience in that situation was to who I am and my work now.
I think it truly opened me up to trauma in a different way. So after I left there, I went to public school. I found myself almost, I thought I was on the opposite spectrum.
Right? So students who are being, you know, facing incarceration. And then I go to a school where the students audition to get into the program. You know, they want to learn theater. They want this to be a career. And they're with you, you know, they're with me for four years.
Because of my background with the Department of Juvenile Services, I was able to talk to them in a different way and students opened up to me in a way that I don't think they opened up to a lot of their other teachers about their trauma, about things that they were experiencing. And because I still didn't have things in place.
I started really feeling a lot of compassion fatigue. Well, it started with vicarious trauma and then compassion fatigue. And yeah, so that ultimately was what led me to create this thing.
Susan 
That is so powerful and that's how the greatness of new endeavors is really born. It's born out of challenges or problems that we're facing that it's our way of dealing with it and if we can share it with others and help them deal with it, that's something that is even more meaningful and I know that is what you're doing in your production company.
I want to get there, but I continue want to unpack this background even more because there are so many educators right now that are talking about the fact that classroom management is so different now that COVID has happened. Students are different. And I keep coming back to this idea as I hear this from educators that the key word that keeps popping up to me is relationships. How do you feel like, and I'm sure in your work, in all of your various backgrounds and experiences with students, you find that as well. And I know that as a theater educator, many theater educators build on that, right, on relationships. How do you feel that relationship building and theater and being able to pull drama into the classroom can impact that classroom management through those relationships?
Ayesis 
Oh my goodness, Susan. So I may be a little biased here because of my background in theater, but I think it is the perfect, the perfect. I feel like it's the one thing that can help with this issue that teachers are having. Because theater requires
there to be a reflection on humanity, a reflection on relationships, a reflection on self, a reflection on others. That in and of itself creates a welcoming and a belonging community in your class when done with fidelity and when done not just like one time at the beginning of the school year and you know, but consistently. One thing that, and I'll go back to something I said before, this idea of student voice by allowing students to craft scenes and then monologues and craft just writings and things in that kind of way and then share them. We give them this agency that a lot of students don't feel like they have anymore, you know, have now.
And when they have that agency and when they are given that voice, then a lot of teachers are finding that those class, a lot of those classroom management issues start to go away because they see it as our classroom, a place where I am welcomed, a place where I am celebrated. And, you know, instead of a place where the teacher is centered and I am a secondary part of that.
Susan 
Yes, yes, and there's such trust there, right? Because it's vulnerable when you are experiencing any of the arts, but particularly in theater, and if you're sharing your own story, you're naturally building trust, right? Wonderful.
Ayesis 
Absolutely. Absolutely, absolutely. And of course, there's work that needs to go into that prior to in order for students to feel comfortable sharing their stories. And that's kind of one of the journey. And I know we're gonna get there, but that's kind of the journey that I take teachers on because whether it is a teacher in front of students, whether it is a facilitator in front of teachers and educators doing PD, there's a buy-in that has to happen. There's a trust that has to happen.
Susan
Yes, yes, absolutely. And I mean, as somebody who does PD as well with other educators, one of the first things that we do, I mean, and I don't know about you, but one of my pieces of my process is to put out a survey in advance just so that I can get a little bit of knowledge about who you are before I come in, right? And so similarly in the classroom, and I do wanna talk about the production company and how you're approaching this with teachers as a teacher-centered focus rather than a student-centered focus, also know our audience and I know that they would love some more ideas in terms of what are some specific strategies that would be helpful in opening up that classroom. We talked a little bit about allowing students to have those stories and monologues. What are some other ways that we could do that with Fidelity and so that the art form is honored and we're still connecting with content areas?
Ayesis 
Yeah, absolutely. So there are a million and one ways that educators have connected theater and the other subjects. And I will say this, when I got certified in arts integration, I felt like it was so remarkably like this is what is going to change education. And I still feel that way. So one of the concrete things that I like to do and I like to encourage other teachers to do is movement. And I know it's like, oh, but classroom management. Oh, but am I going to get them back exploring the use of gesture, exploring, and gestures are just, you know, movements, specific movements. It can be as simple as a call and response that you use movement in.
It could be as simple as that, instead of just using your voice and having them respond to you vocally, having them do some sort of physicality with a freeze or a tableau at the end, which might not quite work, if you're working with groups. Tableau is just a group picture where different students come together and they create a picture. That actually, you know what, that actually might be a cool thing. If they're working in groups and you're then they have to, you know, you say one, two, three, tableau, and then they create a tableau in the group. Everyone's frozen, mouths are off, and now you have everyone's attention. So even that is a simple way that you can begin using movement in the classroom on a daily basis, or on a weekly basis, on a regular basis, along with student voice.
Susan Riley
Yes, I love that. And it's so simple, right? It's interweaving gesture. It's interweaving a strategy and then just making it a natural part of your classroom. This is just how we do things, right? I love that, I love that. So let's dig into what I know you're so passionate about with the production company and how you're working with teachers in terms of healing trauma and using theater to do that and using the arts. to help heal that trauma. Let's start with the beginning. What kind of trauma are we talking about with teachers? How do we build some of those boundaries and how are we gonna use the arts as a mechanism for change there?
Ayesis 
Yeah, yeah. So when my professional development starts with looking at the term burnout, because what we do is we use burnout as a catch-all phrase for how we're feeling. If we're tired, if we're run down, if we are anxious, if we always use the term burnout, it's always burnout. And what I encourage the educators that I work with, and I use educators and not necessarily just teachers because I work with some school leaders as well. But what we explore is that it can be one of three things. It can be burnout, which is very systemic. It's a breakdown in a system, whether it's a personal system, whether it's a system at large like a larger school system or a school system, you know, an individual school system is generally the cause for burnout. But there's also compassion fatigue and vicarious trauma. Sometimes you hear secondary trauma as vicarious trauma used simultaneously. And I like to think of it, and I explain it like a continuum, like a line. Most educators and most teachers begin or want to stay in that middle zone, where we're empathetic, but we're also able to do the work that we need to do with fidelity. So on one side is compassion fatigue. And this is when you have a buildup of caring for people who are experiencing trauma. And you hear the stories over and over and over again, whether it is a colleague, whether it is students, whether it is someone in your family, and you are caring for them in a way and trying to help them through that trauma, you can get to a point where I'm so tired of helping that my empathy drops. And I no longer see the humanity in you. I see the problem in you.
Susan 
That's powerful. Say that again, because that's really, really powerful.
Ayesis 
I no longer see the humanity in you, I see the problem in you. And so we can fall into this compassion fatigue where it's like, you know what, I don't wanna do anything. I don't, you know, at five o'clock or at four o'clock, I am out the door. I don't care.
Now, we of course have to put boundaries, because education can creep into everything in our entire life. We have to make sure that we have boundaries. But there's also a little bit of wiggle room. With compassion fatigue, there's no wiggle room. Now with vicarious trauma, that's when you absorb. You absorb all of the traumas, everything and you take it in and you start being anxious and you start worrying. This can almost have almost feel like PTSD and you and through a trauma that you haven't even experienced necessarily but because students who may self-harm and several of them who may self-harm maybe even the news loss just all of these things you just absorb them.
And it puts you in a place where you are hyper empathetic. You're hyper empathetic, which now you have lost your objectivity in order to get to what you need to get to. So that's kind of the spectrum that I help educators kind of navigate and kind of heal from if they are experiencing any of the two, particularly the compassion fatigue with vicarious trauma.
You probably want to talk to a professional and get help with that. But with the compassion fatigue, we can work on that. We can work.
Susan 
Well, and the thing is, I know several, I mean, I can tell you off the top of my head, at least five people I know who are dealing with compassion fatigue right now, and at least two who are working probably with some vicarious trauma since COVID. I mean, since the news, we were all bombarded with all of that. And I know some people who are just empathetic and by nature, it's just who they are. They resonate as somebody who, who walks through the world as an empathetic person and it just has evolved into this other component where everything now has caused them to lose objectivity. So I'm curious, I'm sure that when you go into schools and you start working with teachers that teachers can self-identify, oh that I'm there or that I know somebody on our team who is there, right? So how do we use theater as a tool to help us heal from some of these things?
Ayesis
Yeah, yeah, the very first way, and you're going to find a theme, you're going to hear a theme in what I'm saying, but the very first thing is reflection. The very first thing is exploring our stories and exploring our journeys, looking at those moments where we kind of started veering.
and assessing that. And so telling our story, writing our stories down, writing monologues throughout our stories, even writing that moment when you started seeing yourself going down that road, writing that scene out, writing it out, writing everything that you remember about it, creating a complete characterization of…
either the student or the other person, as well as yourself, and doing that. And what I'm finding with a lot of educators like myself, because we haven't talked about it, but that's the part, the beginning of my professional development is a solo show. Um.
Susan
Yes, yes, I want to hear more about that as well, yes.
Ayesis
Yeah, but we look at our journeys. We look at our journeys as an educator. And one of the things that I talk to my clients about all the time is that, especially in education, a lot of times it gets to a point where all we can see is the negative. All we can see is the negative. And so my work with them brings us back and brings our objectivity back because now we can start looking at some of the positive things that have happened as well. But anyway, so writing is a huge part of it. Reenacting our stories. And then, like I said before, with the students, exploring a different option, exploring, okay, so this is the choice that I made. Had I made this choice, what do I think would have happened? And a lot of times that kind of work leads people to this understanding of, one, I made the right decision at the right, you know, at the time, and two, I like where the decision I made. I like this road. So there's that.
Susan Riley
Yeah, I am. What's powerful about what you're sharing is that I feel like the word that keeps coming to my mind is that you're giving educators permission to share their experiences without reprimand and giving them permission to feel something about a good or bad. It doesn't matter if they are allowed to have an emotion about an experience that they had and then they can make the choice on how to either shift it or to accept it and to accept it with purpose, right?
Ayesis
Absolutely, absolutely. The beginnings of theater in Greek were really about purging those emotions and opportunity, giving audiences an opportunity to purge emotions. And this is exactly what I create a space for educators. Because we can't purge those emotions, and we should not purge those emotions on students. We're not given an opportunity to, in the teacher's lounge and a lot of times those spaces can get real toxic. And so in this kind of scenario we balance that. We balance that yes you purge it get it all out. Now let's look at what can be what's good about it. Let's not just look at the negative.
Susan Rile
Yes. Okay. So talk to me a little bit about what a PD day with you looks like and sounds like. Give me a little bit of behind the scenes action so that if people would like to work with you, they know what to expect.
Ayesis 
Yeah, absolutely. So it starts with a play. So my PD series is called Reignite, and it starts with about maybe a 30, 45 minute, well, it's about 45 minute play. It's a solo show about my journey through education dealing with compassion, fatigue, vicarious trauma, and burnout. So educators get an opportunity to see what the differences are before we even jump into defining them and looking at it through the lens of themselves.
So it starts with that, it starts with a solo show, which is very engaging because no one is starting PD that I know of with entertainment. So we start there and then we move into the facilitation of the actual PD. So we first look at, we have a test, a self test on how, where do you fall now?
So they take that assessment and from there we know exactly what we need to do. I've developed a magic method and my magic method takes them through the steps of leading to creativity. Creativity is what the C stands for. But how we can shore ourselves up and make sure that we are emotionally well for ourselves first, for our family second, and absolutely for our students.
Susan Riley
I love that. That's amazing. And you're absolutely right. When teachers experience PD, it's never set up with entertainment first, right? Or a creative option first. So how engaging and to share your story first gives them again permission and builds trust right from the beginning that it's a safe space to explore these things, right?
Ayesis
Yes, yes, absolutely. And I try to make sure very, very quickly. Before there was a PD, the solo show existed. And I think it was maybe the third time that I performed it. It was in front of a group of educators. Just by chance, you know, they came to see the show. And afterwards, the amount of tears and the amount of, oh my goodness, this is my story, I felt so horrible afterwards because I felt like I ripped open a wound and these educators. And at the time it was just a show, it was a play. And I was like, I can't do that. That was the whole reason why, you know, I left the classroom. That's the whole reason why I, like I needed that kind of support and I did not want to leave educators that way. So the PD followed soon after, very soon after. And yeah.
Susan
And it's taken off, because I gotta tell ya, everybody that I speak with who has gone through a PD with you, they just rave about you. So I'm so excited and grateful that you were here today with us to share your journey, to share your experience, and the amazing PD that you do have to offer for teachers. Where can people find you? Book a session, stay in touch, all that good stuff.
Ayesis
Yeah, absolutely, and I want people to because I have a Write to Create retreat coming up in Puerto Rico for educators. So yes, you want to stay connected. You can reach me on LinkedIn at Ayesis Clay, A-Y-E-S-I-S Clay. You can reach me on Instagram at Sculpted Clay. Or you can just go to my website at www.SculptedClayProductionswithanS.com.
Susan
We're going to include all of that in the show notes so that people can find you right away. Stay in touch. And before we go, tell us a little bit about this retreat in Puerto Rico for teachers. Yeah.
Ayesis
Yes, so I have a course called Write to Create for individual teachers. So I offer PD, but for individual teachers who want to explore their story even more, there's a course. And we create many memoirs in that course about educators' journey. Well, the retreat is a step up from that. When I wrote my solo show, I had the beautiful opportunity to develop it on the banks of Lake Seneca. And it was so, it was such a beautiful experience, a healing experience. And so I want to offer that for educators. A lot of times, you know, we can retreat in our backyards, but we are still in the same environment that creates chaos a lot of times in our heads and so by taking you away, whisking you away to beautiful Puerto Rico and having this opportunity to reflect on your story, to write on your story, to be creative, there's lots of arts integration, well arts, I won't say integration, there were lots of arts. We do visual arts, we do meditative arts, which includes visual. If you are familiar with the Zentangles, we use those. And then we explore our stories as well as heal, as well as heal. So, next summer.
Susan 
So, yes, thank you. We're gonna put that in the show notes as well so that make sure that people can get in contact and get into that retreat because I think it would be a really powerful experience for anybody who's looking to heal after the last couple of years. So, thank you so much for being with us today and I really look forward to continuing to learn from you.
Ayesis
Thank you, Susan. Listen, I am so excited to just be here with you. I love the work that you're doing. Thank you, thank you, thank you for bringing arts integration to the masses in a very real and concrete way. I really appreciate that. From one artist to another. All right.
Susan
Thank you. Yes, thank you so much.