In the brand new book, Your Brain on Art, Ivy Ross and Susan Magsamen have identified the intersection of the arts and sciences, how they play together, and why these two are the essentials for moving forward in the 21st century.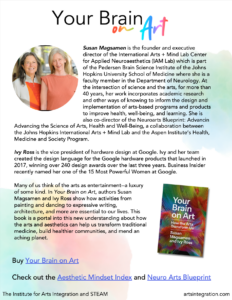 Resource Download
Enjoy this free download of the Your Brain on Art resource.
Susan 
Well, hello there, friend. I'm so excited to be back with you for another episode of the Artworks for Teachers podcast. And this week is one of my favorite interviews that I've ever had the privilege of doing. We just heard from Seth Godin, and I know we've had some powerhouse players on the podcast already this year with Austin Kleon and Dan Pink. But now it is time for the ladies. In the brand new book, Your Brain on Art, Ivy Ross and Susan Magsamen have identified the intersection of the arts and sciences and how they play together and why these two are the essentials for moving forward in the 21st century. And so their book has become a New York Times bestseller. I'm so excited because this book has all of the scientific evidence that you could possibly need to showcase that the arts are equitable players in what we need to be teaching our students, and in fact, are some of the basic building blocks of what our brains need in order to grow and to adapt in an ever-changing world. 
So I have the pleasure today of interviewing both of them, and I think you're gonna find this interview to be extremely powerful. Not only because these ladies are super intelligent and have such an amazing background and understanding of how the arts have impacted humans and where we're going, but also because the genuine kindness and their desire for everyone to be artists and to allow this medium to become the thing that we need to grow as a society is potent. So I'm gonna give you just a brief introduction about each one of them because their bios alone are outstanding. And then we're gonna hop right into the interview and I hope you enjoy it just as much as I did. 
Susan Magsamen is the founder and executive director of the International Arts and Mind Lab Center for Applied Neuroaesthetics which is part of the Pedersen Brain Science Institute of the Johns Hopkins University School of Medicine, where she is also a faculty member in the Department of Neurology. At the intersection of science and the arts for more than 40 years, her work incorporates academic research and other ways of knowing to inform the design and implementation of arts-based programs and products to improve health, wellbeing, and learning. She is also co-director of the NeuroArts Blueprint, Advancing the Science of Arts, Health and Well-being, a collaboration between Johns Hopkins International Arts and Mind Lab and the Aspen Institute's Health, Medicine, and Society program. 
And Ivy Ross is the Vice President of Hardware Design at Google. Ivy and her team created the design language for the Google hardware products that launched in 2017, winning over 240 design awards over the last three years. Business Insider recently named her one of the 15 most powerful women at Google, and in 2019 she was voted number 9 of the 100 most creative people in business by Fast Company. She was featured in the Surface Magazine issue on barrier breaking figures in 2019, and previously she had held executive positions ranging from head of product design and development to chief marketing officer and president of several companies including Calvin Klein, Swatch, Coach, Mattel, Bausch & Lomb, Old Navy and Gap. 
So without further ado, my friends, here's Susan and Ivy.
Susan 
All right, well, welcome, Susan and Ivy. I'm so glad you're here today.
Ivy 
So glad to be here. Thank you.
Susan M 
Thank you for having us.
Susan 
Absolutely. So for people who may not know you, let's just get started with the fact that you wrote this brilliant new book called Your Brain on Art. And I would love to hear a little bit about each of your backgrounds and what made you decide to write this book now.
Ivy 
You want to start Susan, then I'll go?
Susan M.
Sure. So my background really started in early childhood and the arts, early childhood development and the arts sort of as an official field. I did a lot of work starting in the 80s in working with this idea around arts integration and arts for early childhood development but also arts for learning in the classroom. I started a company called Curiosity Kids which really looked at arts, sciences, and world cultures. 
And then in the early 2000s, I was invited by Johns Hopkins to start something called the Neuro Education Initiative, which is still happening. And the idea was to try to understand how the arts affected learning at a neurobiological level. And then that sort of grew and has progressed. And the School of Medicine had a unique opportunity from a donor to study how the arts changed our brains and bodies for health and well-being.
And so, School of Medicine was like, hmm, we don't really know a whole lot about that. But we know somebody that might be interested in thinking about it. So they invited me to meet the donor and she said, I believe that the arts can really save the world. And I said, I know they can. We've seen it. We see it over and over again. And understanding how that works and translating that work into practice was really important. And so since about 2006, I've been working at the School of Medicine, started something called the International Arts and Mind Lab. And then a little bit later in 2019, started to work with the Aspen Institute who really, really felt that the field was ripe, that arts was showing up all over the world everywhere in research and practice and health and well-being and public health. And so launched something called the NeuroArts Blueprint. But along the way, I had reached out to Ivy in like 2017, 18, set that area, because we have something called the Luminary Scholars.
It's a group of people who do amazing things in the world through the lens of arts and aesthetics. And that could be as a researcher or as a person in the field, like architects or writers, musicians. And I had known Ivy's work for a long time, especially at the work at Mattel, where she was the head of girls products. And I like to say this, what caught my eye is that Ivy really had a way of working with her team that promoted collaboration and creativity and I later learned that Ivy was the person that wanted Barbie to have sneakers so then I fell in love with her.
Ivy 
Yeah, and my background is being a maker and a designer. My work is in 12 museums around the world because I started as a making things with my hands and understanding how the, I was so glad for that because I could feel the hand-brain connection. I went to a specialized high school of art and design and I, instead of the football club, there was the art club and I taught art to elementary school students. So I was always very interested in bringing the arts in at an early age.
And then I went off in my career working for companies in design departments from 100 to 500 people really amplifying how creativity happens among humans. And so when Susan called me to say, she said, I've been following your career for 25 years. I said, that's called stalking. And then when I got over that, she said, we're now, science is now proving how the arts and aesthetic experiences change your brain and body. And I said, I know that. And I said, oh my God, but the world does not. And how fantastic that can now be proven because we can get inside people's heads.
And I'm in. And then we, Susan came to my house. We created a salon between artists and neuroscientists to have some kickoff conversations. And we like to say, we curated like Noah's Ark, two dancers, two singers, two painters, two of everything, and at least two neuroscientists. And at the end of that session, Susan looked at me. And it was really, incredibly inspiring. She said, I've always wanted to write a book on this subject. Do you want to do it with me? And I said, yes. This is the book I've been waiting for.
So we basically did it during COVID, which was a gift because I didn't have to drive to Google for hours, three to four hours a day, so we could do it in the mornings. It was great.
Susan 
That's wonderful. So can you tell can you tell our audience just a brief synopsis of the book and what you're covering in there so that they understand and I get it but I wanted them to really understand the connections that you're finding between our brains, our bodies, and the arts
Susan M
Sure, maybe I'll start and then Ivy can jump in. You know, we really thought it was important to explain the neurobiology of how we are literally wired for the arts. And so the definition of neuroaesthetics is the study of how the arts and aesthetic experiences measurably change the brain, body, and behavior, and importantly, how that knowledge can be translated into specific practices that advance our health, our learning, our well-being. In the field it's called neural arts, really an emerging field. And so, you know, what we what we wanted to show is that the arts just aren't a nice to have or a luxury, but they are literally essential for being human and how we've evolved as a species. And so in the very beginning of the book we share the way that we bring the world in through our senses and we talk about the amazing sort of mechanisms of scent and touch and sound and taste and you know it just blows me away how unbelievable our bodies are. I mean just extraordinary. But the way that information comes into our bodies is picked up through the 100 billion neurons that we're born with. And I was just telling you that you know we just had our first grandchild and we are, my husband and I are literally watching her bring the world in and start to make these synaptic connections and make these neural pathways that make her think, move, feel, all those things that we all do. You know, when we're babies, that's what happens. We start to build those neural connections that grow and change and get stronger over our lifetime. And it's because of these salient, sensorial experiences that are highly resonant and they really turn out to be what we call now arts or aesthetic experiences.
And so when you know that, then you can start to kind of go, oh, all right, well, then how can that knowledge about how we are wired, literally wired, through the arts be used in physical health, in mental health, in day-to-day well-being, in learning better, in flourishing? You know, we just don't want to survive. We want to flourish in building our communities. And so that's how the book is organized in all these different moments of our lives. And we make a point in the book that, you know, indigenous cultures understood this, you know, they were the first peoples. There's still 5,000 tribes around the world who are still practicing this work in their everyday life and they don't have a word for art because it's what they do. And I think we've codified and categorized and siloed all these things and also said you have to be good at it, which is not true for the arts to really have an amazing and immediate impact. So maybe I'll turn it over to Ivy.
Ivy 
Yeah, no, and I think, you know, from, we think about… the storytelling, dancing, singing, graphics, art making from early days. And then I think what happened is we started optimizing for productivity since the industrial revolution and all of those arts got pushed aside or you only did them if it was gonna be your career or if you thought you were good at it. And I think what we're learning and thinking that optimizing for productivity as a society would make us happy and healthy and I think we all know that it has not and that mental health is a bigger issue now even than physical health. So that's why this book now is it's imperative that we understand that we are wired for the arts and we don't have to be good at it and you shouldn't judge yourself. It's the act of expressing yourself that's really important through any of these arts. 
And Sir Ken Robinson was the one that went into schools in kindergarten. Who's an artist? Everyone's hand was up. By the time they got to third grade, no one's hand was up because some teacher or parent said, no, no, no, that's not the way you draw this. That's not the way you do that. And the arts don't operate like that. The arts are about self-expression, and it should be without judgment.
So we really just want people, we want people to understand how imperative it is for our health and well-being and to bring it back into their lives, even 20 minutes a day like exercise. You know, science has proven that we need to exercise for our health and wellness, and now we're saying we need to do an art activity, 20 minutes a day for our health and wellness.
Susan 
Yeah, and it's one of the reasons that I wanted to interview both of you so much, and I've been looking forward to this interview so much, because my whole life has been really revolved around arts integration. And I, you know, and we started the Institute 10 years ago, and it's meant to be able to explain to schools and to educators that the arts are equitable partners, along with everything else that we're working on in schools. And that yet somehow our budgets, when we look at budgets for schools, they're not equitable, right? And so some, and the arts are always pushed aside as a nice to have, but that's not what my child's gonna need for the future. And what I found so stunning about this book is that you're saying, yes, it is. This is imperative because the arts allow us, as you shared, to understand our surroundings, our world, to put things together, to make interconnections, so that can help in literally everything, including reading and math and everything else, which is amazing. So there's something in the book called the Aesthetic Mindset Index. Susan, can you share a little bit about what that is?
Susan M
Sure, sure. So the aesthetic mindset index is just a very sort of simple 14 question survey to calibrate where you are in your own sort of arts and aesthetic life. And so it asks questions about sort of are you a maker? Are you a beholder? Do you value sort of these sensorial experiences? And so it culminates in a kind of a five point scale and it breaks down into three different categories so you can kind of see different aspects. So you know it sort of calibrates you as a maker or beholder, you as an appreciator. You as just being intentional about bringing aesthetics into your life. And you can also go to yourbrainonart.com and do the index and it will do the math for you which is really good. But you know what we say about the aesthetic mindset experience is that it really comes down to four things that anybody can do anytime. And the first the world without sort of thinking that you know the answer but that you want to know what's around the next corner. You're excited and you have the sense of wonder. The second is playful exploration. So we all are so judgmental of ourselves and of situations and sometimes of the other person. But to not be judgmental, to not be critical, but to really allow for difference and  allow for this range of diversity that just makes up the world. And then the third is to be more aware of your sensorial surroundings. So even just right now, you know, I can see there's beautiful light that's shining to you. You know, what are you smelling? What's the temperature? You know, what's happening around you that you're bringing in the world? And then the last thing is to be a maker and a beholder in a more intentional way. And the reality is we're making and beholding all the time, right? You and I are in an improv. I don't know what you're gonna say. I don't know what Ivy's gonna say, she doesn't know what I'm gonna say, you dont know … what is going to, you know, so we're always in an artistic improvisation and we're always beholding and so how do we move sort of the serve and return of that and in doing those four things you begin to start to have more of that aesthetic mindset that actually increases your physical health, your mental health, your capacity for learning, your capacity for quality of life.
Susan 
Wow, wow, I love how you put that and the idea that… Again, it's validating this idea that you don't have to be an artist, but that everyone is an artist, right? In a very different way and personalized way, which is wonderful. The word that you said, curiosity, which that is my word for the year, it's been my little mantra for the year, is to get curious and it's so helpful on so many different levels. Ivy, I'm curious in and you have you didn't really talk about your role at Google right now but I'm curious from that standpoint as well as from what you discovered while researching and writing this book, how do you find that creativity and curiosity intertwine?
Ivy 
Oh, they are, they are deeply connected because I think to be creative, you have to ask questions. You have to be curious about something. Could a speaker feel like a river stone that you hold in your hand versus a square box? Why does something have to be square? I mean, you're constantly asking questions. And then you have to be by nature curious and relentless about until you have the answer, continue to play and explore and play.
And you know, Susan mentioned play as an attribute of the aesthetic mindset. And people think the opposite of play is work and it's really depression. You know, play is doing something different than you do every day but without a preconceived outcome. You know, we're so outcome driven because we're so transactional in our lives that everything we do there's… a goal for. Some things there has to be, but I think the idea is, and this is what I try and do with my team and any of the companies I've been leading creative teams is… give people time to play, to ask those questions without knowing where it's going to lead you. Because the thing about being curious is being open to get an answer that might be surprising, and then to go one step deeper. So it's actually the key to innovation and creativity. And scientists, you know, Susan and I, through doing this book together, I realized scientists are super curious people also. They're in the same business of asking a question.
And so I think that's why we really worked so well together, is you know, we're wired the same way that the questions are what takes us places.
Susan 
So this is fascinating. And I wanna kind of, I wanna riff on this a little bit because one of the things that we've seen in our work, especially since the pandemic, but even a little bit before that with children in classrooms is that students are struggling with imagination and with asking questions, with curiosity, because they're looking for, is this… the right question, right? Is this the right thing? Am I saying the right thing? Am I doing the right thing? And they literally cannot imagine something unless we give them enough prompts to begin. And so I think it's something that… it's something we need to definitely work on and connect into and tap into this idea of expanding the capacity to imagine and be curious. So what do we do if we see a student who might be stuck and in terms of even their own curiosity? What are some ways that maybe we can tap into that and help them to explore that a little bit?
Susan M
Well, maybe I'll start. I think even at a very baseline, we've conditioned ourselves and our children to have to fill in the bubble, right? And so I think the adults in the room have to begin by really exploring what conditions they're created and what conditions they are creating. And there's such a huge opportunity to shift that aperture pretty easily. And so, creating these enriched environments, these spaces where children feel safe. And safety isn't just the absence of threat, it's to feel like you can trust to be able to express yourself. And that's something that educators and parents have the ability to do by sort of just lightening that lack of expectation and creating novelty, surprise, spaces where children can explore different kinds of hands-on or auditory experiences. Something as simple as just having a circle time where you're doing storytelling for younger children or drumming circles for older kids where they're able to synchronize and express themselves, but creating that playtime, that open space, we've done some really interesting work with psychiatrists and psychologists who use art to help children really process these complex stress emotions. And when you're stressed, you can't create. When you're traumatized, you really can't create because all your energy is going to that fight, flight, or freeze space. And so there's a guy named Jim Gore, who's been doing some interesting work here around imagination and he has a simple drawing technique that it starts by you drawing yourself and then you draw the problem that you have and then you draw the solution and by not putting words to it but by just building symbols and metaphors it's amazing where that work goes and he's doing that work in the Ukraine, he's doing it in Syria he's doing it in places where there's such trauma.
And so I think thinking about those kinds of activities, you know, visual arts turns out to be very helpful for kids that are having trouble expressing their imagination. Because the thing about art making is, especially visual arts or expressive writing, where you can also write something and lower your cognitive load just by getting something out, is you have agency. Nobody can do it, take that away from you. No one can tell you what you are going to create. And that agency fuels imagination.
Ivy 
And I think in school, there's been this thing about, you don't want to seem stupid by asking a silly question. So it's almost creating an environment where there is no silly question or there is no right answer. In improv, there's something yes and. And I always bring an improv artist into my teams for people to understand that's where creativity is. People should throw out questions, ideas. And it's not stupid. It's like it takes you to where you to go. And so I think creating the environment where the teacher sets up where, ask questions, let's get to this place differently and really that there's no wrong answer. I think as Susan said, we've been trained in school through this right answer, fill in the bubble right, memorization. And what you're describing is a problem that I think comes out of that because then kids don't know how to, they just memorize the answer. They don't know how to really embody the information and think for themselves. 
And you know, it's so important what you say about imagination, because AI is going to start to do some of the basic functions, the thinking, some of the math, some of the basic things. And so it's really important that we focus on what we, I think it's going to force us to be more imaginative. What is it that only humans can bring to the party and co-create if we're going to, if some of these base things that we've learned through memorization is going to be done for us?
What is it that we are going to co-create with these machines? Well, we have to amplify our imagination to build on top of that. I know for some people it's very hard because they can't even imagine what's our role, but that's because we don't even yet know what it'll be because we have to create it. But to create it, we have to be imaginative. And so I love what you're saying about, it is what we have to do for our children is teach them how to be imaginative and imagine the possibilities and then we'll get there as a species.
Susan M
And maybe just a shout out to, teachers are so stressed and they're so burned out and they've really come into the, come out of the pandemic into the classroom with a lot of behavioral challenges. Kids are really dealing with a lot of mental health issues. Families are really struggling. And so teachers also need self care and they need art to help process all of the things that they're having, experiencing too. And so I think this idea around how do you use the arts for trauma informed care for the teachers is also really important work.
Ivy
Yeah, it's no different than like Susan and I spoke at a hospital. You know, you have to take care of the patients and then the the healthcare workers. And then, you know, some hospitals are doing recharge rooms. They're very neuroaesthetic focused to where can that person go and get recharged to go back out and work with patients?
Susan M
For just 15 minutes, for just 15 minutes.
Susan 
Yeah, what a great idea. I mean, what a great idea for schools to even be thinking about, where you would typically send a child who's having a behavior issue to the principal or to a time out or space. Why not make that something more of a recharge area where I need to process all of the things that are clearly going on right now, right? And give you a space to do that. What an incredible idea, I love that.
Ivy
Yeah, I think part of the problem with kids, I mean, Susan and I talked about if we got to rewrite the book of how we get, we don't even teach our kids sensorial literacy or we don't even teach them to express themselves. If anything, we tell them to repress it. And so what happens is that it just builds. And so somehow we have to start from the very beginning and change the way that self-expression is good thing so that things don't get repressed and then build up to a place of no return.
Susan 
Mm, absolutely. So I'm curious about in the book, what was some of the most surprising? Was something that was super surprising to you that came in based on the research and as you were working through your thesis on here?
Susan M
Well, I think one of the things relating to learning is that when children are using musical instruments or, you know, in a music with other children, there's actually some really beautiful fMRI work that shows that brain mass, the cerebral cortex, is actually getting larger, and that by as much as 6%, which is huge, and that there's greater neuroplasticity, so there's more neural pathways being built.
And also the sheath around those neural pathways, it's called myelination, it's like a fatty tissue that goes around the nerve, actually gets stronger. So that means that you're thinking faster, things are moving faster in your brain. And so you're literally changing structural elements in the brain by using these kinds of arts experiences. We also know that kids, we saw that kids who are doing an art experience make better decisions, they stay in school longer, they have better outcomes.
So the epidemiology work alongside of the neurobiological work. I think one of my biggest takeaways still is that, as someone who's not good at any art form, but does them every day, is that you don't have to have talent in order to be, or be gifted, in order to have great impact from doing these things. And that's liberating. So one more thing, we were at a conference last week, and we were talking about doodling, and how, you know, doodling is something that actually helps you recall and retrieve memory.
It makes you listen better, it actually provides greater attention benefits. And I was at a meeting where I told the people that I was talking, I'm going to talk, I'd like you to doodle. And at the end, I had two grown men come up to me and said, I cried when I did this because as a kid, I wasn't allowed to doodle. And I'm now understanding that I needed this, and I was so shut down. And I think we have generations of people who are starting to feel that.
Ivy 
Yeah, Susan took the, I was going to talk about the doodling one. Because there's been a couple of things I learned along the way that's the tension of opposites, for example, that dance helps Parkinson's patients. You know, some things that seem counterintuitive, doodling actually helps you retain the information you're listening to versus, you know, in school or in business meetings, people will give you a dirty look when you're doodling, it's like, are you not listening? So I love that what I learned is some of these things are counterintuitive, absolutely scientifically backed.
Susan 
That is, I mean, it's fascinating to me. I always am so fascinated by what access point, which arts, I call it an arts access point. Which arts access point is going to be the one that triggers somebody to go, oh, I get it. Like make the connections and have those, those flow feelings of I'm in it, this is where I'm supposed to be right here. And it's always interesting to me. I love the idea of this, the tension of opposites, because I think we so often are… afraid of pushing that boundary and it's definitely something we went into with teachers in in embedding the arts in their classroom, the question of I'm not an artist. So how can I support my my students if I myself am not an artist? But I think what's so beautiful about this book and what you share is that you don't have to be an artist, It's the the act itself. It's creating the the environment to allow people to be vulnerable in their creativity
Ivy 
Absolutely.
Susan
Which is I think it's something that we all could work on. Susan, I want to touch on one more thing you talked about the about teachers and their stress and overwhelm and this we're heading into summer and this is often a time when teachers will do the the recharge right hopefully cross fingers that they take the time to do that. What for both of you what are some some ways that you would advice maybe teachers or adults who are interested in the arts but maybe are nervous because they don't think of themselves as an artist. What are some ways to get started to recharge their their batteries a bit?
Susan M
Well.
We, Ivy and I both think that nature is the most aesthetic art form. And so get outside, right? Put your hands in the dirt. If you're a gardener, you know, garden. Someone said to us, gardening is the slowest art form. And I love that. But really, you know, if you really want to lower cortisol and start to really reach homeostasis, nature is a miracle. It's just, it's where we come from, it's what we know. I think that's a really important thing. Somebody gave me this advice this week, and I, I, I haven't had a chance to share it with Ivy but I was like, I'm going to use this. This was the same question of, you know, what do you do when you haven't made art or you're afraid, you just need to recharge? 
And someone suggested that you go back to what you did when you were a child. What were the things that made you feel in that flow state? What were the things that offered wonder? And I think… for us as adults going back to remembering those things, instantly, right, I can think, I looked at clouds and I made pictures, right? I made these bracelets and necklaces out of clover. You know, I took off my shoes. You know, I played with clay. I've always loved clay. And clay turns out to be something that we all have the same level of dexterity in both hands. And it's a super kind of amazing phenomena that clay, and it's, when you think about it, clay is a very old, ancient material too comes from the earth. And so I think beginning to let yourself play around and go back to what it was that you reconnect to yourself.
Ivy 
Yeah, or if you can't remember that, I mean, the summer is the perfect time to give yourself, each week, just try a different medium. Order some clay. And again, no judgment. The key is no judgment. Just play and have fun. Start to form it. See what comes out of your right and left hand and your conscious and unconscious brain working together. Get a coloring book. And no one's looking. So you can even color outside the lines.
I think I would make my own summer program of once a week, pick up one, buy watercolors. And these things are not expensive. And just there's so much great information online. You could take a watercolor class online and just play. And take each week and try a different medium. And to your point, see which one gets you out of your monkey mind and your cognitive mind and where you get in that flow state where it's just you getting to know you better by seeing what comes out on the page, or comes out on the lump of clay. No one's looking. You don't have to show it to anyone. And it's a really beautiful process of getting connected to yourself more deeply and clearing out a lot.
Susan 
Yeah, it reminds me of Julia Cameron's idea of going on an artist date. Take yourself on an artist date once a week, which is, that's a great experience, and I always love to do that in the summer. Perfect timing. So where can people find out more about you, more about your book, and how can they stay in touch?
Susan M
Well, we have a website called yourbrainonart.com and you can go to any of the social media outlets and we'll really try to share stories on a regular basis about things that people are doing, some of the research that's happening. So you can find Your Brain on Art on Instagram, on LinkedIn and also on Facebook. And I think those are really good places. And if you wanna share a story or you wanna share some tips with us that you think have been helpful, you can go to the website yourbrainonart. Send us a story, send us a question. We're happy to try to continue the conversation.
Ivy 
Yeah, because we're collecting stories of how the arts have changed people. I think stories matter. So we'd love to hear from you. One thing on Instagram, it is your Brain on Art book because we couldn't get your brain on art. So everything else is yourbrainonart.com or just yourbrainonart, but Instagram, it's yourbrainonartbook. And on the website, we do post articles and things that we find interesting in this in this new field.
And also the NeuroArts Blueprint, right, Susan? Maybe because they're professionals, might want to be interested in that.
Susan M
Yeah, that's theneuroartsblueprint.org. And that's really a five-year roadmap to really make this field viable and sustainable. And so, yeah, check that out for sure.
Susan 
Mm. I love that. I love it. Thank you both so much for your time today. And we're gonna link all of that in the show notes so that everybody can go find it and bookmark it and hopefully share their stories as well. So thank you so much. So, I'm gonna go ahead and start with the show notes. And so, thank you so much!
Susan M 
Thank you.
Ivy 
You're welcome. Thank you and thank you for all the great work you're doing. Bye.
Susan 
Thank you.
Susan M
Thank you. See you later. Bye.