Amanda Koonlaba | November 2019
In with the Habits of Mind
The Habits of Mind refer to all those skills human beings need to develop in order to function intelligently. Sometimes you will see these skills referred to as "soft skills." (Especially when educators are speaking about future employability of students.)
"Soft skills" is a term that I strongly dislike as an educator. I believe in a whole-child approach to teaching. That's the cornerstone of arts integration, after all. So, I know from experience and from the courses of study on which I've embarked over the years that a student cannot just learn math or science content. 
Nothing exists in isolation. All subjects are connected. But all of those things that human beings need for executive function must be developed for students to be able to apply their content learning in meaningful ways. It is about the individual and how the individual fits into the big picture. 

Out with "Soft Skills," In with Habits of Mind
I propose we stop calling executive functioning skills "soft skills." While I'm at it, I'd like to add that we stop lumping fine motor and gross motor skills into the heading of "soft skills." I'm not the first educator to propose this. I really think it is one of the overarching thoughts behind Art Costa and Bena Kallick's development of Habits of Mind. Therefore, I suggest we start using the language of Habits of Mind.
As arts integration and STEAM educators, we may be uniquely poised to help take this "soft skills" language out-of-play. We have the language and knowledge of aligning standards that gives us the ability to talk about rigor through the arts, which is really about the whole child. I'd like to charge us all to start planning for and talking about executive function in our classrooms and in our schools. 
We can teach other teachers this way. If we can use language that shows strongly how we use standards to educate while also addressing executive function, we can even teach our administrators! It could be written into our lesson plans for math, language, science, art, and more!
Why Habits of Mind?
I first learned about Habits of Mind about a decade ago. I can say with certainty that it was a turning point in my educational practice. I'd already been immersed in the practice of arts integration because I'd been lucky enough to be hired at the very same school where I did my student teaching. That particular school was a model school for arts integration. I'd never really known anything else as a teacher. Arts integration was in the marrow of my teaching.
However, when I learned about and coupled the Habits of Mind with that, I saw significant changes in my students. I would even go so far as to say that my job satisfaction improved! Simply as a result of intentionally marrying arts integration with the Habits of Mind. Let me describe the difference to you.
Scenario One: 
(This may or may not be how I learned to teach and taught at the beginning of my career. The art is going to happen, but the rote and boring is happening first. [Hangs head in shame.]) 
Imagine a classroom where the students file in to sit at desks and immediately open a notebook to work on a bell ringer. The bell ringer is a short spiral review. Then, the teacher calls a student to the board to solve the bell ringer. The rest of the class corrects their papers. Next, the students are instructed to take out a packet of stapled worksheets. This is the same packet of worksheets they've been working on in this math class for two weeks. They spend five minutes checking over the worksheet from yesterday to see if they can catch any mistakes.
Then, they are given the answers to check their papers. Next, the teacher goes over a new skill that builds on a skill taught two days ago. Finally, the students spend the last twenty minutes of class completing the next worksheet that covers the skill taught today. There will be an integrated music and math lesson next week if all of the worksheets are finished.
Wash. Rinse. Repeat.
Scenario Two:
(This is how my classroom looked after I intentionally started to teach the Habits of Mind, which led to better arts-integrated lessons. [Holds head up high!])
Now, imagine a classroom where the students file in and sit at desks and immediately open a notebook to work on a bell ringer. The bell ringer asks the students to list five everyday items they could use to build a castle. They have to estimate the measurements of the items to draw a castle and determine the dimensions. When bell ringer time is over, students share with a neighbor while the teacher monitors the discussions. The next order of events involves the teacher giving some basic instructions about how the students will work together in groups to build a castle out of random, everyday items she's gathered up (straws, milk cartons, etc.). The students have tape to secure the items together.
They will have the remainder of the class period to work on this task, but they must finish building and both estimate and actually measure their work before they leave. The teacher monitors the groups as they work. She makes notes about their discussions and what she notices about their behaviors. She intervenes when necessary but not before giving the groups the opportunity to solve the issues and misconceptions that arise. The next day, students actually measure their drawings for the bell ringer. Then, they are charged to estimate and measure the castles built by their peers. 
Let Me (NOT) Count the Ways
There is a giant difference between the two scenarios described above. It is a stretch to identify any executive function in the first scenario. Okay, so maybe they had to keep up with their packet of worksheets, but that's as close as I can get! 
Do you think the students in the first scenario are enjoying school? Is the teacher enjoying her job? Without joy, are the students really learning?
What about in the second scenario? The teacher has obviously already taught the skills of estimation and measurement. She's also obviously been allowing the students to work in groups quite a bit because the scenario seems to play out pretty smoothly. 
I'll not outline all of the ways the two scenarios are different. I won't even elaborate completely on how one scenario might be better than another (using the word "might" loosely here). There are so many things to say on that matter that this article would turn into a book. 
However, I will point out how nearly every single Habit of Mind as described by Costa and Kallick is at play in scenario two. As you learn more about the Habits of Mind from The Institute this month, I encourage you to reflect on that second scenario and the huge difference being made in the lives of the students there. 
But, I hope you will also think about the difference for the teacher. The classroom in the second scenario is probably louder and messier than in the first. The teacher is monitoring, though. She is making notes and observing. The teacher can easily tell who has mastered the skills, who is exercising appropriate speaking and listening skills, and who is utilizing executive function and to what degree. She didn't have to give and grade a high-stakes assessment or didn't have to stand in front of the class and tell them to be quiet a hundred times so they could drudge through the worksheet packet. Think about the difference that makes!
Reflection Questions on the Scenarios
In case you are like me and love a good teacher assignment, I've compiled some reflection questions for the two scenarios described in the article. I encourage you to immerse yourself in the Habits of Mind this month with us here at The Institute for Arts Integration and STEAM from EducationCloset, and come back to these reflection questions at your convenience.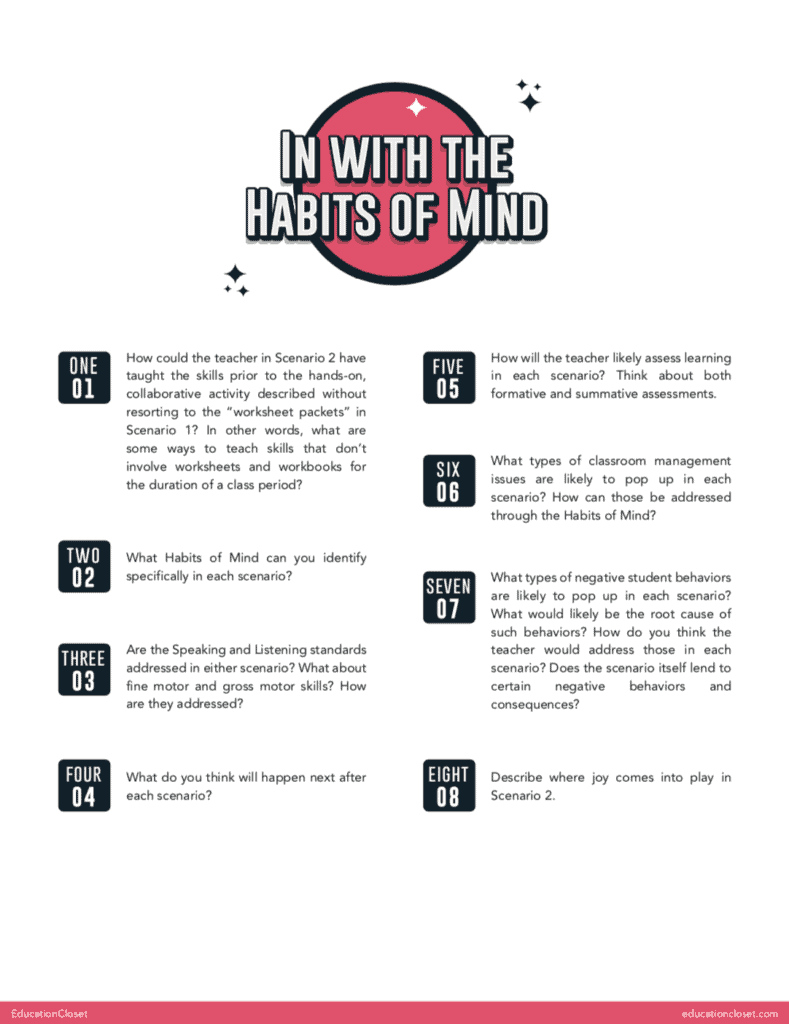 All in All
The Habits of Mind are a vast field of study. There is much to know. Educational researchers and classroom teachers alike expand and tweak the work of Costa and Kallick. My intention here is to provide you with an introduction to Habits of Mind and to excite you about the value of using those in your practice. 
Now, go forth and change the language. Don't refer to them as soft skills! Change the rules! Change what it means to teach and learn. Let's put this one piece of bringing joy back to the field of education in place this month – we are all in this together!