Alyssa Pilarcik | November 2019
Using an Artist Call to
Boost Creative Mindset
Allowing students to demonstrate learning through the arts provides a more personalized and authentic learning opportunity.  If you are looking for a quick and effective way to give your students this opportunity, there is a simple and fun solution. Turn your objectives into a challenge by transforming them into an artist call.  
What is an Artist Call?
An "artist call", sometimes referred to as a "call to artists" is similar to an art contest.  It is an opportunity for artists to develop a proposal for a piece of art based on a set of established criteria.  Artist calls are usually put out by an organization or company to determine a piece of art to display publicly that raises awareness and best communicates a specific message.   
Making it Work
Search for Actual Artist Calls
Sometimes you can get lucky and find an already existing artist call that meets the needs of your learning outcomes.  It could also be as simple as searching on the internet or inquiring with specific organizations. Even if you do not end up submitting anything to the actual artist call, it is a great way for students to understand the real-world application. EntryThingy is a great website to look for current opportunities.

Creating an Artist Call
If you can't find an already existing artist call that meets your needs, you can always create your own. The requirements of the artist call will differ depending on the goals for your students and what you will actually be assessing.  Making it broad can help promote personalization and critical thinking because it will require students to make more decisions on their own.
You may also have the opportunity to work with an organization or company in the local community to come up with an artist call together.  There would be a mutual benefit as the organization would get publicity through the final work and the students would make real-world connections within their community.
Components to Include
The Artist Call
This would include what the artist call is and the purpose of the artist call.  It may also include information about the company/organization and its purpose.
Guidelines
This would be the established criteria for the artist call.  Determine whether it will be an installation sculpture, a mural, a piece of music, etc.  What absolutely has to be included in the proposed final piece? What should not be included in the proposed final piece?
Selection Process
This will inform artists on how the final piece will be selected along with any other recognitions or awards.  You could include a rubric in this part of the artist call.
For example, here is what I have used with my students.  It is very broad as I wanted my students to be able to choose a topic that interests them, research the topic to help make decisions, and have a lot of choice in the creation of the final piece.  My students know the selection piece is not real, but they still get excited.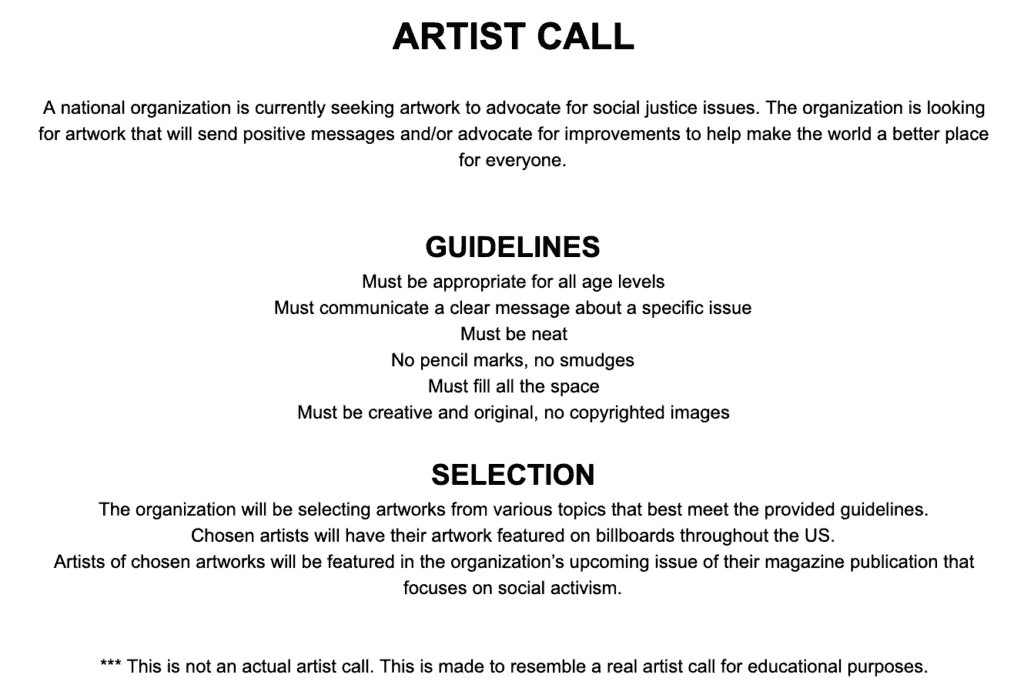 Outcomes
Research
The research component will help students better understand the purpose of the artist call.  Students may need to do research to find out more about the specific topic or issue. For example, if the artist call is related to the water pollution of the Chesapeake Bay, students would need to find out what causes the pollution, the species that are affected, and possible solutions.
Students can also do research to determine the best location for the final artwork.  If it is going to be an installation, it should be a place where it will have the biggest impact.  Students could conduct interviews to better understand the feelings of others and what they would like to see and where.
Model or Final Piece
You will need to determine what students are creating to "submit" to the artist call.  If it is an installation or mural, most likely students will be creating a downsized model or painting.  If it is a musical piece or performance, you might want to require students to submit a video.
Proposal Statement
This could be a written statement, a video, or a digital presentation.  Allowing students to choose how they will do their proposal statement will allow for more personalization.  The proposal statement should be a reflection of the final piece, somewhat like an artist statement. Students should include a description of their piece along with detailed justification.
Supporting the Creative Mindset
Using an artist call as a means for demonstrating knowledge supports the creative process and encourages students to apply artistic habits.  The creative process is a critical thinking system that can be applied in all subject areas. The artistic habits are mindset skills that are applicable to all subject areas. To learn more about how a creative mindset can enhance learning, check out the Creative Mindset Course.
Throughout working on the components of the artist call, all of the artistic habits are involved to some extent. Students are developing and increasing their ability to envision, express, engage and persist, stretch and explore, observe, understand the art world, reflect, and develop craft. The more the student finds meaning and interest in the process, the more immersed they will be with the artistic habits.  These habits will transfer to other areas of the students' lives, ultimately increasing their creativity in everything they do.
Competition
There are some students who are very hard to motivate but as soon as a little competition is involved, it is as if a switch is turned on.  Some students thrive on competition and it is the competition that sparks their determination to succeed. Whether or not the artist call is real, you can still present the project and use the final pieces in a class, schoolwide, or even community vote.  
Bringing Awareness
Using topics that interest students will inspire them to create something that will bring awareness.  There is power in being able to make a difference in something you are passionate about.`
Real-Life Application
I have also seen a huge difference in motivation when students know people will actually be seeing their work.  Creating something only the teacher will see diminishes the value. There is much more meaning when your work is going to be seen by a wider audience and for a genuine purpose.
Ideas for Different Subjects
It is difficult, maybe even impossible to think of a concept that cannot be represented through an art form.  Here are just some ideas ways you can use an artist call to demonstrate knowledge and understanding:
Represent a statistic, a period in time, a specific event, theme, or metaphor

Raise awareness about a social justice issue or an issue in the local community

Promote an initiative, product, or service
Whatever you teach, an artist call can help your students apply it better to the real world.  It gives them the why for learning a specific concept. It also involves a process that will encourage creative thinking, a desired skill for any subject area.  To explore more about the studio habits and how they promote creative thinking, visit The Studio Thinking Project.