Amanda Koonlaba | August 2018
3 Surprising Tips to Start Your Year Off Right
I'm a mid-career educator who remembers exactly what it was like to be a early-career educator. Because I remember what it was like, I always get really protective of you guys when school starts back.  I want you to kick off every new school year with confidence. 
Your new students will have high expectations for what they want out of the school year, and I want you to be ready to roll when those kiddos walk through your doors. But, as I reflect on this, I recognize that while these tips might be surprising to a beginning teacher, they probably aren't surprising to someone who has been at this for a while. Nevertheless, these tips are also essential and worth remembering for any teacher.
So, for all the teachers out there getting ready to begin a new school year, here are my 3 best tips to help you start your year off right.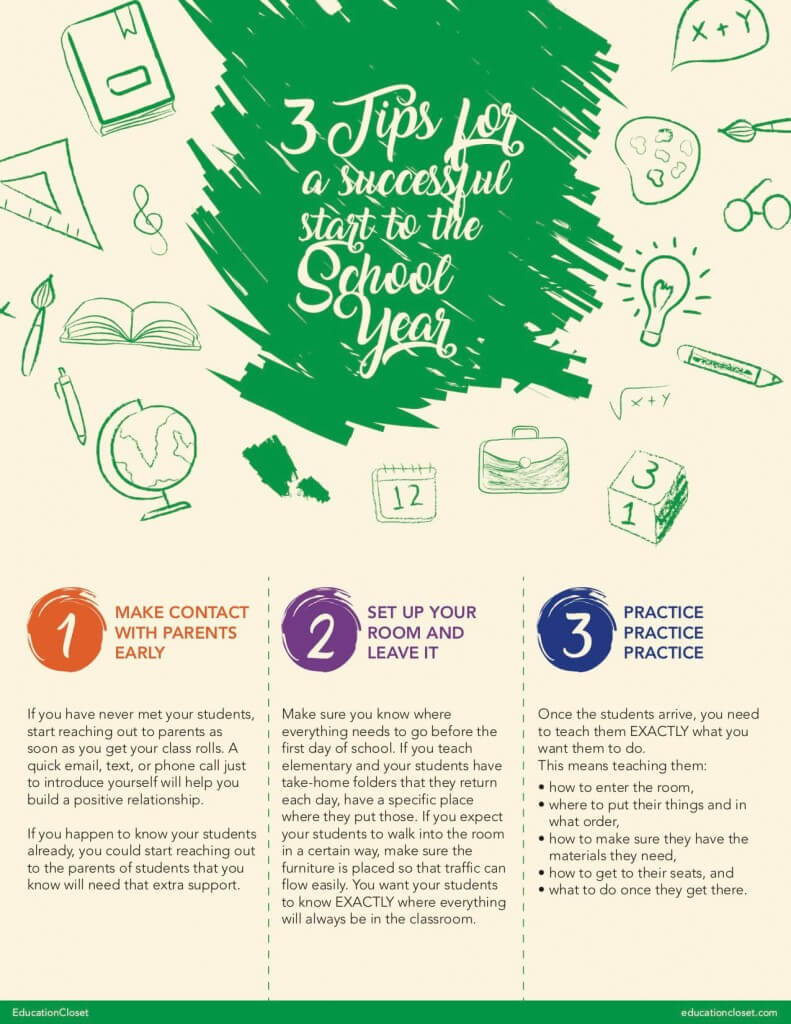 Make Contact with Parents Early
If you have never met your students, start reaching out to parents as soon as you get your class rolls. A quick email, text, or phone call just to introduce yourself will help you build a positive relationship.
If you happen to know your students already, you could start reaching out to the parents of students that you know will need that extra support. For instance, as the art teacher at my school, I taught about 600 students every year for four years in a row. I would always reach out to parents of students that I knew I would need to stay in close contact throughout the year. I would reach out early with something positive about the student. This is always a good idea if you teach a lot of kiddos and can't make contact with every parent. It helps build a positive relationship early so if you ever need the support of that parent for something not-so-positive, you'll have it.
Set Up Your Room and Leave It
Make sure you know where everything needs to go before the first day of school. If you teach elementary and your students have take-home folders that they return each day, have a specific place where they put those. If you expect your students to walk into the room in a certain way, make sure the furniture is placed so that traffic can flow easily. You want your students to know EXACTLY where everything will always be in the classroom.
All students respond well to routine and structure. If they know exactly where everything is located and exactly what to do when they first walk into the room, you will have less behavior and classroom management issues. So, make sure you have thought about everything students will need to do when they arrive and where all of these things should be located. Then, set your room up for the first day and don't move anything.
Practice Practice PRACTICE
Once the students arrive, you need to teach them EXACTLY what you want them to do.
This means teaching them:
how to enter the room,

where to put their things and in what order,

how to make sure they have the materials they need,

how to get to their seats, and

what to do once they get there.
When I say teach them EXACTLY what you want them to do, I mean break it down into steps and model it for them. Then, have them retell what they are to do to a neighbor. Model it again. Then, have them practice it. The younger the students, the more practice they will need. You may have to let them practice it two or three times the first day. Maybe you will have to spend half of a day teaching this on the first day of school. You may have to reteach, model, and practice it everyday for a week, but in the long-run it will be time well spent.
When students can come in knowing exactly what to do, you will have less riff-raff to deal with. Entering the classroom should be such a routine for students that they don't even have to think about what they are doing. The faster and more efficiently students can enter their learning environment, the more time they can spend learning!
Do you have any other tips to start your year off right? Please share them in the comments to help the community as we all transition into a new school year. Remember, we are all in this together and sharing is caring!
By the way, classroom management is passion of mine, and I developed a course for EducationCloset called Managing the Arts Integrated Classroom. This course has everything you need to set your classroom up for success. If you like the tips in this article,  you should definitely check out that course!