Where They're From: A Media Arts Project
A few years ago I was fortunate to be a part of a large scale media arts integration project. It took place in our school's English Language Learners (ELL) classroom. All but one of the students in the ELL class had moved to the area from El Salvador. They spoke little or very broken English. (The one student who was not from El Salvador had recently moved from Ghana).  The students utilized their time in this daily class to help improve literacy and writing skills.  
Although I had frequently spent time in the classroom helping direct various arts integration projects, I knew very little about the students' personal lives.  I knew many had left their immediate families to come live with aunts or uncles. I knew that their journeys here had involved some amount of peril.  Because of my post as lunch monitor, I saw that most of these students huddled together around lunch tables. They chose to eat as an isolated group rather than dispersing themselves amongst the other students.
The Groundwork
When the ELL teacher had informed me the students would be working through a poetry unit, we decided it would be a great time to bring in a teaching artist. This artist would work with the students on a media arts project connecting text and image.  Through Young Audiences Arts for Learning, we coordinated an ongoing student workshop with Ras Tre Subira, an award-winning photographer, filmmaker, and educator, who came to work with the students for two weeks.  Ras Tre first taught the class about photography angles.  He showed examples of images and how to position the camera to correctly frame images to achieve these angles.  He also discussed implications of different angles and what attributes various angles provided the subject of the photograph.

Over the next few days, we had students read examples of poetry centered around the topic of self-exploration.  We then lead the students through a poetry writing exercise. where they wrote a poem entitled "Where I'm From".  Through this exercise, students explored their identities while also learning about different structures and principles of poetry.
Literacy and Photography
Next, we had students analyze the poems they wrote. They were also asked to determine different photographs that might adequately express the emotions or message they wanted to convey in each line of their poem. Students wrote at least three different "shots" for each line of their poem. They then narrowed down the choices for their "shot list" through peer discussion.
Students were then arranged into small groups and were provided with high quality DSLR cameras.  Although professional quality cameras were not necessary to complete the project, they sent the message that we as adults, considered the students' work very important. Additionally, the cameras allowed the students to capture high quality images. The students were also able to experience the difference between DSLR cameras and the point-and-shoot styles of camera.  Students were provided with training on how to use a DSLR. Then they were released within the boundaries of the school to work as a group to photograph the different images on their edited "shot lists."
Media Arts Compilation
Once students had completed the photography portion of the project, they downloaded the images they had captured into iMovie.  They recorded themselves reading their own poems into the program. Lastly, they arranged the images to fade in and out with the appropriate lines of their poems.  
Presentation
Students presented their media arts videos to their class. The finished product was so touching that we asked them if they would be interested in sharing their videos with a larger audience at an upcoming whole-school art exhibition.  Students who agreed to this larger showcase worked together to craft an artist's statement regarding their work. They later presented their media arts projects on a large screen projector in an auditorium. They even came on stage to take a bow after their pieces.  
Results
This project took place in 2016, following an all-time high of unrest in El Salvador, where most of our students were from and where their families were continuing to live.  In 2015, El Salvadorans were victim to more than 3,830 gang related murders, making the country 20 times deadlier than the U.S. and 90 times deadlier than the UK (https://www.theguardian.com).  
Through these presentations, the students were able to process some of the trauma they had experienced living in their home country and during the process of migration to the US.  When working with one student, she informed me she had left an identical twin sister in El Salvador. She had not had the opportunity to see her in five years.  Her story was compelling but unfortunately, not totally unique.  All of the students in that class experienced the disruption of being totally dislocated, whether they were from an area suffering from violence or not.  
In a class that normally focused on literacy, this process provided an opportunity to make this unit especially relevant to our students. It also provided them with a larger platform to express the parts of their stories they felt comfortable sharing.  From a content standpoint, the interaction of text and image through the platform of media arts was a great teaching technique. It increased comprehension with many of our students.  
Take-Away
Do you think this project might work well with your student population? I've recreated the poetry structure for the Where I'm From poem for you to use with your students.  We completed this project with English Language Learners at a Middle School level. However, you can adapt this to use with English speakers at a lower elementary school level, to explore their own personal identities.  Use the printable resource below and if you try it out, let us know how it works for you!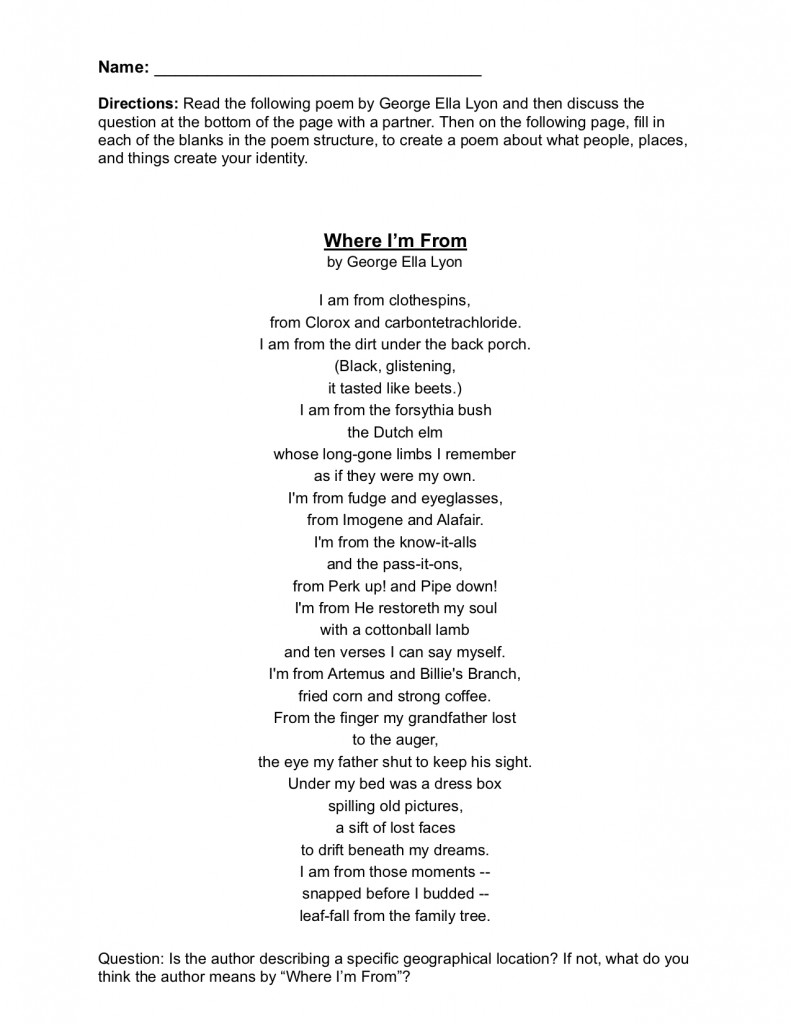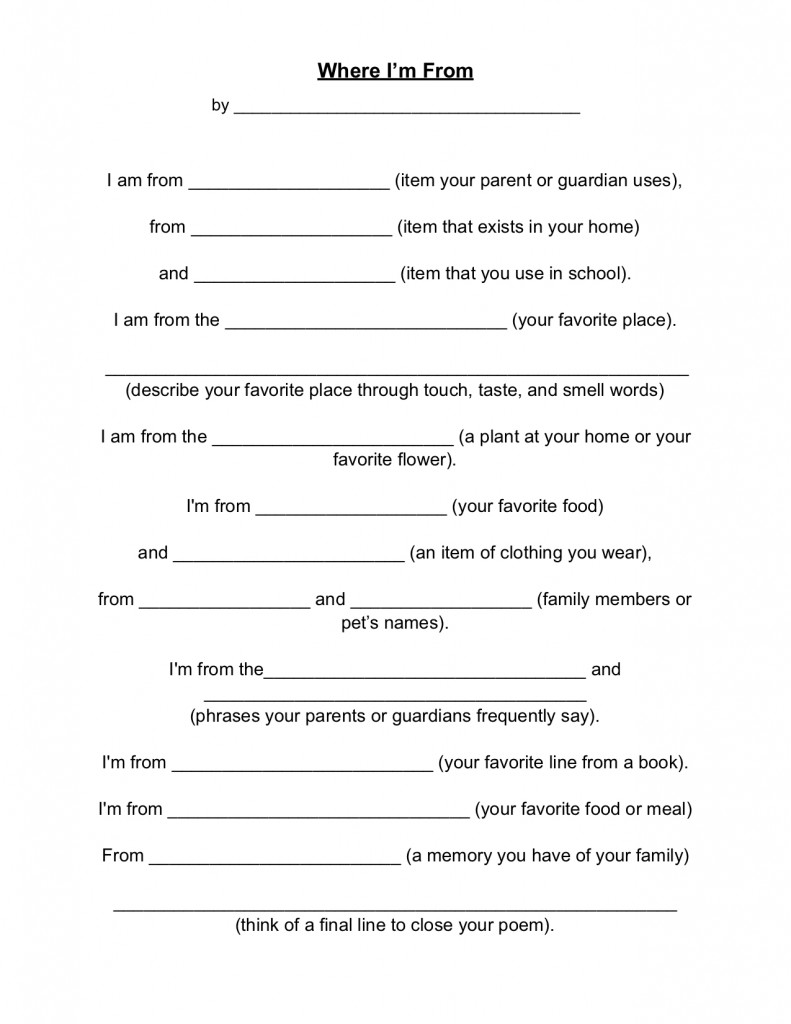 If you'd like to read even more strategies for ELL students, be sure to check out Susan Riley's article A New Kind of Language – Why AI is Perfect for ELL, Deirdre Moore's articles Theatre, Equity and English Language Learners and Arts Integration with English Learners, and Amanda Koonlaba's article Using Illustration to Teach Academic Vocabulary.