Chris Sweeney | August 2017
An Educator's Guide to 3D Printing: Part II
Supply Recommendations and Lesson Seeds

From the media arts studio to the general education classroom, edtech (and 3D printing in general) has taken the world of education by storm.  Schools are investing in 3D printers as an engaging way to unite the arts and engineering as the world of creativity evolves into the technical age.  One of the most daunting aspects of 3D printing in the classroom can be the search for quality materials and programming.  The exorbitant prices of many materials required for 3D printing projects leaves little room for trial and error when it comes to material choice and understandably makes many teachers nervous.  3D printing filament is the thermoplastic feedstock for fused deposition modeling (FDM) 3D printers. Similar to the varieties of clay and glaze used in ceramics which require a variety of specific kiln settings to appropriately utilize, there are many types of filament available with different properties, requiring different temperatures to print, and the printer settings will vary because of it.
In addition to having a quality printing machine and filament, teachers also need to consider the software they will be using in conjunction with their 3D printer.  A good portion of the software I mention in this article is free. I especially recommend the software from Autodesk, which is the mother company that is known for it's production of Tinkercad, Meshmixer, and Fusion 360.
The items I mention in this article are not intended as endorsements but they are all tried and tested by my students and I feel comfortable recommending these products for educators.  As with any product recommendation lists, feel to browse and pick which one best suit the needs of your classroom.  While this list is certainly not exhaustive, it does create a good jumping point for teachers searching for quality products.

Filament Favorites:
#1) Colorfabb
Exotic filaments include composites of metal, wood, bamboo, and flexible mixed with PLA plastic.  I recommend Colorfabb's exotic filaments as a great material for beginners due to their ease of use.  I have used them for several years now.  They are a quality company operating out of the Netherlands, and make really great filaments, and their website has many tutorials on how to best use their products.  My favorite filaments from them include:  Colorfabb Bronzefill, Colorfabb Bamboofill, Colorfabb Woodfill, Colorfabb NextGen Flexible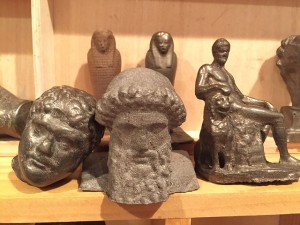 #2) Proto-Pasta
Operating out of Vancouver, Washington, Proto-Pasta makes quality exotic as well as traditional filament, both of which are fun and user friendly materials to print with.  My personal favorite is the stainless steel, which when shined up looks marvelous and very professional.  The carbon fiber is extremely strong, and I've used it to print utilitarian pieces such as parts for several 3D printers and modifications for them as well.  The conductive PLA I use for makers projects, interactive musical projects, and projects I have created for MakeyMakey.  My favorite filaments from Proto-Pasta include: Protopasta Stainless Steel, Protopasta Carbon Fiber, Protopasta Conductive PLA
#3) Ultimaker
Ultimaker makes their own PLA filament which is very affordable and easy to print (particularly if you have an Ultimaker 3).  An additional bonus is that they come in tons of bright engaging colors that your students will love. My favorite filament from Ultimaker includes: Ultimaker PLA
Software Favorites:
Tinkercad, Meshmixer, and Fusion 360
Autodesk has been around for a long time, and it shows.  Tinkercad is my go-to for teaching students of all ages.  I highly recommend them for their ease of use and the tons of tutorials the offer on their website. Meshmixer is my go-to for my 3D scanning part of my work and my students and I was pleased with the results created for our partnership project with the University of Pennsylvania Museum of Archaeology and Anthropology. Fusion 360 is their new software and although I have not used it as extensively as I have the others, it seems to be in line with the high quality products we are accustomed to seeing them produce.
Morphi
Morphi is like a breath of fresh air, and it is also a VR tool, and I can not recommend it enough. Its ease of use, and getting to use drawing and scanning with an iPad can be very useful in the development of classroom lessons.  You can export the STLs to use in other programs or just 3D print.
Lesson Ideas
There are as many ways to utilize 3D printing as a classroom tool as there are options for printers, filaments.  I am going to highlight three lesson ideas that you might want to try this upcoming school year in your classroom if you have access to a printer and maker tech.  There are many ways to interpret them, fit your needs and/or budget, or tweak them as you see fit.  Enjoy and have fun!
This is one of my favorite lessons, and although I did not come up with the concept of making musical instruments with the MakeyMakey, I have been making some new mashups with the TurtleArt, and the 3D printer.  The one new twist I will be implementing this school year is that I will be 3D printing the components using conductive PLA from Proto-Pasta. This means that the buttons will be interactive when touched!  Here is a link if you want to purchase some for your own classroom.
I found that starting out with drawing and working through the kinks helped with many of the designs, especially for some of the students who had more advanced designs like the young lady pictured.  As with anything, practice makes perfect and having the students play with the MakeyMakey also increases user ability. I recommend using Scratch software as another fun avenue they can utilize in their designs.
Community Chess Set
This next lesson seed might be a bit more daunting for newcomers to 3D printing, but this is a lesson that has a full integration to arts and general education.  Using basic cardboard and hand building, your students can design their own costumes and characters to be 3D.  These pieces can then be printed out and used as chess pieces, or you can encourage students to develop their own creative games centered around the use of these pieces.  This lesson helped my senior students mesh and know how to work together and collaborate as a team.  I highly recommend trying it out!
By The People: Cooper Hewitt
As a design teacher, I was lucky enough to be able to see the By The People exhibit with my colleagues this past fall.  This was an eye-opening exhibit and was one of my personal favorite exhibits from the Cooper Hewitt.  The education staff is wonderful, and I used their resources in my classrooms over the course of the past year.  The fact that my students can create designs that help other people, and connect to the outside world is amazing.
My classes and my programs connect students to new relationships and worlds outside the classroom by bringing them out to the world, and inviting the world in.  I have a long standing relationship with the University of Pennsylvania Museum of Archaeology and Anthropology. We have been working on a collaboration whereby my students are able to 3D scan and 3D print objects from the museum's collection in an effort to make these pieces available to schools to use for educational purposes.  My students are also able to create braille using their 3D printers, so that when their projects are designed in Tinkercad, they can be used for visually impaired patrons at the museum.
One final way my students connect to the outside world is through a senior year design challenge where students are asked to create a working 3D printed design for a student peer named Sara who has Cerebral Palsy.  My seniors worked on this design over the course of many months. Two boys worked together to created  a design in Tinkercad 3D and then printed it in flexible filament.  When all of the testing was complete, the students were able to present this prosthetic to Sara.  She was overjoyed as this was the first time she was able to draw and paint by herself in her art class!  This is one of the many examples of how 3D printing serves to connect students with new relationships and worlds outside the classroom.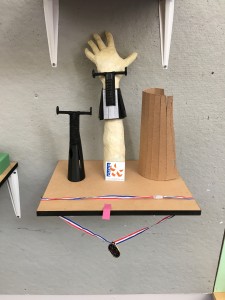 Happy 3D printing!
Chris