Your Classroom Music Playlist Guide
2 Min Read  •  Classroom Setup
Playing background music while working can increase concentration, creativity and even help with collaboration.  All of which are critical for teaching and learning.  But what music should you play?  We asked our community what they play while students work and created this helpful classroom music playlist download for you!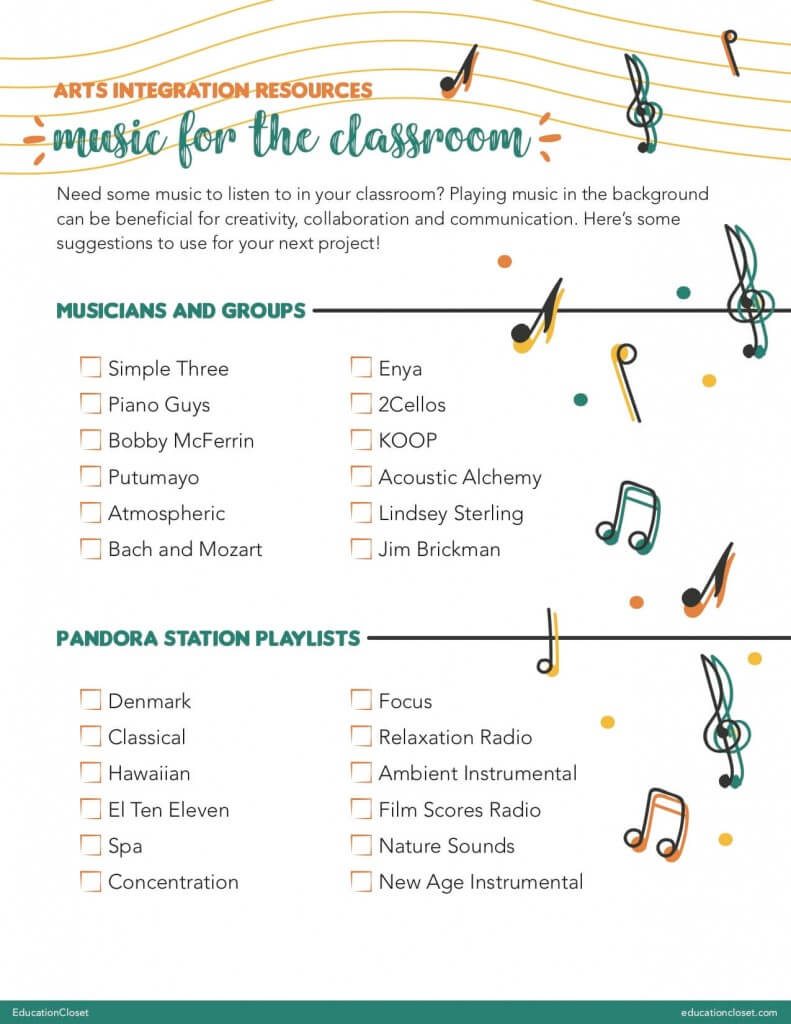 We broke this playlist into two different categories: musicians/groups and Pandora radio stations.  This way, you can choose to either create your own "mixtape" of selections from your favorite artists or you can just pop on a station that you can feel confident letting play in the background.
Musicians and Groups
Sometimes, you want to create a mix of selections that are customized to the project you're working on.  For example, if you are working on something that requires a lot of concentration, you may want to use a mix that is more relaxing.  Or, if you need a bit of higher energy, you may mix and match pieces from various artists that are more upbeat.
Facebook fan Stacey Johnson shared "I typically play music that goes along with the culture/country we are studying" and Jenny Lee said "I play a variety of different genres each week to expose them to all kinds of music".   Both of these strategies definitely work well as a way to be intentional with your classroom music selections.
An alternative to creating a mix is to just select a musician or group that uses a bit of variation themselves.  The Piano Guys are a big hit with many students, as is the group Simply Three.  These groups (and several others) play popular music using classical instruments.
Pandora Classroom Stations
Playing online radio stations can be tricky in the classroom unless you know what to plug into the search.  Luckily, this list includes stations that are safe to play and that students really enjoy.  While there are some typical stations like "Spa" and "Classical" listed, we've also included some stations you may not have thought of right away.  Things like:
Denmark (an eclectic mix of pop and ska music)
Hawaiian
and El Ten Eleven  (limited instrumentation and a rock foundation)
Hopefully, this list gives you some new classroom music to try this school year.  Do you have any favorites that we missed?