Assessment is certainly a hot topic in education.  Teachers everywhere are (rightfully) concerned that we've become overly preoccupied with assessing student knowledge. Instead, we should be flipping the switch and refocus on what really matters: student learning.  This can be done when we learn to use the types of assessment as a tool to help our students.
Student learning and assessment go hand in hand when done naturally.  When we assess FOR learning, it becomes a natural part of the teaching and learning cycle.  This idea of assessing for learning allows teachers to use assessments as feedback and guidance for next steps.
Where we've gone astray has been in a laser-like focus with assessment OF learning.  That's when we use assessments to tell us the sum total of knowledge on a topic. When used sparingly, these can give us a single measurement among a broad profile of what a child knows and can do.  But it's when we put the emphasis on these kinds of assessments that we begin to unravel the true learning experience.
Assessing for Learning
So what can we do to re-shift our assessment priorities?  First, we need to understand what types of assessment are available FOR learning.  These are tools that we can use to help us get a better overall picture of student learning.
There are three main types of assessment that can be used during the teaching and learning cycle:
Diagnostic
Formative
Summative
These make up what I call the Assessment Profile for learning.  Each of these assessment types contribute a piece of the puzzle to understanding what our students know already, what areas they are growing or slowing and their final application of knowledge.
Examples of Assessment Types
In the downloadable below, you can see several quick examples of each type of assessment for learning.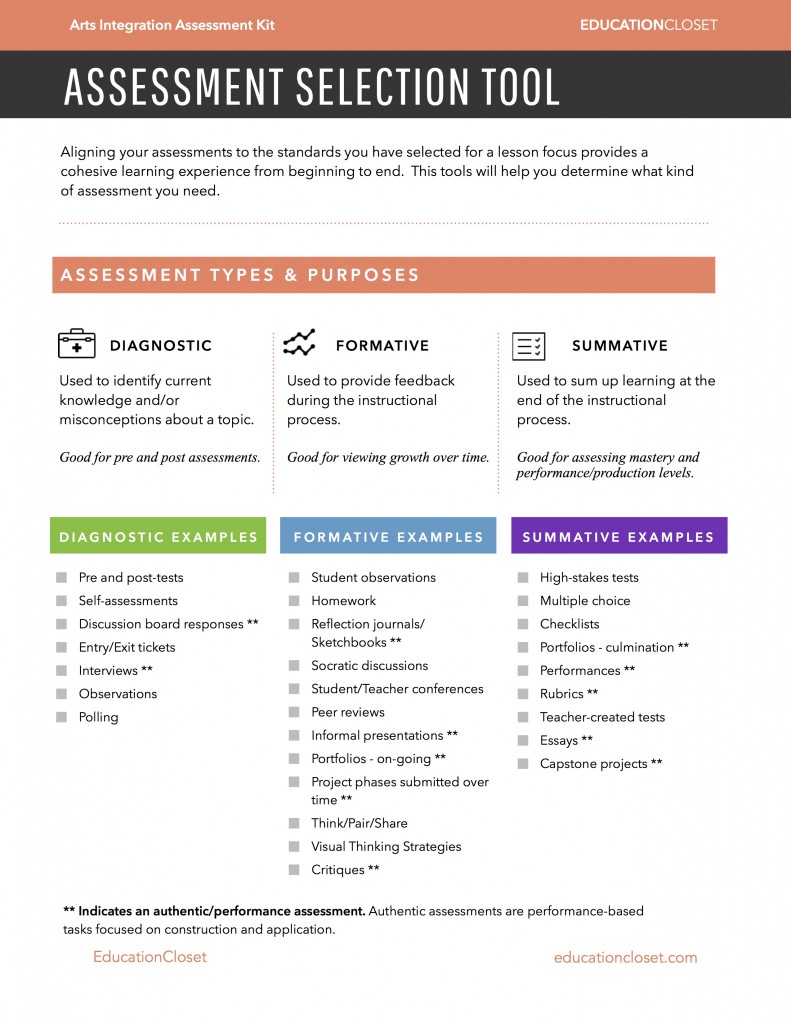 What you'll notice is that some examples overlap (like portfolios – available in the formative and summative categories).  That's because some assessments can be used for multiple purposes.  It's all about your intention – what are you looking to measure with the assessment of choice?
You'll also see that we've included some asterisks to indicate if the assessment example is an authentic/performance assessment.  Whenever possible during the learning experience, we want to encourage authentic assessments that focus on construction and application, rather than "right or wrong" answers.  To truly understand the whole body of learning, we need to be able to see what students can do with their knowledge, skills and processes.
Diagnostic Examples
Pre and post-tests
Self-assessments
Discussion board responses **
Entry/Exit tickets
Interviews **
Observations Polling
Formative Examples
Student observations
Homework Reflection journals/ Sketchbooks **
Socratic discussions
Student/Teacher conferences
Peer reviews
Informal presentations **
Portfolios – on-going **
Project phases submitted over time **
Think/Pair/Share
Visual Thinking Strategies
Critiques **
Summative Examples
High-stakes tests
Multiple choice
Checklists
Portfolios – culmination **
Performances **
Rubrics**
Teacher-created tests
Essays **
Capstone projects **
** Indicates an authentic assessment
Using Assessments during Integrated Lessons
Finally, one of the concerns of many teachers who are trying to use arts integration, STEAM or Project-Based Learning is in how to assess the lesson.  The options provided in assessments such as these offer any teacher the ability to assess students at any level.  These suggestions provide a full spectrum of feedback and reflective choices for the classroom.
Free Assessment Toolkit
If you found this article helpful, be sure to download our Free Assessment Toolkit.  This is a no-stress guide to assessing any arts integration or STEAM lesson.  Inside you'll find 11 specific assessment ideas, resources and tools to make this process easier.
How do you use assessment for learning in your classroom?  Do you have any additional resources to share?  Include them in the comments below!