Lauren Hodson | February 2017
Student Feedback Strategy That Builds Community
Author, and third-grade teacher, Kyle Schwartz began a viral phenomenon known as "I wish my teacher knew…" This began the idea of student feedback strategy that builds community.
"One day, third-grade teacher Kyle Schwartz asked her students to fill in the blank in this sentence:
"I wish my teacher knew _______ ."
The results astounded her. Some answers were humorous; others were heartbreaking. All were profoundly moving and enlightening. The results opened her eyes to the need for educators to understand the unique realities their students face in order to create an open, safe, and supportive classroom environment. When Kyle shared her experience online, teachers around the globe began sharing their own contributions to #IWishMyTeacherKnew."

I was immediately drawn to her suggestions for building a community within the classroom and meeting the individual needs of our students.  As an art teacher, I was interested to see what my own student would want to share about art specifically as well as other subject areas through student feedback strategy. After we discussed some examples of what they could write about, my students filled out a half-sheet of paper and placed it in an envelope to keep it secret from their classmates.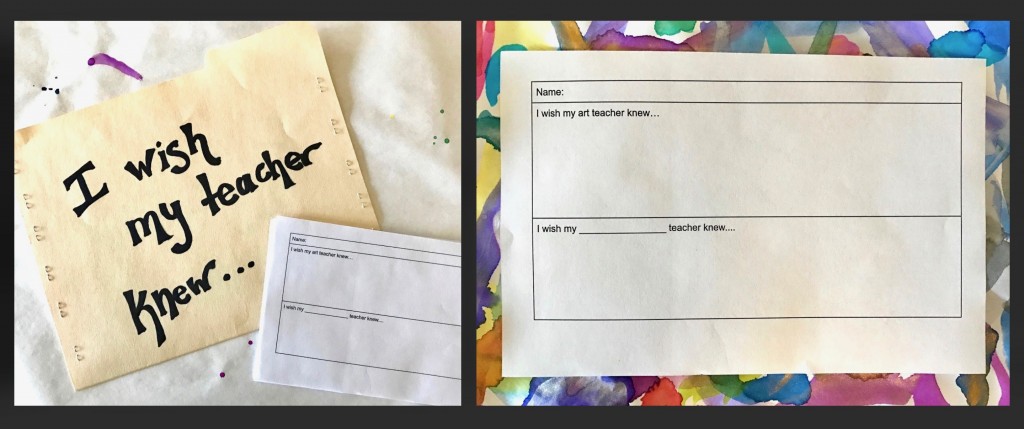 Here is a collection of what they wrote as part of student feedback strategy:
Art: I wish my teacher knew…
I hate chalk. The way it sounds feels… hate it.

That I take a long time on projects and always feel rushed.

I'm a perfectionist and put a lot of pressure on myself.

I'm most creative when I'm nervous, sad, and mad.

I don't like working in color. I like to make things black and white.

I doodle things we learn in the art in class.

I love animating.

I wish the art was a part of all classes. It makes me learn better.
Science: I wish my teacher knew…
That when we do group projects I'm always stuck doing a majority of the work and I'm tired of it.

That my friend and I play rock, paper, scissors when he's talking because we're bored.

I don't understand anything that is going on and I'm freaking out for the quiz tomorrow.

I want to do more experiments.
Math: I wish my teacher knew…
It's hard for me to concentrate and if I daydream for just a second, I miss important information.

I never study but still get A's. Not really challenged.

I need a lot of help.

I'm really bored because I already know what she spends time on.

I'm really bad at Math. Even though I am in honors, I'm having a hard time keeping up and feel slow at it. I feel bad because I'm getting 60% on tests and I'm freaking out about it.
Reading: I wish my teacher knew…
I work best alone and don't like being in groups.

Red pens make me nervous. Please stop using them.

We should have more ways of learning and study.

I feel stressed out because I can't read as fast as my friends.

That the deadlines are unfair and unreasonable.
ELA: I wish my teacher knew…
I write better than I can type. I hate typing everything.

I don't raise my hand because I can't talk well in front of people.

That I'm not just going to the bathroom because I want to get out of class. It is because I get sick sometimes and I really need to go.
Summary Thoughts
I gained so much insight from asking my students to participate in this exercise and I highly recommend doing it! Some of the statements were funny. Some were sad. Others were extremely insightful. Students know how they learn best and it is important that we ask them to share that information with us.  What stuck out to me while reading their papers, was that most students do not feel comfortable enough to express their concerns with the very people that could affect change… their teachers. This means that building an open and honest community in our classrooms is even more crucial than many of us might think. Students should be able to voice their needs. We should all listen to our students and give them opportunities to speak up and advocate for their own learning.