Dyan Branstetter | November 2016
Strategies for Group Script Writing that Address the 4C's
Last year, I shared an arts integrated project focused on The Legend of Sleepy Hollow. After reading a grade appropriate version of the story, students wrote skits to report on "What Happened to Ichabod Crane". The skits were part of a group Script Writing task that followed the R.A.F.T. strategy (Role, Audience, Focus, and Topic).
Incorporating the 4C's in Group Script Writing
For my third graders, this is quite a task, for not only are they working on comprehension and group scrip writing skills, but they have to work in a team of five. When presented with this creative task, many students have an initial idea that they want to develop. Put five of those ideas together in a team, and students really need to utilize the 4C's from the 21st Century Skills for learning – creativity, critical thinking, collaboration, and communication in order to have success. We know that while this is our goal, these skills do not magically happen.
If this is left up to chance, the students who are extroverted with the loudest ideas usually end up taking the reins and moving the project along. Our scripts come to fruition, but they do not always represent the entire group. Scripts do not always include the best ideas because our introverted, less confident and non-confrontational students do not fight for their thoughts.

There are many ways to help develop these important collaboration skills, such as explicit instruction in active listening, conversation, respect and positive leadership. Self- and group-reflection checklists help to hold students accountable and make them aware of how well they are listening to their group members. I found that revising the structure of my project (and strategically grouping students) scaffolded it enough for success.
Consulting with an Expert
In the past, I've given students the R.A.F.T. requirements and I've turned students loose to create. I've heard students brainstorm many wonderful scenarios to include in their scripts, but these ideas do not always come through in their group script writing. I work with emerging writers, so some of this has to do with the amount of effort it takes to get their thoughts onto the page. However, I was still concerned that the plot didn't always make sense, especially due to the collective ideas coming to the table.
I am lucky to be related to a professional dramaturg, Heather Helinsky. She is a Harvard graduate who has worked with playwrights at places such as the Kennedy Center, Brooklyn College, and Great Plains Theatre Conference, to name a few. I shared my project and my concern, figuring she may have an insightful way for me to help students get their ideas into their scripts to produce a performance that is entertaining AND has a plot that makes sense.
5 Step Framework for Group Script Writing
Heather's suggestion was for students to build a 5-act play. To warm up for this, start by assigning each small group a fairy tale. With their assigned tale, they should work together to create 5 freeze frames or 5 little scenes in pantomime. (This is a strategy called Tableau.) Each group should then take turns sharing this with the class to see if the other students can guess the fairy tale. If they successfully communicated the fairy tale (or if they didn't!), have the group reflect on what made their performance effective or ineffective, and what they could have done differently to help convey their story. Through this, the students should identify a clear beginning, middle, and end.
The second step to this activity is to use those freeze frames again, but this time around, every person must say one line. Students will need to summarize the plot into the most important words, communicating the fairy tale with their actions and only those five lines. (Note: As you can tell, this is also a terrific strategy for teaching summarizing!)
If students are writing a 5-act play, Heather suggests using the format below. Breaking it down in this way makes it seem less daunting since students have a framework for their ideas.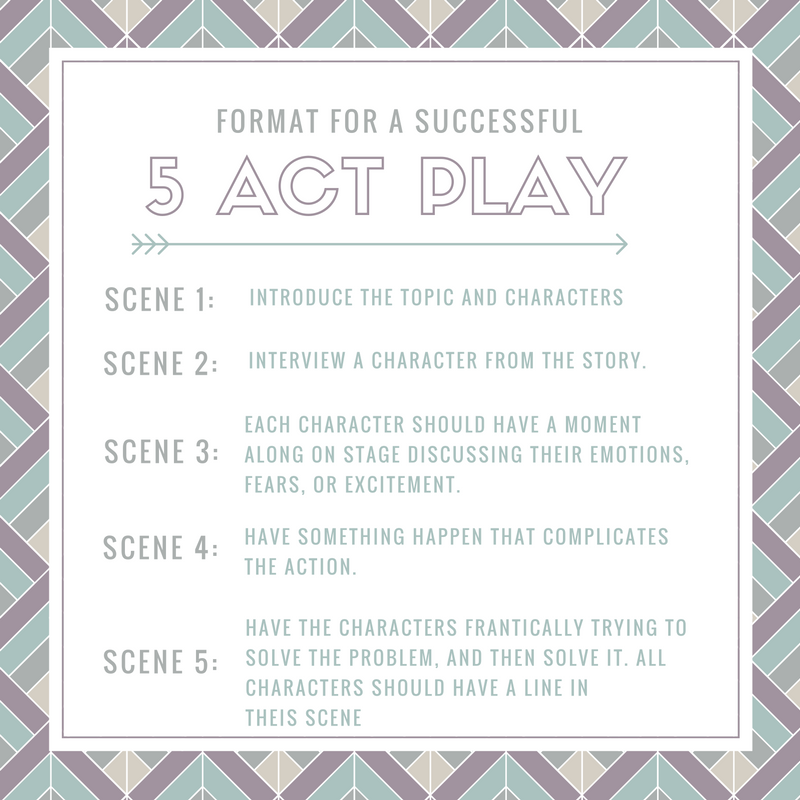 This tied in perfectly with the concept of narrative writing. Students have learned that narrative writing must have a beginning, middle and end with a problem and a solution. It was a simple "next step" for students to translate this to the format of the play, following the framework of the scenes as described.
Since my students are in group script writing based on a shared story, I applied Heather's warm-up activity with my students' original scripts based on the 5 Act Play framework. Students started by creating five freeze frames based on the original ideas from their brainstorm. Then, once they felt they could communicate their intended plot with their freeze frames, they added one line of dialog per student. After this, Heather suggested that students should have some time to play around with their scenes. Only then, should they sit down and begin to craft the rest of the lines, writing dialog around their freeze frames to build their script.
After this exercise, Heather suggested that students should have some time to play around with their scenes. Only then, should they sit down and begin to craft the rest of the lines, writing dialog around their freeze frames to build their script.
Process Over Product
After much revision and rehearsal, my students successfully worked in their collaborative groups to complete their 5 act plays. While the process took some time, the final products are much more developed, and the students gained much more than my previous method of instruction. To share their work, students acted out their scripts in front of a green screen and chose backgrounds for the settings of each act. We used the app "Green Screen" by Do Ink to turn each script into a movie that students could share. Our final products ranged from 1:31 to 4:00, so while they took time, they were relatively short. Students posted their movies on our SeeSaw blog for families to view. In the end, students took ownership of their learning and were proud of their product!
Resources:
If you find this strategy useful, many more similar activities can be found in the book Theatre Games for the Classroom: A Teachers Handbook by Viola Spolin.