Dyan Branstetter | August 2016
3 Ideas for Building Class Community Through the Arts
Students are more engaged and willing to take learning risks when they feel like they are part of a team. The beginning of the year is the perfect time to lay the foundation for a safe learning environment by building class community arts. Arts Integration can be the perfect tool to allow students to showcase their individual interests while collaborating to build trust and teamwork – very important social skills.
The following ideas are for whole group instruction – providing "safety in numbers" for those students who need time to warm up. As students become more comfortable, I move on to true Arts-integrated lessons that take students deeper into the Arts and academics.
Design a Building Class Community Arts Flag
Have a class meeting and vote for a class mascot, class colors, and a class name. It seems basic, but I have found that this helps students take ownership of their class. I have students offer suggestions for mascots first. Because this becomes part of our class name, we discuss how alliteration makes a name even more catchy. After we list all of the student suggestions, we vote as a class and narrow it down to a winner. (In the past, my class has named themselves Branstetter's Barracudas, Branstetter's Brainy Bunch, Room 49ers, and with my maiden name, Shannon's Shining Stars.) We choose a pair of colors following the same voting method.

Once we have our mascot and colors, we discuss the creation of class community arts like flag. For intermediate grades, we have examined the Coat of Arms for various countries and groups and then designed flags based on those characteristics. For my younger students, I ask them to come up with a flag idea that represents our class mascot and all of the students using only our class colors.
Students take some time to create original flag designs on a blank piece of 8 1/2 x 11 paper, and then we post them on the board when they are completed. We vote on the design that we would like to represent our class community arts, and then I transfer the design onto a plain white bandana using fabric markers.
Some years I have attached the completed bandana to a dowel rod for our line leader to carry when we travel in the hallway, and other years we have hung it in our classroom. At the end of the year, I move the flag to our collection of retired flags that hang around the upper perimeter of my classroom. When students come back to visit, they always look for their flag on the wall.
Create or Choose a Class Community Arts Song
Find a motivational song that students enjoy and play it at the beginning or end of the day. There are many playlists available if you search for motivational or inspirational pop songs, just make sure to read through the lyrics first to check for appropriate content. I usually pick a few and share them with the students. We vote as a class after the students have heard them a few times.
Here are a few that I have used in the past:
"Home" by Phillip Phillips
"Adventure of a Lifetime" by Coldplay
"Beautiful Day" by U2
"Brand New Day" by Sting
"Best Day of My Life" by American Authors
"Walking on Sunshine" by Katrina and the Waves
"All Star" by Smashmouth
"You Gotta Be" by Des'ree
"With a Little Help From My Friends" by The Beatles (or Joe Cocker)
"Here Comes the Sun" by The Beatles
Gummy Worm Poetry
Give each student a gummy worm, and have them observe and describe the colors they see. As an icebreaker, have students share information about themselves using the color key on this worksheet. Then, have students write an acrostic poem (also outlined on the worksheet) that shares some of that information. Using a piece of poster board, sketch a large-scale gummy worm outline and cut it for students to use as a tracer.
After students cut and trace their own gummy worm, have them use watercolors to paint the gummy worm, modeling the colors after the worm they started with. This is a great time to introduce color mixing and watercolor techniques since the translucent gummy worm colors overlap. (The picture below does not represent this.) Students then publish their acrostic poem on their painted gummy worm.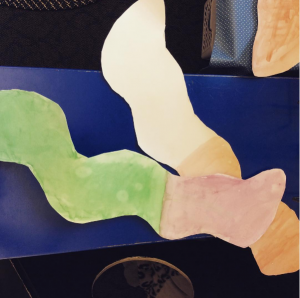 Illuminated Initials
Next week, I'll be sharing a brand new, ready-made unit on creating illuminated letters. This short unit is geared toward intermediate elementary students and is a wonderful way for students to share information about themselves integrating visual art and social studies. Students will learn a brief history of illuminated letters and manuscripts, and then they will create an illuminated initial to represent their interests and personality. As always, it will be free for you after registering! In the meantime, browse through some of our already created units.
Best of luck as you prepare for the upcoming school year! We hope that this class community arts ideas can help you.