Matt and Laura Grundler | September 2015
Creative Reflection
Team Grundler has been riding the K12ArtChallenge ride all summer.  We can't say that we completed a challenge everyday this summer but we did what we could and it was a wonderful experience.  Arlene Shelton, an awesome art teacher that we connected with through #K12ArtChat, created the K12ArtChallenge (for more about the development of K12ArtChallenge and Arlene Shelton see our article on Creatubbles.com.)  Arlene has a great way of challenging the #K12ArtChat professional learning network, specifically challenging indvidual art educators to take a month at a time hosting K12ArtChallenge.
We took on the challenge of hosting for the month of August.  Funny enough about the same time Sean Gaillard, founder of #EdBeat, and Susan Riley, CEO of EducationCloset.com, invited us to partner in a reflective challenge.  We merged the two concepts and came up with #Reflect31.  Then used the creative reflection and process to develop a reflective concept for each day.
What was #Reflect31 all about?  It was a thinking challenge; we hoped to help move teachers into a great mindset for the 2015-2016 school year by spending some time contemplating and reflecting on key words pertaining to education.  Using the words as a springboard we wrote a short paragraph to provide minimal context.  We wanted to leave the reflecting open to personal interpretation, then we created an image with a quote and posted a corresponding song each day that related to the key word or words.  Our goal was to inspire reflection that lead to critical thinking regarding instruction and creative reflection sharing.  We had to be realistic, it was one of the busiest times of year for teachers and knowing that time is precious we wanted to make sure there was no pressure to post a daily creation but we did have some beautiful creative reflection posted.

Here are a few examples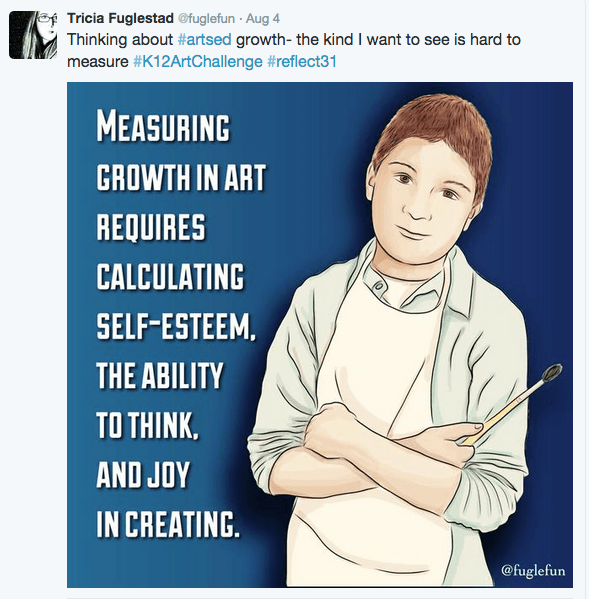 "I love that we spent the month thinking about our practices, purposes, and positions as art educators. There is so much more to what we do than make art " . https://vimeo.com/2790627  
– Tricia Fuglestad (@fuglefun)
"Celebrate EVERYday!"
"Our classroom 'celebrations' come in our shared beliefs in the ability of all children to think beyond the obvious, to seek challenges rather than to avoid them, and to be excited about the outcomes of problems for which they have solved themselves."
– Angela Hurley-McElroy (@AngieMc85)
"Reflection, the image seen in a mirror, can be a harsh reminder of our flaws. #Reflect31 took us through a peaceful examination, void of harsh reminders, focused on words, images and sounds which encouraged us to examine our ways and respond through creative reflection. Rather than merely looking at surface reflection, we were guided through a truly metacognitive experience."
Arlene Shelton (@smartisteacher)
We're glad it made a positive impact for those that were able to participate in August and hope it will continue to do so for those just now finding this challenge.  Below are a few of the days, the had a strong response.  Remember it's never too late to reflect towards improving instruction and you can find all 31 days on GrundlerArt.com  
Day 1: Start
You are HERE……… Begin with three words to describe your mindset for the upcoming school year. Reflect on those words and develop an image to inspire growth.
Quote of the Day:
"Without reflection, we go blindly on our way, creating more unintended consequences , and failing to achieve anything useful."  —  Margaret J. Wheatley
Song of the Day: "Eye of the Tiger" – Survivor
https://www.youtube.com/watch?v=btPJPFnesV4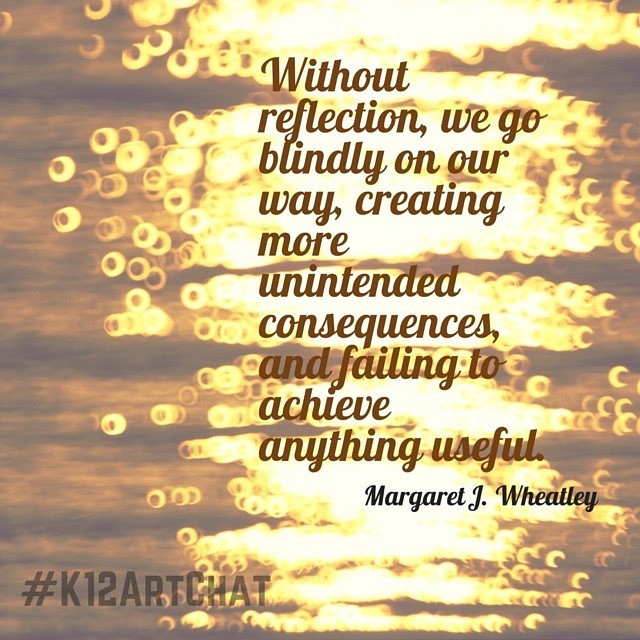 Day 5: Making Connections
Our job as educators involves making LOTS of connections, connections in learning, relationship connections, etc. reflect on previous connections you've made and the impact they have had on instruction, then share creatively.
Quote of the Day:
We are constituted so that simple acts of kindness, such as giving to charity or expressing gratitude, have a positive effect on our long-term moods. The key to the happy life, it seems, is the good life: a life with sustained relationships, challenging work, and connections to community.  – Paul Bloom
Song of the Day: Rainbow Connections – Kermit the Frog
https://www.youtube.com/watch?v=kaxoaKwx8tU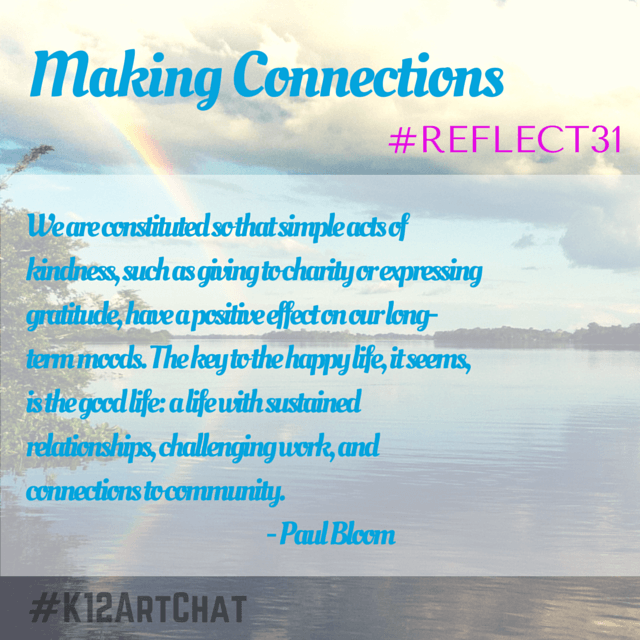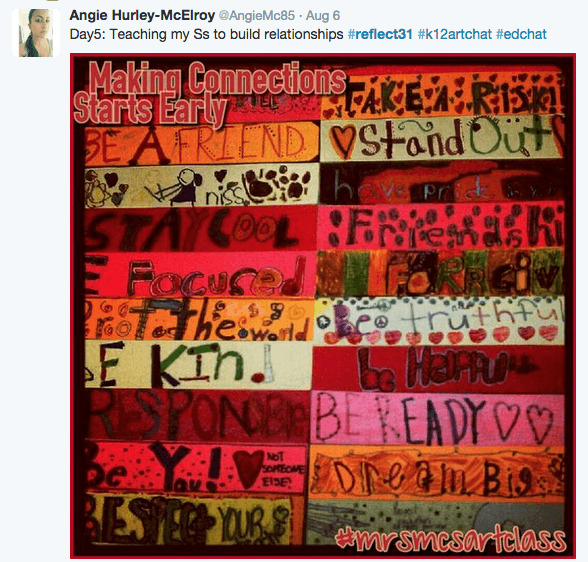 Day 12: Vision
Every year we are given a blank slate and the opportunity to start a new. With the opportunity to reflect and reimagine, what is your vision for your upcoming school year. Share your thoughts and reflections creatively.
Quote of the Day: "The visionary starts with a clean sheet of paper, and re-imagines the world. – Malcolm Gladwell
Song of the Day: "One Vision" – Queen
https://youtu.be/0_1IMZmJe-U?list=PLJ5TX6O3NF7AN-vYAEWGnFXkG2dQkxxZj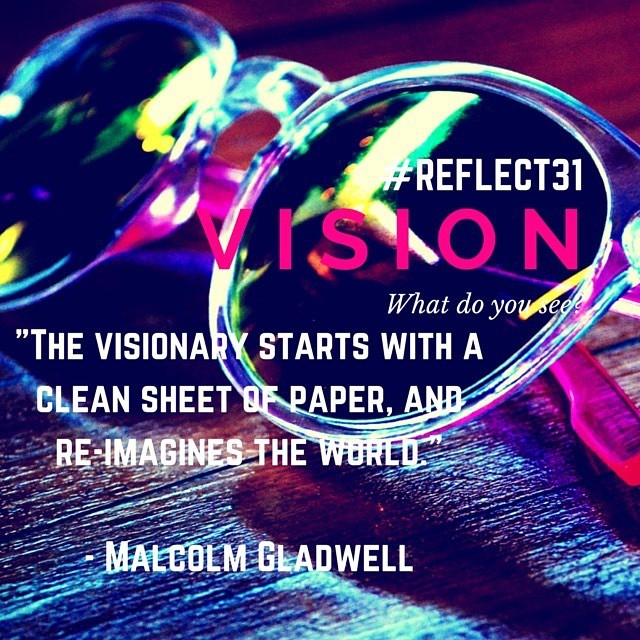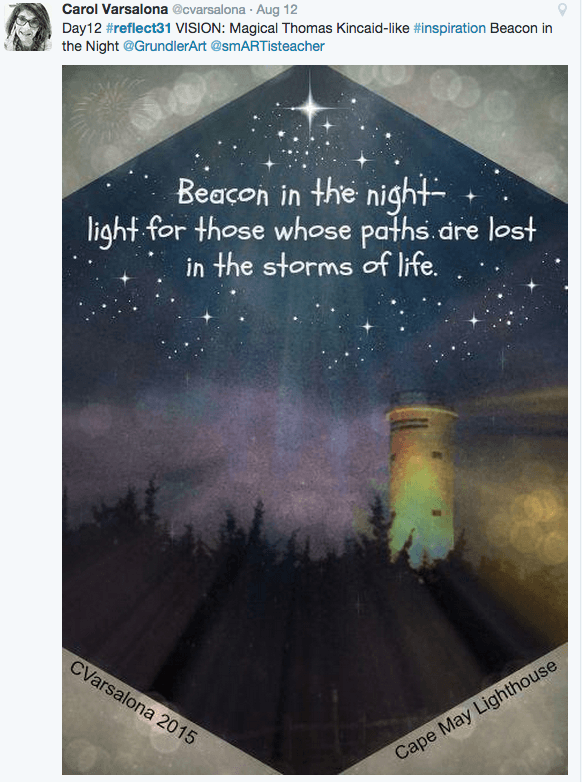 Day 24: Create and Prepare
Reflect on the preparations have you taken to ensure a successful year. List and share creatively some of the resources you will use to make your dream become a reality!
Quote of the Day: You can design and create, and build the most wonderful place in the world. But it takes people to make the dream a reality. – Walt Disney
Song of the Day:  Unwritten by Natasha Bedingfield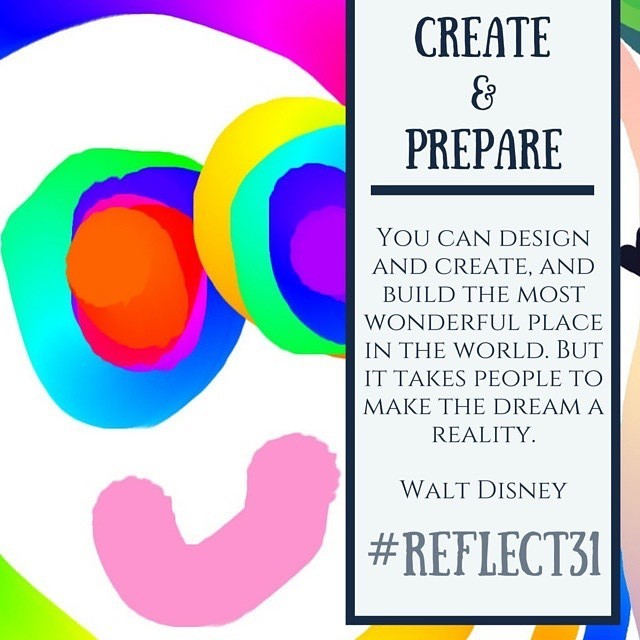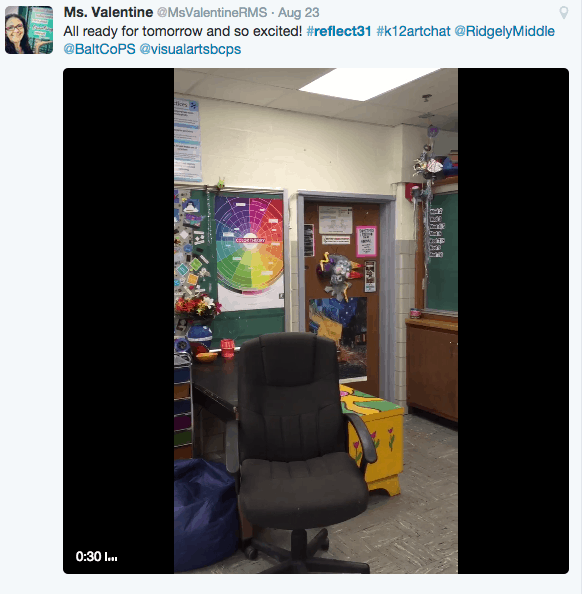 Day 27: Students
Given a new group of students each year, we are often left with wishes you would like to bring out of them. What are some wishes you have for your students in the upcoming year? Draw an image that comes from one of these wishes!
Quote of the Day: "Good teachers know how to bring out the best in students."-Charles Kuralt
Song of the Day: "My Wish" – Rascal Flatts
https://www.youtube.com/watch?v=Vyjq5SCbjQk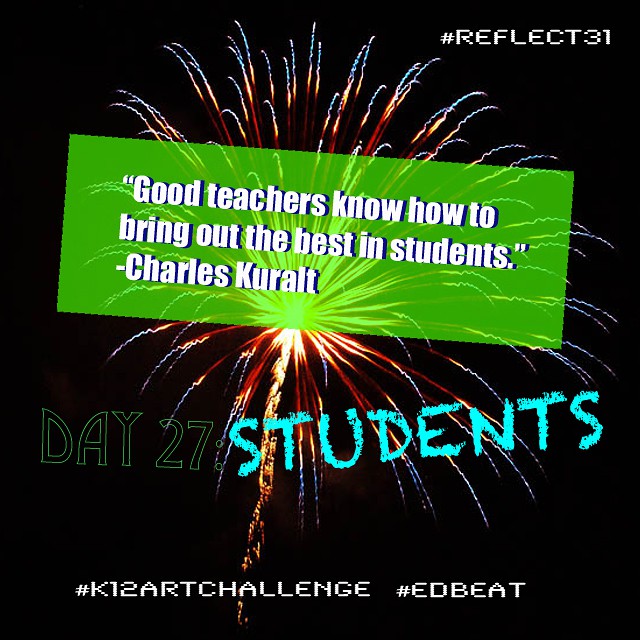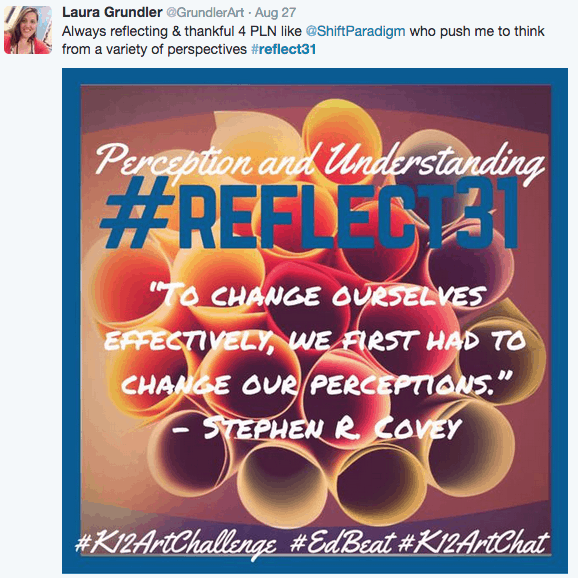 Wishing you creative reflection and experiences,
Matt and Laura Grundler
#TeamGrundler