Typhani Harris | June 2015
Reflections Part I: Lesson Plans of the past year
At the beginning of this school year I decided to introduce a series, Unpacking the National Standards.  Over the past 11 months I have designed and tested out lesson plans that align with our new national core arts standards (released last June).  Some have been great and some, needless to say, were a train wreck, but either way they all were a great learning experience.  With the culmination of the series, I thought it would be a good time to recap and reflect.
---
In January, I offered a recap of the first five national core arts standards and a reflection of the lesson plans I tested.
The First Five: what worked and what didn't

Now let's take a look at the final six.  This will be a two-part series looking at standards 6-8 this week and 9-11 next week:
Standard 6
In January, I introduced Standard 6: Convey meaning through the presentation of artistic work, (Full Article).  For this standard, I looked less at an actual lesson plans and more of the set up of a program and preparation for presentation.  We looked at leadership structure, performance etiquette and practice, and production elements.
Reflection
The structure of performances has worked very well so far, and as we prepare for the upcoming year I have expanded the leadership aspect.  A strong leadership team will not only satisfy this standard and place ownership in the hands of the students, it will also help the flow of the year.  I have maintained the idea of two full company leaders and two leaders per class which has proven effective.  In order to prepare the students for these positions, this summer I will conduct a leadership retreat.  This will give the students an opportunity to bond, compose our core values, and prepare for the upcoming year.
---
Standard 7
In February, I presented Standard 7: Perceive and analyze artistic work (Full Article) and offered the following lesson plans:
Grade:
9-12 (but can be simplified for younger students)
Title:
What is Dance?
Established Goals:
a. Analyze recurring patterns of movement ant their relationships in dance in context of artistic intent.
b.  Analyze the use of elements of dance in a variety of genres, styles, or cultural movement practices within its cultural context to communicate intent.  Use genre-specific dance terminology.
Enduring Understanding:
Dance is perceived and analyzed to comprehend meaning.
Essential Question:
How is dance understood?
Objectives: Students will
view various examples of cultural, social, historical, and concert dance
complete immediate responses to the viewed pieces
analyze one piece with greater intent through the use of the ARTISTIC critique
Recreate the movement and patterns in another medium of art
Learning Activities
Choose multiple pieces of cultural, social, historical, and concert dance to view with the students
During the viewing have students respond to the following questions:

What did you see? (verbs/adjectives)
What does it mean? (draw conclusions about the artists' intent based on the movement, music, expression)
Why is it dance? (make assumptions about the why, why is this movement performed, what is it's social/political importance, is it ritualistic/tribal, etc.?)

Have students choose one piece that really resonated to build a larger response.
Using ARTISTIC critique, have students complete the steps of artistic analysis.  (See my article ARTISTIC Critique for more information on this process)
Utilizing the last response of ARTISTIC: Create, have students recreate the intent of the piece through another medium of art.  For example: have students recreate the movement as a poem, visual art piece, a song, lyrics to a rap, etc.
Have student perform the recreation.  This could be a fun opportunity to have the audience guess the piece they are recreating, or even play the piece simultaneously with the recreated art.
Reflection
This was a great activity for new dancers or students who are taking dance for their art credit but don't intend on dancing throughout their high school careers.  It offered a nice glimpse into the premise of dance and the social and cultural impact dance has on our lives.  The one drawback was the recreations.  I felt the students spent too much time trying to figure out how to recreate the work, so adding boundaries and narrowing their scope of recreation would help a bit.  For a while I was just getting the quintessential teenager response "I don't know what to do", so with some tighter boundaries and some samples the process should run smoother.  Also, pairing this lesson plans with the standard 11 lesson plans would provide a nice well rounded introduction to dance especially for non-dancers or beginning dancers.
---
Standard 8
In March we took a look at standard 8: Interpret intent and meaning in artistic work (Full Article), and worked with the following lesson plans:
Grade:
9-12 (but can be simplified for younger students)
Title:
Moving Poetry
Established Goals:
a. Select and compare different dances and discuss their intent and artistic expression.  Explain how the relationship among the elements of dance, use of body, dance technique, and context enhance meaning and support intent using genre specific dance terminology
Enduring Understanding:
Dance is interpreted by considering intent, meaning, and artistic expression as communicated through the use of body, elements of dance, dance technique, dance structure, and context.
Essential Question:
How is dance interpreted?
Objectives: Students will
view various examples of genre specific dance
select on piece to interpret
notate the elements of dance, use of body, dance technique, context, and genre specific dance terminology used within the chosen piece
capture each of the elements in various stanzas of text
recreate the movement into poetry that clearly identifies the artists' intent and captures the interpretation of the piece
demonstrate the understanding of interpretation by completing a gallery walk to identify ance compare interpreted pieces
Learning Activities
1.  Have students view and select pieces to interpret.  This can be completed in class or at home and can revolve around what you are focusing on in class.  For example, if you are working on a modern unit they can research modern pieces.  You can place parameters on what pieces can be selected based on your personal vision and goals for the class.
2.  Have students view the piece multiple times while completing the Moving Poetry Chart*.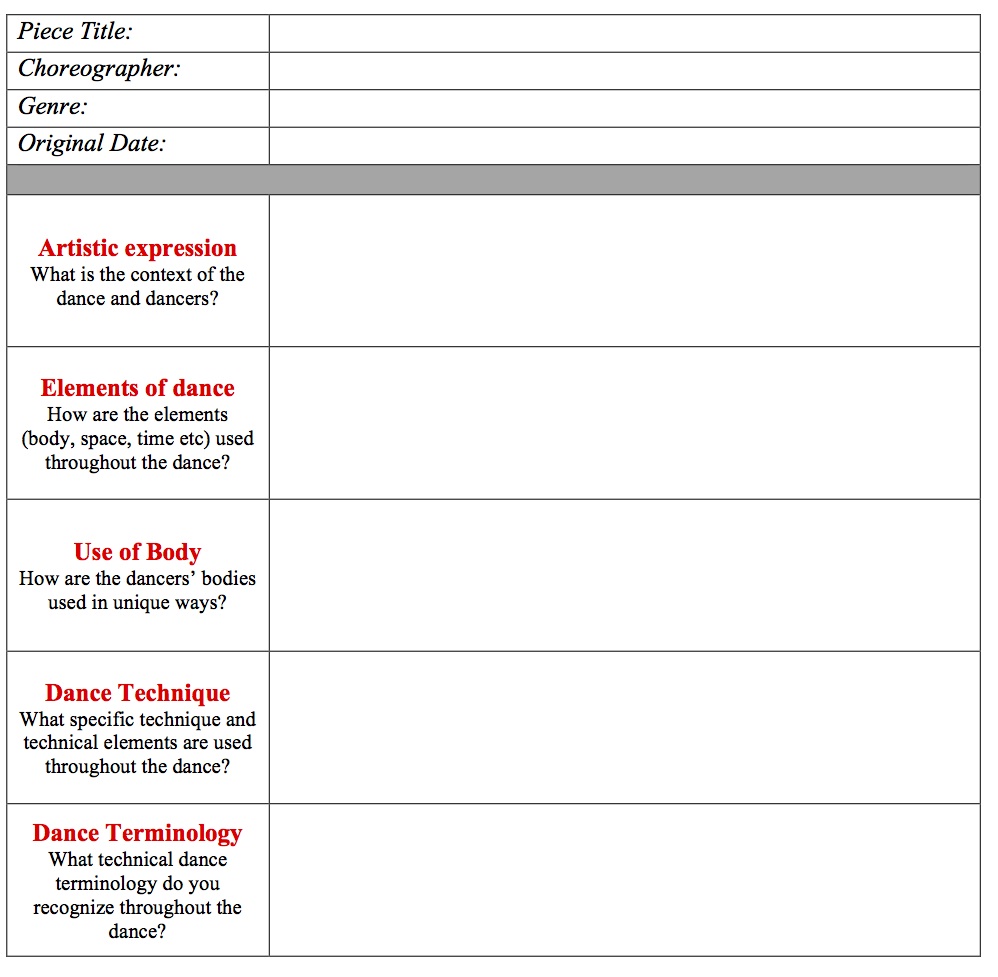 *The chart can be altered to fit your class. 
This specific charts in based on the High School Proficient established goals.  You can add dance movement principles for High School Accomplished, and genres, styles, and cultural movement practices for High School Advanced.  If you are working with younger dancers, you can remove some of the criteria.
Taking it to the next Level!
If you wish to remain at the comprehension level of Bloom's Taxonomy or Level1/2 of Depth of Knowledge, this can be turned in as a final assignment and will satisfy the standards.  If you have the time and wish to push the students to a high level of critical thinking and analysis, complete the following tasks.
3.  Have students translate their findings into 5 poetic stanzas, one for each section of their chart, with one line of each stanza referring to their personal interpretation of the piece.  Add an introductory stanza that presents the title and choreographer of the piece as well as the interpretation of the piece and a concluding stanza that presents the genre and original date or performance.  Be sure to take the time to review elements of poetry with your dancers which include: sensory details and figurative language, sound devices, such as rhyme, alliteration, or onomatopoeia.  This process will also satisfy the following Common Core Anchor Standard for grades 9-10:
CCSS.ELA-Literacy.CCRA.W.4
Produce clear and coherent writing in which the development, organization, and style are appropriate to task, purpose, and audience.
4.  Have students publish their poetry in a creative poster and hang the posters throughout the room.
5.  Viewing Party.  Conduct a viewing party and gallery walk by showing one of the pieces (without revealing the title or choreographer) and then have students walk around to room to read the various poems and choosing which poem best interprets the dance piece.  Have student defend their selection by articulating how the stanzas depict the artistic expression, elements of dance, use of body, dance technique, and dance terminology best for the dance piece as a whole.  Continue the viewing party for as many pieces as you wish.
Reflection
I'm going to be honest, this was a horrible lesson plans! In theory and on paper, it looked great, but once I tried it I felt like I was teaching English all over again.  I spent the majority of my time reviewing poetry, and the composition of poetry instead of getting to the meat of the assignment which was artistic intent.  However, this would be a great assignment in collaboration with an English teacher and paired with a poetry unit.  If the students were getting the poetry composition lesson plans in their English class while simultaneously viewing dance and analyzing artistic intent in their dance class, this could really make for a great unit.
---
Next Week: Reflections Part II Standards 9-11