Susan Riley | February 2015
2015 Winter STEAM Conference Recap!
Wow! After an incredible day of learning, another online Arts Integration and STEAM conference is complete.  Our entire team is so grateful for all of you who registered and participated in the event.  This was, by far, our most successful conference to date.  Here's a few highlights, as well as a few key things we learned, from yesterday's event.
TOP 5 CELEBRATIONS:
1. TECHNOLOGY.
Our new conference platform provided a smooth user experience for almost all of our participants.  Easy login, great video feed, no choppiness and all-in-one connectivity to Twitter, Facebook, Handouts, and Chat. This was an investment we were so pleased with from beginning to end.  Plus, so many of our participants shared how much they looked forward to going back to the on-demand site to dig into everything provided more in-depth throughout the year.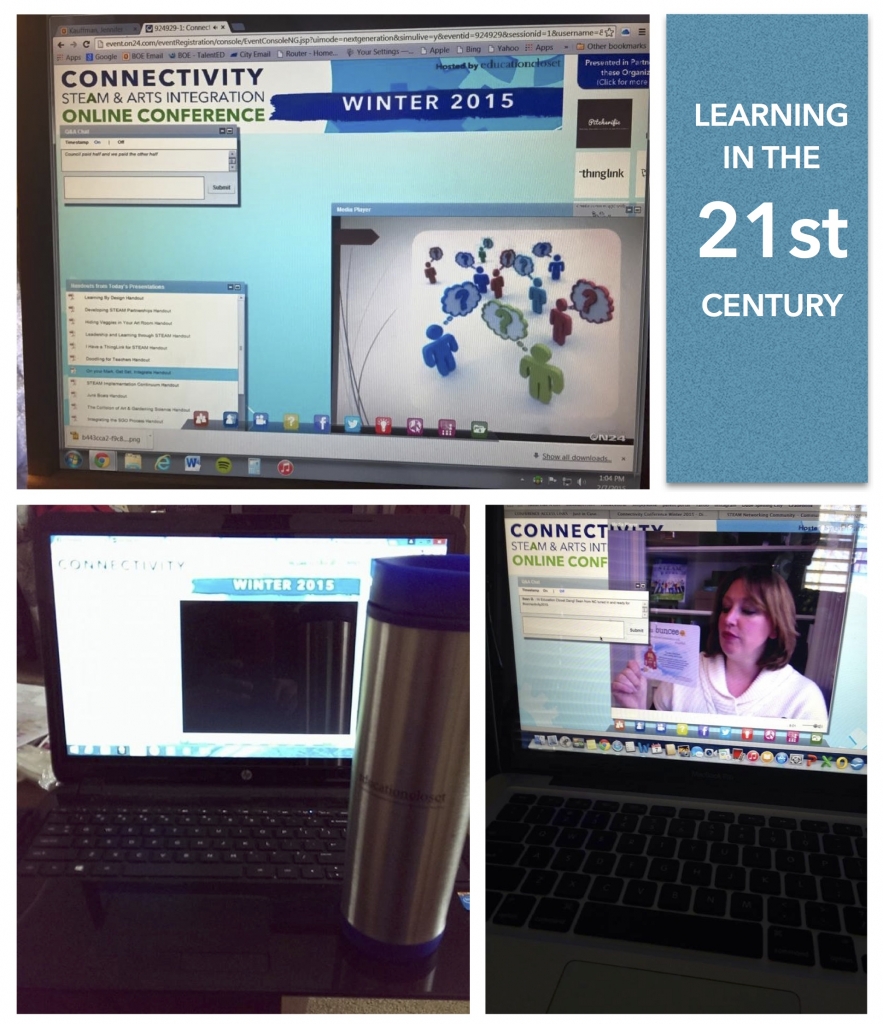 2. ENGAGEMENT.
Our chat this year was constantly going from the beginning to the very end.  Lots of comments were also posted on our Facebook page and on Twitter through #connectivity2015 – and it's still going strong.  Want a sneak peek into what was being shared? Go ahead and check out both of those places for more.  Plus, this year we introduced a private Google+ community access for registrants.  This has been a huge success and many are now able to continue to share their ideas, successes and challenges with others from all around the globe.

3. BRAIN BREAKS.
With an online conference that runs for 6 hours, it's so easy to just sit in one spot and not move.  This year, we inserted (3) 15-minute breaks throughout the day and included a fun "brain break" activity in each one.  These were a huge hit and the creations that some of our participants made during these 2 minute activities were so fun!  We'll definitely be continuing to include these in future events.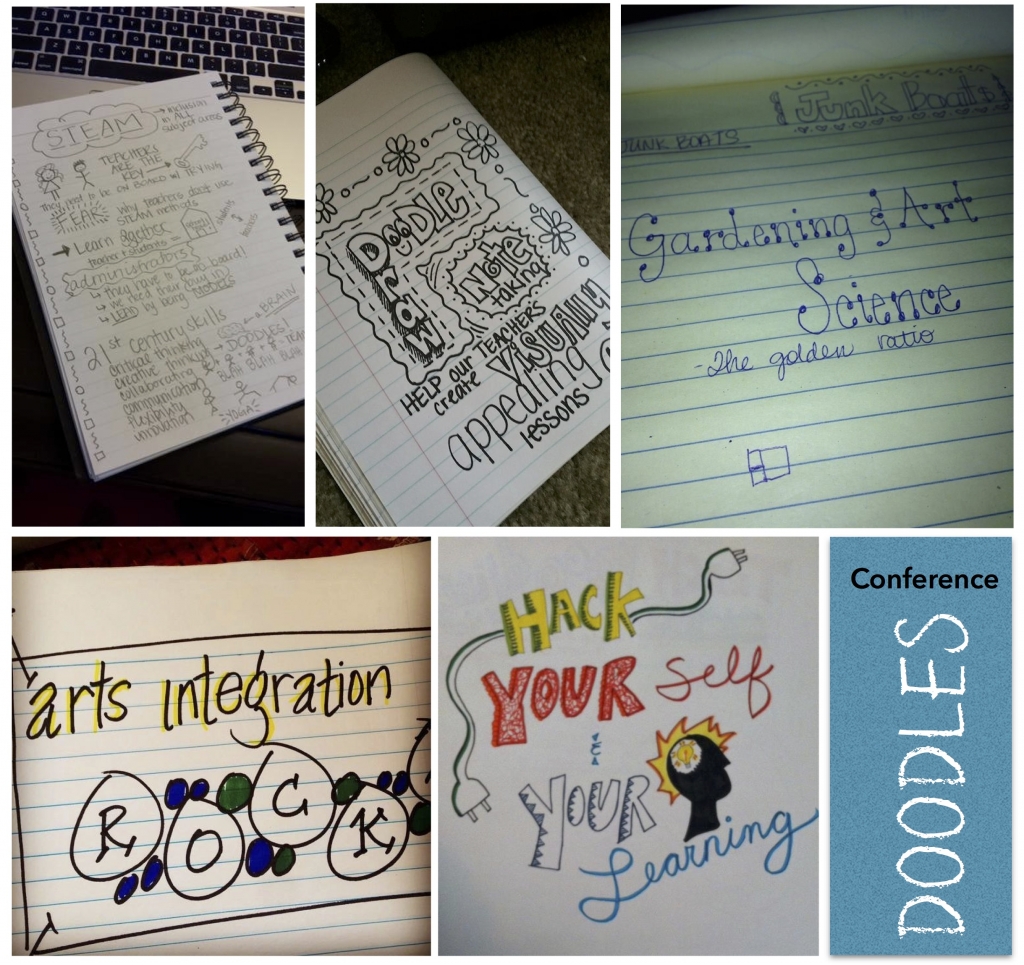 4. VARIETY OF SESSIONS.
We have a HUGE range of educators that attend our conferences – visual art, music, dance and theater teachers, general/classroom teachers, administrators, teaching artists, and higher education professionals.  It can be a challenge to provide a range of sessions that meet the needs of everyone!  One of the best pieces of feedback we received were from individuals that shared how much they enjoyed the variety of presentations and aspects to STEAM conference shared for many different learning styles.  In fact, over 98% of our participants indicated that they would attend again and recommend the conference to a colleague (wow!).
5. A POSITIVE RECHARGE.
This was the first year we presented an online conference in the winter and we are so glad that we did!  Many of our participants voiced that this was just what they needed for their "mid-year slump" and we couldn't agree more.  Additionally, I was personally so impressed with the overall positive energy from everyone and how supportive they were of the presenters and ideas shared.
WHAT WE LEARNED AND NEXT STEPS
Several years ago, one of my good friends and colleagues reminded me that "feedback is your friend".  Even when something goes really well, there is always room to grow and that is why we value each and every piece of feedback we receive.  Here's what we've learned from our attendees this year and how we plan to use that to fuel our next conference:
1. PRESENTATION STYLES.
By far, we heard the most positive feedback for our hands-on sessions with lots of visuals.  Clearly, this is something that you want more of in the future!  For our summer conference, we are planning on providing sessions that include even more lesson plan downloads, strategy demonstrations and samples.
2. VARIETY OF SESSIONS.
This is both a plus (as seen above) and a challenge.  Because our conference serves a huge community, not every session is going to appeal to every type of learner or educator.  So for the summer conference, we'll be providing icons next to each session on the schedule that identifies which group the session is aimed at: arts educator, classroom educator, administrator, artist.  Plus, we'll be asking our presenters to provide a 15-30 second "preview" so that you have the ability to truly get a feel for whether this conference and/or session is right for you.
3. WE'RE DIFFERENT (AND THAT'S OKAY).
Some online conferences offer sessions that are quick and easy to digest.  Others offer sessions geared specifically to one arts discipline.  As such, some people attend our event with this expectation and can be a bit disappointed. We understand!  If this is what you're looking for, this is not that type of conference.  This conference is for ALL educators from all backgrounds who are looking to integrate a variety of arts experiences.
We offer sessions that are 15-30 minutes a piece because we truly value the depth of learning that integration requires.  That's not to say that there is anything wrong with those other types of conferences – if that's the kind of learning you're looking for, we highly encourage you to participate.  After all, any additional learning opportunity you can get helps you to grow and that's a great thing.  But we're excited by the chance to help all educators come together and collaborate, rather than isolating each arts discipline or "title" into silos.  We believe in the spirit of integration and that we can all learn from each other as a powerful learning community.
NEXT CONFERENCE EVENT
With all of this learning and focus on integration, we've already heard from people asking when the next event will take place.  Mark your calendars, because we'll be hosting our summer online arts integration and STEAM conference on July 23rd, 2015.  We'll be posting more information in April and will open up early-bird registration in May.  In the meantime, I just want to send out a big thank you to our presenters, partners and of course to each of you for helping to build a movement of integrating the arts that truly meets all the needs of our students.  Full STEAM conference ahead!