Susan Riley | December 2014
EdCloset Year in Review
This has been a HUGE year for EducationCloset and it wouldn't have been possible without each of you.
My entire team and I feel so grateful for your support! We thought it would be fun to share with you the many things we're celebrating as we close out 2014. We want to take a look at our year In review, all we've accomplished this year, and all of the "firsts" we experienced along the way.
There have been many "firsts" this year: 
2014 is the first year I've committed myself to working on EducationCloset full-time.
The first year I've expanded to adding team members (7 in total)!
The first time I've written a peer reviewed book – thank you STEAM ambassadors!
Inauguration of our first podcast series (which has been named a Top 20 pick in iTunes).
The first time we've offered the online conference twice per year, instead of just in the summer.
As with all firsts, there were mixed emotions.  I like to compare it to having your first child. You're excited and scared, frazzled and grateful all the same time.  One thing is for sure: I wouldn't trade this adventure for anything in the world.  I have had the awesome privilege of working with some outstanding people. In addition, I get to help support thousands of educators around the world in bringing arts integration and STEAM to hundreds of schools and districts.  For me, there is no greater impact than to serve all of you.  Thank you for allowing me, and my team, into your lives and classrooms.  We can't wait to see what 2015 brings!
Happy holidays from all of us at EducationCloset!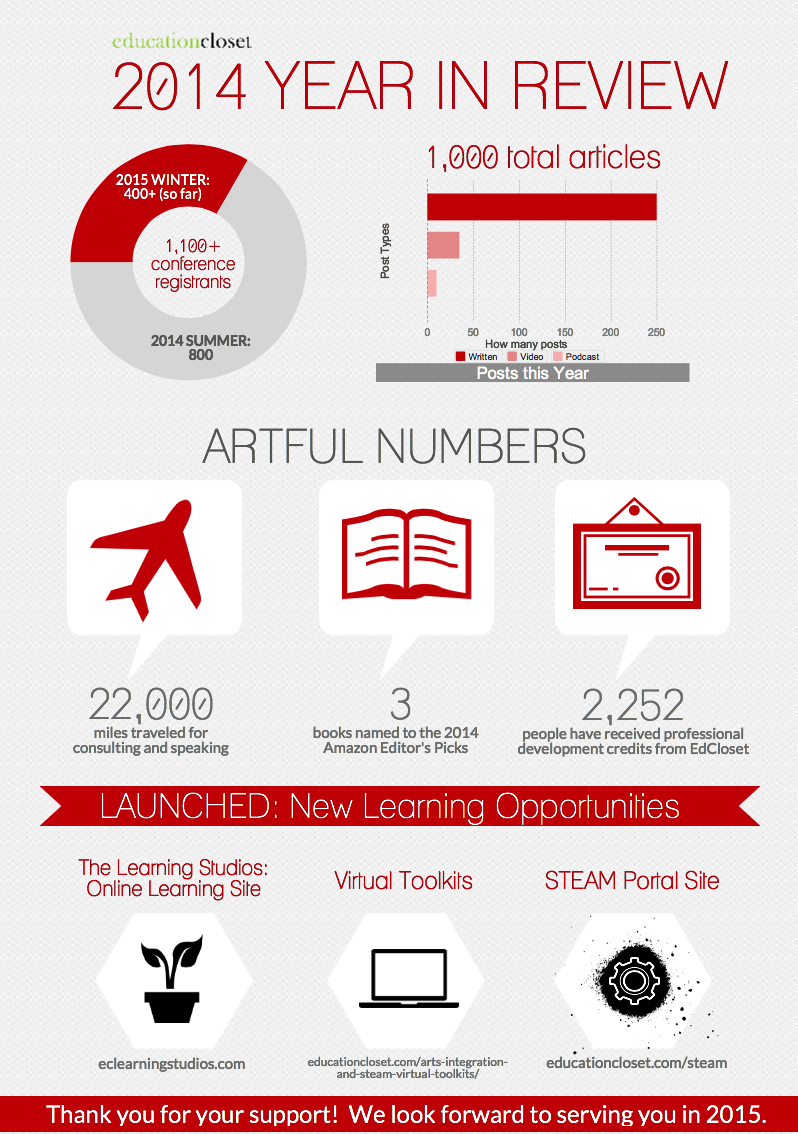 PS – In case you're curious, we used Piktochart to create this infographic.  It's super simple and FREE to use!  I'll be offering a tutorial and cheat sheet on how to create one of these to our newsletter subscribers this Sunday.  If you'd like to be included, just pop your name and email in below.