Susan Riley | April 2014
No Permission Required STEAM Book Available!
Great news!  Over the last several months, I have been working behind the scenes on my latest project: a brand new book for STEAM and Arts Integration.  It's called, No Permission Required: Bringing STEAM to Life in K-12 Schools, and it's officially available NOW via your favorite book retailer.  To celebrate the launch of this new book, we're sharing with you some sneak peeks, reviews and even a surprise that's available for this week only.  
Insider Sneak Peek
One of the reasons I wrote this STEAM book was for anyone who has ever sat through a professional development and thought, "am I really allowed to do this?" when it comes to creativity in the classroom.  So often, I share these incredible strategies and resources for teaching using the arts, only to see educators getting worried about whether their administrators would permit them to use these techniques.  This book explains why you don't need permission to teach like an artist!
As with all of my books, this one is practical and designed for you to use right away in the classroom.  At 248 pages, it's my longest book to date, and it's split into three distinct sections.  Part one is all about providing you with a clear understanding of the what and why behind STEM, Arts Integration and STEAM.  You'll also find strategies for integrating Visual Arts, Music, Drama and Dance into the classroom with success.  Part two shares with you a specific plan of action for implementing STEAM throughout a class, school or district.  This is the real "meat" of the book.  Part three provides you with fully-developed lesson plans and assessments that use the strategies outlined in part one.  These lessons are separated by grade bands K-2, 3-5, 6-8 and 9-12 and includes extensions up and down in grade level.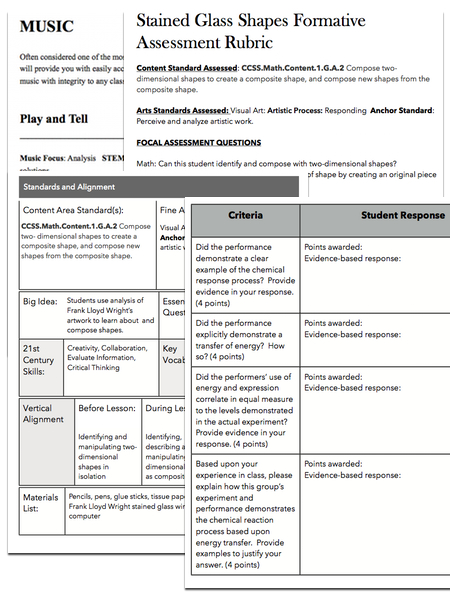 One of the parts I am so excited about in this book are the case studies that are woven in throughout parts one and two.  I interviewed so many wonderful schools and programs and selected three to highlight in this resource.  Each case study provides a unique way to approach STEAM successfully.  We have case studies from urban, suburban and rural areas, as well as several grade levels in both public and charter schools.  One school even saw and 85% improvement in their math scores after implementing the STEAM book approach!  These stories helped me grow in my own understanding of STEAM book and I'm so excited to be featuring them in this new resource.
STEAMteam Reviews
Writing this book was an incredible experience for me from beginning to end, but one of the best parts was having a team of dedicated individuals from across the country who volunteered to be a part of the STEAMteam.  These awesome educators read the book prior to its release and worked together as a group to share their insights, edits, proofreading services, and clarifying questions that made this resource 10 times better than it would have been on its own.  I can't communicate my appreciation enough to these incredible people.  Here's a few of their comments (I asked them to be brutally honest) as they read through the book:
What excites me about the publication of this book is the level of discussion about arts in education that will occur.  I agree that so much of what gets in our way is adequate planning time and this book will go far in demystifying the process for classroom teachers.  As an advocate for project learning with arts at the core, I feel this book will give me the tools I need to speak intelligently to key staff members and administration at my school. – Kim Taylor Knight, Educator
Just sat down with a cup of tea and started reading. LOVE this part on p.17: "STEAM takes STEM to the next level: it allows students to connect their learning in these critical areas together with arts practices, elements, design principles, and standards to provide the whole pallet of learning at their disposal. STEAM book removes limitations and replaces them with wonder, critique, inquiry, and innovation." Very well stated!– Sandra Koberlein, Educator
I love how you recognize that by making more real-life connections with STEAM "school is not a place where you go to learn but instead becomes the entire experience of learning itself." This book couldn't have come at a better time for myself and my very special students! – Lynda Chick, Special Education Teacher
SURPRISE – a $79 Bonus, FREE!
Hopefully, you can see how excited we all are about this latest resource.  To celebrate it's launch this week, I'm offering a HUGE bonus for you – available ONLY this week!

If you purchase No Permission Required from now until May 8th and email the receipt to [email protected], we'll send you a digital download pack of 5 of our most popular resources. This is a $79 value…yours FREE with the purchase of this latest STEAM book resource.  But remember – this offer is only valid until May 8th.