Susan Riley | January 2014
EdCloset Best of 2013: Integrated PARCC Assessment Rubric

This week, the EdCloset staff will be taking time off to enjoy their families and friends during the holidays.  We'll be using this space to share with you the most popular posts from 2013.  This is a great time to catch up on pieces you may have missed, or to refresh your toolkit as we prepare for the New Year!
To finish up our assessment series this week, we are providing you with a fantastic new tool that you can use in your classroom today.  Best of all, it's completely aligned with the new PARCC draft writing rubric for grades 4-5.  The writing standards and rubrics provide all of us with such a natural way to weave into Common Core as artists because we ask our students to produce compositions based upon the skills and processes we teach.  The writing standards showcase this, and the rubric was simple to translate into an Arts Integrated model.  Take a look: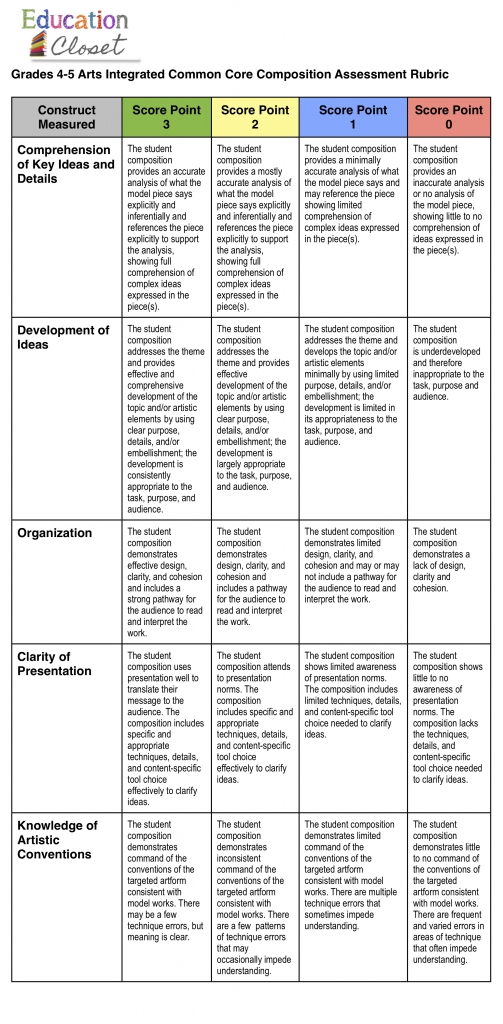 And of course, here's the downloadable PDF version of the rubric for you to use!

Editor's Note: this post first appeared on EducationCloset.com on September 21.