Susan Riley | July 2013
Online Arts Integration Lesson Planner has Arrived
Today's Free Friday is truly something we've been wanting to share for a while now.  As I have gone out to schools, districts and have received countless emails from all of you, one theme has resonated clearly: everyone wants something to make planning an Arts Integration lesson a little easier.  I've been mulling this over on how to provide this kind of tool and finally decided to just sit down and create something right here on the EducationCloset site that you can use anytime, anywhere.  And so, the Online Arts Integration Lesson Planner is here!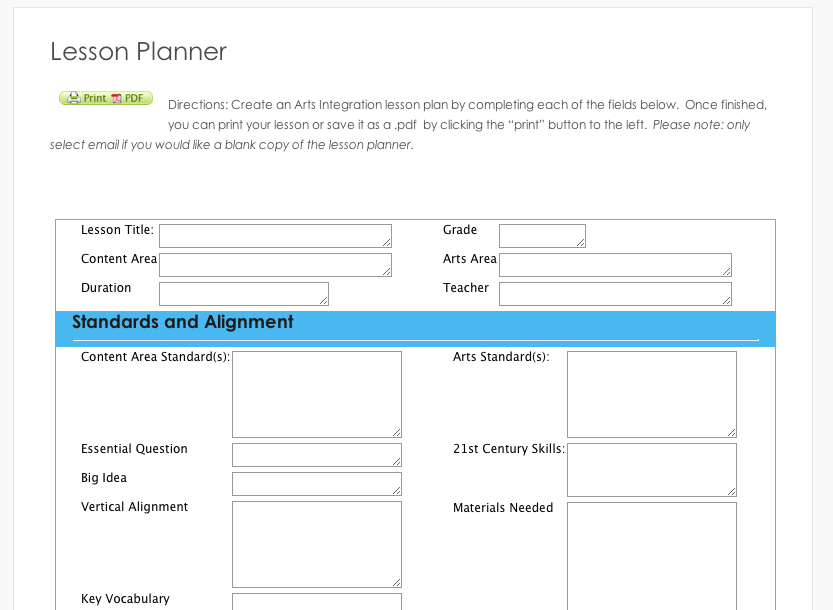 This lesson planner is completely interactive and can be found under our Lessons tab from our main menu.  The planner is easy since it walks you through each of the components needed for a successful Arts Integration lesson plan.  Just fill in each section and work your way through the document.  You can type right into the page itself.  When finished, just click the "print/pdf" button on the upper left.  You can either print your work right from the screen, or you can save a copy of your work as a pdf file.  Voila! An interactive lesson planner that you can take with you and allow you to let your creative juices flow.
What makes this so great is that we have all the tools on this site for you so you can complete the lesson planner while exploring our resources.  You can plug in the information from our free lesson seeds, find and input common core standards using our common core tab on the right side of the screen, and even find some assessment samples.  And since it's all online, you can even use the planner as part of your collaborative planning meetings with your team – everyone can fill in their own at the same time.

We hope this Free Friday tool is something you'll use again and again.  Please let us know if this is something that's helpful to you by commenting below – we value your input.  Happy Friday everyone!