Susan Riley | December 2010
Why Peer Reviews are Critical for Arts Integration
Peer review is possibly one of the most critical tools we have in education for true teacher development and growth.  It's also a way to bring immediate success to your arts integration program.  The process takes away or severely diminishes the "fear" factor that teachers have when administrators come in to evaluate or observe and therefore, it can be argued that lessons being peer reviewed are more authentic to actual teaching than traditionally observed lessons (McCarthy, Peterson, 1988).
What does all this mean for arts integration?  Simply put, teachers will feel safer and be more willing to try an arts integration if it is peer reviewed than if an administrator observes a lesson.  From my personal experience, teachers like having someone else in the room to make sure they are doing the "right" thing in an arts integration lesson – especially in the beginning.  BUT, they are only willing to really take that great leap of faith if it is with a trusted colleague and not with their principal sitting in the room.
Administrators bring critical judgment, real or imagined, into a teacher's classroom and that has no place when starting an arts integration program.  Once the program is off the ground, people are comfortable with it and have a few lessons under their belts, then an administrator definitely needs to observe.  But if a principal comes in any time before then, the results will be deadly to the program.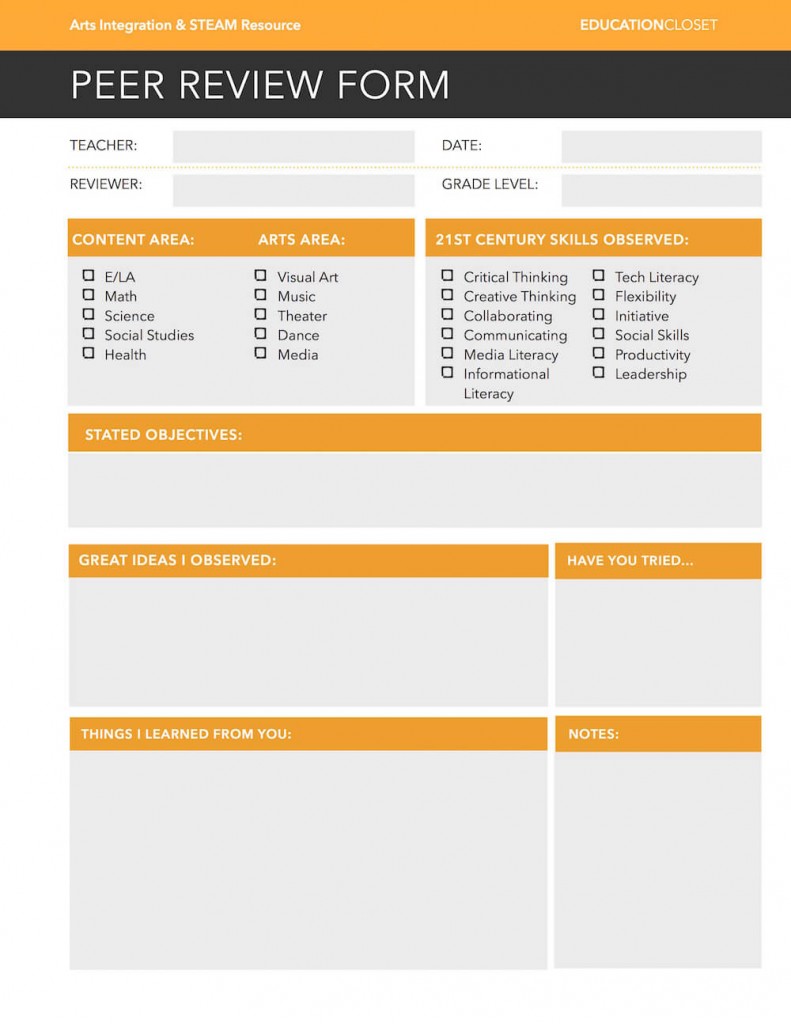 The Peer Review Form
Instead, new arts integration programs benefit from peer reviews.  This is simply a one page sheet that has a series of spaces similar to the "look for" sheet, as well as some space to comment about what was happening within the lesson itself.  At the bottom, there is blank space to write what went really well and some other ideas to extend or enhance the lesson.
This type of a sheet is really just two teacher collaborating on a science experiment: hypothesize what will happen in an arts integration lesson, do the lesson, observe the lesson, write out your findings, repeat with adjustments and document the results.  This is much more meaningful to both parties (the observer learns just as much here as the teacher being observed) and much less threatening.
Connecting to Pineapple Charts
This peer review form definitely helps with getting meaningful, supportive feedback for arts integration and STEAM.  It's also great for building up a culture of transparency and continued teacher learning.  In recent years, the Pineapple Chart has become a tool schools use to help teachers learn from each other.  Essentially, it's a way to welcome others into our classrooms so we can all learn from each other.  The more approaches we see from other educators, the more we grow and improve.  These pineapple charts help coordinate this kind of peer-to-peer learning.
Many advocates of Pineapple Charts discourage any kind of formal written reflection.  That's due to the reality that turning something in lowers the likelihood of people actually visiting other classrooms.  I believe that's true.  However, I also think that being able to write down what you saw (so you can remember it) and sharing those observations through a conversation with the teacher you reviewed is extremely beneficial.  That's where this Peer Review Form is helpful.
This form never needs to be turned in.  Instead, it's simply a way to document what you're learning from another teacher and to share that learning with the person you observed.  This helps both teachers grow from the experience.
Finding Success through Transparency
Arts integration is a scary enough method for many teachers – it requires that they try something completely out of their comfort zone.  Obviously, the program needs to be evaluated for success.  But by allowing the initial evaluation/observations to be a collaborative effort among peers, you will be fostering excitement, motivation, and a sense of encouragement within your program.  All critical elements to success!