STEAM in the Classroom Look-For List
When it comes to using STEAM in the classroom, how do you know what you should look for in outcomes for students, teachers and lessons?  It's one thing to design a lesson, but it's totally different to see STEAM in practice.
But the practice is one of the most exciting things about using the approach.  During these lessons, students  engage on a totally different level and often produce work that is much more vigorous.  But in any active classroom, it's easy to confuse activity with deep learning.
STEAM OUTCOMES
The best way to ensure that your lessons are authentic to the STEAM process is with a simple look-for list.  We have one developed for arts integration look-fors, but STEAM is a bit different.  It has a different focus and intention that arts integration.  So it also requires a slightly different list of outcomes.  We've created a handout that's available for our Accelerator members to make this a bit easier.  Let's dive into each component below.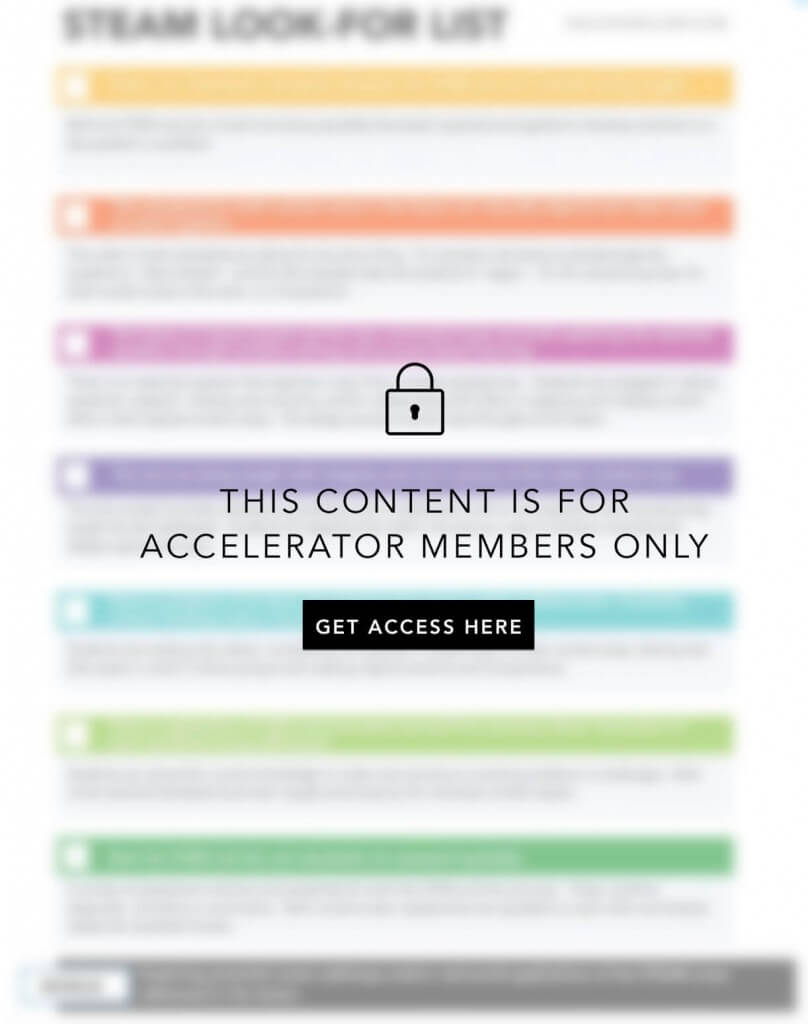 INTENTIONAL CONNECTIONS
Similar to arts integration, the best quality STEAM lessons intentionally connect 2 aligned standards.  The first two components of this list break this down a bit. We want to make sure we purposefully select standards, content areas and topics that make sense together.  The easiest way to do this is through seeking similar verbs across standards.
For example, if the science standard asks students to "demonstrate" something and the art standard asks students to "apply" their skills, this can be an indicator of a possible alignment.  It's not a hard and fast rule, but it definitely helps to eliminate standards that won't work together and leave us with the best options available.
INQUIRY BASED
Any good STEAM lesson is grounded in inquiry, problem-solving and process-based learning.  In fact, this is one of the distinguishing characteristics between Arts Integration and STEAM.  So when viewing STEAM in the classroom, you want to pay close attention to the essential question and the process surrounding its exploration.
What problems are being investigated and solved?  How are both contents being used to explore the problems?  Why is the process important to the question posed?  These are all important components to a STEAM classroom or lesson.
INTEGRITY
Whenever a STEAM lesson is being used, it's imperative that the arts content has been selected purposefully and that it's being taught with integrity and not in service of the other content.  This is a non-negotiable.
Many times, we'll see lessons where students are creating a craft at the end of the lesson and educators call it "STEAM".  Things like creating a shadow-box about the planets for a science lesson or painting a derby car that was built in an engineering unit.
Simply adding paint, tape and glue doesn't make it a STEAM lesson.  That diminishes the deep process-based learning that is inherent to the arts.  Instead, the lesson should be actively teaching the arts standard through application of skills students have learned during dedicated arts times.
21st CENTURY SKILLS
The 4Cs of 21st century skills – Collaboration, Creativity, Critical Thinking and Communication – aren't going anywhere.  They are a critical component to student success in a rapidly changing workforce and society.  Luckily, these are easily woven into any quality STEAM lesson.  This is where the active engagement really starts to shine with student groups, creating original solutions and compositions and exploring questions from multiple perspectives.
EQUITABLE ASSESSMENT
Finally, a true STEAM lesson requires assessing both the content and arts standards that were selected and taught.  As all good teachers know, if you teach it – you assess it.  But remember that assessment is not the same as evaluation.  Assessment is a measurement of growth, not a judgment of mastery.  So in a STEAM lesson, you're looking for student growth in both content areas from the lesson.  If you need support in how to do this, or examples of maker-based assessments, definitely check out our Assessment for Makers online course.
BONUS: MAKING MEANING
Making meaningful connections isn't really a bonus.  It's wrapped around the whole lesson like a warm coat.  Making connections to career pathways and real-world applications is a way for students to understand that what they're doing in the STEAM classroom matters.  It's not just "playing" – what they're learning, creating and applying has real possibilities and opportunities.
USING THIS LIST
The great thing about a list of look-fors like this is the ability to use it for many different reasons.  If you're a teacher, use this list as a way to tighten up your STEAM lesson development and implementation.  If you're an administrator, use this as a checklist during a STEAM lesson observation. Or use it as a way to make sure your teachers and school is on the right track towards becoming a "STEAM School".  No matter what, these 7 basic outcomes will help take your students to the next level.