More than ever, teachers are sharing how difficult classroom management has become. In this episode, author, teacher, and administrator Scott Ervin – aka "The Kid Whisperer" – shares specific strategies you can do today to curb the 3 biggest behavior issues most teachers face: disrespect, apathy, and arguing. He'll also be sharing ideas from his book, The Classroom Behavior Manual, that have been tested by teachers in classrooms all over the country.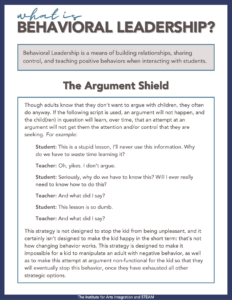 Resource Download
Enjoy this free download of the What is Behavioral Leadership Resource.
Susan
Alright, well, welcome Scott. Thank you so much for joining us today.
Scott
Thank you. This is fun.
Susan
Yeah, absolutely. So for people who are not familiar with you or your work, can you give us a little bit of background about yourself as both a teacher and a principal and as a superintendent? Sure.
Scott
Sure… Uh, yeah. I was, uh, full-time, uh, educator for 16 years, teacher,principal, uh, superintendent. I taught first graders, third graders, fifth graders, sixth graders, seventh graders, eighth graders. And I was, uh, I started out really struggling. I had two years. I spent 10 years in the city of Dayton, uh, in charter schools and, uh, Dayton Public Schools. And six years in Fairborne, Ohio. Started out without any behavior management skills, strategies, or procedures except for screaming and yelling. Kind of, uh, got some stuff going, uh, was really successful as a teacher. And then I was, uh, drafted into being a principal and superintendent of, uh, a, an independent charter school with no management company. Uh, it was a challenge and I wasn't, uh, good at it, but I was, uh, good at teaching people the strategies and procedures that I use in my own classroom to be really successful. Uh, and then I went to Fairborn and, uh, I took a job and I, I never wanted to be an administrator. Literally, it's not something I was truly drafted into it. Uh, and I went to Fairborn and I went to the, uh, largest primary school in the United States. We had, at the time, we had 1700 kids. And I requested that, that all of the most difficult kids be put in my room. And I was, uh, hired enthusiastically under those, uh, uh, conditions. And, uh, yeah, I got all the most difficult kids, uh, out of 400 to 450 kids in whatever grade level I taught. And I taught first and third grade there. Uh, so that's a quick rundown, uh, of my very interesting, uh, 16 years full time.
Susan
Yeah. So you said you struggled for the first two years. Um, what got you over the hump or how did you discover the strategies that ended up working for you?
Scott
Uh, by stealing from actual teachers. Yes. Stealing, just without any shame. And, uh, I got some, I read a good book, teaching with Love and Logic was a really helpful book, but I did not learn anything in college that would've been helpful, uh, in behavior management. Every teacher out there is agreeing with me right now. Yeah. Uh, I always tell people I train, you were not taught behavior management in college. If, if you think that you were, you and I have a different definition of what behavior management is. Okay. Uh, and, and, you know, one of the things that we actually wanna do is create an institute for behavioral leadership at, at a university. Uh, that's something. So any universities out there wanna actually, uh, teach people actual procedural procedures and strategies for being firm, loving with kids and teach positive behaviors. Contact me. Uh, but, but yeah, I, I just, I, I stole from other teachers and I have a, the kind of mind that is very annoying in my life and to other people around me, which is, I gotta make this better. This isn't good enough. I gotta make this better. And I started changing things as I learned them. I changed them and made them better. I would steal from a teacher and say, you know, you gonna write a book about behavior? And they say, no, and I would steal it. And yeah. And we, and, and that's why the book is, and the training is so effective, is that it is essentially created by teachers for teachers. Right. Uh, I always tell people the bane of my existence is teacher, is people who have never taught teaching teachers how to teach. It just, it makes me angry. Uh, it it's very offensive to me. Uh, it upsets me a lot. So, so that's not what the book is. That's why I was able to create an actual manual for teachers and not just a bunch of things that you may want to try.
Susan
Yeah. Which I absolutely love. And I wanna, I wanna dig into the book in a moment. At the, the beginning though, you are referenced as the Kid Whisperer. So I'm curious, where did you get that nickname?
Scott
Uh, one of my wife's friends, when I told him what I did, uh, he said, oh, well, you're like, you're like the kid whisperer. And I thought, yeah, maybe I am. Okay. And we looked it up and there's no trademark, we actually have a trademark on that name.  I am the Kid Whisperer according to the United States, uh, you know, trademark, uh, office. Uh, yeah. And I think in some ways I don't really like it in some ways. It's kind of like, it makes it sound like I'm like the horse whisperer and like doing these little strange things. Really, it, it, it is about, about being able to be calm firm and loving with kids,teaching positive behavior, sharing control, just doing things that work with kids. Mm-hmm. Uh, and, uh, so yeah, that's, I am, I am the, the kid whisperer, although I'm a little sheepish about using that. It, it's, it's, it's really easy to sound a little egotistical when you say you are the anything.
Susan
Right. I totally get it. But at the same time, having, like, having a farm background in my family and knowing what that really means to be a horse whisperer, right. That it's, it's not just tricks and and strategies, but it's really building a relationship, building trust building, um, and having that relationship go face. It makes total sense. Then, um, when you're talking about building relationships in a classroom management setting for that, that, uh, kind of nicknamed a stick. So for sure. That makes sense.
Scott
Your answer is better than mine, by the way. Your answer is better than mine. Let's go with your answer. 
Susan
You can steal it. You can go there. So you do have a book out, it's called the, the Classroom Behavior Manual. I mean, it's, it's very clear as to what it is and what it does. Um, but I'm curious why this book and this approach, and particularly now.
Scott
Because it is the book that I needed and did not have. And because I didn't have it, I spent two years yelling and screaming at kids. I, it, it really is like the $65,000 question that I've been trying to figure out for the last 23 years. Uh, which is, why doesn't this book exist? It's a absolutely blown my mind. I've never understood it. Right. And, you know, I always, and it is a manual. And that's the thing. It is the first and only manual for behavior management for pre-kindergarten through 12th grade teachers. There, there is no other one, which is mind blowing. You know, I know every teacher that's ever been through college knows you're not taught the number one thing. That is the most important thing in education, which is behavior management. Mm-hmm. And that's unacceptable to me. I don't want people to have to suffer the way that I suffered through, uh, my first year's teaching. I don't want that for anyone. And the idea, too is to be clear to the teachers out there that there are things that every teacher who has survived more than a year or two has figured out on their own through trial and error about what works. I had to go through that too. So those people out there who are gonna get the book and who have had and or who have had my training, I don't want anyone to just go, oh, I'm just gonna do the things in the book and I'm not gonna do any of the things that I used to do. One, the things that they do now, they're probably, some of them, if they're good, they might be in the book already. And two, keep doing the stuff that works. But this is a comp, the, the manual, it truly is a comprehensive way of working with kids that sadly does not, did not exist before. And, you know, if I had it to do over again, I mean, I love my life. I love what I'm doing. I'm going out. I just got back, uh, from the road, uh, in Wyoming teaching this stuff. I'm leaving for Iowa, uh, on Sunday, and then I'm gonna South Dakota. I love my life, but it's not the life I dreamed of. The life I dreamed of was to be a third grade teacher for my entire life and teach varsity basketball. Mm-hmm. Uh, those are the only things I ever really wanted to do. And I'd rather do that. And I wish happened that somebody did what I do now, 50 years before I ever started teaching. So I could grab a book, I can maybe go to a training and I could be incredibly, I can learn how to be incredibly calm firm, loving with kids, teach positive behaviors without punishment and demands and threats. Uh, I wish somebody else would've done before me so I wouldn't have to do this. I love it. But I'd rather be a third grade teacher and I'd rather just coach varsity basketball. But this needs to happen. No, no one else is doing this. Right. There's nobody else doing what we're doing.
Susan
Absolutely. So, um, now this may sound like a, a simple or a, maybe even a dumb question, but you say that there's, that this is truly a manual and that there's not another manual out there. Um, like this. Clearly there are lots and lots of classroom behavior management books. Right. So what specifically do you mean that's right by the designation of a manual? What makes this one different?
Scott
So that is not a dumb question, that's an incredibly important question. It is that it literally is a manual. Like the manual. I just bought a new car. It has a manual in it. It is a manual for behavior management. The same way that car has a manual for it. This is how the car operates. This is the best way to use this car if something goes wrong with this car. This is what you do. If that doesn't work, this is what you do. It is a comprehensive way of working with kids most. And you're right, there are a ton of classroom management books. Lots. And, and in order to, my book was published by A S C D. I'm very proud of that. It's a great publisher. Uh, and in order to become published, I had to go out and do tons of research more than I wanted to on what else was out there. So I have inadvertently, and uh, just through no choice of mine, really become something of an expert in these other books, or at least being familiar with a lot of them. And they are all books. Some of them are wonderful as far as their per, I was just reading one earlier as the way that they see the problem, the understanding why it's a problem. Right. Uh, and then they'll have a 250 page book with 34 pages of actual strategies that were in many cases not created by teachers. Like, wouldn't it be nice if this was effective? Or I have an idea about the world and this is the vis-a-vis my idea about the world. Wouldn't it be nice if this worked? And, and, and, and by the nature of what we do, a lot of the people who do this will go to a school and they will, they will present things for a day and then they'll leave. Well, we do something very different where we and my team will go and present the live version of the book, or we will do, and or we will do common area training, showing people how to elicit positive behaviors in their lunchrooms, their recess areas, entry, uh, instructional hallway, et cetera. And then we come back and we troubleshoot and we actually do real-time coaching. We actually run a lunchroom. We actually, we'll do demonstration teaching in a classroom. And we can, and when we come back, they can say, Hey, Scott, that didn't work.  Why didn't this work? And I could say, we can, I can demonstrate it. I can show them what they're, I, I can watch what they're doing. And we actually coach teachers say, okay, now change it. Do it like this. Now do it like this, this. So we're actually there to answer questions. And the fun thing is we, and people who work with me, we're some of the only people that can answer any question about any discipline situation, uh, with any kid, no matter how difficult or old they are 'cause it is a comprehensive way of working with kids. It's not just a bunch of ideas. It's not just a bunch of thoughts like, this could work good luck. Like, we don't do that. We, we always say, we don't do sometimes professional development. We do always professional development. This will always work. Right. This will always be the most effective way to do this because we've seen great teachers teach. We've created this, we made it better and better and better, and we're there to answer questions. So we've tweaked it even after we've been out of our respective classrooms.
Susan
So do you feel like it's almost like a prescription? Like you're, you come in and watch somebody who's working and you're like, let me prescribe this particular piece for you.
Scott
Kind of. Uh, it, it is one, we give them the most effective ways of doing things. And then they do it. And then we say, okay, here's the part you forgot or add this. What it isn't is, and, and sometimes people will misunderstand what we do and say, Hey, I have a problem with this kid. Come watch this kid. Mm-hmm. And we always say, we're not gonna watch the kid. We're gonna be watching you. Mm-hmm. Right. And so it's not because we've gone so far and so long by pathologizing every negative behavior. Mm-hmm. Right. Like, this kid consistently uses negative behaviors, let's pathologize it. And, and understandably there's this huge vacuum. 'cause up until that now, there has never been a manual for behavior management in pre-K 12 classrooms. So what's left, there's this vacuum. And so we're gonna pathologize things like, well, we have this medical industry where we're gonna pathologize every single thing that a kid could do, or b. So then we go, we sort of go on these bird walks in different directions. Now, is it possible that there could be something that is diagnosable that could, that could be an element in, in the situation? Sure. And in some cases, of course. But is it possible that a student with autism can also be very control seeking? Is it possible that a student with down syndrome can also just be getting what they want with a negative behavior? And we can still deal with that? Sure. And we can, but we can, to your point, we can actually go into those classroom classrooms, let's say a special ed classroom and work with those special education experts and giving them strategies and procedures that can work and they can create it for their own students. In that way, it sort of is a prescription. And, and we treat teachers and principals like the experts that they are here, we're giving you this tool, you know, use the car analogy. It's like, here, we're gonna give you these tools. We know you know how to drive. But we're still gonna give you these tools for what happens when this happens, what happens and how do we maintain the car and how do we prevent things from happening as well? So all of those things are in the manual. Yeah. 
Susan
It sounds almost like, and, and from what I'm hearing, it sounds like you are really focused on the teacher and empowering the teacher, um, to, to be able to make modifications and to their own practice that will best, um, provide an environment which is conducive for the classroom management or the classroom behaviors that they want, rather than focusing on the students, which is something that I've been hearing quite a bit from experts around the world, is that we have spent so much time focusing on each individual student and giving each of them behavior charts and things and incentives and motivations. And what we haven't done is spend enough time focusing on providing teachers with the tools they themselves can use, because they only have autonomy over themselves. Right. So it sounds like that's where your focus really is, which, um, then makes so much sense why it's, why your method is different than what else is out there.
Scott
That is exactly, that is exactly right. And it goes to also the idea that, 'cause this was created by a teacher with the input of, uh, almost infinite amount of other teachers. One of the pieces that we have that other, many other books do not have is, is what you are suggesting in this book, other author actually possible. Right. Is it possible, because as a teacher myself, I, if I look at something and go, that's not possible. It, every teacher I say, you know, our book does not give teachers, uh, a case of the okay buts. Right. Like, some people will read something and says, you need to track the behaviors of a kid all day long. The okay but is okay, but I have to teach, how could I possibly track data on a kid all day long? Right. Okay. But you're saying, I need to, I need to do X when I have to do, when I know I have to do Y and I can't do X if I'm supposed to do Y we're teachers, everybody that works for me is a teacher or an ex teacher. Right. And, and if you weren't by the way, an ex teacher, I don't wanna work with you. Right. I mean, there's wonderful people who do other things that are very important to kids. But every person who works for me has been extremely effective in using these strategies and procedures, uh, with difficult kids over an extended period of time. Mm-hmm. Right. And so that's another reason of why we're different.
Susan
Yeah. Absolutely. So let's, let's get in some nitty gritty. What are some of your best or favorite pieces that you would advise teachers maybe to try in their own classroom?
Scott
The first thing I teach everyone,whether I'm teaching teachers aides, bus drivers, lunch ladies, grandparents, aunts, uncles, everything is the argument shield. The first thing I teach is the argument shield. Because if a kid can manipulate you with an argument, I can't teach you anything. So I can teach you every strategy for building relationships or sharing control. If a kid can just pull you off of, of what you're supposed to be doing and pull you away from instruction with an argument, I can't teach you anything. So can I just give it to you in three minutes?
Susan
Absolutely. Please do.
Scott
Okay. So, uh, we understand that there's no positive outcomes for arguing with a kid. Right. And yet how many teachers out there have argued with the kid, like everyone. Right. We all know that, but we have all been manipulated by kids. Right. So, so it's real simple. Use your calm signal. And so my calm signal is this is a specific explicit, another specific explicit strategy that I teach, which is just stopping yourself from saying something that you might regret or getting pulled into the argument. It is a way of training your own brain to stay calm and training kids to that, that you are calm. Mm-hmm. It's also very assertive. Where a kid has been, uh, has been good in the past at, at manipulating a, an adult's emotions or their actions by being obnoxious, we can then just have one sound or a word, or a couple words that we say so that we don't get manipulated. So there's just three parts to the argument shield. So I'm gonna, uh, I'm gonna start with my calm signal, go to a simple statement and then use a question that I'll repeat.
So it's simply, a kid tries to argue with me, this is dumb. Why do I have to learn this? I'm not gonna do this. I just say, notice I'm inhaling first. Oh man, I don't argue. And a difficult kid is gonna get worse. Alright. Their brain is gonna go manipulation level number one is fail commencing manipulation, level number two. Right. They're gonna say something worse. Right. And so after I say, oh man, I don't argue. And then they get worse. Whatcha talking about whatcha talking? I, I hate your, I'm just gonna say, and what did I say? And if they continue, and I'm gonna keep teaching, I'm gonna keep teaching. And I'm, if I'm a parent, I'm gonna keep cooking dinner. If I'm watching television at home, I'm gonna keep watching TV. And I'm just gonna repeat, let's say I'm watching tv. I'm just gonna repeat looking at the TV and what did I say and what did I say and what did I say? And that's it. That's the entire strategy. It is so simple. And just so you don't try to use it for something else. And remember, we have a comprehensive way of working with kids that will involve everything anything a kid could do. Right. As long as you don't try to use it for something, it's not designed for, you're never gonna argue with a kid. 'cause I mean, if you think about how, how many people does it take to have an argument at, at a minimum, At least two. Right? Just don't be one of those people. Right? Right. And so if you're not one of those people, a kid can't argue with you. And in a classroom, one kid trying to have an argument, that's not an argument. That's just a person who is just howling at the moon. Right. I mean, and and the thing is, and this is something I never hear other people say, uh, except for us, uh, one person trying to have an argument, a kid trying to have an argument is not gonna become more popular with their peers. Mm-hmm. It, it's just, it's not, if you think about it, if you just saw the adult just keep using, saying, oh man, I don't argue, and what did I say? And then we're on page seven and just keep teaching. Mm-hmm. If you saw that eventually kids are gonna say to that kid, Hey, stop it. Right. But if that kid can manipulate the adult into, into stopping instruction, which a lot of kids don't like to learn math. Right. Or reading or writing or whatever. Right. Uh, and a bonus would be get the adult angry. We can all remember how entertaining a teacher getting angry was usually more interesting and fun than the instruction. Right. So, so that kid who can manipulate with an argument, that kid will become more, more popular with their peers. I was that kid. I remember. Yeah. It was fun manipulating the teacher. Right. Of course. So that's just one, just one strategy. Yeah. Uh, that I want everybody to have. If every adult in the world had that strategy, we would have a very different world.
Susan
That's amazing. So there's, there's two other pieces that I hear teachers talking about, particularly since the pandemic. Two words that they continue to use about students. Um, there's apathy and disrespect. So do you have any tools that they could use to help with either one of those or both?
Scott
Absolutely. So, uh, yes. And so let's take disrespect first. Mm-hmm. And disrespect is, is anything that the adult in this situation feels as disrespectful. Right. That that's up to them. They're the boss, they're in charge. Uh, and so, uh, what we can do there is with all behaviors, if there is general disrespect, that is not a big deal. We can use, we teach 42 different general guidance interventions. Right. Gently guiding kids towards a, uh, towards positive behaviors. And these are, these are behaviors that the teacher at the time does not feel like need learning opportunities or what some people will call consequences. Right. So for example, uh, a student rolling their eyes, you know, a teacher says something mm-hmm. And, uh, gives an instruction and you see a kid use eye rolling. Right? Maybe that's not something the teacher, maybe it's never happened before. So a teacher could use a demand to stop the eye rolling. Right. Hey, don't do that. That's disrespectful. Well, we all know kids who don't care what kind of attention they get. Right. Those are the 20% of the kids that take 80% of our time. Right. So when we say, do not do that, they're getting the attention that they want. And if we say it with anger, they're getting control over our emotions. Right. Uh, we're actually reinforcing the eye-rolling. Right. If that, if we minimize the attention with the general guidance intervention where this will work, people will, uh, know, be able to understand this, who are watching this on video. Would, uh, I would use confused eye kid rolls his eyes, I got 25 kids looking at me, or maybe I only have that one kid looking at me. And I just look at, I'm confused. I'm just looking confused at a kid that says that's a general guides intervention. There's minimal attention. And just with the look we're separating the kid from the behavior just with the look, it's saying, you're really great. That behavior is not great. What are you doing? I'm confused. Right. So we minimize that attention and on top of that, we can use strategic noticing where, or strategic noticing misdirect, which is we ignore that kids, we call it the perfect intervention 'cause it gives no attention. We to the negative behavior. We ignore that negative behavior. And we look at the other seventh grader who's looking at me nicely, and I say, I noticed Tommy is looking at me respectfully. I noticed Johnny is looking at me respectfully. Because a lot of times that disrespect isn't a, uh, an attempt at trying to get attention. Sure. Well, if we systematically give those kids attention, we're we're going to have more and more disrespect. Right? Now if it is something that is chronic or it is a bigger serious negative behavior where the kid's just saying, Hey, I really learn, need to learn a real life lesson about being respectful, then we can delay the learning opportunity. Right. Because if I try to have a consequence, or God forbid, a punishment that is immediate, one, I have to stop teaching. Two, I have to give a ton of attention to the kid and thereby a ton of control to the kid. And we're actually reinforcing the negative behavior. But I will use my script and we train people to create their own scripts. There's this three part script, and we take them step by step through it. But my script is, and you're gonna recognize my calm signal 'cause it's the beginning of everything we do, but it's the beginning of our delayed learning opportunity script where I'm gonna say, I'm gonna, I'm gonna walk up to this gate. And maybe it's a big thing. Maybe it's just the 12th time that they've rolled their eyes  'cause it's chronic. So I'm just gonna whisper to 'em. Oh. Just so they can hear if possible. Only them, oh man, this is rough. I'm gonna help you do some learning later. And then I walk off and I keep teaching. Right now I can teach that positive behavior later where the kid, when we delay a learning opportunity, it is truly a learning opportunity. It is not a punishment. We teach behaviors exactly the same way we teach academics. Right. We are going to calmly with love and kindness either ha teach the behavior or require them to become more responsible by solving the problem. So, so later that kid can come up with, they can practice looking at someone or looking with, or sitting there without rolling their eyes and or they could actually solve a problem by coming up with the next time they feel frustrated about something is that is said by the teacher coming up with a certain amount of things that they can do or say that will show the frustration in a way that is not disrespectful. Mm-hmm. So we don't wanna tell kids how to feel, but we do have to require kids to act a certain way. Right. Right. And that's the, that's what we require as the, as the, uh, as the leaders of any classroom or lunchroom or playground.
Susan
Yeah. Absolutely. That's super, super helpful. Um, we've got time for just one more. How about apathy? What else, um, what can teachers do to help with apathy?
Scott
I got so excited about the quality of my answer. I forgot the second one. Um, so, uh, so apathy, uh, really the best, and I was just answering, I have a, I have a, a nationally syndicated newspaper comment. I actually just wrote one about this, uh, yesterday on the airplane. Really, the cure for apathy is, um, and I don't, I actually, I actually disagree with the premise. Uh, I do not believe that apathy is the actual root cause. Uh, and, and what we're talking about is kids just not doing work. Right. I mean, that's, that's the actual, from my perspective, the behavior that needs correcting the answer. This may be a little bit unhelpful because it, I'm gonna prescribe something that takes, uh, I think 40 pages in my, 30 pages in my book and 45 minutes to teach. But the answer is, first, I'll go to some relationship building. One, we need to greet kids at the door and build relationships with them every single day. Giving them an E S P N greeting. If you're a middle school teacher, that's every period. If you teach second grade, that's every day in the morning and every day when they're leaving in the afternoon. But E S P N stands for eye contact, smile, physical contact, and name, uh, every single kid, every single day. We need to be building relationships by sharing, uh, by building those relationships with kids, allowing them to be on a team with a nickname. They, the kid should have a nickname that you're gonna give them with their approval. Uh, we do a full day of training on, on this, and it's, you know, 80 pages in the book. But all those things need to be in place. And also real world workshop needs to be in place. Real World Workshop is the easiest and most effective way to give and, uh, promote and run independent work in any classroom pre-kindergarten through high school. I, I use it when I've taught college classes. Mm-hmm. Right. And just very briefly, it, uh, takes advantage of the way the universe works to teach hard work because the problem is this so-called apathy. It's presenting as apathy. It is really just seeking of control. I have never met a kid who didn't care about their present and future success and happiness.  But I have met literally thousands of kids who would rather win a power struggle with an adult than make their lives better right now. Yeah. Right. Especially if making their life better involves work. Right? Yeah. So kids very often love two things more than anything. Winning a power struggle with an adult and doing absolutely nothing. I mean, I love that as a kid, if they can do both of those things at the same time, they are happy. Yeah. Right. So if you, all you have to do to do those two things is put your head down on your desk and refuse to do work, you win. So, what Real World Workshop does is say, and this is very brief, but this is a terrible explanation, but we don't have time for a great one. The you have your nows the things you have to do. So let's say we teach, we teach a physics lesson, and then you have to practice the physics lesson, lesson practice the physics problem. I know nothing about physics, so I don't even, uh, I feel silly even saying physics. These are the things, practice that, and maybe there's a little assessment or there's something else. Whatever. It's, these are the things you have to do now. Then you have later things that they're also two, two common core standards, but there's things you would proba that you would probably rather do, right? So they may be, you know, a math game, a, uh, helping and going to another classroom and helping other math students who are lower, lower academically, uh, or in your grade level than you, uh, could be all kinds of things on a computer, but things to common to common core standards. Right. Once you set that up, you can say you don't need to do any work, but feel free to do your laters as soon as you're done with your nows. And we, if we never get on kids, 'cause kids wanna win that power struggle, then you, we just have to have later that are 10 times more fun than pressing your face against a hard wooden board, which isn't fun. Uh, and then, and then we just need to keep kids awake. That's the only thing that, so that they can feel bored and also watch their classmates doing something more fun than putting their face against a wooden board with their eyes closed.
Susan
Yeah, for sure. And that is, that is a speedy explanation, but I understand from the book that it is, it's at least captures what you're trying to convey there. I do highly recommend everyone that you go get this book, the Classroom Behavior Manual, um, from Scott Ervin. Please, please, please do that. If you go into our, uh, show notes today, you will find a direct link so that you are able to, uh, go ahead and get that for yourself. Um, particularly now, this is, I think, one of the biggest struggles that teachers are facing, and it doesn't have to be, um, because there are, there's definitely ways to handle it. And so, um, I'm so grateful, Scott, that you have been on today and you've been able to provide such wonderful practical ways that teachers can get started. Um, where can people find you and stay in touch?
Scott
Yeah, thank you. My, uh, Facebook is, you can go to Ask The Kid Whisperer on Facebook. You can go to Scott Ervin Kids on Twitter and Instagram. That's Scott Ervin Kids and for Everything Behavioral Leadership. And that's our brand. That's what we, that we call what we do. You can go to behavioralleadership.com and on it, it has my blog, which is also my syndicated newspaper column. Uh, you can find my podcast. Uh, and it's super fun. People love it. You can listen to it on the way to work. And it's, uh, sometimes you might not want your kids in the car when you're listening to it. You can. And, and, and you can sign up for our website and you can, uh, find out where all summer we're going to be doing conferences all over the country from coast to coast, uh, where you can pay to come and, and get all three days, uh, which is essentially the live version of the book. And, uh, you can go to amazon.com and get the book, the Classroom Behavior Manual, how to build relationship share control, and teach positive Behaviors. And, uh, yeah, that's, uh, I think that's about it.
Susan
That's wonderful. We will include all of those links so that people can stay in touch and make sure that they have access to all of the incredible information that you're sharing. Thank you so much, Scott. This has been a wonderful time with you and so helpful for our audience. 
Scott
Wonderful. Thank you, Susan. I appreciate it.