Want to use arts integration, but feel stuck because you feel pressured to "teach to the test"? In this episode, Susan tackles the realities of standardized testing head on. She's showcasing recent data about testing, as well as two frameworks to help leverage arts integration as an advocacy tool.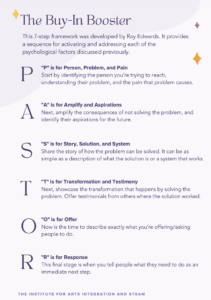 Resource Download
Enjoy this free download of the Buy-In Booster Resource.
Hello everyone and welcome back to another episode of Art WORKS for Teachers. I'm your host, Susan Riley, and we are solo today, just you and me, my friend. But it's on an episode that I think you're gonna find really, really useful. And even though it's just you and I today, I am gonna put a commitment in place to ensure that we have some guest speakers who can come in and expand upon the topic that we're talking about today because I should not be the only voice that is talking about this in regards to the arts and testing. 
So with that in mind, we received a request in the mailbag from Jenna C. This is what she said, "Hi, I listen to Artworks for Teachers podcast on the regular and had an episode request. The conflict of data and test scores as well as arts integration. Classroom teachers need to cover certain material, meet deadlines, and make sure their students test well, which makes the startup buy-in of Arts Integration very difficult. In a perfect world, a school would tell teachers, don't worry about test scores, instead focus on Arts Integration. But let's be honest, every school focuses on test scores and it's all teachers can think about because of the immense pressure they're under. How do we get past that in our test score, data-driven, education system?" 
Jenna, this is such a great question. And I am so excited to dive into it. I've done a lot of research on it so far. And I'm happy to share that research with everybody today. And like I said, this is not going to be the only podcast that we do on this topic, because there are so many approaches to this. There are so many complex issues surrounding this that there's no way we're going to cover it in one day. But here's what I can tell you today. I'm going to give you the latest up-to-date data that we can find on testing when it comes to educators' perception, their feelings, how they're dealing with it, as well as up-to-date data on arts integration, how it can impact our students in this arena. I'm also going to work through two different frameworks. The first one is from Hack Your Bureaucracy, which if you haven't listened to that episode yet, go to the show notes. We have it fully linked. We've done an episode with the author of Hack Your Bureaucracy before. And it's fantastic. But I'm going to go through the framework that they share in that book in terms of how to address these specific issues in testing and how to kind of use that framework to work around it. I'm also going to introduce you to the pastor framework and give you some practical examples there. And that is gonna be your downloadable for today, is a two pager that outlines the pastor framework and then gives you an example of how to use it in your classroom. So I'm hoping that our episode today is both practical and useful to you and that you start to put some of this into place so that we can continue the dialogue. 
What I love in my dream world, Jenna, is if and everybody else who's listening, if we could take what we're sharing today, put it into practice, try it out, and then let us know, email us, let us know how it went. And if you made progress, share that. If you ran into roadblocks, share that so that we can continue the dialogue, continue to address it, and work in real time to really make a difference when it comes to test scores. So let's dig in. Let's start with the data.
And so, and I think this data is really fascinating. So I've done my homework and I've dug into a lot of different data sources, but one that I think is most meaningful and most relevant right now is a survey that Ed Week did not too long ago. It was done in 2023. I'm gonna link the actual link to the test and from Ed Week in the show notes so that you can go back and reference it.
But it is the most up-to-date data that we've got on testing and a teacher and educator perceptions of testing. And not just teachers, but also principals and district-level administrators. They were all surveyed. I think there was a survey of 850 of them in this particular instance. And then I looked at research from the last five years. So going back prior to COVID, 2018, to because that was some of the last data that we got prior to the pandemic hitting and everything shifting. So based on some of that, the in the Ed Week survey, we find that 25% of educators, teachers, principals and district level administrators, all included here think that state mandated tests provide useful information, only 25%, which means 75% think it's not useful.
Right? Nearly 80% of educators feel moderate or large amounts of pressure for students to perform well on standardized tests. So even though the majority of us know, including our administrators, that these standardized tests don't really show anything useful for us long-term, we're still, the majority of us, feeling moderate or large amount of pressure. And that's where…
I think we can hear that in Jenna's note, and I think that is something that's very common that we can all rally around. Even though we have this amount of pressure, and this is where it gets really concerning, almost 49% of educators feel more pressure now than they did prior to COVID-19 when it comes to standardized testing. And of course, you and I can surmise why that is, probably because…
There's this feeling of needing to catch up, which is so ridiculous. But we know that there are learning gaps for students. And so many teachers feel like they need to close those gaps and get those students back on track for that standardized testing that we still have in place. And 41% say that they spend more time preparing for standardized tests than they did in 2018. Oh, which kills me because here's the ridiculousness of this and I think I'm calling out something that's so obvious, right? But the majority of us know that these standardized tests don't really matter. There are different and other measures that can be used and yet we place this pressure on ourselves and our administrators place it on us, whether they mean to or not, to score well on these tests because this is how schools are measured, whether we like it or not, right?
And so, but if 41% of us are spending more time prepping for those tests, what that indicates is that less instruction is actually happening. In a article in 2001 from Alfie Cohn, he talks about and uses a variety of research to back this up, that the more time you spend teaching to the test, the less instructional quality those children have access to.
And I want us to remember that, because even though we feel that pressure, there is a line of integrity, I think, in the side each of us where we're like, there is a line where we know, I'm not gonna go over that. Even if I'm gonna spend more time this year prepping, I'm not gonna go over this line, because at that point, it no longer is me teaching, it's just me prepping these students in a way that's harmful almost, right?
So let's talk about if this is our data point and this is where we are, what would educators prefer to use instead? So based on some of these research studies, here's what teachers, principals and district leaders all would recommend instead of standardized testing. 74% find that in class teacher created formative assessments are more useful than standardized testing. I think
Almost all of us could agree with that, right? And so when you're thinking about formative assessments, remember we're looking for growth, right? We're looking for, did a student grow from this spot to this spot? That's a formative assessment. When we're looking at additional kinds of testing, 59% said that unit tests and final exams are helpful. These are summative assessments, right? So summative assessments take a look at how did a student do in terms of mastery of a concept? So when we're looking at a final unit or a final exam, we're looking at did they master this particular concept that I taught for the last three weeks, right? That's a summative assessment. And then 50% said that diagnostic exams at the start of the year are helpful both teacher created and things like iReady. So if you're using iReady, many teachers have actually found that to be really helpful. And so diagnostic examples are the kind of taking the pre-test, where are our students at? Getting a, think of it like a blood test from the doctor's office, right? Where is your baseline data? What do students have knowledge of and what do they not have knowledge of so that you can then go and teach based on that diagnostic data to fill in the gaps that they might have on that particular pieces of information, okay? Diagnostic, formative, and summative measures that educators feel, if you put those packaged together, would give you a better understanding of student performance than a standardized test. And I think we could all rally around that knowledge. 
If you are confused, by the way, about any of those assessments, which I'm gonna be really honest with you, I've worked with thousands of educators at this point over a decade and I can tell you that maybe 10% of them are really connected and understand each of those kinds of assessments, diagnostics, formatives, and summatives. If that is something that is a struggle for you, please know that we have an entire course on checking for understanding on using authentic assessments that look at each of those things. That's available in our accelerator membership.
And we also talk about diagnostic formative and summative measures of assessment in our Arts Integration Certification program in depth. So if you need some information on that in terms of how to leverage those assessments to get a better understanding of your students, please look at those things. I'm not trying to do a sales pitch, I'm just trying to help you out. I just want you to know that those tools are there. And here's something else that I find really interesting based on the data and research that's out there.
When you talk to administrators and when you talk to teachers, there are other tools besides standardized measures that we can use to look at student achievement and school improvement, including teacher retention rates, school climate surveys, and graduation rates. So graduation rates, teacher retention rates, think of those as summative data that's very cut and dry, school climate surveys, those are things that are more qualitative data that are going to still give you an understanding, a lead up almost, of what's going on. That can be a diagnostic or a formative measure there. Again, if we take a look at a variety of tools rather than just the standardized measure, we get a better understanding overall of how we're doing. So here's the problem. Here's the rub that I think that we are facing, right? We know that these other measures give us a better understanding of where our school's at, where our students are at, but we are forced to use the standardized measures because that is what our government tells us we have to use. I'm just gonna put it out there. I'm not gonna sugarcoat this. This is what our politicians say have to be used as a measure of looking at student achievement across the board, across all 50 states as a standardized measure to understand where states rank, where schools rank, and where the money should go. I'm just gonna say it and we know that that's what it is, right? So let's not hide behind it. And until that changes, until we look at other means, by which we could cultivate a perhaps school package of understanding, then we're gonna still face this testing mentality. And so to Jenna's point, how do we bring in something like arts integration when this is the reality for us, when we have this testing mentality? And so a couple of things, one,
Yeah, Jenna, you're right. It would be great if most administrators say, forget about testing, just focus on arts integration because it's going to make a difference. And honestly, that is a place to start. I've started there with a school. It's not the easiest place to start, but it can be done if you have a really rare administrator who doesn't really care about those test scores.
So if you're working with a really rare administrator who understands fully that if you commit to arts integrated instruction, and I mean really commit, which means the teachers have professional development consistently in a way that is supporting their instruction.
They are confident in strategies. They put those strategies into place intentionally in their instruction. They have standards aligned lessons that are attacking those specific concepts that children find difficult. If you are using arts integration in that way, in the way that we teach in our certification programs, in the way that we promote in the accelerator, and if you have an administrator who's willing to say, we're gonna go all in and do that together this year as a team and we're not gonna use that standardized data in order to inform our instruction, we're just gonna focus on this, you will see results. You will. I'm not gonna say 100% because 100% is unrealistic, but I am sure to the fiber of my being that if you do it that way, you will see results and it will show up on the standardized test scores, so that don't worry about them, it'll actually fix itself. That will work.
But that is such a rare scenario. Because number one, you have to have an administrator on board that's fully understanding of that. And two, you have to have a staff on board who is willing, they're all willing to push aside their fear and their worry about those tests and focus in on using arts integration, understanding the concepts, putting them into place, and being reflective practitioners and not letting our egos get in the way of you know, failing and trying again. So what do we do instead, right? This is where the hack your bureaucracy framework comes into place. And this is what I've used this and the pastor framework is what I have used in order to circumvent some of these things. First of all, it's really important to understand what other data you capture as a school already, because you don't want something that goes over that takes additional time, right? So if you do a school climate survey, great, that's a piece of data that you can use that's different than standardized test scores. But if your school doesn't already do a school climate survey, to try to do that on top of whatever else you're doing is gonna be difficult. So look at the data that your school already collects that is not standardized testing data. It might be school climate, it might be parent surveys, it might be student surveys.
It might be looking at the formative assessments. It might be looking at benchmarks that you've put into place each quarter to have an understanding of where students are as you're prepping them for those standardized tests, right? Get an understanding of what data is currently being collected so that you know how to best attack these frameworks. Okay, so from the Hack Your Bureaucracy book. And again, the links are gonna be in the show notes. Please, please, I highly recommend you go get the book because there are strategies behind each of these six steps. So the first one is to define the problem. This first step, which is to discover what you should really be working on. This is a hidden little gem because your problem is gonna be different at your school than it is anywhere else, even though we all think the problem is standardized tests. and we all think it's the pressure coming to do well in those standardized tests, the problem in your school might actually be that your administrator buys into that, right? Or that your administrator is being held to the fire to get a 2% increase in reading and math achievement at the end of the year, or their job is up for grabs. It happens. What, or the problem could be that teachers have been so inundated with this mentality of needing to do well on those standardized tests that they are unwilling to do anything other than test prep because it's scary to do anything else. Okay, that might be the real problem. You gotta dig deep to understand in your school what is the real problem that we have to go after because here's what I can tell you. 
In my experience, when I've dug into this, it's been a couple of things. And sometimes it's not even just one. It is multiples. One, I didn't know that my administrator was being held to an accountability standard. So when she came to us in data days and said, I need everybody to commit to an increase on the standardized test scores for the end of the year.
And the third grade specialist said, well, I'm gonna commit to 1% for reading. And she was like, let's bump that to two. It was because she was being held to that standard. So knowing that is really important, okay? Because if you know that from your administrator, and then you can come to them with empathy and understanding and say, I know that this is what you're being held to.
Let's look at alternative measures in order to get us to that point. They are more receptive to being able to look at that with you because you understand the pressure that they're under. That's number one. Number two, if you are working with a mentality from people who have literally been traumatized by using or by focusing on the tests, right? Then I would use tools that help them to focus on where they're at but also start to integrate the arts. So one great thing that we have in the accelerator right now is a test prep pack. Now here's the thing. Does that feel like we're diluting arts integration? At first glance, yes, but when you actually dig into that test prep pack, you'll find that it's not because we're actually leveraging the use of visual thinking strategies to help students read, do very specific math.
problems and in order to write in a better capacity. So we've used it very, very intentionally and that test prep pack is for grades three through eight. So if it were me and I was starting with a group of teachers who were traumatized and really they're scared to try anything else because they know the importance of standardized test scores, I would start with that test prep pack. I would just say let's use this as part of our test prep, because that's feeding them some visual thinking strategies. It's getting them using creativity, but it's also delivering on the purpose that they need in that moment. I think of it like a crutch. It's a way to get them across the bridge until they get their strength back and understand that this can be used without the focus of, you know, test or prepping for the test. Okay, so define the problem first and being able to not only define the problem, but empathize and be able to start where they are. That's hugely important. Then the second step is to learn your organization. Figure out how things really work in your school and then get to know the people in that bureaucracy. So in your school that's going to be your principal. You need to start developing relationships with your principal that are that are two-way streets, right? You got to empathize with them and you have to understand where they're coming from. Even if, and I've dealt with some administrators who are really difficult, there's usually a reason. There's usually a reason because something is either breathing down their neck or they're having a rough time or something isn't going the way that they need it to and they're feeling very stressed out. There is something that's happening there.
I've also worked with amazing administrators who are, who all they want to do is support their teachers, but their teachers are nervous to come to them, right? Because they don't know their administrators on that basis. So get to know your administrator. And I guarantee you that standardized testing is not just about your administrator. There are other people involved here, right? It's your central office. It's your school board.
It's the parent community. Leverage, look at, actually look at everyone who goes into the decisions that you're required to have to work towards. So if you are required to meet those standardized tests, look at who makes that decision. And it's probably not your principal, okay? Your principal might have to hold you accountable for it.
But more likely than not, there are others in your organization that are holding you accountable to that. And so not that you're going to get rid of standardized testing, we've already talked about this, it's where the federal government places their money and until that changes, right? But you can understand how it works in your organization. And I'm going to tell you, those parent communities that are so powerful right now, they can be leveraged in this arena as well for the good.
Right? We want to leverage them for the good. Help them understand that test prep only goes so far and it's not helpful for your students. Your children deserve to have arts integrated experiences. They deserve to have project-based learning. They deserve to have this well-balanced, whole child approach to teaching. And we just don't have time for it if we're simply focusing on these tests. And what can you as parents do about that? Can you all figure out something? And I'm happy to sit and turn on that with you. That's a great way to learn more about your organization. So learning about your organization after you've defined the problem, once you understand the problem itself and you've learned your organization and you know here's who each person answers to and here's how that works, then you can pitch a solution. Then you can start to sell your ideas. So if your idea is, you know what, I want to start using arts integration because I know it's going to impact.
this. But more than that, it also introduces students to critical thinking. It allows them to not have to memorize facts, but actually apply them and learn from those situations and makes them better overall. You can then begin to sell it, but you've got to sell it to the right people. And in order to do that, you got to know your organization, right? So this is where this framework is really helpful. You can't go sell arts integration to your principal if your principal isn't the one
that's going to be actually putting that in place, right? It might be your PTA, it might be your district level office, it might be a combination, it might be your school board. Thinking about that. Also thinking about starting small and then building momentum. This is huge, right? You don't wanna eat the whole elephant at once. So when I actually did this in real time, I ended up, I learned about my organization, I went to my administrator because he actually was the one that was going to be deciding this, right? And he was the one that was gonna take the hit if our test scores didn't improve. So I went to him first, and I pitched this idea of using arts integration, but not to the whole school, to two teachers. That was it. I wanted a kindergarten teacher or a first grade teacher, somebody who was K1, 2, and then a third, fourth, or fifth grade teacher, somebody else. If I could convince two of them to pilot, using Arts Integration this year and just work with those two. Would he be okay with that? And he totally was. And for us, what actually ended up happening was that I pitched it at a team leaders meeting and our team leaders all went on board. So we actually had a little bit bigger of a pilot than I wanted originally, but it was good because we had one team leader from every grade level who was trying it and then everybody else in that grade level was free to do what they needed to do. And those team leaders were willing to take the risk with me because I had built those relationships prior. Okay, so it's really up to you, but think about starting small because once we started small, that does so many things for us. One, you're gonna run into so many challenges. You're gonna run into things that you never anticipated. You're gonna run into roadblocks or people who literally throw books at your face. Or I can tell you all of that. And I would rather you have to deal with those challenges in a very small environment than deal with it school-wide. So you learn things in this small setting. But then you also start to build momentum with this small group of change. So even if it's just one or two other people, you are starting to build the momentum together. You're learning together what works, what doesn't work. Maybe we start to use arts integration throughout the year and we shift our focus to that test prep packet somewhere around February so that we still honor the understanding that we gotta score well on these standardized tests, but we've set the groundwork throughout the year so the students are ready, right? So thinking about different ways you could approach it and doing so in a small group is so, so helpful because then you'll have data to show for long-term success. Step number four.
Five, five, yes, is to build your team. So it's a team sport to hack your bureaucracy, right? So once you've got your small group and you've seen success with that, then like in year two, you're gonna wanna build your team to go after the bigger fish to fry, right? So maybe your first year, it's the principal, but the second year, that's when you bring parents in and you start sharing with them, hey, we did this little experiment last year because we wanted to see does this work?
And it did show this kind of result with whatever data point you want to look at. And we want to expand this now, but we need your help because there is such an inundation of test prep pressure. And so we'd love for you to also see and be a part of this so that you can see and help us to talk to the school board, to work with our district level administrators to show that this is an important way to evolve teaching and learning. And then finally, make it stick. So ensure that your initiative isn't lost beyond any single person if they decide to move or change roles, right? So you wanna make sure other people are empowered with you to understand how to keep this going. So those are the steps from hack your bureaucracy, which I think are super helpful and I've used. And I think when we're talking about embedding arts integration, it's a slow process, right? But if you use these things, you will start to see small changes over time that make a big difference. Now, how would I go about doing that in a way that builds buy-in, right? There's one thing to kind of work around the red tape that's in your school. It's another thing to build buy-in with your teammates in order to get them on board with you. This is where I use something called the pastor framework. So again, this is going to be in your show notes, but I'm going to share my screen really fast so that you can see, um, the particular piece that I'm working on here. Here we go. This is from our buy-in booster, which is a, we only provide that to people who register for our certification programs, but I wanted to give you this particular framework from that booster because I think it's really helpful. So the PASTER framework is a seven step framework created by Ray Edwards. It's meant really as a way to, persuade or convince other people to buy in to what it is that you're trying to get them to do. And so the P in pastor is for person, problem, and pain. So this is by identifying the person that you're trying to reach, understanding their problem, and the pain that problem causes. Remember when I said empathizing with your administrator? That might be the person that you need to approach. Or it might be just a teammate who you want to work on arts integration with so that you can show that this actually works people. Like I can't just tell you don't focus on the test, focus on arts integration if I don't have actual real world data that we've done it. So it could be just that, could be convincing a teammate, but you gotta identify that person, the problem or the pain point. Then the A is for amplify and aspiration. So amplify the consequences of not solving that problem and identify that person's aspirations for the future.
We want to have our students do well, but we don't want to have to focus on that test all the time, right? That's an aspiration. The consequence of not doing something like this is that we're gonna still have this mentality all the time and this pressure. We don't want that, right? So amplify and aspirations is the A. S is for story, solution and system. So share the story of how the problem can be solved. It can be as simple as a description of what the solution is, so describing arts integration, or the system of how it works, of how arts integration works, or it could be, here's what I did with arts integration with my students last year, and it had such an impact, and I wanna be able to see this with other kids, and let's see if we can do this together. T is for transformation and testimony, so showcase the transformation that can happen by solving the problem. So in our case, the other way is to offer testimonials from others where that solution works. So talk about, here's how my students transformed. Here's what happened with their data. Here's what other people who have used this have seen. So that you're convincing people, it's providing them with, oh, okay, it's not just her crackerjack idea. This is actually research-based. It's proven. Other people have used it. They've seen results. The O is for offer. So now is the- the time to describe exactly what you want, what you want them to do. So in the O in your offer, it's I want us to build an arts integration system that we're using so that we know that we're teaching with arts integration several times during the year and that we're using it for that test prep so that our students are ready to go with their standardized testing. That could be your offer, whatever it is. And then R is response. So this is the final stage in when you tell people what they need to do as an immediate next step. In order for you to participate, here's what I need you to do. Just fill out this survey and let me know that you're interested, right? Or send me a note via by within one week to let me know, and I'll put you on the group list to start to investigate this process, right? So it's not hard, but it is a very sequential way to get people on your buy-in group, right? 
So here's… a pastor in action, right? So if you're looking at the screen with me, you're gonna follow along, I'm gonna read this for everybody else who's just listening. In terms of P for the person, problem, and pain, let's say that you are presenting a new arts integration initiative. And so in this email, or in this example, we're sharing an email that's introducing this to our staff, right? So P.
Person problem and pain. Hi there, classroom teachers. As you know, we've been struggling with literacy scores across all age groups since the pandemic. Okay, you've identified the people, classroom teachers. You've identified the problem and the pain, which is literacy scores since the pandemic. A is amplifying aspirations. After almost a full year, it's clear that if we do not change our strategies and approaches, students will continue to struggle to read. So you're amplifying that up and you're telling, here's what's happening. Story solution or system. Our school improvement team has researched a variety of methods and has found that arts integration can have a positive effect in this area. T for testimony or transformation. In fact, schools who are using arts integration in their literacy blocks are seeing a 10 to 15% increase in student literacy standardized test scores. And this is from data that we have from years and years and years, so this is true data.
The O for offer, we'd like to recommend implementing a pilot arts integration program for the school year. This pilot program would include one teacher per grade and the response is to indicate your interest in participating, please reply to this email no later than this Friday at 3 p.m. Looking forward to working together. So that is a framework in order to get people to buy in to at least investigate what's going on. They know exactly what it is that you're trying to promote and you're working on that together.
So it's not just forget about test scores, we're gonna focus on arts integration. This is a way to impact those test scores, right? And we're gonna do this strategically and as a group, and we're gonna learn about it together. So that's, I've done this a thousand times, and it always has really good results. You're gonna have some pushback, and you're gonna have people who are not on board, but you are gonna have people who are like, you know what, what we're doing isn't working, so let me try this and those are gonna be your champions, and those are gonna be the people that you lean on, and as you work together, you will see things change. So I hope that was helpful today and at least answered a part of your question. But like I said, I'm not the only person who's doing this or who's working on this, and certainly I am not the only expert in this area, so we will commit to having people come on and continue this conversation.
But as I said, I'd love to hear from you if you try these steps, either the six step framework of the hackier bureaucracy or that pastor framework. Both of those will be available in the show notes. Remember to go grab those today over at artsintegration.com forward slash artworks. Thank you again for joining me today and I look forward to being back with you with another guest next week.