What does it mean to be joyful and what does that actually look like for teachers? Berit Gordon, author of the book The Joyful Teacher is on today's episode to share how teachers can set goals and use practical strategies to build a more joy-filled year.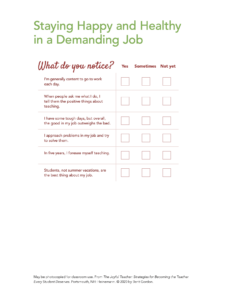 Resource Download
Enjoy this free download of Berit Gordon's Self-Reflection Tool for Teachers.
Susan 
All right, well, welcome, Berit. I'm so excited to have you on the show today.
Berit
I am so happy to join you. This is a pleasure.
Susan 
Wonderful. So for those who may not know you and your work, can you tell us a little bit about yourself and your work in general?
Berit
I am a former classroom teacher. I was in the classroom for many years, and now I get to support teachers in their essential work, which I love. But, you know, family of educators, my husband's a high school chemistry teacher, my older kids are thinking of going into education, so I'm committed to the cause. This is all I know is a lifelong journey in education.
Susan 
Oh, it's wonderful. That's wonderful. We need more people like that. So that's awesome. So I know that you've written this book, this incredible book called The Joyful Teacher. And so I'm curious what led you down the path to write this book. And if you could give us just a little bit of a summary about what it's about, that would be great.
Berit
This is the book I wish I had when I was teaching. You know, despite really having excellent training in my graduate program and I had good support in the schools where I started out, I can't tell you how many times I was flailing. You know, I had had my sixth period prep and I would go into the one single-stall bathroom and have my little mini meltdown. And I wish I could say that was just once or twice or that was just the first year, but it wasn't. And I think so, so it's really that feeling of being overwhelmed. And I know I had that and I know I eventually sort of got through, but there was really, and even now I'm still, I'm still working in classrooms.
I don't know of any other profession where people work so hard and they care so much, and yet they so rarely have that feeling of, I've got this, I've got this, I know what I'm doing, I'm doing the right thing, I'm a good teacher. And that's a rotten feeling when we are working so hard and we care so much. And so while I wrote this just before the pandemic, it feels even more relevant now because it feels like the rules of good teaching just keep shifting. And so what I really wanted to do was to create a clear pathway for teachers to feel effective because we all know about the teacher shortage and burnout. I mean that's real. These are pre-COVID statistics but even pre-COVID 40 percent of teachers leave within the first five years, 90% say burnout is a serious problem. And I think while… I am all for, really I wish I could just add a zero to every teacher paycheck, right? And make their class sizes really small and have one day just for planning. I mean, I wish I could wave my magic wand and do those things. But I think also what is keeping teachers from feeling good about their jobs and energized by their essential work is that they are so often missing that feeling of like, I've got this. I know I'm able to confront challenges in my job. I know how to strive.
strategize, and I know when what I'm doing is working. So I really, that sounds like a very lofty goal. And to be honest, I titled this book, The Joyful Teacher. If I could rewrite it, I would rewrite it to the reasonably content teacher. Joyful feels like a high bar, but.
What I do think would help teachers a lot is if, you know, that feeling of I'm working hard and it's working. And so I think a lot of feeling good at our work is really being good at our work. And so, so the Joyful Teacher is a best hits album of teaching strategies. They are current, they're research backed, they're proven. I did not invent all of these strategies. In fact, almost none of them. It's like a best hits album curated from all these phenomenal PD resources out in the world. But these are really proven strategies to help us confront our challenges or to meet our instructional goals. But the other so it's not a it's not a cover to cover read. Who has the time, right?
Teachers have no time. They need something right away that they can just dip into, put a sticky note on, aren't I going to try that strategy? But the other part of this being a book of teaching strategies that teachers can dip into.
is that it's organized by teaching goals. And that part is really important because when I think about what I learned, worked with my students, because when I worked with students, right, no one needed the same thing at the same time. I think it was a very heterogeneous group and we hear about differentiation all the time, which is really just giving each student what they need to get a bit better and to feel successful. And so I find we don't often give teachers of being able to choose and differentiate what they need. And so the goals are organized in a progression, meaning that…
You should choose the goal that works for you, and you should really only try to get good at one goal at a time, because that's what's realistic, and that's what sets us up for success. But it's also organized so that the goals build on one another. And that's part of what I think would have helped me so much as a teacher when I was flailing, was to know that if you don't have certain goals or certain foundations in place, it's almost like hitting your head against a wall. Like you're just gonna feel frustrated to get, for instance, students to work together while in groups, but you haven't first nurtured relationships so that they trust one another, or you haven't addressed routines of talk and group work.
or you haven't addressed the goal of student independence, which means that I can send you off to work in groups, and even if you're not the group that I'm sitting with, you're still on task. And so no one goal in the book is more sophisticated or more important than one another, but again, it's the idea of helping teachers feel good by being good, by helping them choose the goal that's right for them, and then they build on that success.
Susan
I love that because, and I will tell you, as I read this book, I remembered when I was, I had not my first couple of years, my first couple of years as a teacher were really great. I mean, I was super supported. I was in a great school. It wasn't until I hit year four where I had switched to a different school that I remember being like being there after school and literally crying my eyes out, feeling so lonely and feeling like, there's something wrong here and I don't know what it is. And what your book has done for me as I read it, I was thinking, this is like having a personal coach in your backpack. This is like somebody telling you, okay, you're doing fine. Let's pick one area and let's think about what's the area that would be most effective for you right now so that you don't have to take care of all of it at once. It's so, so helpful, especially the way that you outline those goals. So,
For you, what does it look like to be a joyful teacher? Like if we could envision that, what are some landmarks that stand out to you?
Berit 
And joyful teacher would mean that we are not operating on the deficit model, right? We would never say to a student coming in who say performing below grade level, like, oh, you're so dumb. You aren't doing any of these things. Like you just have to start reading and writing at grade level, chop chop, right? We would never do that. And yet so often we put those expectations on teachers who are, right, you know, struggling in one or more areas and it's not realistic. So joy would mean for me, like helping them first identify, what do you have in place? That's what I learned, worked with my students that helped my students want to engage, want to get better, was to first note like what do you have? What's your foundation? And then what's one way that we can get better? And letting them have a voice and choosing that and determining that goal. And so first not working on the deficit model and again I think Joy, again maybe bit of a high bar, but that feeling of I want to come into work, students I say I'm so happy to see you and I mean it because I'm not out in the parking lot giving myself a pep talk to walk into the building because I'm depleted, I'm exhausted. And it was fascinating to me to learn about burnout is not so much a result of, oh, you're working so hard, therefore you're burnt out. It turns out you can work tremendously hard and be thriving and energized. Burnout often happens when you're working really hard, but you don't see an impact from that hard work.
And so I think again, just making that pathway clear to saying, here's one goal we're going to focus on, and here are some research back strategies that will help you move incrementally toward that goal. And here are some indicators, right, to help you see when you've made some progress so you can pat yourself on the back and you'll feel energized to want to try another strategy. But yeah, that would be that I would love to eliminate those pep talks in the parking lot, which is what…
Susan
Yeah. Right? So that rather than sitting in our cars dreading going in, we actually are excited to open the door and see each other out in the parking lot and say hello.
Berit 
Yes, yeah, to like coming in and then to have that energy, that bandwidth to want to improve in one area instead of, and I think so often, you know, we probably see those teachers who we, you know, label is toxic or, you know, they've checked out. But I think every teacher starts with incredibly good intentions and a phenomenal amount of care for kids. But I think that gets squashed when again, we're unclear how to get better. And so we kind of check out, or we blame the kids, or we blame the system. So helping teachers feel like, no, it's doable. I can try these things and I'm gonna feel an impact.
Susan 
Yeah, absolutely. And, you know, the author James Clear talks about, who wrote the, I think he wrote the book, Atomic Habits, he talks about getting 1% better every day. Just 1%. And if you can add those 1% up over time, you can see a significant shift, right? But we're so inundated with this whole idea of make the leap that we don't give ourselves the opportunity to make the 1% shift. And I think that's what your book allows us to do. You give us permission to say it's okay to not change everything today. And you're kind of like that administrator that we all wanted to have. Like this book is kind of like that administrator that you want to come in the room and coach you a little bit and not judge you and to be there for you and say, just this small little tweak will help in this direction. And so many administrators that I know would love to do that. They just can't, they're overburdened as well, right? So I think I can't recommend this book enough to teachers who are seeking out that kind of support because you offer that to them in these small individual chunks. Now I do want to ask a question about the goals that are in here because you've identified these strategies in alignment with these kinds of goals that we can set for ourselves, kind of like an individual IEP plan, right, for each of us as our PD plan is not in alignment with the PD that the administration has decided that year that we're gonna focus on. What happens then?
Berit
Right, and that's where, again, I think administrators can feel defeated, teachers can feel defeated when there's sort of one blanket goal. And I know, again, that happened to me one of my first years teaching in a big public New York City high school. I think…I think the goal of the year, one year was higher order thinking questions and another year it was group work. And I tried valiantly to get my kids to work well in groups, right? And it was a hot mess. Every table was like a different dysfunctional Thanksgiving dinner. Like no one was talking to each other, they were passive aggressive, you know, they were like people leaving the table, right? I had set myself up with some foundational goals before that, I might have had success with that school-wide goal.
And I agree with you, you know, administrators also are coming from a good place. Like they look at the data and they say, okay, our kids are struggling in this area. Everyone needs to do X. But again, teachers are just like a group of students. They're not a homogenous group who everyone benefits from the same thing at the same time. And so I like to think of really high impact teaching like a ladder, right? We're all trying to get to that top rung, but we're on different rungs at different times.
So that school-wide goal or that PD plan might be, you know, that top rung on the ladder. But some of us might need support with a different rung on the ladder at a different time before we're gonna feel success there. And so, you know, I benefited from phenomenal support in some of my first year's teaching, and I had a coach come into my classroom every week. And I gotta be honest, at the time, I did not love it. I mean, I was, you know, I literally felt under a microscope, but I got that totally individualized support meeting me
I love that 1%, right? We could just help teachers stay in teaching over the course of a long teaching career. If they did 1%, they would be phenomenal.
Susan 
Ugh. Yes.
Berit
And so I think a lot of what administrators could consider, and this book is a great tool. I work with a lot of coaches who are using this and administrators who really see themselves as instructional leaders. They're using this. So they might have a goal. Let's say that goal is feedback. We know feedback stands to have a tremendous impact on student growth. When we're using feedback well, it has to be the right kind of feedback. If it's high quality feedback, we stand to get a year and a half to two years worth of growth in one academic year. And so that's a wonderful goal to look at. But again, if they're not yet, let's say, just working independently, so I could have that as a school-wide goal or district goal, right? Feedback, how to do it well, how to provide it, how to make sure I'm consistent and keeping records of my feedback.
But I can't really get to that goal if students are not yet working independently and producing some work. I don't have anything to give feedback on. I'm just sort of managing them. And I'm exhausted by directing and redirecting students and sort of coaxing and bribing and threatening them to stay on task. But those students are really struggling with that. They don't have the stamina or the motivation yet. And so if I could first look at that goal of independent practice, how do I send them off to practice the work that I'm telling them to do, whether it's a self-portrait or science problems or math problems or putting pen to paper or eyes to print. How can I first just build that stamina so I even have also the time and space to give immediate feedback in my class? And I know I can sit with you and I can give you some feedback on your work, and everyone around me is still on task. So that's one way that this book can be a really helpful tool for instructional leaders use the checklist for every goal. The beginning of every goal, there's a self-assessment checklist. And I see coaches sit down or PLCs, they'll sit down and they'll do the checklist. They'll help teachers identify the first goal where they're checking like sometimes or not yet for a few items in the checklist. And they'll say, okay, that's a good goal for you to start. And well, our PD plan might be feedback.
Let's first start you off at this goal. Maybe it's all around just getting routines established in your classroom, right? And, but then when we see some progress and we feel like that goal is being met, then we can take on another goal. I wanna get you all to feedback, but you might be starting with a different goal. It's not a mark on who you are as a teacher or how successful you are.
Susan
Yeah, and I love this, the self-assessment reflection, that it is the teacher who's selecting and identifying the area where they want to focus rather than having it be directed to them, which is so important. So you've talked about the checklist at the beginning of each chapter. Can you tell me a couple of your favorite strategies that you feel make the biggest impact?
Berit
Well, to be honest, there are so many, there are a hundred strategies in the book, and then of course there's references to like 300 more, right? But I'm gonna share with you just a couple that I think might help teachers, especially now at the beginning of the year. And I'll share, I'll share a couple from the very first chapter, which is how to stay happy and healthy in a demanding job. That's a foundational goal, right? That's not a selfish goal. It is so that you stick around and that you do have that energy to get better at all of the other things. But a couple really like just quick ones. One is the Pomodoro technique, which is when you're feeling overwhelmed with everything that you have to get done because that to-do list is just suffocating at times think about not multitasking. Choose one thing that you're going to work on. Set a little digital timer for 25 minutes. Try to do nothing but that one task, whether it's grading papers or lesson planning or maybe it's just like cleaning out your fridge, right? And when the 25 minutes are up, you take a five-minute break to let your mind kind of reset and take a breather because it's really hard to stay productive longer than that 25 minutes. But I love this one. I have a digital here, no one can see this, but I have mine right here. I use this all the time when I'm feeling overwhelmed with my to-do stuff and then very often the timer goes off and I'm like, oh, I actually got so much done. And another one from that chapter just quickly is, you know, happy file. I think most teachers have some little folder where they're sticking things that, you know, especially if you teach younger students, you probably get those little notes and cards. Sometimes when you teach older students though, you don't get so many of those is just taking note of those little things that happen across your day. Whether it's an actual artifact or even just a moment where a really shy student, you know, gives you that tooth-bearing smile or, you know, something positive happens in your class or even something funny that they say.
You know, anything that they say that just kind of cracks you up, jot it down, stick it in your happy file. You know, when you get your observation feedback, you know, cut off all the… Administrators don't listen to this, like, cut off all the suggestions, keep the positive, right? Because we just glance over that, laminate that, stick it in your happy file. But the other reason for that is that it does shift your lens. I'm not the most, like, happy-go-lucky person. It's not in my nature, unfortunately.
Make a point of looking for those positive moments when I'm feeling overwhelmed and defeated, it does. I start noticing them more. It builds on itself. And then when I tell students, like, oh, I was telling my family last night at this funny thing you said, it's contagious. They're like, wait, you talked about us last night at dinner? Like, you delighted in us? And it builds on itself. So those are just a couple from that chapter, but a couple more. One is classroom environment to teachers about environment and research shows, high impact classrooms, it's not about having a Pinterest worthy classroom. If you do it, great, but it's really about having a space where students feel ownership and it's a shared space. They feel welcome, they feel honored, they feel valued. And so if teachers right now are making themselves nuts with like a hot glue gun and making more bulletin boards, like, you know, one of the things they've noticed research shows about impact classrooms is that actually 80% of what is on the walls was created by students.
It just immediately says what we value. And it also, frankly, saves teachers from spending all that time on bulletin boards, where when students intuit that bulletin boards are made by adults, they tend to feel that it's also for adults. So simply framing a space and letting students know that's under construction and they are going to fill that space. I work with a teacher who has a board and just says, marvelous mistakes, because she wants to show that we learn through mistakes and failure.
I work with another teacher, you know, and it says it's like Miss Gordon's fridge and it's just where students post work they're proud of even if it's not graded work. But teachers don't have to fill every part of their room. There can be blank resting spots for now that students know they'll fill. And then
One last one that I'll mention, because again, I know we're sort of starting the year, is there's a strategy in there about Say My Name. And again, tremendous impact to get students' names right early on. So there are some ways to do that. There are great tools online. And I know teachers work on this, but you can't underestimate the value of helping students know you care. And one of the best ways is to get their names right. And so if you get to a name like Michael, is it Mike or Michael? And they say, oh, it doesn't matter. Nudge them. No, no, no. What does your family call you?
And then making sure everyone in the class has everyone else's name right. So there are a lot of strategies in there like that. Quick, some of them might feel like, okay, I've got this, but there are a lot of ways to differentiate for grade level, there are a lot of ways to build on those strategies, and there are a lot that you can really sink your teeth into, even for those veteran teachers out there. So I hope people will check it out and put a couple sticky notes on a strategy that they feel might up, their classroom just a little bit.
Susan 
Yeah, I'm so glad that you talked about the not needing to be a Pinterest ready classroom and that it can be under construction, especially now. I think teachers compare their rooms so much to each other and the research is just really, really clear that it's not about what you put up on the walls, it's about making that classroom feel that ownership. And I also love that idea around the names and getting names right.
And one way I used to do that was if there were names that I was not sure I couldn't pronounce correctly on that first day, I would oftentimes skip over them when I was calling roll. And then I would just simply ask, who did I miss? And that way they could just tell me their name and it wasn't that embarrassing. Like if I muddle up your name, that makes you feel embarrassed, it makes me embarrassed. And it allows that ownership for teachers. So very similar to the many of the strategies that you share in there.
Berit
I love that and I just want to point out this is what I love about these strategies though when we're talking about Building a culture. This is what happens I'll be in a PLC with teachers and we'll talk about a strategy and even though there's a whole bunch of ways to modify it In the book teachers will share out tips like that and then everyone's like writing it down So it gives this forum for us to share the things because you know teachers are boots on the ground They are experts in so many things and when we share this it's like right? Like when we share this, we're boosting the culture of our school. So I just jotted down what you just shared.
Susan 
Yeah, no, and it's something simple. And that's the other thing, you're right. When teachers share these strategies, they're not hard. They're not something that's convoluted. It's just a simple little tweak that will often make such a big difference. Again, that 1% difference. So my last question for you is really, because we are an arts-based organization, so I'm curious as to how the arts could play a role in helping to develop more joyful teachers.
Berit
One of the things that I talk to teachers about is whether or not they have a hobby that has clear results because again I'm a lifelong educator and I love teaching but there are not a lot of immediate results even in high impact teaching. Sometimes it's muddy, sometimes it's vague, sometimes there's a big time lapse and you know you'll get those letters from a student years later and will never be the student you predict. And they'll say you know Ms
in my life. But there's not always that day-to-day, you know, clear result. And I'm so fascinated by the research around creative hobbies and in particular hobbies where we work with our hands, anything where there's that hand, you know, whether it's clay or weaving or looming or painting, anything. But I really do think having those hobbies as places, and I don't know if hobby is the right word, but something where you do see clear results, where you do get to exercise, that part of your mind and I think we can bring that into the classroom too about nurturing ourselves and that really wonderful way through the arts and that's a great role model for students too who we're all I mean myself included right the device is a horrible and you know addiction and how to actually sort of you know sometimes silence that device and find things that really feed us is so important.
Susan 
Yeah, absolutely. And we talked a little bit before we got on camera about the idea of even being a part of a choir, that just that idea of everybody taking a breath at the same time and doing something collectively, it fills you in a way that maybe something scrolling is not going to. So I love that idea of finding something that would be your creative niche and exploring that just for yourself and then you'll find ways to bring it into the classroom. That's fantastic.
So where can people find you and stay in touch and be able to follow your work?
Berit 
I love to stay in touch with people. People have strategies to share, or they wanna hear more about these strategies, or the checklist, or goals, or how to use it with colleagues, or with their teachers or coaches. I hope they'll reach out. My website is my name, B-E-R-I-T, Gordon, BeritGordon.com. I also have a Facebook group called The Joyful Teacher, and right now there's about 1,500 teachers on there, and sometimes people will pose problems.
And again, we sort of crowd-source solutions, which I love. So people can also join the Facebook group, The Joyful Teacher, if they want. And I hope people will continue the dialogue with me. I love it. I love getting to work in schools. I love getting to help teachers. But being even offline is, you know, or being online, sorry, is a great way to keep the dialogue going.
Susan 
Fantastic. Well, we will make sure to put those links in the show notes so that everybody can find you and join that group. So because I think we could all use a little bit more joy and colleagues this year as the support. Any support would be helpful, I think. So thank you so much for joining me today, Berit. It was a joy to be with you.
Berit
Likewise, Susan, thanks so much for having me.