Did you know that stress is a cycle and not a state of being? Strange, but true. In this interview with Amelia Nagoski, co-author of the book Burnout: Completing the Stress Cycle, we explore why teachers experience burnout more than most people and how to complete a stress cycle so we can avoid burnout in the first place.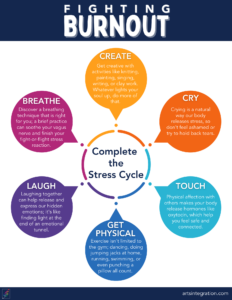 Resource Download
Enjoy this free download of the Fighting Burnout resource.
Susan Riley:
So welcome, Amelia. If you could just tell us a little bit about yourself and your work. as well as what led you to write such an amazing book like Burnout.
Amelia:
Uh, my name is Amelia Nagoski. I have an identical twin sister who's more famous than me, who is Emily Negosky, PhD. She is co-author of the New York Times best-selling, Come As You Are, The Surprising New Science That Will Transform Your Sex Life. And, um, yeah, my sister's a sex scientist. Um, and I- I came to write a book about burnout because I needed- I needed a book to help me with my burnout… and there wasn't one that actually answered all the questions that I had, so I went and I got all the re- well, what happened was this. I was in doctoral school and I was getting my doctorate of musical arts in conducting and hey, I don't know if anybody knows this, but conducting is like a really male-dominated field. Indeed, classical music in general is very male-domin- include the music industry in general is very male-dominated… especially classical music, especially academia, white, male, neurotypical, like it's really rigidly confined to a very specific kind of person is the one who gets access to power. So trying to be a conductor when I didn't look like what a conductor should look like was hard. I was… I ended up in the hospital twice during my doctorate. And… Luckily my sister had just, you know, been writing Come As You Are and she had this like half a chapter in it about managing stress and feelings because it turns out that the number one indicator of a woman's sexual well-being is her overall well-being. So she had women coming up to her after she would come do talks and they would say Emily, thank you for this book. Uh, The Sex Science is great. Yeah. Thank you for that. But you know, it's that it's that one thing about stress and managing your feelings, that's the thing that really helped me. And I, having by this time when we had this conversation, I had started recovering from burnout. I said to her, yeah, that doesn't surprise me at all. Because number one, I had classical music training, conservatory style training. So I knew that it was a learned skill. Because in that kind of musical performance training, you learn how to feel and express your emotions. for the purpose of performance. What I did not learn was that this was a skill that was transferable to like, you know, being alive every day. And when I did learn that skill, that's what saved my life twice in doctoral school. And Emily said, we should write a book about that. So that's burnout.
We wrote it for me.
Susan Riley:
And I can't tell you how many people I'm sure it has saved. I know it has saved me. Every time I get to the point where I know I'm in burnout stage, and even sometimes right before, I know that I'm heading to that cliff, I'm pulling out your book and I'm already reading, I'm like, I'm right here in this stress cycle and I'm not letting go of this yet, and I need to get all the way through the cycle in order for me to process this. I know this.
Amelia:
That's amazing if you can recognize it before it gets to be like painful.
Susan Riley:
But it takes a while, right? And like my team will recognize it in me probably before I do, but if I can recognize where before I hit the cliff, that's so important. I wanna dive into this idea of your musical background a little bit because you and I both graduated from Westminster Choir College, right? And many people, so we are familiar with that very small community, a conservatory, the professional idea that surrounds that beautiful organization and institution that many other people are not aware of.
I'm interested in your experience, because I know for me in mine, in my undergrad, particularly in the conducting studies that I had to do, there was this this feeling like I needed to put my vulnerability on display as a part, as a sacrifice almost in order to get the sound out of the choir that I was working with. And I find that actually translated a lot to my teaching as well, that I felt like I needed to sacrifice myself on the altar of my students in order for me to be a great teacher. So I'm curious how your experience in the conducting, in learning how to become a wonderful conductor, if that was mirrored in that way, or if that led to part of the burnout that you experienced.
Amelia:
In the short term while I was doing it, it literally like ripped me apart. It was some of the most painful time of my life emotionally. I was coming out of being a public school teacher. I'd been teaching for five years. Then I went back to grad school. I was burnt out from teaching and I came to grad school and all of a sudden I was being asked to be vulnerable, to share my emotions and I was like. Okay, I'm already bleeding from a lot of wounds, and now you're telling me to purposely open up some more. And I was like, you can't ask this of a wounded person. This is something you ask of a whole and healed person.
So, I have always felt that it was true that I learned how to be a person on the podium long before I learned how to do it in real life. Because everything I learned… about how to be a great conductor was about learning how to exist in my own humanity authentically and unapologetically. And I felt like it was a safe place to be vulnerable because I was doing it in service of the music, because it was in service of the choir and the community of composer, conductor. ensemble audience that exists there in that are the people who are working together to create a performance That always felt safe and I kind of picked it up I mean it was slow and hard to learn and painful, but it was one of the most valuable things I learned long term after the wounds healed I still kept the skill and it when I started sort of reading the science about burnout and healing, especially from trauma. The skill I had learned in how to turn toward difficult feelings, like when you conduct music that is about painful loss, mourning, grief, sadness, fear, you have to have access to that in yourself. And I found that I… was really reluctant to go to those places because they hurt. And Westminster required me to do that. It said, this is what it takes. And being able to turn toward my difficult feelings, not just for the purpose of creating a performance and connecting to a community, but just because I deserve to feel my feelings, because my feelings are worthy, that was maybe the most valuable thing I learned at Westminster.
Susan Riley:
Yeah, yeah, and it's so true. And I think it's a wonderful way that you were able to tap into that as a grad student. I sometimes think that as an undergrad, I wasn't yet ready. You know what I mean? Like when you're 20, 21, that's really, really difficult. And then to…
Amelia:
Oh yeah. I was an undergraduate conducting student too, back in the 90s and um. I knew there was something that I wasn't doing. And I had a conducting teacher who was also a graduate of Westminster, who talked about like authenticity and vulnerability. And I was, first of all, 19, 20 years old and also like an undiagnosed autistic person. Like, I didn't know what feelings were. I didn't quite even believe that emotions were real. I sort of thought maybe people were faking them.
Like just to be dramatic or to do what people do on TV. And it turns out they are completely real. That's real and true and valid. But no, in adolescence, everything's still so difficult. And it is the rare bird who is growing up with enough self-awareness that in their 20s, they're able to turn. Maybe it's more common than I think, because of my family history. And if you had like a Oh, really? One of those families who, like, when you start to cry, they just stop everything they're doing and they ask you what's wrong and they encourage you to feel your feelings. And maybe, maybe if you come from one of those families, you might be ready to do
But honestly, even if you lived in the mo- with the most loving, supportive family in the world in your childhood, you still existed inside a world where vulnerability is punished, where pain is seen as weakness, grief is seen as… you know, you don't have enough strength to withstand this challenge and you're supposed to be an island and connection is because you're not good enough to do it on your own. Like, you still live in that society and get overwhelmingly those messages from, like, every media source. So even if you had the best possible, you know, most supportive, positive family environment growing up, you're still gonna get these messages and- and I'm just not sure how anybody who is in their undergraduate years would be able to- to find that.
Susan Riley:
Oh my gosh, it was, well, and I think you're absolutely right. Like if, and I think there was two dichotomies. You could either, for me, you could either try, really try to go there and either tap into it a little bit or fake it, or you could push it down and just kind of keep pushing it down until it explodes somewhere else in your life. And I think for me, that's where, that's where I see burnout happening and I see it happening in so many educators that I work with. that we just kind of swallow it and say, you know what, I don't have time to deal with it right now. I have all of these other priorities. So
I know that you were a teacher prior to this, so, and so you have firsthand experience with what that's like. Can we like dig into this idea of burnout itself, get behind the science of it, and especially as educators? How can we How can we start to recognize those signs of burnout and what do we need to do next?
Amelia:
Yeah, it starts exactly what you were just talking about with the… It starts with the sense of like, well, I don't have time to have feelings about this, so I'm just gonna ignore it and hopefully it'll go away. And I'll deal with the problem itself and just pretend that I don't have any feelings about it. Because you A, don't have time, B, are being told that there's no place for that in your professional whatever, C, you're being told that you don't deserve… to feel bad about the work you do. Well, you only work nine months a year, kind of bullshit. And they like, teachers are just glorified babysitters. And for like five minutes during the pandemic, you know, Shonda Rhimes wanted to pay teachers a million dollars, but like, where did that go? Like, now we're back to taking teachers for granted again and just not really giving as much. honor to the profession, largely because teaching has originated from being women's work.
And it really was just like the bare minimum thing. We need some woman to teach the village school children to read and sew and maybe do some music or speak, you know, French. And that's it. That was like a pretty advanced education and it was women's work. And with the creation capitalistic system based on a working day that we imposed upon children, teaching itself remained women's work, just like nursing remained women's work. So even if you are a man in teaching, you still get treated in this, like, based on a kind of a misogynistic paradigm. And so in that way, the oppression felt by teachers is… fully the oppression of misogyny, of the patriarchy saying, you are a kind of person who is not worthy of complaint, of any resources for yourself. You are only supposed to give and we are entitled, we, the community, the nation, your neighborhood, your students, their parents, are entitled to your blood and sweat and tears and for you, yes, to sacrifice yourself on the altar of other people's convenience and to give until you have nothing left. Your role as a teacher is to be squeezed like a toothpaste until you are empty and then thrown away.
Yeah, that's where burnout starts. It's this pattern of unmeetable goals and unceasing demands. Because you have unmeetable goals that you're constantly striving towards. constantly frustrated because you can't achieve them because they're unbeatable. And unceasing demands, it's just a constant onslaught. These factors mean that you feel stuck all the time. It's unrelenting and you never get to oscillate to a different physiological or psychological state. And in the book, we define wellness, not as a state of mind, wellness is not a state of being. Wellness is the freedom to oscillate. through all the cycles of being human. So from effort to rest, from work to relaxation, from autonomy to connection, from sleeping to waking, eating to digesting. Like your existence is made of cycles, right? Diastolic and systolic and inhalation and exhalation, you are made of cycles. And stress is supposed to be a cycle, it's supposed to come and go, usually in a matter of 10 minutes, right? That's how long it takes to escape a lion or get eaten by one. That's what our body was designed to do with stress. But when you are a teacher existing in a world that is anti-teacher in the most, I mean, violent ways, teachers are now literally expected to lay down their lives for their students.
So it is truly a matter of life and death survival for teachers. But it's also a matter of the constant ongoing belittlement. and lost some sense of meaning and requirements that are arbitrary, rules that are set by people who have never stepped foot in a classroom, much less gotten a degree in education, much less had experience working with large groups of students in a public school, like… All these frustrations add up, add up, means that you are never able to escape the lion. The lion is always there. It's a little tiny lion every day that keeps chomping bites out of you, and you never get to escape. And that's how burnout happens, because you get stuck. Stress is an emotion, and as my sister says in all of her TED Talks, emotions are tunnels. You need to make your way through the darkness to get to the light at the end. And when you are… When you're a teacher, it's not a tunnel, you're like stuck in a cave. And you maybe can see the light at the end, but a lot of times it gets real dark and you're like, oh my god, is there even a tunnel? Is there even a way out anymore?
Susan Riley:
And I think, you know, this idea that stress ends up becoming a state of being instead of a cycle that we move through is powerful. I mean, that was one of the huge takeaways for me is that I didn't even know that I was living in a state of stress, that this was my state of being until after I read your book, I ended up going to my doctor and checking all of my… blood, you know, just doing a blood check and doing all of my levels. My cortisol levels were through the roof. My adrenals were a mess. And he was like, how are you living? How are you surviving? Cause you can't possibly be striving at this point. So how are you even surviving at this level? And I was thinking, gosh, I am not even in a classroom anymore. I can't imagine what the levels are for people who have to live this on a constant daily basis. So my question is. You talk about this stress cycle in the book. So can you elaborate for our listeners, what is the stress cycle and what does it look like to fully release and get through a whole cycle for the stress cycle?
Amelia:
Yeah, to make it make sense you need to remember that this all happened in the environment of evolutionary adaptiveness, you know? There were no humans when this cycle created, like we share this with most mammals.
So if you imagine like a little, you know, proto-you down by the river getting some water, and then you're just having a great day, slyly moving along, and then you look around and There is an explosion of chemical changes inside your body. All emotions are physiological cycles. They're changes that take place in your body. Stress is a change that takes place in your body. This was a huge lesson for me. Stress is not an idea. Oh, I'm stressed. Stress is a physiological cycle. As you said, cortisol, adrenaline, glucocorticoids, this flood of electrical signals and chemical changes alters… every system in your body. You're definitely going to feel your heart rate change, your breathing change. You might feel your skin tingle or get sweaty or greasy. These are all physiological changes related to the stress response that you can sense above the level of conscious awareness, but below the level of conscious awareness, everything is changing. Your immune system, like you can't feel your immune system, right? Unless something is very wrong. But basically your immune system takes some energy all the time and when the lion is coming the stress response Let's the immune system know hey, hey let's not worry about malaria right now because there's a lion and we need to prioritize and Your Reproductive system you generally can't consciously be aware of your reproductive system, but it takes a lot of energy, even if it's not like actively making babies, just existing and like preparing for that. Reproductive system takes a ton of energy, so when your reproductive system feels this flood of electrical signals and chemicals, it says, oh, message received, I'm gonna take a back seat right now and not work as hard, I'm gonna give you all the energy. So there's stuff happening below the level of conscious awareness that you definitely don't want to be happening. all the time. So what happens is you've got all these messages and this happens in moments, definitely less than a minute. You can feel this huge surge of changes through your whole body and it's preparing you to fight or flee. It's just preparing you to save your life from the lion. And so you run. Sometimes even before you would have decided or thought about it, your body is already running because it has knowledge and wisdom of its own. and it comes in the form of these, you know, adrenaline and cortisol. That stuff is really good for making your body move fast, for saving all of the energy for your muscles so that you can, you know, run and jump and leap and climb and hide in the cleft of the rock. And then you look out and you are hidden and, whoo, again, five minutes, 10 minutes. And then you use up all of those changes through your escape and when you look out. and you see the lion has given up and it's walking away. It's like, mm, get the, that's my grumpy lion voice. It was probably not useful, whatever. But the lion is grumpy and walking away and you are safe. You use the physiological stress response in order to save yourself in a life or death situation from the thing that initiated that stress response, the lion. And so that… moment could feel joyous and celebratory and amazing and look how blue the sky is, how bright the sun shines, and I want to go jump up and down and hug my friends and family and tell everybody this story about it. Or it might feel kind of like a unified one with everything, sort of awestruck, quiet peace. But it definitely feels like safety.
It feels like you're ready for the next thing. You are settled. Well, not necessarily settled. You might be like, woohoo! But you feel safe and like it's OK to move on to the next thing. And unfortunately, that's not the kind of stress that teachers experience. It's, well, rarely.
Susan Riley:
Right.
Amelia:
Definitely happens.
Susan Riley:
Maybe when you have the administrator come in for the review, you know what
Amelia:
Yeah,
Susan Riley:
I mean, for an observation.
Amelia:
I was thinking like AR-15s, but that is also true. Like sometimes it's a literal fucking lie and I'm sorry, can I swear? That's, it's a literal fucking life or death threat.
And that's something that teachers are just meant to expect. Now, you know what? Sometimes there's gonna be a shooter in your school. So like, let's have a drill and make sure you know what to do when that happens. And when you die for your students with your body torn up by an AR-15, like. We'll all mourn you and the nation will feel sad and do nothing.
So enjoy that teachers. Enjoy that complete and utter existential dread every day.
Susan Riley:
So how can we move through that?
Amelia:
Okay. So what we need to do to fix this is to recognize that… that fight or flight that we experience… over and over every day. Each one is supposed to be its own little 10 minute thing that has a beginning where you get the flood and then a middle where you run or fight and then an end where you return to baseline because you completed the stress response cycle, you solved the problem by using the physiological cycle that exists in order to solve that problem. Now… The problems can't be fought or fleed from in a physiological, basic, bodily way. Um, now we have to smile and vote and be friendly to people and be patient with people. This is a necessary and good thing for society. The fact that we swallow the rage?
We swallow the rage. We swallow the fear and we ignore it and we act like everything's fine because we are teachers and we are in charge And we have to let our students know that they are safe. We want them to feel like they are safe, even if we know They are not safe We need to give them a feeling of safety, which means we take our own fear and we stuff it deep down inside Which means that when that physiological stress response happens we ignore it. We use our amazing like frontal lobe to think our way through problems instead of using our brain stem like Deep ancient lizard brain parts not really lizard brain. That's just a saying but you know what I mean We use that old like fire flight response kind of subconscious Then we just let those chemicals be released into our body and make those physiological changes and on our face Is a gentle calming smile. We're gonna be fine It's what firefighters do. They're scared, their life is in danger, but they're coming in and they're telling you, everything's gonna be okay.
We've got you protected. It's heroic. It's what a hero has to do in a crisis. But that doesn't mean the hero doesn't pay for it in another way. So my point is that we can no longer escape our stressors by using the stress response. That means we have to deal with… the stress response in our bodies in a separate process than the one we use to deal with the thing that initiates our stress response. So the stress response happens in our bodies because something came along and stressed us out. We deal with a stressor in our calm, polite, you know, post-industrial revolution way, in our technological society way, in our customer service way, and then… We have to go find a way to tell our bodies that they are safe. We have to complete the stress response cycle in a separate process. And the good news is there's like a zillion, gajillion ways to do that.
Susan Riley:
So give us some examples because the one thing I'll tell you what teachers don't want to hear anymore is go get yourself a bubble bath or you know
Amelia:
Yes, because it's not evidence-based, it doesn't work.
Susan Riley:
Right, right, right. So what are some ways there's there are tons of options but give us some specific examples.
Amelia:
Yeah, some of the ones that are evidence-based are, of course, physical activity at a population level. I mean, you're… the lion is coming. What do you do? You fight or you flee? Mostly you flee. So, like, if your principal comes to watch you do his observation that day, I'm assuming that the principal's a he, just because in my experience they always have been. I know there are exceptions, but, like, not in my life. Anyway, so… you have that physiological stress response of like, I hope I don't get fired because he sees something he doesn't like or whatever, then you are a good teacher and you stay calm and friendly and warm and loving towards your students even though inside you feel like your heart is racing and your breath is so high and you um and uh that means that later in the day you go for a run because when the lion comes what do you do? You run. People who are natural exercisers listen to this and go, yeah, man, when I get back from the gym, I'm just like, it's like the whole world has been lifted off my shoulders. Like, good for them.
My identical twin sister, who was raised in the same household with me, is one of those people.
And people just vary. So for some people that just isn't true. It doesn't work like that. Or even if you are a natural exercise and you're like, yeah, exercise, it makes me feel so much better. If you are a woman and you're going for a walk and this is gonna be like, I'm gonna, I'm gonna tell my body that it is capable of moving me from danger to safety, woohoo! And you're out on your walk and you get catcalled and that feels like danger. potential danger and your body responds with the stress response, because of course it does. And now, this walk that was supposed to be helping you manage your stress is now a source of stress. And you have to start all over again. So it's just not that simple. There are also reasons that a person might have physical disabilities that prevent them from accessing the kind of movement… that would tell their body it's capable of moving them from danger to safety. So it's a good thing there's like so many other things. So if you feel like you've been told your whole life, you should exercise to manage your stress and you're like, but I've tried that and it didn't work? Well, of course not. It's because some, it just doesn't work for some people. And there's lots of circumstances where that might not be true. So some of the other concrete, specific, evidence-based things you can do to complete the stress response cycle independent. of dealing with the thing that caused that stress response is sleep, a good night's sleep. And I know this is another thing that teachers do not get. But it is true that your body physically relaxes, your muscles heal during sleep, but also your brain heals. It literally expands and contracts in your skull overnight, and it squeezes like a sponge all of the like, You know when there's a chemical reaction, sometimes there's like leftovers and your brain is just chemical reactions all day every day. And so the leftovers get squeezed out from your brain like a sponge overnight. That kind of, it's literal detoxification, not Gwyneth Paltrow detoxification, but like actual medical detoxification. From your brain, you need that happens during sleep and you need that otherwise you're going to have like, ugh. all in your body and not flushed out and that is going to make you sick. But also when you dream, there's so many things that are great about sleep and this is the one that I enjoy the most. In your dreams during REM sleep, your brain is practicing things that you learned the previous day. There's that famous study about Tetris. People play Tetris all day and they dream about Tetris that night. They wake up, they're… better at Tetris the next morning, not because they practiced all night because they dreamed about it and their brain practiced. And it's not just doing like the stuff you learned that day, your brain is also practicing past situations of stress. So like a time that initiated a stress response cycle, you might dream about that time or a version of that time or a version of that process. And maybe this time your brain… changes how it ends, but it is going through those leftover incomplete stress response cycles and you wake up refreshed and, yeah, and you feel like hopefully you've got enough sleep. We could talk about sleep probably just the whole time, but physical exercise and sleep are the two most basic, most common things. If there's anything I could wish for any teacher to have, it's more and better sleep.
Susan Riley:
Yes. Well, and I think it's an important point to bring up because for teachers, especially, and many teachers are type A's that want to get the gold star and everything and are pushing and are perfectionists to a degree, rest feels lazy. It feels like you're not doing something and you should be, but it's so important because your body is doing so many things that you don't realize.
Amelia:
Yeah, so if you're someone who feels like you need to work harder in order to do the most things, number one, I'll tell you that those sleep studies about like practicing and learning and the relationship between sleep and learning, students who cram, who have an evening exam and they spend the afternoon cramming versus they spend the afternoon napping, guess which ones get the better score on the exam? It's the ones who sleep, not the ones who study. It's not working harder, it's allowing your brain to absorb the information, to practice it, to internalize it. Second of all, sleep deprivation is dangerous to your well-being, to the well-being of those around you. If you have slept less than six hours every night for a week, you have the same impairment of judgment, and all of the same impairments, as if you have a 0.1 blood alcohol level. You wouldn't want to drive, you legally cannot drive under those circumstances. And yet, how many of us go six or fewer hours of sleep a night for a week and we're still driving? We're still working. We're still watching other people's children? So if you want to be a good teacher, get sleep. If you want to be the best at what you do, you have to get sleep. Otherwise, you are, you are a hazard to those around you. And maybe most importantly… When you don't get enough sleep, you get grouchy and uncomfortable, and you don't want to be around anyone. So if you want to improve your mood, look, there's some things that have to change in your environment. But there are some things that you can change within your own self that will help while you work on making the changes in the environment. And that's what we're talking about here, is how to make the changes to what… your, like, the resources you carry within you all the time  to make yourself as strong and as resilient and as flexible and well as possible so that you have the capacity to work toward the external changes that we need to make the world safer for everyone. That got off into a kind of a tangent, but what I'm saying is sleep.