Did you know that PD that is relevant and meaningful is up to 10x more effective than general PD? So how do you plan relevant and meaningful PD (if you're a leader), and if you're a teacher, what key items should you look for before investing time and money? In today's episode, we'll dive into the research and the 8 tips for PD that actually matters.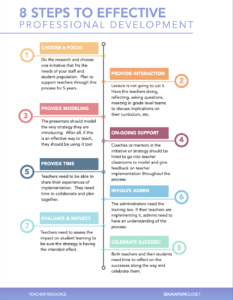 Resource Download
Enjoy this free download of the 8 Steps to Effective PD resource.
Hey friend and welcome back to another episode of the Artworks for Teachers podcast. I'm your host, Susan Riley. I'm also the founder of the Institute for Arts Integration and STEAM. And today we are diving into the topic of professional development. Because summer is the time when many teachers are involved in professional development and it's also when administrators are planning professional development for the upcoming school year. And honestly, we gotta have a conversation about this because PD is rapidly evolving and I think most of us are getting it wrong, to be quite honest. And so I want to share with you eight tips to provide PD that matters. And so whether or not you are taking the PD or you're providing the PD, I think this episode is going to help you because if you're taking PD, you can look for these eight things and if they're not there.
Don't take the PD because it's not gonna be meaningful for you. And if you're planning the PD, this gives you kind of like a roadmap to make sure that the PD that you are taking so much time and possibly money planning is actually going to be useful and relevant and meaningful for your teachers, which is the whole point. Right. Um, so I'm excited to be here with you today and to share these eight tips. Now, where do these come from? Well, one, I've been providing professional development in a variety of ways for the last 20 years. So these are things that I've picked up along the way. They're also really based in research to best practices in terms of what the research tells us about Effective PD because we know that when teachers find the professional development that they're taking to be meaningful to their content area, relevant to where they're currently at teaching,
They tend to participate more. They also find that it has more value to them and they put it into practice more. So that's why this is an important conversation. Why waste anyone else's time, right? So these tips come from my personal experience, from research, and it's also from tips from my team members because as you know, we're all better together. It's one of our core values at the Institute.
And so these are things that also the members on my team who also provide PD have shared along the way, especially as we've been kind of evolving PD over the last three or four years. And that's kind of what I wanna go with today because the previous, the last three or four years, PD kind of was pretty standard, right? Like…
You go into school at the beginning of the school year, everybody took the bloodborne pathogens PD, you know, every year, even if we've seen it before, everybody takes that one. And then your administrator kind of chose some specific PD for you to take while you're itching to get into your classroom. And then throughout the year, you would get staff meetings with maybe some PD. There might be a PD day here or there that your school district has mandated that you're gonna be focused on an area, perhaps a literacy objective, like the science of reading or a math component, right? That was pretty standard. But since COVID, PD has completely, completely changed. And here's what I mean by that. First of all, there's a lot of choice. There are so many things that we need to cover that choice has to be an option in order for teachers to be able to get through it all.
So it's no longer one focus. There might be six or seven focuses going on at the district and you've got to choose between them in terms of what's gonna be most effective for you. Second, online learning has totally changed the game. And so teachers are, in terms of choice, they have so many choices, not only in person but also online. I think PD online is not done well by most places because it's a lot of sit and get. So in terms of, we're going to get to that, but in terms of the style of delivery, teachers have the option of online, they have the option of in-person, they have the option of hybrid. So that has completely opened things up. Also online, let's be honest, offers more budget-friendly options. So when schools are strapped for cash, this can actually help which I think is a good thing. There are so many valuable pieces to online learning, but it has to fully engage the teacher and it has to be meaningful and relevant. Those things are non-negotiable. And I think sometimes when it comes to online learning, you know, especially as leaders, we're like, oh, that would be really convenient. Let's just grab that for teachers and let them do that. But if it has no setup and no purpose, then teachers are just online yet again for nothing that really impacts them directly. So again, purposeful is important. And so all of these things have been happening. Plus, since the world went totally online in 2020, and we now have a lot of different PD options, there's long PD options like full courses or certifications, and there's also smaller options like micro credentials or badges or smaller bite-sized workshops that allow people to finish and there are pluses and minuses to both. We're going to get into that in this episode. So again, the world of PD has changed. Not only has the delivery method changed, but also again, our focus areas, because there are so many things that we now have to focus on classroom management. Blow it out of the water. Unless somebody has taught during COVID and is willing to share methodology that works now since COVID in a classroom and they have relevance and they've actually done it, wipe it off of your calendar, right? Because old classroom management methods, even from five years ago, are no longer going to work. So how do you know how to plan this? How do you know what to look for? Here's the eight steps that we're working in today. So the first part of our framework, the first tip to try to pull this all together is to choose a focus.
So I'm gonna look at this from both sides, both from the teacher selecting PD to take and from the admin. Let's start with teacher level. So in terms of choosing a focus, think about what is the area that you most need help with or most desire to learn more about? Both of those are really important. And you could address both during the year. It's really up to you. And so… something like arts integration, what we focus on, right? If that's something that you've been looking at and you're like, you know what? That looks like it would be really great in my classroom, really fun, but I don't know how to do it. I'm not confident in an arts approach and I'm really worried that I'm not gonna get through my curriculum while still trying to do that approach. That's something that you want, that you desire, right? To learn more about. And it's also something that maybe you're struggling with because you don't have that background and you need a little support in. That's a great focus area that addresses both. It doesn't have to address both though. It could be that science of reading is coming up as an approach that is really transforming how we're teaching reading in schools. And many, many teachers have gone through the Lucy Calkins approach. They've gone through, found to some panel, and this is a very different style and approach to teaching reading. And so,
That focus might be, I don't know how to do this. I need direct PD instruction on that for this year because my school is using science of reading. Or I have done some research and I realize this is how I want to really start to teach reading because I know it's gonna be effective, right? So either one, your desire or filling a gap, choose a focus and start there. So you do your research and choose one initiative that fits the needs for yourself or your students. And then think about how am I going to leverage this all year long? This is not a one and done. This is how am I gonna learn about it? How am I gonna put it into place? Why do I wanna do it, right? The why is really, really important here in choosing your focus. If you don't love the why, you're not gonna stick with whatever it is that you're learning, right? So if your why,
For us, it's arts integration, right? If your why is, you know, I know that my students are creative and they have all of these underlying talents that I'm not tapping into. And I know that through the research that it works, that this approach works of connecting the arts. And I want my students to all have the opportunity to thrive no matter what their arts access point, you've got a strong why, right? So you'll stick with that.
If your why is just, hey, this is the newest initiative at my school this year, that's not a strong why. So think about your why. Choose your focus. If you are an administrator, let's look at it from that side. Right. Think about what is it? What's the one major thing that you want to increase this year or that you want to improve this year? It might be student achievement. It might be less classroom disruptions or behavior issues. There are so many things that we could choose from, right? But the key here is to think about what overarching big thing do I want to improve or to focus on this year with my educators? And then from there, do your research and think about what are some ways that I can offer PD that would be relevant to my teachers in this topic area that's going to help them improve this content or this initiative, but could be done in a variety of ways. So let me give you an example. So let's say that your goal this year that you at the end of the last year, you realize that you are the rate of students who are being referred to the office for classroom disruptions had risen by 20%. And that is not just a number I pull out of the sky. That is what I've actually heard.
Okay, so those classroom disruptions have increased by 20% last year. You wanna lower that number, right? Because you know if you lower the classroom disruptions and students are not dealing with behavior issues and teachers are not dealing with behavior issues, more teaching can happen. Teachers are less stressed because they're not dealing with behavior issues and it can impact a lot of other things in your building. So that's your big focus, is lowering classroom disruptions. Okay, then your job, leader friends, is to consider what are some ways, some research-backed ways that my teachers could look at in terms of looking at how to decrease classroom disruptions. Here's where we make a mess. We as leaders decide, okay,
We want to lower classroom disruptions. I'm going to invest in all of our money in this one PD program that promises to support student learning and decrease those classroom disruptions, right? And so then you put everybody into that PD. The problem with that is people don't buy into things that aren't relevant to them. And so that one PD, that one kind of modus operandi of working towards that classroom disruptions. If I'm an art teacher, maybe that system doesn't work for me, or maybe it's not customized for me, or maybe I feel like I have to follow a script, and that's just one more script that I gotta follow, right? So by providing some choice that all the things are relevant to your major topic, but you're giving a teacher some options, that is really helpful because then teachers can decide for themselves which one of these options is gonna work for me and is relevant to me and is meaningful to my classroom practice and my teaching philosophy. That's helpful. Now, how many options do you get? No more than three. More than that, people get overwhelmed with choice. So you wanna pick three options that can focus on that major goal that you've got for the year. So if it's classroom disruptions.
You might select arts integration as a PD option because we know that arts integration can impact that. You might look at a behavior model, a plan that lots of schools use, a SOAR plan, or some sort of reward system that can be put in place. You might wanna investigate one of those reward systems and have that as a PD option. And you might have one other PD strand that is also addressing classroom disruptions, but doing so in a way that is also effectively engaging students and possibly looking at even classroom management since COVID. Because again, that is going to lower classroom behavior issues, right? So providing that choice, selecting those three opportunities and then letting teachers decide which of those strands they wanna follow is going to be a game changer for you.
So long as each of the options that you select is going to target the overall focus. And as long as everybody is understanding, here's our focus for the year and here's why. Again, that why is really important. Okay, so once you have your focus, that's step one, then you're gonna provide interaction, okay? This is a big deal. Lecture's not gonna cut it anymore. People cannot stand to sit in front of a screen for 30 minutes, 45 minutes, listening to a lecture. They can't stand to sit in a meeting with a PowerPoint slide deck of 45 minutes and just sit there and listen anymore. They can't, right? Having teachers doing, reflecting, asking questions, meeting in teams to discuss the implications to their curriculum based on what you're there learning, that is all so, so valuable right now. Now, how you do that is up to you.
So that certainly is much easier done in person, right? But it can be done online, offering Zoom opportunities, offering online coffee meetings after school or during a certain time during the day or PLCs or whatever you need. If you're looking at online courses, this is something that I want you to think about.
Do they offer time for you to reflect? Do they offer multiple modalities? For example, if you're taking an online course, do they offer the lessons in video format as well as audio format? So maybe you could listen to it while you're driving to work instead of having to sit and watch a video. Do they offer workbooks that go along with it, that you are filling out and that you are looking at that while looking at the training so that there are multiple touch points, multiple modalities going on, lots of interaction.
If it's a self-paced course, these are the kinds of things that you wanna look for. You're also looking at how much time are you spending in front of the screen? So for example, I'll just give you an example of something that we learned along the way. So many of you know we have two certification programs. We have one for arts integration and we have one for STEAM, specifically for leaders. And the first certification that program that we came out with was almost six years ago now.
And that first iteration was me sharing like everything that we knew about arts integration. Each of the lesson videos were between 45 and 60 minutes long, and there were about five to six of them in each sprint. And there were four sprints. So you're looking at like six one hour videos per sprint. So that's six hours per sprint times four. That's like 24 hours sitting in front of a screen and just listening of all this stuff.
And so what we learned after the first year is that's totally ineffective. It's not gonna work, especially online, right? So what we did was really refine everything. And now we still have that same setup, four sprints, five to six lessons per sprint. Each sprint, those lessons are 15 minutes or less. So the core information is taught very directly, everything is kind of thought through and very purposeful about why it's in there, short and to the point. Our STEAM certification's even better. We have four sprints, but there are three lessons in each sprint. Each lesson is 15 to 20 minutes, that's it. And it's not about how much content is there, because let's be honest, the world is filled with content. It's about curating the very best content for you sharing that information so that you can cut through the noise and get straight to the stuff that works, right? That's in an online model, that's what you're looking for. Any kind of PD that you're looking at online. One of the great things that I love about the evolution of online learning are micro credentials. We're actually going to be releasing some of these in the fall ourselves. I'm super excited about these because they're mini bite-sized PD that you get that for a CEU and a badge and you can put that you have this microcredential, something like a microcredential in Arts Integration Visual Arts Strategies. That would be really perfect. And those microcredentials are short to the point. And what they do is ensure that you complete it. My friends, when you're looking for a PD, if it does not provide interaction of some sort online, you're not going to complete it.
And the whole goal is to get people over the finish line, right? To finish the entire course or the microcredential or whatever, or the certification, whatever it is that you're taking. My administrator friends, in terms of interactions, when you are presenting PD, not everything's going to be online. And you might be presenting PD at the beginning of the year on your specific initiatives or your vision mission, whatever it is for the upcoming school year. When you're planning PD, please make sure that there are opportunities for students for your teachers to get up, to move, to engage, to have discussions with one another. You can use graffiti walls with Post-it notes so that they can put their thoughts up on the walls. You need to provide opportunities for them to share out, to participate and not just sit and get. What I typically like when I do workshops, I'm often called in to do workshops of either one hour or three hours with teachers.
And when teachers hear that there's gonna be a workshop for three hours, they do the exact same thing I do. We roll our eyes and we moan and we're like, oh, how are we gonna get through those three hours? But here's what I have found really helps. You have two or three slides of core information and then an activity to apply it. Two or three slides of core information and then an opportunity to reflect and talk about it with peer share. Two or three sides of core information and then another opportunity to apply it so that you're constantly back and forth, back and forth, back and forth. And what's helpful for that is that the time flies, but also teachers are putting it into practice in bite-sized pieces with some modeling and some support along the way so that they're constantly thinking about, I remember, meaningful, relevant. How do I apply this in my classroom? How do I make this meaningful to my teaching practice? So that interaction is hugely important. 
Step three, make sure that there is modeling provided. So if you're in-person, administrators, if you bring in a presenter, that presenter should be modeling the very strategies that they are introducing to your teachers. Because if it's an effective way to teach, they should be using it too, right? So this is a hallmark of what we do when we go out and present PD. Everybody in my organization is trained in the same methodology. We all use this approach.
Many times schools will ask us to come out and share specific strategies with teachers because we want to get teachers used to arts integration first and strategies is typically the way we begin. When we introduce a strategy, we then use it with the staff and we do it all together. So I'm modeling it first and then I'm asking teachers to put it into practice almost immediately. So we watch, we model, we practice.
And so you should be having your presenters do the same thing. If you are presenting the PD, use that model. That is extremely important. It's not just share a strategy and like a dump of strategies that teachers could use. If you don't see it as just a learner, it doesn't sink in. So you need the modeling. And then two, if you don't have time to apply it or to try it with that person who's modeling, how do I know that I'm doing it effectively?
Right? So that's a really important piece. Provide modeling, especially if you're in person. My friends, if you are looking for online PD, you need to be looking for opportunities where the presenter is modeling what they're sharing. And they can do that very easily over video and ask you to participate and work alongside them. I'll give you an example from what we're doing right now. Right now I'm running a free class, a free masterclass on the eight steps to building an effective STEAM program. And if you like that, then you're able to go apply for our STEAM certification. It kind of aligns, so that it's kind of like a taste. But in that eight steps to build your STEAM effort, what we're actually doing is we're working together to build your STEAM plan. So I share a technique or I share a piece, and then I actually walk with you and say,
I want you to think about this and write down what you're thinking about this right here. Write down three steps that you're going to implement right now based on what I just shared. That is really, really important. Okay. That is an opportunity to provide modeling and interaction online. Easy, easy, but lots of online instructors don't do it. So when you're looking at online PD and deciding, do I want to participate in that or not, make sure that there's an opportunity for modeling so that you can see what is actually being shared. Step four, ongoing support. Now, my friends, especially my leadership friends, this is something that often gets overlooked but is so important. Ongoing support, we call this year-long evolving PD. So what that means is that coaches or mentors in the initiative or the strategy should be hired or should be there to support and go into teacher classrooms to model and give feedback on teacher implementation through the process, right? So this might be you as the administrator, it might be an instructional coach, it might be an arts integration specialist, it might be whoever you have on your team to go into classrooms as a non evaluative measure and just watch what's going on, provide some feedback, continue to go back and forth and have it as a conversation but that ongoing support throughout the year is so, so important. Because if you don't do it, the PD becomes one and done and just another check off the box. It's not meaningful, it's not relevant. So you wanna make sure that what is shared is continually put into practice. What that means is that your efforts, this goes all the way back to step one, are aligned through the year. You're purposeful about those.
So often, and this happened a lot before COVID, it can't happen anymore, my friends. So often, what used to happen was that we kind of designed PD days on the fly. You got PD days set up for the fall, and then you didn't worry about the winter ones until maybe November. Like, oh shoot, we've got a PD day coming up in January. I need to get on that. And then you go find some sort of PD to fill in that day. That is not gonna work anymore.
We need to design PD effectively for the full year. That's why that focus is so important so that as you have these PD days, you're having this year long evolving conversation about, okay, we did strategies at the first session. I'm walking in and making sure that the strategies are putting into place throughout the fall. Now I think, since I've seen this, people seem to be really comfortable with the strategies.
Now let's take that to the next level. Let's see if we can use the strategies in some of our lessons and use our PD day to decide what lessons we're gonna put them into. Or I'm walking into classrooms and I'm seeing people are only using one of the strategies. The other ones seem to not be used at all. We need a refresher in some of those additional strategies or I need to have a conversation about why the other ones aren't being used. We need to do that during our second PD day. So.
If you are in classrooms and you're providing that ongoing support, it will inform the rest of your PD throughout the year and will make your PD efforts so much stronger. My friends, if you are teachers and you are looking for PD opportunities, you are looking for programs that are not just one and done that are going to continue to check in on you, going to continue to support you longterm. And so,
Even if you took a one-and-done class, does that organization follow up with you? Do they ask, like, how is it going? Do they provide a survey? Do they ask, you know, how can we support you going forward? What else do you need next? You're looking for an organization that is not just out to capture, you know, your next credit card payment. You're looking for an organization that is truly invested in you as a professional and how to support you in that learning.
Number five, providing time. Okay, teachers need to be able to share their experiences of implementation, they need time to collaborate and they need time to plan together as well as implement what it is that you're sharing. So it's not great to provide PD back to back to back. Think about, especially as we're beginning the school year, my administrator friends, I know you wanna give all this PD upfront, all those teachers wanna do is get in their classrooms, right? So you might be mandated to do a certain amount of PD,
Think about how you structure it. So think about, I'm gonna give this chunk of PD maybe in the morning so that my teachers can think about it. And then in the afternoon, I'm gonna let them go work in their classrooms. And I'm not gonna introduce another PD until maybe Wednesday, if this was Monday, so that my teachers have this ability to kind of focus in on what they need, chew on what I've shared, and then provide the next step. But providing…
You know, five PD sessions on so many different topics at the beginning of the year, it's overwhelming. Nobody is going to pay attention. They're not really thinking about it anyway. So be strategic in how you're planning your PD and how much time you're providing for opportunities for people to think about it, to reflect on it, to implement it, and to share their experiences of implementation, okay? Teachers make sure that when you are deciding on PD, you are giving yourself the grace of time, right? I see this a lot. I see teachers who apply for our certification program, who are also in a doctorate program, and who are also like team leaders in their building. And most of those people we actually deny for certification because we're like, you've got way too much and you're just like banging out the PD so that you can get it over and done with. But what we really want you to do is take the PD and let it sink in because that's gonna change your practice, right? That's the whole point of the PD. And so you have to give yourself time. It's okay, you don't have to get it all done at once. Give yourself time to let it sink in, let it percolate, try a little bit, we're continuing to reflect and then move on. Number six, involving admin. So the administrators need training too. This one is really for my leaders, but teachers hang on because I've got a piece about this that I think is helpful for you as well. So the administrators need training, right? If the teachers are implementing whatever this is, admins need to have an understanding of the process. So admins, if you are asking your teachers to participate in one of these three strands, you should be participating in those three strands as well so that you can then support them as they come to roadblocks or you can discuss with them, hey, I've actually ran into this roadblock, what about you? It makes you so much more aware of the quality of the PD as well as being able to be that support and mentor for the teachers, which is our job as admins. Now teachers, if you are in the middle of a PD that you love and you're like, this is great, it's going to totally change how I thought about this process. I would highly recommend that you share it with your admin and you say, hey, this is really impacting me. I'd love for you to take a look just at this one module. Don't look at the whole thing, just look at this one module that I found to be really effective and let me know what you think. That last piece is really important because admins have so much on their plate.
If you send them the whole thing that you're working on, they're never gonna be able to look at it, right? And they're never gonna get to it. And then you're gonna feel disappointed that they're not supporting you. If you send them just a small snippet and you say, here's how this is impacting me, let me know what you think, they will find time to do that one little thing and then be able to share with you, here's my take on it, tell me more about why this is supporting you so that you can encourage them to have that conversation back and forth with you. It's so important as a relationship between teachers and admin. Number seven is to evaluate and reflect. So teachers need to be able to assess the impact on student learning and be sure that the strategy is having the intended effect, whatever the PD is that they're experiencing, they have to be able to put it into place and then evaluate, is this effective for my students? That's the piece we so often gloss over teacher friends is like, oh, I've got this information. I'm going to use it. This is just how we do things now. And we don't actually take the time to look at, how did this impact my students this year? If we slow down and actually ask that question, we may or may not be surprised by the answers. But if we just kind of bulldoze ahead and say, this is now how I teach or this is now a part of my teaching practice and we don't ask that question, we may miss that, a misfire with our students. So that's really important and admins. You need to be able to provide an environment where teachers have the ability to take the time to look at that. Maybe provide them with a framework or of questions to think about or ask in their classrooms because often teachers don't have that background knowledge. So providing them with a framework of
Here are some questions you might wanna consider so that when we have a discussion about whether or not this was effective, you can speak to that because you've already asked your students these questions. And then finally, number eight is to celebrate success. So both teachers and their students need time to reflect on the successes along the way and to celebrate them. So if you are teaching teachers about, if you're having arts integration as your PD this year and you start with strategies, that's your one for you. And teachers are implementing at least one of the strategies, celebrate that. That's a win, you know, document it with video, share it on social media, talk about it during parent back to school nights, talk about how your teachers have put in all this work and they're seeing success with these strategies. That is a major win admins for both you and the teachers and teachers. Celebrate yourselves. When you get through a PD, that's a big deal.
That's a big deal. That's time and money that you've invested in it. And I want you to celebrate that because that has made you a better practitioner. Even if the PD was not what you thought it was going to be, the fact that you put in the time and that you are making the connections and gone through all these other seven steps, no matter what, you are a better practitioner and that deserves to be celebrated. So those are my eight tips for PD that matters this year for leaders and for teachers, we do have a handout for you. So be sure to come on back to our episode on the webpage artsintegration.com forward slash artworks. If you go to that page, you'll be able to see this episode. Just click on that link and you'll be able to download the handout for free so that you can always be reminded of these eight tips. And secondly, I would love to hear how you actually put this into place. Which one of those eight tips was most meaningful for you? Let me know. Share with me over on social media. It's everywhere at arts and edu. That will be super helpful so that we can have that conversation and share back and forth what's helpful for you and what you most enjoyed about this episode. And if you would, and if you found this to be really helpful,
please consider leaving a review over on your favorite podcasting area because that helps other teachers to find the artworks podcast as well because we wanna make sure that as many people as possible have access to creative ideas and being able to unlock creativity in their classrooms. So that's it for me today. I talked a lot about PD.
But I do want to remind you that the Institute for Arts Integration and STEAM, what we do is all about PD. So we do have certifications and online classes and memberships and events and upcoming micro credentials, and it's all online. So I'd love for you to check us out if you are considering PD options for the upcoming year as well. Just go to artsintegration.com. That's it for me today. I hope you're having a great week and I look forward to chatting with you again next week.