Do you ever see a problem in education and think, "I could do something about that". This is exactly what happened to Sheila Garth as a school counselor. In this episode, we chat with Arts Integration Certification alum Sheila Garth as she shares her journey into creating a new business in the EdTech space to help support student mental health.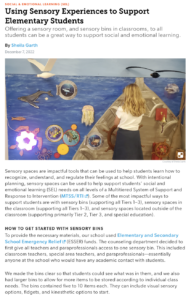 Resource Download
Enjoy this Edutopia article written by Sheila Garth.
Susan 
Well, welcome, Sheila. I'm so glad you're here.
Sheila
Thank you so much. I'm excited to talk to you today and share our passion for arts integration together.
Susan Riley 
Absolutely. So for people who may not know, you are a graduate of our Arts Integration Certification Program, but outside of that I would love for you to share who you are, your Arts Integration journey, and what you're up to now.
Sheila 
Sure, so I guess I've been an educator for about 18 years at this point. So nine as a teacher and then as a school counselor. And I guess I started my arts integration journey six or seven years ago. It's been a while. I feel like I've been on it for a while. I was part of your cohort for level one and level two, which was an amazing jumpstart for knowledge to be able to continue this. And so currently, we moved during the pandemic from Georgia to South Carolina.
Susan 
Mm-hmm. Yep.
Sheila 
and I get to live by the beach, which is amazing. And I am currently a school counselor at an arts integrated school. So I get to use this all the time. And I love sharing my passion with teachers and other students, and it's allowed me to continue that. And I've also been able to write my…
Susan 
Ugh, yes.
Sheila 
write articles and publish a work book on arts integration. So it's really, really exciting and it's been a fun journey so far.
Susan 
Absolutely. So now, lots of people who enter arts integration are coming at it either from the classroom perspective or from the arts teacher perspective, but you're coming at it from school counseling. So how do you see arts integration supporting your work as a school counselor and perhaps even the social-emotional learning that you're helping students to kind of work through?
Sheila 
Sure, I think that art is naturally connected to counseling. A lot of licensed professional counselors use art therapy, so I think we're naturally using that as a resource as counselors anyways. And as a school counselor, I use a lot of it with my whole group instruction to show cooperation. So we might do a lesson where I'll put students in small groups, and let's say we read a story called Claymates where these interactive clay characters work together, and then they at each table have to create one character together using the tools that they have, but they have to cooperate, communicate, and problem solve and negotiate. And these authentic strategies, these authentic opportunities come about so that I'm able to teach them these social emotional skills in real time, but they're also really invested in it. They're passionate about what they're doing and they want to figure it out and want to have those authentic conversations together because they're really excited to create, you know, for example, a clay character from the story. And it's really cool to see it all unfold in real time and to give feedback in real time based on what I'm noticing with them.
Susan 
Yeah, absolutely. It's so powerful to do it that way. So can you share some ideas of ways that arts integration can impact either character development or social emotional learning or how our students are interacting with one another? Because I know that has been a pain point for a lot of people.
Sheila
Sure, so there's kind of lots of ways to address it. So like one thing that we did to support the entire school with arts integration and social-emotional is we got a grant and made an amazing integrated sensory wall for students to interact with, which is really, really cool. And so that was basically, that was just tier one strategies. Another thing that we did is we made sensory arts integrated sensory spaces for each classroom to be able to utilize and have access to. And so not only from the counseling perspective are we saying what standards can we cover within that, we're saying how can we use the arts to support them socially and emotionally in a space where they can find some coping strategies, you know, feel better and then go back to class to learn that I've seen it have as well. Not only just the content that it can provide, but also just the coping strategies I can give students while they're at school.
Susan 
Sure. So I'm curious about this sensory wall. So expand on that a little bit. Like, what does it look like? What do they sense? What kind of opportunities does that provide?
Sheila
Yeah, so it was really, really amazing. So we were able to get this grant. And we live, like I said, we live by the ocean, so we made this nautical interactive sensory wall. And it has like a steering wheel and these light up turtle lights that light up and like they're sensory squares that they can step on. And like we had a nautical specialist made these nautical knots and like tie it back to our island and how different knots work within sailing. So it was really cool and they can interact with that and kind of see all the different things, how art ties into actual occupations as well. And then, and we made, it's kind of like in a nook in the back of our school and we put a curtain there. So it's kind of private, but we can still see them, but it's so cool and they love going there. And… It just helps them self-regulate if they need to, and it's a lot of fun for sure.
Susan 
I love that. I mean, just all of the ways that connects both with your community and makes it personal for them because it's something that they can relate to, but also as a way for them to escape and imagine and play and engage. That's just fascinating to me. I love that. And how cool that you have like turtles that light up and stuff. That's awesome. I play back there.
Sheila 
Yes. It's cool. And then we have a treasure chest and we trade out some of the sensory things and the art things each couple weeks so that way it's kind of new and fresh so they're excited to see what's in the treasure box as well. So, it's a lot of fun.
Susan
That's fantastic. So we know that arts integration isn't just for students, that teachers can benefit from this as well. And I don't think that's something that we talk about nearly as often as we talk about all of the impacts that it can have on students. What are some ways that you've seen the arts and arts integration support teacher wellbeing and how have you worked with teachers around that?
Sheila 
So what I've noticed, and I think teachers that really get into arts integration realize, is that it's fun to do. It's fun to make lessons. It's fun to see, you know, if you're passionate about students, it's cool to see the lesson that you create, but then how it all unfolds and how they are naturally able to do these lessons that you make. And it's the fun creative process of pulling in your, you know, an art that you're comfortable with or the art that you're passionate about to make these fun, fun lessons for kids.
I get into making arts integrated lessons, it's exciting to make it and then it's exciting to see it come to fruition when the student does the activity. And I think part of that's, you know, it allows us to be creative as educators as well. It's not just, you know, here's your workbook, here's your worksheet, let's read a story. It's, you know, it allows us to also have a love for what we're doing again because we could have more ownership in the lesson itself and be part of that creative process with students.
Susan Riley 
Yeah, I totally agree. I think, you know, when we go to college to become educators, I don't think the dream is that we're standing in a room reading from a script and then handing students just the materials that have been handed to us. I think, you know, we envisioned impacting students and creating these experiences. And so I think this brings it back. And I totally agree. I've seen teachers just kind of light up when they've started to use arts and that you can a flop is okay right process and that you can still run with and that's one of the things I
Now, I'm going to kind of shift gears a little bit because I know that you're also a new entrepreneur as well, right? You have a business and an EdTech business at that. So I would love for you to tell us a little bit more about that piece.
Sheila 
Yes, it has, it is, I guess it still is a long journey. I think entrepreneurship is exciting and scary all at the same time because you're not sure what's gonna happen and, but yeah, so I, as a teacher and school counselor, I recognize that students are really struggling with regulating their emotional needs throughout the day. And also teachers don't necessarily have the strategies to support them or time to support them in real time, but we need to know how kids are feeling. 
So I founded a company called My Moodlies. We're still in development, so we're still trying to slowly move forward with it, but what it does is uses adorable interactive characters to allow students to check in with their feelings, and then the teachers can kind of see, and school counselors and administration can see how the students are doing, and then also provide interventions and strategies that we create that are going to be arts integrated, strategies and interventions to support them in real time. So it's not necessarily a curriculum, but more rather to say, what can I realize that you're anxious or I realize that you're frustrated. What can I give you right now to help you move past that so we can go back to learning? Because as a counselor my job is to say
What strategies and interventions can I give you so that you feel happy and safe so that you're able to go back to learning to do that? And so, then teachers don't have to like, they can say, anxiety, student K2, and they can print it out or send it to the student and then they can have it in real time. And we can look at trends. Like if there's a student that's upset every Monday, what's the trend that's happening with them that they're feeling that way? What do we notice? What patterns do we notice? So not only is it there to really identify crisis situations, but also to say, do we notice any trends versus another day just to see global trends, classroom trends, and individual student needs and helping them in real time.
Susan 
That's amazing. Sheila, that's amazing because that's something that I think every teacher could use. And I love the idea of being able to immediately support the student where they are with strategies that we know are proven that work and then that can help that student to re-regulate so that they can come back and be fully focused in the lesson themselves. Plus the data and trends. I think that will be super powerful in order to look for ways that we can maybe avoid some of those situations, right? So that we can hit them head on without having them actually become a situation itself. That's really powerful. And so I'm curious, first of all, how did you come up with the idea? How did you, and what steps have you had along the journey so far?
Sheila
So I had the idea a few years ago actually, even before COVID, and I just kind of dabbled in it and dabbled in it. And then when the whole transition happened and we moved, I was like, you know what? Like, I'm gonna do it. I'm gonna try. I'm just gonna go for it. And I know it's a risk. I know I'm taking a long shot, but I would regret not doing it. And ironically, I…
Now that we're doing this, I almost, I felt like I was almost predicting where we would need. You know, we all saw the trends happening toward social, emotional needs and mental health and how that was happening. So now I think more than ever, we need to be in that space. And I just, every couple years, I would think about it and then finally we decided to make the characters. We made the logo. I just have slowly been moving forward with it. I think the tricky part is,
Patience, patience, you know, things are not going as fast as I would like. So, but I think that's just with any big adventure that you go on.
And I think it's also getting people to see value in it because it is a big cost to build it. It's a big cost to build it. But I think once we get there and once we're able to put into fruition, we have some schools already interested in being part of the pilot as we're building it, which is exciting. So, I know, baby steps, but we're getting there. And I think next couple months, slowly move forward as we continue. But I'm really excited.
Susan 
Yeah, absolutely. And entrepreneurship just, you know, I know that you and I have had conversations about this already, that entrepreneurship is such a roller coaster ride that I don't think a lot of people realize. And you know, I love and admire the teachers who for a side hustle, work on, you know, share their lessons on TPT, start a website and share what they're learning. I think there's value in all of it. And I,
And that's certainly how I started, was just sharing ideas on a website. But what you're doing requires a lot of moving pieces. I mean, you start, you're talking about moving slowly and being patient, which I think is a lesson that all of us are working on. And I feel like, you know, the universe gives us things to practice, right? I'm ready to tell the universe sometimes, I'm done with that lesson. I don't need any more patience. Thank you very much. Let's move on.
But for something in the ed tech field, especially coming from education and not having any knowledge of like Silicon Valley or the ins and outs of all of that, I can only imagine how difficult it has been to try to figure those things out. Have you been able to secure a mentor or do you have a way like how did you figure out some of the ed tech space so that you can be moving forward in this creation?
Sheila 
Yeah, so ironically, I linked in stocked people that were local entrepreneurs and technology experts, and I did find a mentor. I do have a mentor that's kind of guiding me, and I've had opportunities to pitch to investors. We're still kind of, I did my first round of pitch, like pitching two weeks ago, and it was very nerve wracking, but exciting at the same time. I felt like I was on Shark Tank, so I'm not sure what's gonna happen with that, but it was still an amazing experience to be able to do it, and recognizing, when I get excited or nervous, I talk quickly. And so that's something I have to work on while I do this. So it's interesting to find out where growth opportunities are. I recognize I'm gonna have to pitch to a lot of people before this comes to fruition. And I have to remind myself of that as well. I can't just assume like, oh, everyone loves my idea or everyone is passionate about what I'm doing. And…
I have to recognize also that investors are investing their time and possibly money into what I'm doing also, so that's a risk that they're taking also. And I think that's gonna be the biggest, well, at this point, the biggest hurdle is getting to that point where if we find, and also I don't wanna just find an investor that wants to, I want them to feel passionate about what we're doing also because that'll be a working relationship as well. So it's the wanting to move forward, but also not wanting to desperately move forward making bad decisions along the way. So finding that balance of the two.
Susan 
Yes, yes, that's such a tricky piece. And I don't know about you, but I find so many parallels in entrepreneurship, especially in the education space, with teaching and in arts integration, because like you said, it's nerve wracking to put yourself out there, to know how to perform, if you will, in order to get the pitch going, right? And seeing yourself on camera. I think we do that as well in teaching in an arts integration, like we talked earlier that arts integration can be nerve wracking for a lot of people to get started, but it's once you get the ball rolling, so many benefits and learning and growth opportunities can be found. Have you found parallels, like have you found that your teaching background or your arts integration background or both have maybe able to support you in your entrepreneurship journey?
Sheila 
I think the biggest one is that it's taking risks. And I think getting comfortable with being uncomfortable motto of doing that. And I think by doing the arts integrations, and I also feel like I'm really better at understanding my content and as I make resources, I'm better understanding how my resources that we make are more valuable. So not only do I feel like I'm able to adapt better and be flexible with change and uncomfortable situations, I also feel better prepared to support and make resources that support academics, that support social, emotional, that support creative engagement because of that. And so, yeah, I think I'm much better well-rounded as I begin this journey because of that arts integration background. And…
It helps me personally and professionally. I love talking about it, I love using it, and I'm excited to make some fun resources that they can engage with. So just thinking about, that's the fun part of this too. It's like managing the business is not as much fun, but making the resources is so much more fun. I have to think about that too. Luckily, my husband has IT and business background. So he is helping me tremendously with this business. I think between the two of us, we have 80% of this figured out as far as what we need to do marketing, I have no idea. I have no idea. But we'll figure it out. We'll figure it out. So, but it's great to have his help too. So we're kind of, I'm not alone in building the business where I have, I have no business background. So it's nice to have him with the IT and business background to kind of help with that, which I am super thankful for and I'm thankful that he's on this journey with me.
Susan
Yeah, absolutely. And I'm right there with you. When I first started, it was just me. And I was literally just sharing resources. And then it kind of grew. And I was able to have, fortunately, people who were on this journey as well. And I was able to partner with them and learn from them and grow our team that way, just kind of organically. Many of those people have stuck with me since the very beginning.
But my husband also actually came on board last year for things that I'm not good at. I'm not good at seeking out partnerships with organizations and funding partners and all of that kind of stuff. That's just like you, that's not me, that's not my wheelhouse, but he's really good at that. He's really good at sales and working with large organizations and school districts. And so I'm thankful that…
I can be on that journey with him as well. I think it's great when you can have a partner that you trust and that it feels like you're building something together, which I think is such a special thing as a family. And I loved your point that not only does your teaching background help you in development of this, but what you're developing in real time is also supporting you professionally. I think that's so wonderful that it can go back and forth like that.
And I think it's the best kind of learning, right? It's the best kind of way to make sure that what we're doing is relevant and meaningful because so much of what we did five years ago, no matter, you know, is no longer relevant really, because things change at such a rapid pace. So we talked about a little bit about your biggest challenges. What do you see as some of your biggest successes so far?
Sheila 
Wow, okay, I guess, I guess the opportunity and decision to move forward with my dreams, like I feel that it is a success, you know? That the fact that I was like, you know what? It's like.
We're gonna do this. And when we moved during the pandemic, my mom's like, are you really moving to another state with a one-year-old during a pandemic? And I was like, I sure am. But I was proud of that too. I was proud of that too. And I know that it doesn't seem as big of a deal, but it's like, there's chaos happening. And I'm like, we're gonna move. We're moving during chaos. And I think the successes are saying, I don't…
People are scared of taking risks. And my dad was in the military and we moved so much. Maybe that's why I enjoy change, but I truly enjoy change and I truly enjoy growth. I mean, after seven years of being a teacher, I was like, I'm gonna be a school counselor. And after being a school counselor, I'm gonna start a business. I enjoy the evolution of learning new things and building new things and creating new things that I'll always want to do that. And so I guess that's kind of what I'm proud of myself for, the ability to do those things and not worry about outcomes to the point that it's debilitating to not do it.
Susan 
Yes, yes, the line in the sand of the decision, right? Don't you find that there's peace in just being able to make the decision and saying, this is it, this is what I'm doing. Yeah, and so I'm proud of you for that because there are so many people who just turn and turn and turn and turn and turn. And I wanna tell them all the time, just make the decision, just say, here's what I'm gonna do, and then do it. And if it was the wrong decision,
I guarantee you there will be a pathway to pivot, right? But you gotta make the decision. So I think that you've made that decision and you're just, you're moving along which no matter what, and I think that's awesome. So what keeps you motivated in this project? I know that it's going more slowly than you want. So how do you keep motivated to keep going with it?
Sheila 
I set little, I set like… a major goal that I want to accomplish. And I also allow myself the creative freedom to make things that I enjoy making within that space. So looking at different characters I want to make, or a little lesson that I think is fun to do. So I'm trying to balance the, here's what I have to get done versus here's what I want to get done. I also recognize, and my husband and I actually debate on this, I feel like I want to focus on things that I'm really, really great at and outsource, or give someone else the ability to do that what I'm really great at. And of course I recognize as entrepreneurs we have to know all the ins and outs, but I don't want to be an expert in all the ins and outs. I want to be able to use my energy to focus on what I really, really have control over and I'm really, really great at. And 85% of my time needs to go toward that. And my husband's like, well, you have to learn. You're gonna have a business. You have to know what I'll make. No, I don't. I don't have to, because it'll drive me crazy. I'll drive you crazy.
Susan 
No, that's smart Sheila because I've learned all of that. Like I've taken the time to learn all of that. And then you fall into the trap of, I could probably do it cheaper than I could outsource it. But does it mean that I should be doing it rather than sending, allowing somebody else whose area of genius is there to come in and just support me? So you're doing it the smart way, conserving your energy on focusing on what it is that you're best at.
I'm always curious about what's your why? Because I think your why drives so much of your motivation in the hard times, you know?
Sheila 
Yeah, yeah, I mean, I just, I want students to be, I want mental health to not be the stigma. And like, I want it to be a space where we don't have to necessarily say like, I'm sad and this is why and this is why and this is why and this is why. But if you think about it, from day to day, people will say I have a headache, I have a stomach ache, I'm feeling a little nauseous today. People have no problems disclosing their general medical states throughout the day, but I don't ever hear people say, I'm feeling kind of sad today. And you don't have to share why, but knowing that, knowing that if someone shares that with me, I'm going to be more cautious or more aware of how I interact with them throughout the day. And that's kind of where I'm hoping, of course I want to help students in big crisis situations, but I want it to be where we can, the teacher can say, hey guys, I'm feeling kind of grumpy today. I want us to be able to have that conversation, just the blanket statement, here's how I'm feeling. And I get that feelings are fluid, but let's share them, so that way we can help each other throughout the day and how we interact with each other, as opposed to pretending everything is fine all the time. We don't have to be vulnerable to be honest. And I think just sharing basic feelings is, it's a tad bit,
You know, we're fine sharing, again, medical things quite randomly as society, you know? So why not share the basics of here's how we're feeling in general, to share that knowledge and to know that about each other.
Susan 
Yeah, I think that's a super powerful why, because I agree. We don't talk enough about mental health, especially in this country. And the stigmas behind it being what people typically think about in terms of mental health. If it's depression, is there something wrong with you? And having to go in that huge amount of depth. I think what you're doing is amazing because it's a small step but it's a powerful step, just being able to recognize our feelings. And I love what you're doing about making connections because as humans, we are wired that way. We want to help one another. We want to support and connect with one another and just knowing how someone else is feeling, you're right. If not just cautious, but I might be a little kinder to you than I would have generally been. And that's on me. So that also allows me to reflect and think,
Why wouldn't I be that way all the time? If I'm being kinder today because she's not having a good day, well then can I be kinder more often? Can I make that a general state for myself? So I think you're also improving just human relationships and how we think to ourselves and be more mindful of how we approach the world. So I love that why, that's great. If there's one thing you'd love people to know
Sheila 
And that's something I think. And I also think the problem is. I think that's a good point.
Susan Riley 
I always say about creativity, but if you want to pivot on this about mental health or how we're working on that in the world, what would it be?
Sheila 
Yeah, I guess, you know, I don't, the thing is really important is like, let's not think about mental health of like zero problems to like crisis problems. Like most people are in this middle where there's like day-to-day feelings that they're processing and dealing with, you know? And so I think if we meet each other there and we're aware of those, the day-to-days of feelings.
That's kind of how we'll make progress with mental health and supporting mental health. And using arts integration and having the strategies, these creative strategies is a super effective way of helping people and children, adults and children navigate their feelings with their creative process. Creativity is an emotional outlet that you can utilize, whether you're learning about something or not, or just using it to help manage feelings. And I think that's the power of the arts as well, is helping people self-regulate: drawing, painting, music, and there's so many different art forms that help us self-regulate naturally and that's why it's amazing.
Susan Riley
Absolutely. Well, Sheila, where can people find you or stay in touch with you?
Sheila 
Sure, so you can email me at info@mymoodlies.com or you can check out my LinkedIn, Sheila-Garth at LinkedIn profile.
Susan Riley 
Awesome. We will make sure to put that in the show notes. Thank you so much for your time today and for sharing your incredible journey. I'm so excited for you and where you're going next.
Sheila 
Thank you so much. Thank you for having me today. I appreciate it. It was a lot of fun.
Susan
Absolutely.