Antonio Nieto Rodriguez has been on a quest for years. His goal is for every individual, student, and leader to learn the basics of leading projects successfully.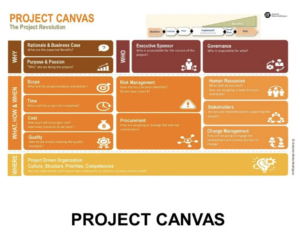 Resource Download
Enjoy Antonio Nieto Rodriguez's Project Canvas.
Susan 
All right, well, hello, Antonio. Thank you so much for joining me today.
Antonio 
Thank you, Susan, for the invitation.
Susan 
So now you operate in the business world quite a bit and we are an education podcast so I am quite sure that many people may not be familiar with you, your background and what you do. So can you share a little bit of that with us, please?
Antonio 
Sure. So I'm passionate about projects and project management. I've been working in projects for 25 years in the corporate world, leading big transformation mergers, now currently on sustainability transformation. But I'm also passionate about teaching. I've been teaching about maybe 15 years or plus, mostly business schools, MBAs. And yeah, I've published a few books, one with Harvard Business Review.
I'm just very curious. I love to research. I believe that projects is what makes us happy in life, personally, in our organizations when we're learning. So I think we need to learn more about how to do projects right.
Susan
I love this. So can you expand on that a little bit more? Like what exactly is it about projects that you feel is so important for us to dive into?
Antonio 
Well, there is things that we don't learn, right? One of the things that we do, everyone I know, we do projects in our personal lives, work, with our startups, public sector, but nobody has taught us. It's not a topic that is common in business schools. And I know, Susan, you're in the education space, but it's not something that, I never had that in my university, in my high school.
It's something that is very unique, is mostly related to IT or engineering. While we all do projects. So I think that was a gap that I've seen. And, and I think when you get some tools, just simple tools, you will be more successful, but who doesn't love to start projects, right? Susan, we love to start projects. The problem is you need to finish them.
Susan 
Yes, yes, absolutely. Well, okay, so let's, I wanna dive into this even more because my husband, before he came on board with us, he was a project manager for 20 years in concrete construction. And I have no idea what he is doing all day. He would tell me I'm managing like five different projects and they have all of these different schedules and all of these values that he has to work on.
And I'm like sitting here going, that does not compute for me. So what are some skills and tools that we need to work with to help us better understand project management and to finish our projects?
Antonio 
Well, your husband is like the example of what has happened in this profession. We love what we do. We work hard, but nobody understands what we do. We have made it super complicated, right? And for good reasons, but I think one of my missions over the last 10 years has simplified. So Susan, you have a project for, what tool do you need? What is the things that matter? So let me give you an example. First, never start a project if you don't have capacity, right? I always tell… companies, small one, large one, I'm working with some big companies and say, some big companies, they don't know even how many projects they have. And some other small ones, they tell me, we have more projects than people. How can we manage? So one basic rule for everyone who's listening, never start a project if you don't cancel or stop any two or three projects that you're doing. So free up some space. If you launch a project on top of many things, it's going to just is failure almost guaranteed. Second.
Spend more time thinking on why we do the project. So we always start the project, construction project, but we forget about the why. And people get excited, motivated, committed to a project if the why is clear. I'll give you an example. I was working with somebody in HR, and I asked her, what's your project about? She told me, we're launching a new HR system. Who cares, right? Why are we launching that new HR system?
Because our employees are not very happy. This system has some modules, which is about social media. And I asked her, why do we need that? And she said, because people will engage more, our employees will have more communication, there will be likes, we will share more information, and they will be more engaged. So I told her, Susan, Maria, sorry, Maria, your project is not an HR system. The why of your project is we want to increase engagement of employees. So that's a big game changer.
When people start talking about the why, you create more engagement. If you talk about the what, nobody cares. People are fed up with projects.
Susan 
Mm-hmm, exactly. So this is something that I know that I struggle with when we're working on projects within our organization. I know a lot of others struggle with this idea as well. How do we get to our why? We think we know, like, just like in your example with Maria, she thought she knew her why, right? But it wasn't the actual why that was driving the whole project. So how do we get to the best why?
Antonio 
Okay, so that simple formula for everyone listen, ask three to five times, why are we doing this project? There needs to not, you want to learn piano, but why do we want to learn piano? Just because it makes me happy, because this is really where you get into the why. I want to perform for family and friends. And why is that? Because I feel fulfilled. I feel like I'm contributing. I can leave my creative heart. And why are you doing this type of projects, right? If you ask three to five times, why, that gets you to the real purpose of your project. 
If you're not able to have a compelling purpose, don't start the project. Nobody will see why we're doing the project. So don't start it because you're just having more pressure and people will say, it's not clear why. So I always say, think two, three times more about the why the project. One, another tool, I love simple tools that anybody can apply. The most engaged people in your company, in any company working in a project, are volunteers. 
So you have an idea, we're launching this new product for our company. Who wants to work on it? People should jump. Say, yes, this is exciting. I want to be part of it. Right? And these people are committed already on day one because they saw the why. They say, well, I want to work with Susan. I love that topic. I'm working on sustainability. So there's a lot of people. 
And another thing of this tool is, if you say who wants to join this project and nobody raises the hand, that's a big problem. Don't launch the project because you cannot force it. People will not get compromised like that. And so there's something in the way you focus the project. There's something that is wrong on the purpose. Maybe it's not the right timing. So very simple way to find out whether your project has value for your organization.
Ask for volunteers.
Susan 
Hmm, I love that because when we work with arts integration and that's oftentimes seen as a project. It's a it's a long-term method but it's it's really a project when you're trying to implement it, it's it's asking people to participate and sometimes buy-in is the biggest struggle that leaders have is getting the buy-in so let's say it flops
Let's say you have what you think is a compelling why, you've shared it, but you don't get any volunteers. How do you then discern whether or not to try again with a different message or to move to a different project and just put this one on the shelf?
Antonio 
There's two approaches I recommend, Susan. First, if you are convinced, you're convinced, Susan, this has to work. People don't see it. Try to get one or two people engaged. Spend a bit more time explaining. So convert a few and start small, start small. And if in three weeks, in three, in six weeks, you're not able to show any value, then drop it. But if you're starting value and then they, that will create a kind of snowball effect. So start small instead of engaging the whole company, start small, build some early adopters. If that's good, move on with the full project. 
Second, I think some projects are an opportunity to learn. So failure is not bad. Failure of a project, stopping a project, as long as you say, okay, what are the lessons learned? How will we do it differently next time? That is massive. This is one of the most valuable aspects in management is failures. If we learn from a project that failed, the second time we're going to do much better. So I always encourage people to stop project is it's difficult. I don't know why, but project have this emotional connotation. It's a bit like a relationship. You remember when you are dating younger and you have this, but you know, that person maybe is not the right one for you, but then you feel guilty and, and take forever now just stop it. Right.
Susan 
That's harsh, but it's so true. Don't waste the time, right? Because you're stealing it from something else. Yes, yes. So this is such good information, Antonio, because I can't tell you how many times that we've said to people, start small, don't feel like you have to bring everybody on the team in. And so it's so refreshing to hear that this is, it's based in some really good methodology. 
On your website, I found this to be really… really interesting, that you share that the most significant disruption of the 21st century is not technology or artificial intelligence, but it's the way that organizations and countries will be managed through projects. So that is a huge statement, especially right now with all of the change that's happening, particularly with tech and AI. So why do you feel like projects and project management is going to be the bigger disruptor?
Antonio 
I think it's a bit of a vision that I had, Susan. I think what is happening is that we discuss about the future work today, mostly whether we work from home or remotely or from the office. I think that's very superficial. The actual disruption is that we've been working for 100 years in organizations which tend to be quite stable with hierarchies. You have job descriptions, role descriptions. You have career path.
The type of skills are mostly deep skills like finance, marketing, sales. And my vision is that artificial intelligence is happening. And the things that they focus are on these deep skills. I work in a bank for many years. And today in a bank, you see more techie people than bankers because the banking part is done by AI and FinTech. So I think that shift is the type of work where you are in a box working always in a hierarchy to something really agile. 
So what I see, and companies are doing that, I'm writing an article for HBR, is that they're canceling job descriptions. Maybe in your company they're not so important, but there's companies with 10,000 or 100,000 people, they have job descriptions. And that doesn't make sense, right? People work on the priorities, on the projects that we're launching. So we're moving from a very hierarchical, static world to a more dynamic and agile and fluid, which is… work in new projects. 
And I see the future where people will be a bit independent. You might work for a big company, Microsoft, Google, but you will choose where you want to work, right? We're launching these projects. I want to work in this project for nine months. When the project is over, you move to the next one. And so that's why I say that projects are the future. The same for organizations, for countries. I love to see countries. We have a big vision for the country, say by 2030, we want to double education. We want to remove poverty. We want to, I love that. We, it's just, it's just so powerful. It makes people proud being part of a country where there's a strong vision, where there's still problem. Unfortunately, there's the, there's not many, I think that unfortunately that this part is much more short-term and individualistic, but there's so much power in understanding projects to generate passion and engagement and people being proud and we don't use them enough. So that's one of my missions and part of what I write.
Susan 
Oh, and it's, I totally agree. And I think it's something that in education, we've been so based in the industrial society, right? That we haven't yet prepared our students. We talk about this a lot, that we need to prepare our students for a future that does not yet exist and that we cannot see.
But how do you do that? And I think you're so right in that, that how people work is just totally changing and what they're working on. So how can we prepare as educators, how can we prepare our students to be ready for a project management economy?
Antonio 
I love that, Susan, and you're an expert in this field. So I appreciate what you're saying. I think I'm not an expert in education. I've been teaching for many years. I think it's all much more experience. I was a terrible student. I was just terrible. I just had really big problems in Spain when I was young. You had to memorize books and they were asking what's in that page. And I said, I have no clue why my memory doesn't write and tell me. So I really, I was…hurt by the system. 
I didn't feel like empowered and my way of teaching was the opposite. So maybe one of the reasons I wanted to teach was make it simple for every, make it fun. And so it's about experience, it's about giving students more power, right? To play, to make scenarios, to take decisions, to fail. Why do we need to always rank and so but to let people fail and learn from that, that's actually good. So the teaching has to also move from a very hierarchical static approach to a much more fluid. 
I think maybe if you're teaching the same class to two courses, they're completely different. But at the end of the day, what you want is that the students understand the tools, feel more comfortable, know what they're talking about. They know how to implement it. That's a bit how I see education. It's for me, every class, it's a bit different. Depends, we'll see. And it's a bit of a risk and doesn't feel good, right? As a teacher, that you say, okay, we'll see. We have a few points, but we'll see. But I see that we're moving to that direction. And probably you can talk about this more better than me.
Susan 
Well, I don't know about that because my expertise is not in project management. We do have project-based learning in education, but it's still, again, that messy middle and where we see ourselves as teachers as being more facilitators rather than kind of just information providers. There are so many questions that I have in my brain right now. So I'm trying to figure out where to start. One of them is what are the specific skills that makes someone successful at projects versus somebody who doesn't have those skills and maybe flounder in a project setting.
Antonio 
Okay, I can super simplify this just for people to understand. So you need to do three dimensions. We need to develop some technical knowledge about project management, like your husband. I'm sure he's great doing project plans and risk management and all these interdependencies and defining the scope of the requirements. So that, for me, if you want to work in projects, you need to understand that. Maybe you don't need to be the most expert, but understand how that works, even adding Agile methods and all this new. 
Then the second area is very important talking to one of the points earlier, Susan, about the purpose. Why are we doing the project? So you need to be able to connect your project and the purpose to the to your organization. Understand where are we going? Why? So for example, the case of Mary with the HR system. The company was looking to increase employee engagement. That was one of the priorities. So if I know that my project connects to that, then I will get more buy-in and more support from the top and more resources. So the business, the organization understanding how we're moving our strategies, priorities is the second part. And in a small company is the same. We need to understand where we're going as a startup, what are our goals in the next year. 
And the third one is leadership. So leadership is something that it takes more time to develop. It requires self-assessment, being honest with yourself, what are your strengths and weaknesses. But the problem with projects is that because people often don't report to you, they are kind of borrowed to your project and they have other bosses. So these skills of leadership are even more important. People, yeah, you need to convince them. You need to persuade the organization to support you. You need to be… managing conflicts. So the leadership, the business, organizational understanding and project management skill, technical, these are the three legs of what you need to develop if you want to make a career in this space.
Susan 
Mm, that's so good. And as you're talking about leadership, it's reminding me, it's making me think about principals, leaders in buildings who are helping to support the various projects that are going on, right? Because there could be an art show that's happening or a music concert that's happening, and each of those could be considered a project, as well as what's happening for the culinary class down the hall. So as a leader… what are some ways that I can help to support a project without micromanaging it?
Antonio 
Yeah, it's a great question. And it's a difficult one, Susan. And leaders, one of the target audience of my HPR book was leaders, because there's very few tools or competent. Leaders have been used to growing a world which is the static one. They know how to manage a team in a hierarchy, but it's very different to manage a team which is not reporting to you. Again, very independent and decision-making. So it's hard for them to.
So the question is great because the role of the leaders is super important. In my research, it's about 30% of the success of a project depends on the leader. If it's committed, if dedicated time, if it's prioritizing, because like you were saying, if you have three events at the same time, which one is the most important? How do we prioritize them? Where do we need to go first, second? That's often an important decision for the leader and then leave the project manager, deliver and manage the project, very important, never micromanage because it doesn't add any value. 
So the leaders play such an important role and they're not prepared, they're not trained that it can make a big difference when they understand. First about launching new projects, back to the point of never launch a project if you don't finish two or three because you kill the whole organization or overwhelm but also the role they play through the execution, making sure that the barriers are removed, that the resources, that decisions are made quickly. So super important role that we need to work a lot on. 
Susan 
I agree, I agree. Now, I wanna kinda shift gears a little bit because you were talking about the upcoming project economy and what that could look like, where somebody's working for nine months on a project and then maybe they wanna shift to a different one. Is there a way that we can stack projects or maybe be working in multiple projects that lead to maybe the larger project? For example, you know what I mean? That there… smaller projects that are stacked to make the larger one. Is there a way that we can do that? Or is that getting too in the weeds?
Antonio 
Yeah, no, it's recommended Susan, especially because companies I work, they might have 600 projects. And I think there's two approaches here. First, if it's a mini project, like it's just five days of work, don't call it project because that when you call something a project that requires a bit of management, right? You might need to write a project charter. You might need to have a steering committee. So you create a lot of bureaucracy or administration for a small task of five days. 
So, the first thing I do when I work with organizations, which are the threshold where we don't call them project? They might be projects, there's a start, there's an end, but below 20-month days, just do them. Don't bother, don't just get the problem solved, get that small improvement done, gone. And that helps you to cut about 30, 40% of your kind of portfolio. And the other thing is what you're saying, let's stack them. Let's see how we group them. If we're doing something around digital transformation or something about employee engagement, there's often things that you can put together and it's easier to manage a program of 10 projects than 10 projects individually. 
So absolutely, this is a good advice when you have too many projects, try to group them, stack them, and you can monitor just the top. So you manage maybe 10 programs instead of 100 projects, which is just impossible. So great advice, Susan, you know what we do in this space.
Susan 
Well, that's good, I'm glad that I'm picking it up. This is good. Now, there's a great tool that I found on your website that I love called the Project Canvas. Can you just briefly share what the canvas is? We'll link it in the show notes so that people can download it from your site. But I would love for you to just kind of briefly talk about what it is and what you use it for.
Antonio 
Sure, and it's free. It can be used. So the purpose for me was like back to your husband and project managers. We're not good at communicating. So everything that runs project management is super complex. And people say, don't go into there. I'm not interested because we've made it super complicated. Look at the plan. You don't understand anything, right? Or a project charter, maybe 200 pages. Who's going to read that? So my…
I really wanted to simplify and find one way to show a project, the fundamentals, in one page. I was inspired by several tools that exist already in one page. There's the business model canvas, which is for startups. In one page, you have nine elements. There's this five forces from Michael Porter. There's seven P's from Kotler on marketing. Everything that kind of resonates, works, people remember, is simple. In project management, there was nothing simple.
I really, it looked like a simple one pager, but it took me like a year just to synthesize, to see, okay, where are the 14 elements that make a project successful? And the beauty about this is that you take the tool, you take it to one of your project, in half an hour you have a very good assessment of what are the strengths, what are the risk areas. With the whole group, everybody understands, they don't need to follow five days training.
You understand what the project is, you understand the fundamentals, and then you can address it, you can communicate with that. And so it's simple, everybody can use it. You can use it for a mini project, a project at home. Students can use it a lot in my classes. Big companies like Lego, they told me we're using that for a factory in the US. So it's just a very visual tool that I think it's just what we needed. It's just one of the challenges for us is to make things simple and this tool helps to make things simple.
Susan 
Yeah, I totally agree because at first glance I could look at it and I understood each of the elements, what you were asking, why it was important and I can see if you filled that out how easy it would be to understand the overall project and you're right, so often our projects get out of hand, they're unwieldy, and we know them inside and out, but then somebody else comes in and it's very difficult to communicate. So thank you for creating that canvas. Like I said, we're gonna link that in the show notes so that others can download it as well and use that. So appreciate that. Before I let you go, I would love to know…
Because we are a creative organization where we work with arts educators and creative educators all the time, how do you feel like creativity influences or impacts project management
Antonio 
I think it's a must, Susan, and we have been blamed for not being very creative and trying to not make changes to our plans. I think that's a bit the past of project management. What I talk about is modern project management, something that is adapted to a changing world where we need to adapt as well and make things simple. So I absolutely think that creativity is a must. And one thing that we don't do very well. 
The only thing in embracing creativity… depends on where you are in the project. So I think the creativity in projects have to be at the beginning, before starting the project. Imagine you want to build a new house. So you can do crazy ideas at the beginning in the planning, in the sketching, in the scenarios. But at one point we need to make a decision. Some elements have to be fixed. And then that has to stay. You can add more rooms, you can add the swimming pool, things that don't really break down the construction. 
But you cannot start a project and then start building and being creative then, because that's where you have a problem. That's where projects go out of control. The best projects ever, one great example is the Empire State Building. That project was delivered on time, on budget, on everything. It was one of those years. And imagine what happened there is that there was a phase of innovation, creativity. What do we need to do? There was a very strong phase on planning. So everything was planned to the detail. Then execution is easy, right? We know what we need to do. We thought about all the options. We know what is the option and we implement. 
When you mix up all the things, when you start, then you do changes, then you plan, then you put creativity on top. It's a mess. So yes, creativity, absolutely. But let's do it at the beginning, the big part. And… do a good plan and then execute. That's good project management.
Susan 
Mm, I love that. Well, this has been so enlightening today. Thank you so much for joining me. Where can people connect and follow you?
Antonio 
Well, my website, antonionietorodriguez.com, and then I have a LinkedIn newsletter, which I talk every week about a project. And I use the canvas mostly to analyze projects that happen around the world, a big wedding, whatever I see that I like. I'll just go into and analyze the project and see what, yeah. So website, LinkedIn.
And, and yeah, happy to, to have more exchanges around this topic, which I think it's so important for everyone to be more successful. It's a pleasure to be here, Susan. Thank you for what you're doing in this space too.
Susan 
Thank you.